Drumble wrote:

>"Why are you taking this risk? What's in it for you?"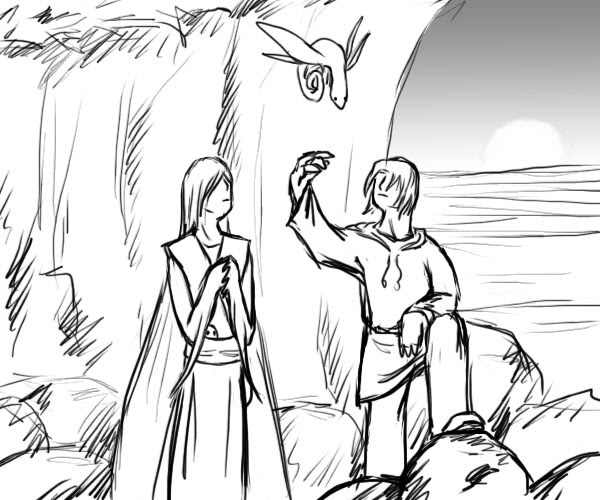 "WHY ARE YOU TAKING THIS RISK?" YOU ASK, A LITTLE HARSHER THAN YOU INTENDED. "WHAT'S IN IT FOR YOU?"
"YOU DON'T BELIEVE I AM CAPABLE OF RANDOM ACTS OF SELFLESS GENEROSITY?" OWES SAYS. YOU SLOWLY SHAKE YOUR HEAD NO.
THE BEASTMASTER CHUCKLES, JUMPING BACKWARDS ONTO ROCKS, NOT NEEDING TO SEE WHERE HE'S GOING. "I'M DOING THIS FOR METILIA. SHE'S AN OLD FRIEND OF MINE."
"YOU KNOW METILIA?" YOU EXCLAIM INCREDULOUSLY. METILIA IS YOUR GREAT-GRANDMOTHER SEVERAL GENERATIONS OVER.
BEASTMASTER OWES STOPS AND STARES AT YOU, AS IF MOCKING YOU. YOU TURN AWAY. "I FORGOT. OF COURSE YOU KNOW HER."
A SHADOW SUDDENLY PASSES OVER YOU, MAKING YOU JUMP BACK AND WHIP OUT YOUR WRIST BLADES SO FAST THAT THEY WHISTLE. THEN YOU SEE THAT IT IS A HARMLESS ABERAL THAT STARTLED YOU. IT LANDS ON THE BEASTMASTER'S OUTSTRETCHED ARM.
"THERE ARE MANY OF MY SCOUTS MONITORING THE VICINITY." OWES EXPLAINS AS HE LISTENS TO THE CHITTERING WORDS OF THE ABERAL. "IT APPEARS THAT A LARGE HUNTING PARTY HAS JUST LEFT MOEMOEA IN OUR DIRECTION. 30 INDIVIDUALS IN ALL, TWO OF THEM HOICS." HE FLINGS OUT HIS ARM AND THE ABERAL TAKES TO THE AIR. "SO WHAT WILL IT BE, LADY TENODERA? WANT TO REST OR KEEP GOING?"
>
---
mcc wrote:

>>"Let us keep going, although I will need some food before the morning either way."

>If he indicates that he expected us to eat the skibly tucked in our belt, explain that this is our emergency food source, and that we would be understandably upset if forced to eat our emergency food source in a non-emergency, i.e., then it would not be accessible in case of an actual emergency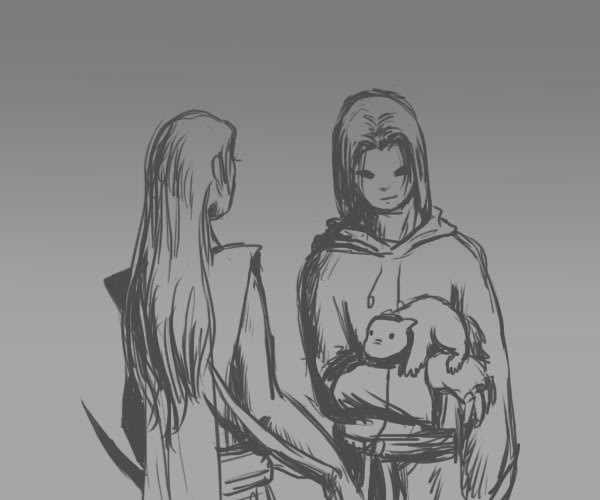 "I CAN GO A BIT FURTHER." YOU DECLARE. "ALTHOUGH I'LL NEED TO CATCH SOME FOOD BEFORE THE MORNING."
"OF COURSE." OWES SIGHS. "I KNOW ABOUT THE MANTODEAN HUNGER. AND I NEED TO EAT TOO." HE EYES THE SKIBLY TUCKED INTO YOUR BELT.
"WE'RE NOT EATING MY SKIBLY!" YOU SAY FORCEFULLY. "THAT'S MY EMERGENCY FOOD SUPPLY." YOU SQUEEZE MENCHI OUT OF THE FOLDS OF YOUR CLOTHES AND HOLD HIM POSSESSIVELY.
"I WASN'T GOING TO SUGGEST THAT, MY LADY." THE BEASTMASTER HOLDS OUT HIS HAND, WHICH MENCHI SNIFFS AT CURIOUSLY. YOU RELUCTANTLY RELEASE YOUR SKIBLY AND HE HOPS ONTO OWES'S ARM. "THIS LITTLE MORSEL IS HARDLY A MOUTHFUL FOR THE BOTH OF US. BUT HOW ABOUT WE USE IT AS BAIT FOR SOMETHING MORE SUBSTANTIAL?"
>
---
ThatOneYoYoGuy wrote:

>Go with his plan.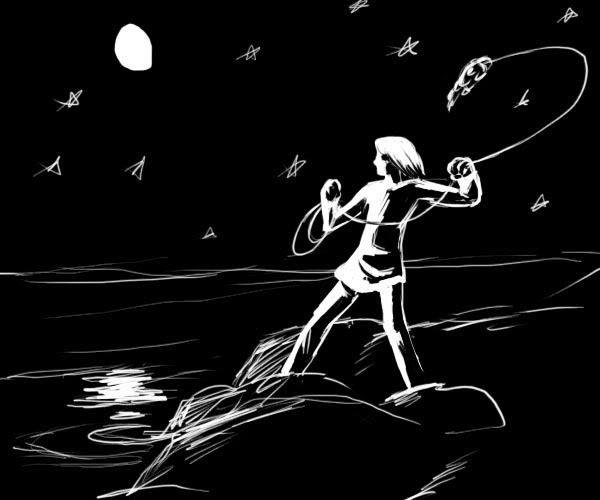 YOU HAND THE OTHER END OF MENCHI'S ROPE TO THE BEASTMASTER. "YOU WILL RETURN HIM INTACT, RIGHT?"
"OF COURSE." HE REPLIES, ALTHOUGH HE SAYS THIS WHILE SWINGING THE SKIBLY OVER HIS HEAD AND OUT INTO THE OCEAN. THEN HE SITS AND WAITS. YOU WATCH NERVOUSLY FOR SEVERAL MINUTES.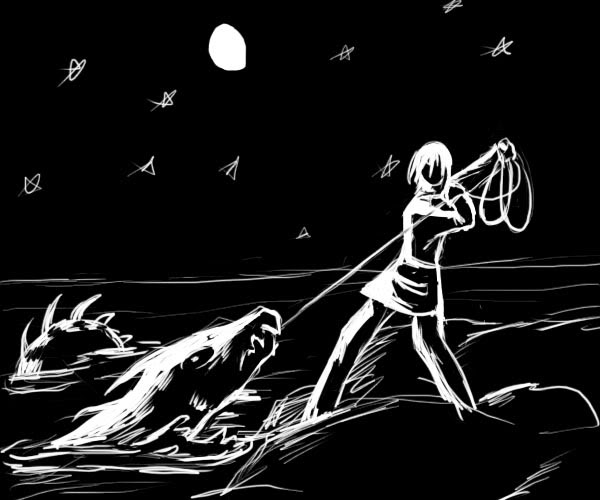 EVENTUALLY, OWES PULLS A LARGE SERPENT OUT OF THE WATER AND TEARS IT IN TWO WITH HIS BARE HANDS.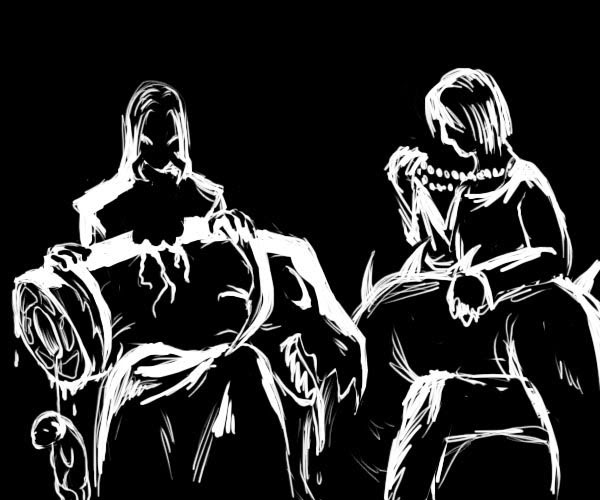 HE HANDS YOU THE HEAD PORTION WHICH, ALTHOUGH SUBSTANTIAL, IS ONLY A PERCENTAGE OF THE SERPENT'S TOTAL BODY. YOU LOOK DUBIOUSLY AT THE COILS OF MEAT THAT THE BEASTMASTER IS KEEPING FOR HIMSELF.
"I'M EATING FOR MY COLLECTIVE." THE BEASTMASTER SAYS WHEN YOU ASK HIM ABOUT IT.
"YOUR COLLECTIVE?"
"MY RINGS, THE BEADS ON THIS NECKLACE, AND OTHER OBJECTS I WEAR ARE MADE OUT OF CRYSTALLIZED YILIXA." HE EXPLAINS. "EACH ONE CONTAINS THE ESSENCE OF A CREATURE THAT I OWN. THAT IS HOW MOST OF THEM ARE CONTAINED UNTIL I SUMMON THEM." HE TAKES A BITE OUT OF HIS DINNER. THEN ANOTHER AND ANOTHER. THE FLESH IS DISAPPEARING FASTER THAN IF IT WAS MADE OF WATER AND HE IS DRINKING IT. HE ISN'T EVEN SWALLOWING. "I DON'T HAVE TO FEED THEM AS OFTEN WHEN THEY ARE YILIXA, BUT IT KEEPS THEM IN BETTER CONDITION IF I DO."
YOU TURN TO YOUR OWN MEAL, WHICH YOU SLOWLY CONSUME WITH YOUR METHODICALLY BITING MANDIBLES. THE TIP OF THE SERPENT'S TAIL DISAPPEARS INTO OWE'S MOUTH AND HE LEANS BACK AGAINST THE ROCKS. IT'S HARD TO TELL IF HE'S LOOKING UP AT THE STARS OR ALREADY ASLEEP.
>
---
mcc wrote:

>If he is heading to asleep, thank him for all his help

>If/once he is asleep, take whatever precautions are necessary to wake up quickly and/or not be seen if the hunting party after us somehow approaches, and sleep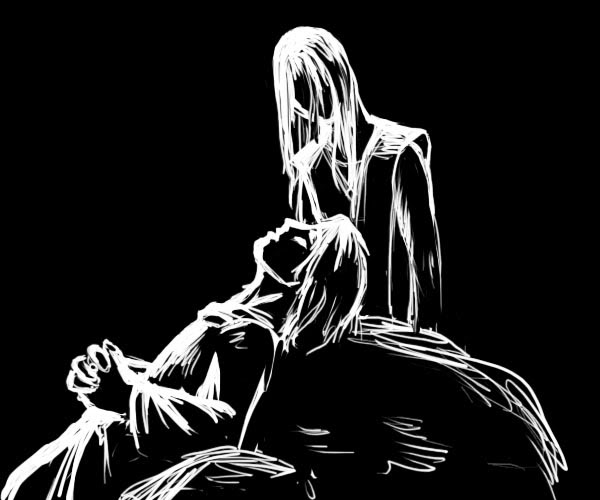 YOU FINISH OFF YOUR MEAL, WHICH SHOULD LAST YOU THROUGH THE MORNING. THEN YOU WALK OVER TO THE BEASTMASTER. HE HAD HIS EYES CLOSED BUT OPENS THEM AS SOON AS YOUR SHADOW FALLS OVER HIM.
"UM." YOU SAY AWKWARDLY. "I WANT TO THANK YOU FOR YOUR HELP."
"THE PLEASURE WAS MINE, MY LADY." HE SAYS SLEEPILY. THEN HIS EYES CLOSE AND HIS BREATHING FALLS INTO A SLOW RHYTHM. YOU FIND A COMFORTABLE ROCK NEARBY AND SETTLE DOWN FOR THE NIGHT.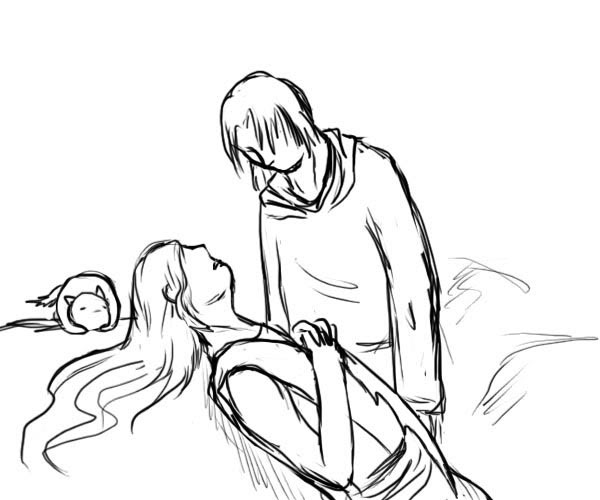 YOU WAKE UP THE NEXT MORNING TO SEE THE BEASTMASTER STANDING OVER YOU.
>
Go back to Storytime of Epicness