Diablo Fett wrote:

>Check surroundings and assess the situation.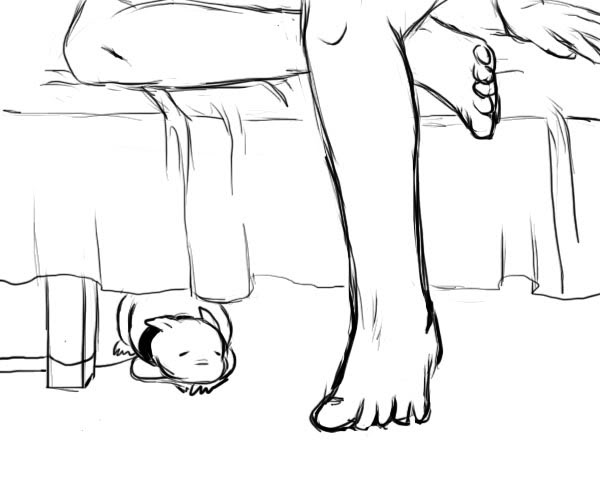 IT IS MORNING, PROBABLY THE DAY AFTER YOUR FIGHT WITH MASTER INFER. THE ROOM YOU ARE IN IS COMFORTABLE, THE BED SOFT AND LIGHT POURING IN FROM THE OPEN WINDOWS. FOLDED ON TOP OF A DRESSER THERE IS YOUR BAG AND A SET OF HIGH-QUALITY ANGEL'S CLOTHES, WHICH YOU ASSUME IS YOURS TO WEAR. THERE IS ALSO A SLAB OF FRESH MEAT ON A GLASS PLATTER WHICH YOU CAN'T HELP BUT WOLF DOWN AS SOON AS YOU SET EYES ON IT.
YOU ARE NOT SURE IF YOU SHOULD BE THANKFUL TO BE ALIVE.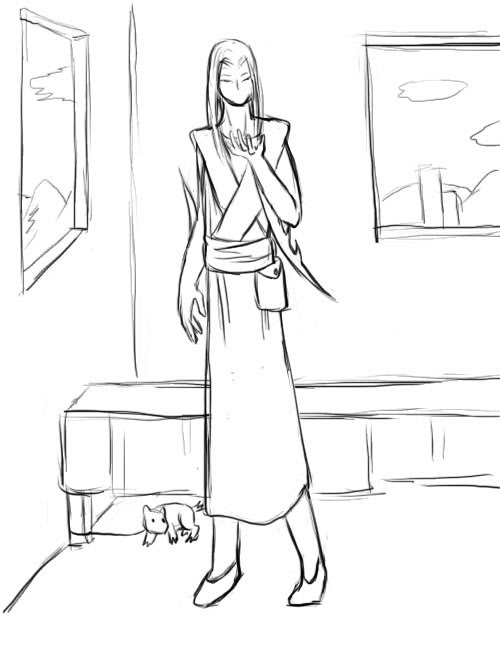 YOU HAVE ASSUMED YOUR TRUE FORM AS A 'TEMPLATE' CLASS MANTODEA, A VORACIOUS PREDATOR SPECIES PRIZED BY THE LORD CERLIONESS. STREAMLINED RAPTORIAL CLAWS EXTEND FROM YOUR WRIST AND SHORT WINGS ARE PRESSED TIGHTLY AGAINST YOUR BACK. YOU HAVE MANDIBLES HIDDEN IN YOUR MOUTH AND YOUR EYES, ALTHOUGH STILL BAD AT PERSPECTIVE, HAVE A WIDE RANGE AND ARE SENSITVE TO MOVEMENT.
AND THEN THERE ARE YOUR HOIC POWERS WHICH ENHANCE ALL YOUR NATURAL ABILITIES, AS WELL AS ENDOW YOU WITH SOME SIMPLE YILIXA ABILITIES.
FROM NOW ON, IF YOU DO NOT OBTAIN FRESH MEAT EVERY MORNING, YOU WILL BE COMPELLED TO KILL AND CONSUME THE NEAREST LIVING BEING.
>
---
mcc wrote:

>Look out the window. What city are we in?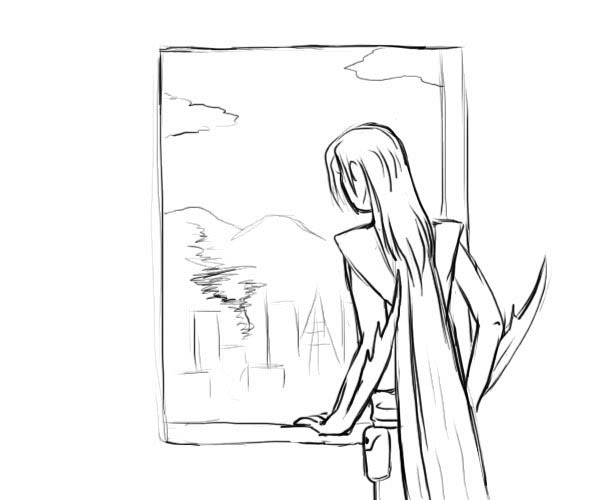 YOU LOOK OUT THE WINDOW. YOU ARE STILL IN MOEMOEA AND JUDGING FROM THE POSITION OF CERTAIN LANDMARKS, YOU CAN TELL THAT YOU ARE IN THE CITADEL OF STAIRS. THERE IS A SMOLDERING HOLE NEAR THE FAIRGROUNDS WHERE THE ABERAL RACE TOOK PLACE.
>
---
megamario77 wrote:

>REMININCE ABOUT CHELLING!

If playing RPGs, and reading about RPGs, have taught me, its that a nice, good, reminincing will move along the plot/be interuptted by an important character.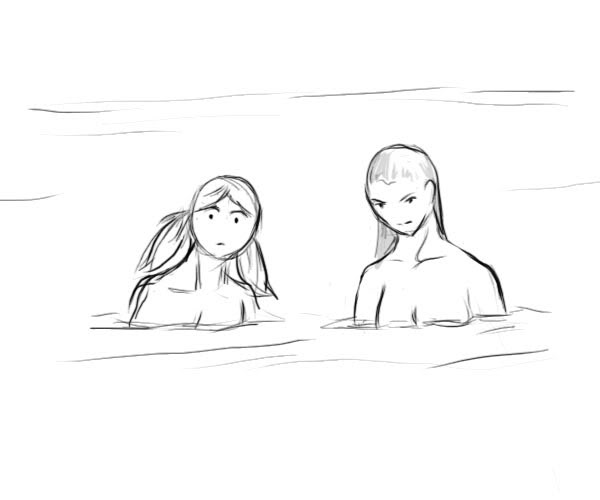 Yesterday, all my troubles seemed so far away.
Now it looks as though they're here to stay.
Oh, I believe in yesterday.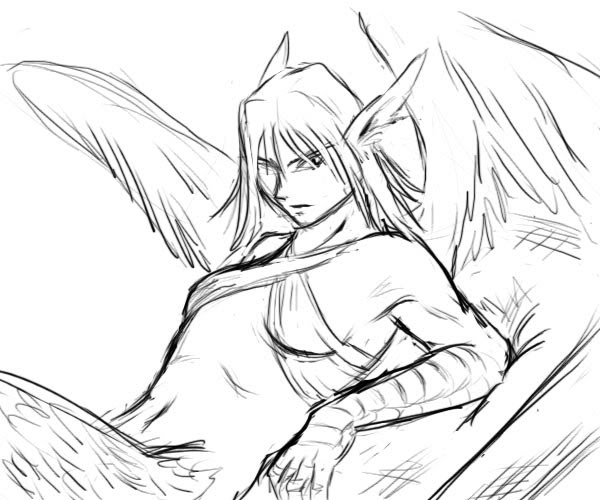 Suddenly,I'm not half the man I used to be,
There's a shadow hanging over me,
Oh, yesterday came suddenly.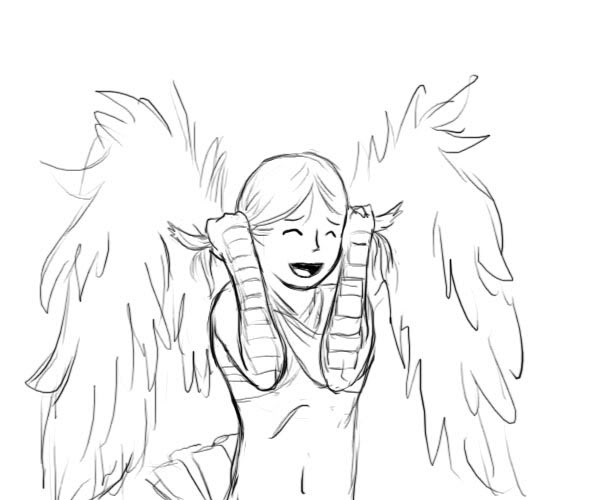 Why she had to go
I don't know she wouldn't say.
I said something wrong,
Now I long for yesterday.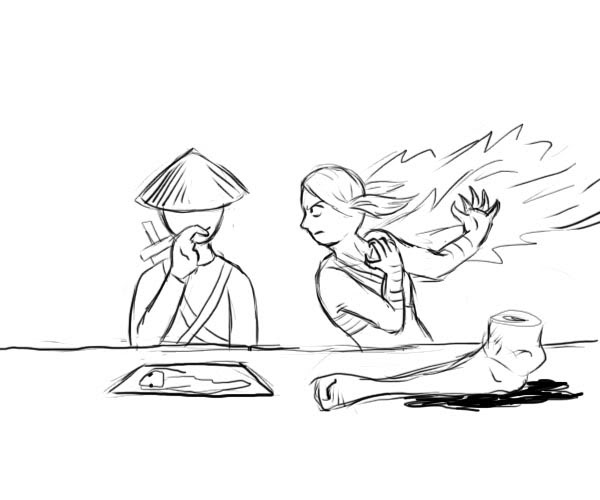 Yesterday, love was such an easy game to play.
Now I need a place to hide away.
Oh, I believe in yesterday.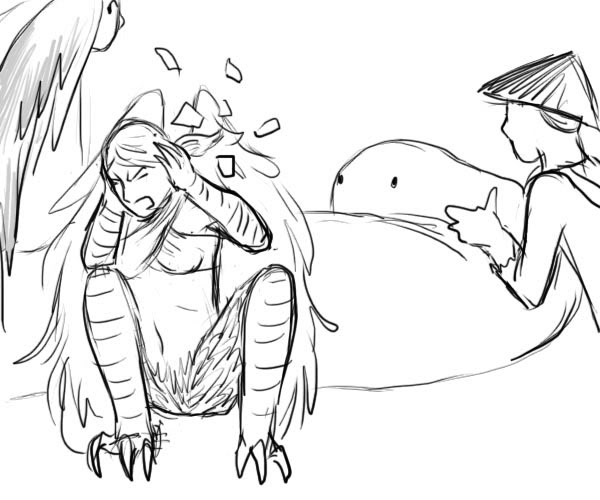 Why she had to go
I don't know she wouldn't say.
I said something wrong,
Now I long for yesterday.
Yesterday, love was such an easy game to play.
Now I need a place to hide away.
Oh, I believe in yesterday.
Mm mm mm mm mm mm mm.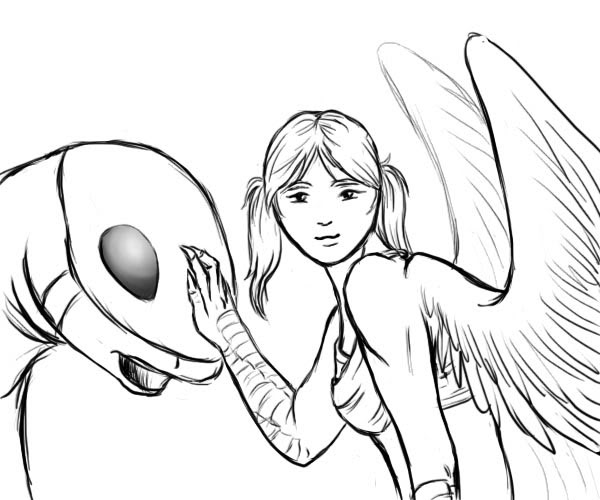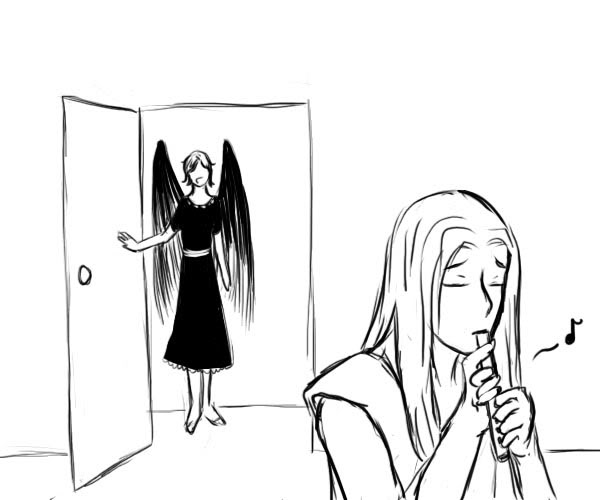 "I SEE YOU ARE AWAKE, LADY TENODERA." LADY LITTIE SAYS, QUIETLY ENTERING THE ROOM.
"AND YOU SHOULD STOP THAT." SHE GLARES AT YOUR FLUTE. "YOU ARE TERRIBLE AT IT."
>
---
ThatOneYoYoGuy wrote:

>Get down to brass tacks - ask about dymalkid, master infer, update about the beastmaster (I'm assuming he's still missing), state of Moemoea after the altercation.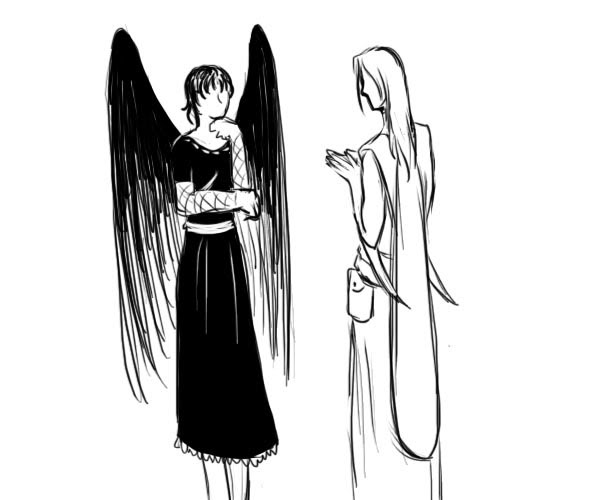 "I LIKE YOUR NEW LOOK." LITTIE SAYS, LOOKING YOU UP AND DOWN. "IT SUITS YOU." YOU GUESS THAT SHE KNOWS YOU ARE A HOIC FOR SHE NOW SEEMS WILLING TO TREAT YOU AS AN EQUAL.
"WHAT HAPPENED?" YOU ASK. "I BLACKED OUT DURING THE FIGHT WITH MASTER INFER."
"MASTER INFER WAS GOING TO KILL YOU." LITTIE REPLIES WITH A LITTLE TOO MUCH CHEER. "BUT MY BROTHER AND I DROVE HER OFF. MADE A TERRIBLE MESS, WE DID."
"IS SHE STILL AROUND HERE SOMEWHERE?" YOU ASK.
"MAYBE. BUT WE CAN REST EASIER NOW." SHE SMILES SHYLY. "MASTER SHEER IS BACK."
"I SEE. I AM IN YOUR DEBT, LADY LITTIE."
"YES. YES YOU ARE." SHE SAYS CURTLY.
"UH. SO WHY DID YOU DO IT?"
"DO WHAT?"
"WHY DID YOU SAVE ME?"
"WHY NOT?"
"UH." YOU SHUFFLE YOUR WINGS A BIT, THE SLIGHT BREEZE RUFFLING THE TIPS OF LITTIE'S TASSEL-LIKE FEATHERS. "UM. ANY WORD OF THE BEASTMASTER?" YOU ASK, CHANGING THE SUBJECT.
"NO."
"HOW IS DYMALKID DOING?"
"THE CORAYS DYMALKID. SHE'S IN THE INFIRMERY. SHE IS BROKEN." LITTIE COCKS HER HEAD AT YOU. "I CAN SEE THAT YOU WANT TO VISIT HER. SHE IS REFUSING TO SEE ANYONE, EVEN HEALERS. BUT IF YOU WANT, WE CAN GO THERE TOGETHER. MY BROTHER IS THERE."
>
---
mcc wrote:

>WHEEEEEEE!! WE CAN FLYYYYYYYYYY!!!!!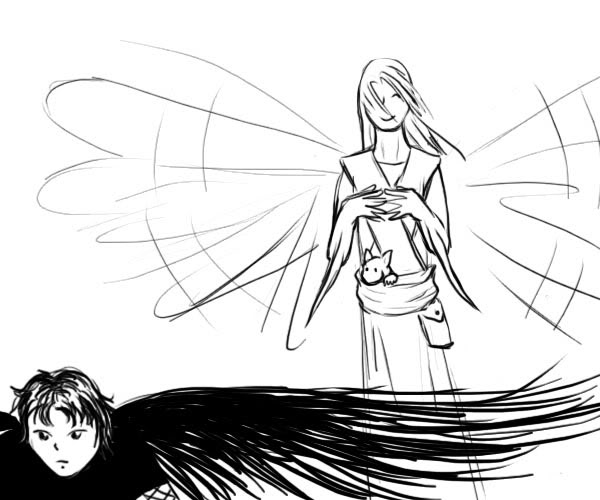 INTENDING TO FOLLOW LITTIE, YOU EXPERIENCE A MOMENT OF UNCERTAINTY WHEN SHE LEAPS OFF THE EDGE OF THE FLOOR AND FLIES DOWNWARDS. YOU SPREAD YOUR WINGS, TAKE A BREATH AND STEP OFF THE LEDGE, FINDING TO YOUR DELIGHT THAT NONE OF YOUR FLYING ABILITY HAS LEFT YOU. ALTHOUGH YOU NEVER WERE STRONG FLIER IN THE FIRST PLACE. YOU CAN FLUTTER, FLOAT AND GLIDE IN A STRAIGHT LINE. ANYTHING FASTER OR MORE COMPLEX WOULD REQUIRE A LOT OF EFFORT AND THE UNNATURAL USE OF YOUR HOIC ABILITIES.
AT THE INFIRMERY, LADY LITTIE HEADS FOR A PRIVATE ROOM, WHERE SIR VANCE PRESUMABLY IS. SHE RAISES AN ELEGANT EYEBROW AT YOU, AS IF EXPECTING YOU TO ACCOMPANY HER. OR WOULD YOU TRY TO FIND DYMALKID FIRST?
>
---
Lanz wrote:

>"I'll join you soon, I need to check on my friend first."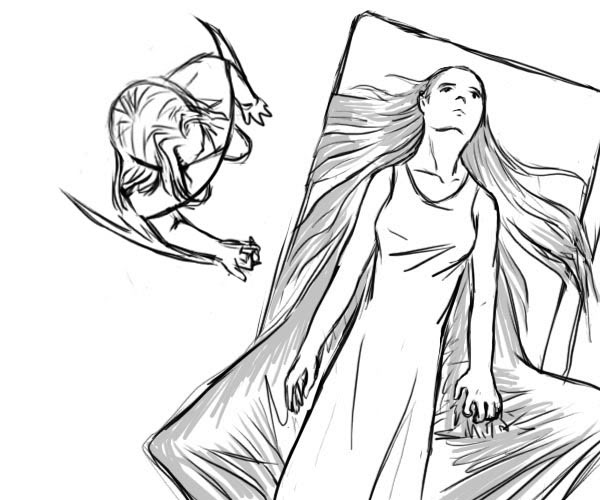 YOU GO TO SEE DYMALKID. SHE IS IN A ROOM WITH SEVERAL OTHER INJURED PEOPLE AND HEALERS WALKING ABOUT, BUT NO ONE IS PAYING ANY ATTENTION TO HER. ALTHOUGH THE DARK ANGELS ARE FREELY DRINKING IN HER GRIEF. SHE IS LYING ON HER BACK, STARING BLANKLY AT THE CEILING.
PEOPLE STEP ASIDE TO MAKE WAY FOR YOU AS YOU APPROACH HER. SOME OF THEM BOW SLIGHTLY.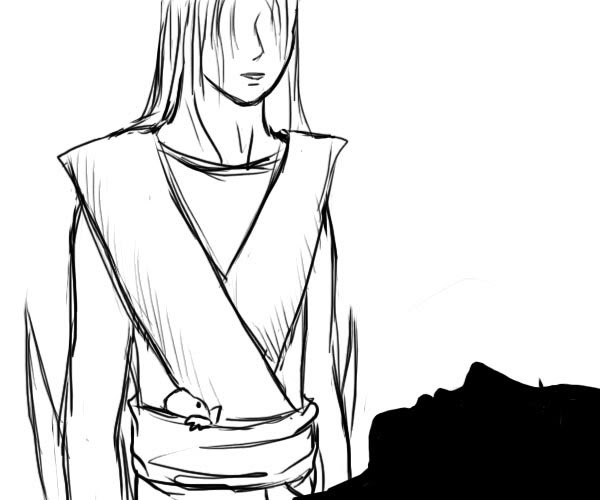 "DYMALKID?" YOU SAY. "DO YOU RECOGNIZE ME? IT'S ME. TENO."
SHE DOESN'T REACT. SHE IS ACTING LIKE A WHITE ANGEL, COMPLETELY OBLIVIOUS TO YOUR PRESENCE.
"UM. ARE YOU GOING TO BE OKAY?" YOU SAY LAMELY. NOTHING.
YOU SIGH. "I KNOW WHAT IT IS LIKE TO LOSE A SOUL MATE. I KNOW. IT'S INTOLERABLE. YOU CAN'T EVEN REMEMBER HOW YOU LIVED BEFORE YOU MET. BUT AT LEAST YOU MET. EVEN SOME OF THE LORDS, AS LONG-LIVED AS THEY ARE, HAVE NOT FOUND THEIR SOUL MATES."
YOU DON'T KNOW WHAT ELSE TO SAY.
>
---
Diablo Fett wrote:

>Go to Littie.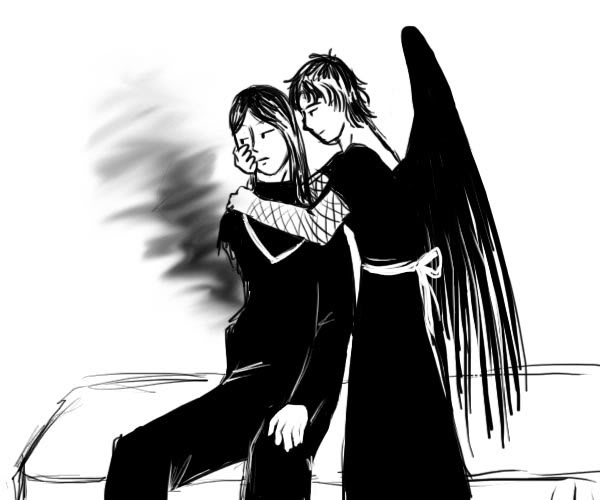 YOU GO TO SIR VANCE'S PRIVATE ROOM. WHEN YOU STEP INSIDE, YOU ARE TAKEN ABACK BY THE SIGHT OF BLACK SMOKE RISING FROM A HOLE WHERE HIS LEFT ARM IS SUPPOSED TO BE. IS HE STILL BURNING? YOU TAKE A STEP CLOSER AND SEE THAT THE SMOKE IS NOT ASH, BUT A HAZE COMPOSED OF THE DARK ANGEL'S BODY. IT'S AS IF HIS MOLECULES ARE DISSOLVING AND EVAPORATING INTO THE AIR. HIS WINGS ARE GONE.
"THIS IS WHAT HAPPENS TO ANGELS WHEN THEY ARE INJURED." LADY LITTIE SAYS, SEEING YOUR SURPRISED EXPRESSION. "WE ARE ETHEREAL CREATURES. OUR MASS IS MUCH LESS THAN OUR SIZE SUGGESTS." SHE COCKS HER HEAD. "YOU DON'T KNOW MUCH ABOUT ANGELS, DO YOU."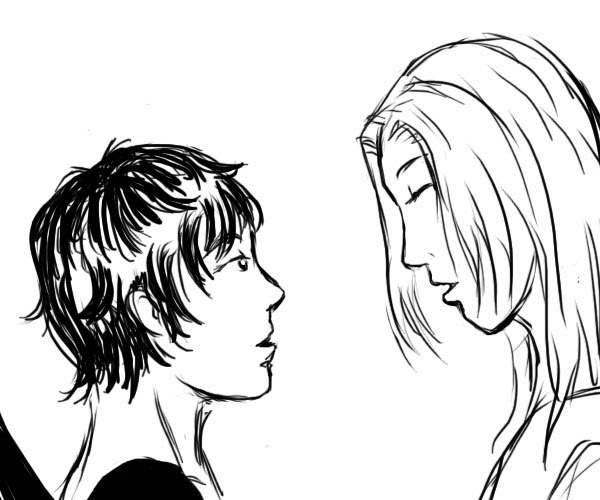 "NO, I DON'T." YOU ADMIT. "I'VE ONLY SEEN ONE OR TWO IN MY HOMELAND."
LADY LITTIE LOOKS PAST YOU, AS IF TRYING TO SEE THROUGH THE DOOR. "DID YOU GO SEE THE CORAYS DYMALKID?"
"YES. IT'S LIKE SHE DOESN'T EVEN KNOW I'M THERE."
LITTIE WALKS UP TO YOU, SEEMINGLY AMUSED. "DO YOU KNOW WHAT IS THE DIFFERENCE BETWEEN DARK ANGELS AND WHITE ANGELS?" SHE ASKS OUT OF NOWHERE.
"UH, DARK ANGELS HAVE DARKENED HAIR AND WINGS?"
"I MEAN THE DEFINITIVE DIFFERENCE."
"DARK ANGELS CAN 'EAT' MORE TYPES OF YILIXA? WHITE ANGELS ARE BETTER AT MUSIC?"
"NO NO. I WILL TELL YOU. ALL DARK ANGELS USED TO BE WHITE ANGELS. THEY DARKEN BECAUSE THEY FEEL."
"WHAT DO YOU MEAN BY THAT?" YOU ASK.
"FEELINGS AND EMOTIONS ARE 'BASE' STATES OF MIND. WHITE ANGELS ARE DISTANT AND SERENE. THEY HAVE FEW DESIRES AND ARE CLOSER TO THEIR ORIGINAL DESIGN. DARK ANGELS IN COMPARISON ARE CHAOTIC. WE ARE CLOSER TO THE EARTH. WE ARE AFFECTED BY THE WHIMS OF THE VERY YILIXA WE CONSUME."
"THIS IS INTERESTING BUT... WHY ARE YOU TELLING ME THIS?"
LADY LITTIE GIVES YOU A SHY SMILE. "DID DYMALKID EVER TELL YOU WHY SHE BECAME A DARK ANGEL?"
"NO..."
"SHE WAS AFFLICTED BY FEAR AND GUILT." VANCE SPEAKS UP. "EIGHT HUNDRED YEARS AGO SHE WAS A HEALER BY DESIGN. BUT WHEN LORD L'EROLO ATTACKED DURING THE APOCALYPSE, SHE FLED IN MINDLESS TERROR. SO SHE IS A COWARD. IT HAS BEEN HER SHAME EVER SINCE."
"IT'S FUNNY THE WAY SHE TRIES TO COMPENSATE." LITTIE SAYS. "MAKING THIS NOISE ABOUT BEING A WARRIOR. CHARGING INTO BATTLE. BUT FOR THE LAST 20 OR SO YEARS AGO SHE COULD TRULY BE CONSIDERED VALIANT. THAT WAS WHEN SHE MET CHELLING AND FOUND SOMETHING WORTH PROTECTING."
"IT'S REALLY UNFORTUNATE ABOUT THAT HARPY." VANCE SAYS AS A FEW HEALERS BANDAGE HIM UP. "LORD PETRANOIA AND THE BEASTMASTER WILL BE LIVID AT LOSING ONE OF THEIR ONLY HARPIES."
>
---
mcc wrote:

>"Is there news of the Beastmaster, then?"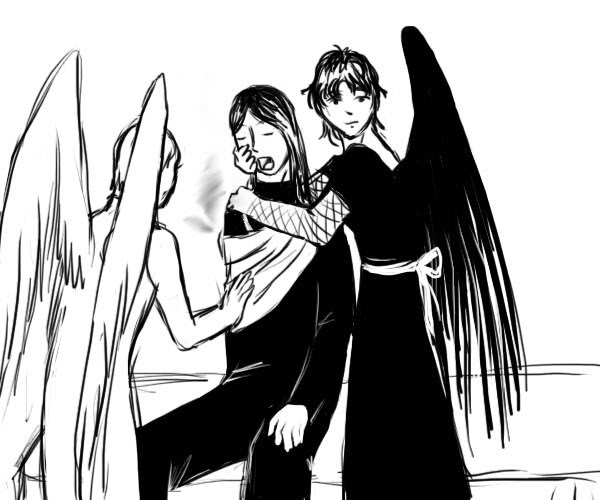 "IS THERE ANY NEWS OF THE BEASTMASTER?" YOU ASK.
LADY LITTIE GIVES YOU A LOOK. "I ALREADY TOLD YOU."
>
---
ThatOneYoYoGuy wrote:

>Ask About Master Sheer. (is he/she influential, would she help our cause, etc etc.)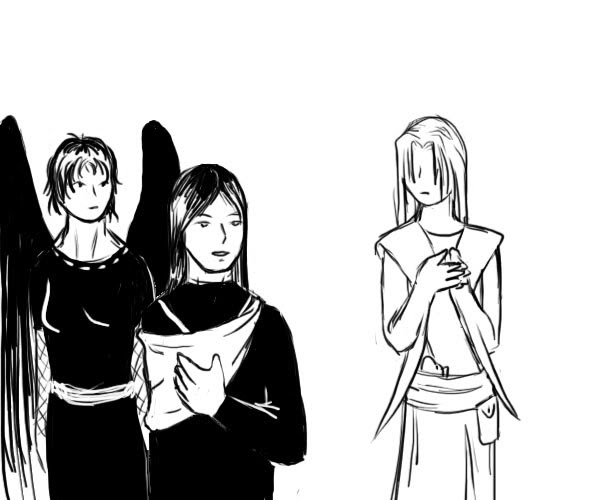 YOU ASK ABOUT MASTER SHEER.
"YES." SIR VANCE STANDS UP, A BIT OFF-BALANCE WITH THREE OF HIS APPENDAGES MISSING. "HE WILL BE WANTING TO MEET YOU BY NOW. I WAS JUST GETTING READY TO SEE HIM." LITTIE HOLDS HIS ARM AND, TOGETHER WITH THEIR HOIC POWERS, THEY FLY TO THE PINNACLE OF THE CITADEL. YOU FOLLOW THEM.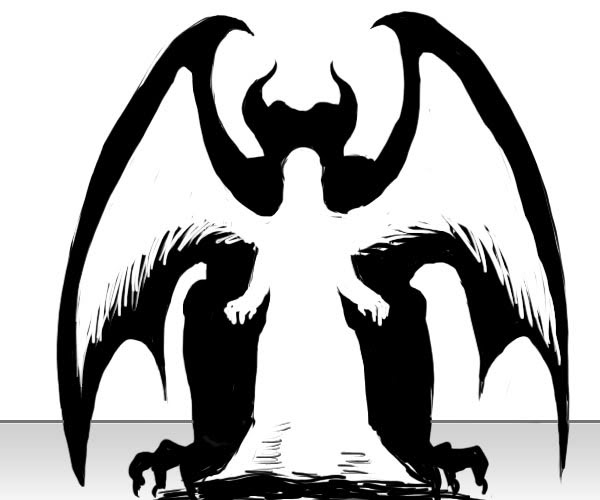 IN THE AUDIENCE CHAMBER, MASTER SHEER IS WAITING FOR YOU ON A THRONE. YOU ARE TAKEN ABACK BY HIS APPEARANCE. YOU SUSPECTED HE WAS AN ANGEL, BUT YOU DID NOT EXPECT A BEING RADIATING BOTH LIGHT AND SHADOW. THE DARKNESS EXUDING FROM HIS FORM SEEMS TANGIBLE AND MALEVOLENT. HIS FEATURES ARE INDISTINCT. YOU CAN NOT TELL IF HE IS LOOKING AT YOU.
"YOU ARE LADY TENODERA." THE VICHEY SAYS IN A VOICE LIKE THE HISS OF FEATHERS. "HIGH PRIESTESS AND PRIMARY CHANNELER TO THE LORD CERLIONESS. I AM MASTER SHEER, AUTHORITY OF MOEMOEA AND THE SURROUNDING MUNICIPALITY OF OFFERTIEL."
YOU BOW. "I AM HONORED TO BE IN YOUR PRESENCE, MASTER SHEER."
WHAT DO YOU WANT TO TALK ABOUT?
>WHAT IS BEING DONE ABOUT MASTER INFER
>WHAT HAPPENED TO THE BEASTMASTER
>WHAT WILL HAPPEN TO DYMALKID
>EXPLAIN YOUR FUTURE GOALS
---
Drumble wrote:

>WHAT IS BEING DONE ABOUT MASTER INFER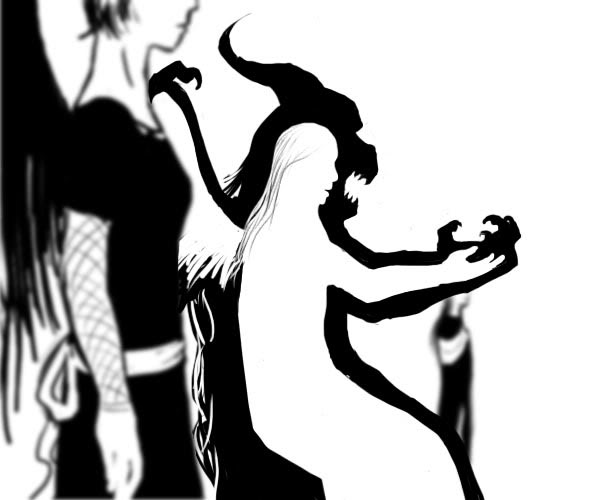 "MASTER SHEER," YOU BEGIN. "IT IS BY THE MOST EXTRAORDINARY CIRCUMSTANCES THAT I FIND MYSELF BEFORE YOU. I AM BEING HUNTED BY THE MASTERS OF LORD CERLIONESS AND ROCLIONESS. I HAVE THOUGHT TO SEEK REFUGE IN YOUR CITY BUT I AM BEING PURSUED EVEN HERE, TO THE DETRIMENT OF YOUR PEOPLE. MASTER INFER HAS BOLDLY ATTACKED ME IN MOEMOEA, DAMAGING ARCHITECTURE AND INJURING OR DESTROYING INNOCENT BYSTANDERS DURING YOUR ABSENCE. I AM FILLED WITH REGRET OVER THE SUFFERING MASTER INFER HAS INFLICTED UPON THE CITY AND AM IMMEASURABLY GRATEFUL TO YOUR HOICS, LADY LITTIE AND SIR VANCE, FOR SAVING MY LIFE DURING HER ATTACK."
"WHY." MASTER SHEER SAYS. YOU ARE CONFUSED FOR A MOMENT. "WHY ARE YOU BEING HUNTED."
"BECAUSE I AM NO LONGER SUITABLE AS LORD CERLIONESS'S PRIMARY CHANNELER." YOU REPLY. "AND I MUST BE KILLED IN ORDER FOR A NEW ONE TO ASCEND TO THE POSITION."
"I SEE."
"MIGHT I ASK, WHAT IS BEING DONE ABOUT MASTER INFER? HER PRESENCE HERE IS A SOURCE OF AGITATION, NOT ONLY FOR ME, BUT SURELY FOR YOUR PEOPLE AS WELL."
THE ANGEL LEANS HIS HEAD AGAINST ONE HAND. "IF SHE APPEARS AGAIN, I SHALL PERSONALLY EXPEL HER FROM MY LORD'S LANDS. SHE IS NOT WELCOME HERE. SUCH ACTIONS ARE TYPICAL OF HER RECKLESSNESS, BARGING INTO FOREIGN TERRITORY, DEMONSTRATING NO REGARD FOR LOCAL CIVILIANS... ONE WOULD WISH TO AVOID SUCH THINGS."
"THEN I MUST ASK OF YOU A FAVOR, MASTER SHEER." YOU TAKE A BREATH AND PRESS YOUR WINGS TIGHTER AGAINST YOUR BACK. "I WISH TO TAKE ASYLUM IN MOEMOEA."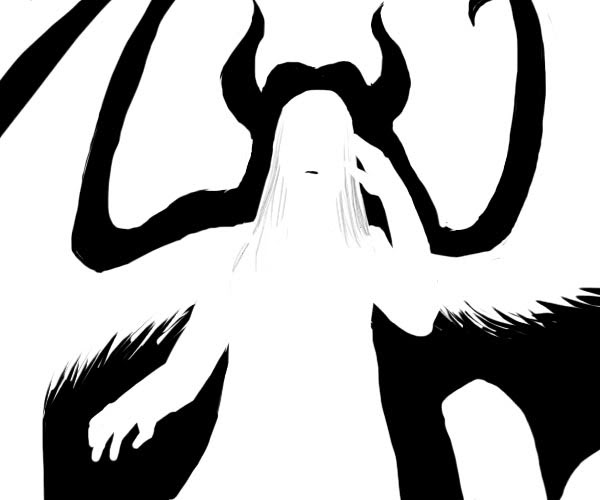 "NO."
YOU ARE STUNNED SPEECHLESS. WITH THAT ONE WORD, ALL YOUR HOPES EVAPORATE LIKE A BREATH.
"THE ONLY GENEROSITY I CAN GIVE YOU IS INFORMATION AND TIME." MASTER SHEER SAYS. "MASTER INFER'S ATTACK ON MOEMOEA, AND YOU, HAVE ALREADY BEEN REPORTED TO LORD PETRANOIA. HER OFFICIAL RESPONSE HAS NOT BEEN DELIVERED YET, BUT I SUSPECT I KNOW WHAT IT WOULD BE. BECAUSE AS MUCH AS MASTER INFER'S ACTIONS INFURIATE MY LORD, SHE WOULD NOT CLOSE ANY BORDERS OR CHANGE FOREIGN POLICY FOR THE SAKE OF PROTECTING ONE RENEGADE HOIC. I BELIEVE LORD PETRANOIA WOULD PREFER TO PRESENT YOU TO LORD CERLIONESS IN ORDER TO PREVENT FURTHER CONFLICT."
LITTIE AND VANCE LOOK AT THEIR MASTER AS IF EXPECTING AN ORDER.
"HOWEVER, LORD PETRANOIA'S COMMAND HAS NOT YET BEEN MADE. MY ADVICE TO YOU IS TO PUT AS MUCH DISTANCE BETWEEN YOURSELF AND MY LORD'S LANDS. BECAUSE WHEN THE COMMAND COMES, YOU WILL BE PURSUED BY MY MINIONS."
YOU TAKE A STEP BACK. "BUT WHERE WILL I GO? WHAT SHOULD I DO?"
"THAT IS NOT MY CONCERN." THE VICHEY SAYS. "YOU CAN TRY LORD L'EROLO OR LORD PENTIPLE'S DOMAINS. BUT DECIDE QUICKLY. THE TIME REMAINING FOR YOU TO LEAVE IS PRECIOUS. DO NOT WASTE IT."
>
---
mcc wrote:

>Can we take Dymalkid with us?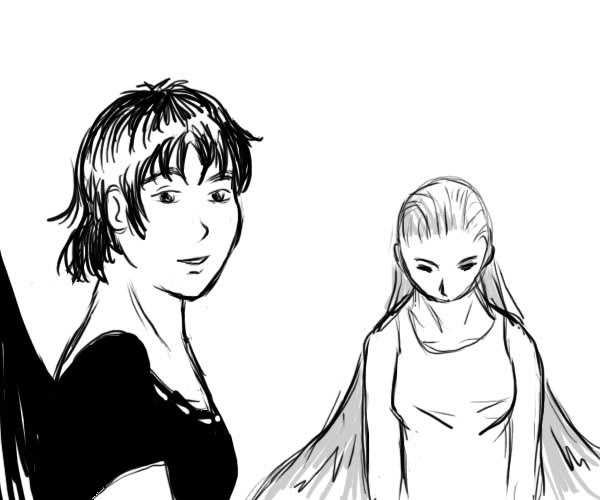 LITTIE IS SENT TO ESCORT YOU TO THE EDGE OF THE CITY. "CAN I SEE DYMALKID ONE LAST TIME?" YOU ASK.
"I SUPPOSE SO." THE HOIC SAYS. THE TWO OF YOU ENTER THE INFIRMERY, WHERE DYMALKID IS STILL SPLAYED ON THE BED, UNMOVING.
"IS SHE... TURNING INTO A WHITE ANGEL?" YOU ASK. YOU TOUCH A STRAND OF HER GREY HAIR.
LITTIE LAUGHS. "OF COURSE NOT. ONLY MASTER M'ZEL HAS EVER TURNED BACK INTO A WHITE ANGEL AFTER BEING DARK. CAN YOU FEEL IT? SHE IS EXUDING SUCH DELICIOUS PAIN." SHE SMILES AT YOU AND TURNS TO DYMALKID. "CORAYS. STAND UP."
DYMALKID DOESN'T MOVE. LITTIE BLINKS AND ADDS, "I COMMAND YOU."
DYMALKID STRUGGLES TO SIT UP.
"HEY DYMALKID." YOU SAY. "I'M GOING ON A JOURNEY. BUT I WOULD RATHER NOT GO ALONE. I WOULD REALLY APPRECIATE IT IF YOU WOULD COME ALONG WITH ME."
"NOW WHY WOULD SHE WANT TO DO THAT?" LITTIE SAYS. "SHE'S NOT GOING TO TURN HER BACK ON HER LORD AND BECOME A FUGITIVE WITH YOU."
"I GUESS NOT..." YOU SIGH. "I GUESS THIS IS GOODBYE, THEN."
DYMALKID LOOKS AT YOU.
>
---
Mbnmac wrote:

>I want you to come... I need you to come... my friend.

Please?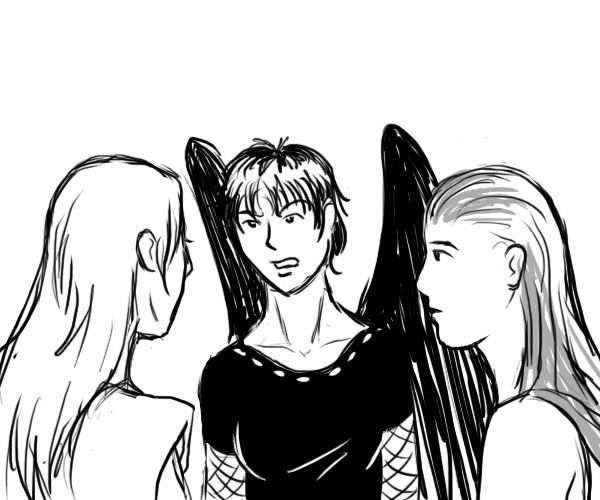 IGNORING LITTIE, YOU PRESS DYMALKID TO ANSWER FOR HERSELF.
"BOTH OF US ARE GOING TO BE LONELY." YOU SAY, LOOKING HER IN THE EYES. "AT LEAST WE WILL HAVE EACH OTHER..."
DYMALKID LOWERS HER EYES.
"STOP HARASSING HER." LITTIE SAYS, STANDING UP. DESPONDENTLY, YOU FOLLOW HER, GLANCING BACK ONE LAST TIME AT YOUR FORMER TRAVELING COMPANION.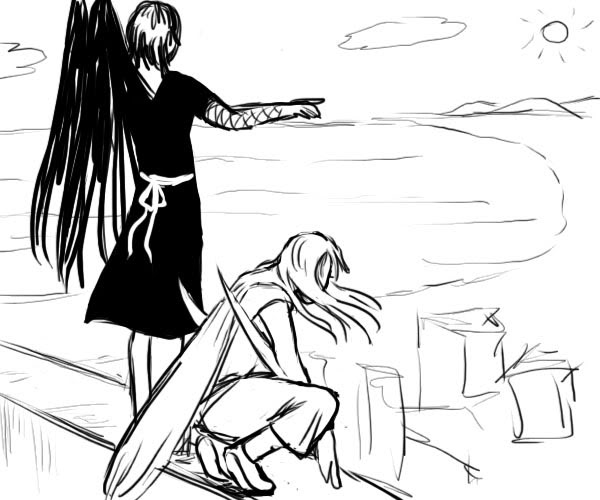 LADY LITTIE TAKES YOU TO THE NORTH-EASTERN EDGE OF THE CITY. "IF YOU FOLLOW THE ROAD ALONG THE COAST, YOU WILL EVENTUALLY ENTER LORD PENTIPLE'S DOMAIN." SHE SAYS. "IF YOU ARE ABLE TO, YOU CAN CROSS THE OCEAN TO LORD L'EROLO'S LANDS. AND TO THE SOUTH-WEST, IS THE BOUNDARY MOUNTAINS, FROM WHENCE YOU CAME. WHERE YOU GO IS YOUR DECISION." SHE OPENS HER WINGS. "WELL. THAT'S THAT." AND FLIES AWAY.
>
---
Lanz wrote:

>Follow the road to the coast, to Pentiple's domain
Today's Storytime of Epicness features the collaborative work of Kyou and Eyes5 using Open Canvas. Enjoy!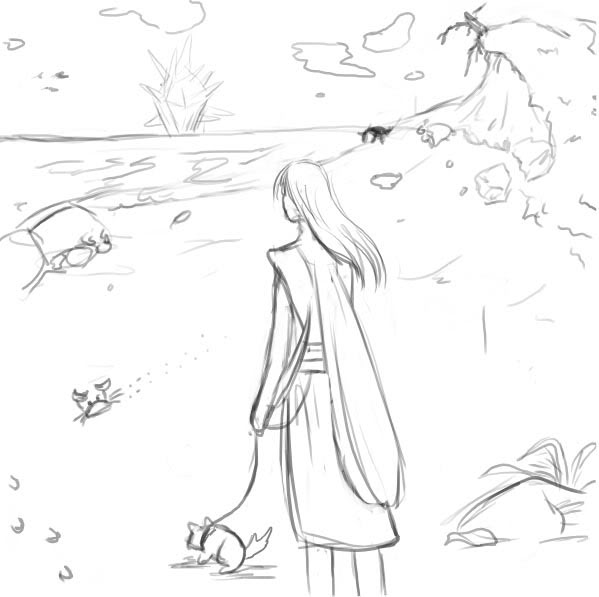 THERE DOESN'T SEEM TO BE A BETTER ALTERNATIVE THAN TO FOLLOW THE ROAD ALONG THE COAST WHICH EVENTUALLY LEADS INTO LORD PENTIPLE'S DOMAIN. IT IS A VERY LONG WALK, SEVERAL DAYS AT LEAST, IF YOU REMEMBER YOUR GEOGRAPHY CORRECTLY.
THE OCEAN GLITTERS UNDER THE MIDDAY SUN. THE CONSTANT FLASHING HIDES THE CRYSTAL PALACE AS IT COMES INTO VIEW, AND YOU ONLY NOTICE IT ONCE ITS TRANSLUCENT SPIRES APPEAR ABOVE THE HORIZON. YOU WATCH IT FOR A MOMENT, LETTING MENCHI REST AND FEED. THERE ARE ANIMALS ATTRACTED BY THE WATER WHICH YOU THINK MIGHT MAKE A GOOD MEAL. THE PROTEIN-CHITIN PACKAGES YOU HAVE WON'T HELP YOUR MORNING VORACIOUSNESS.
SOMETHING MOVING IN THE SKY IMMEDIATELY CATCHES YOUR ATTENTION. YOU CAN NOT TELL WHAT THEY ARE, BUT THEY ARE MOVING TOWARDS MOEMOEA FROM THE DIRECTION OF THE CRYSTAL PALACE. A WAVE OF DREAD WASHES OVER YOU.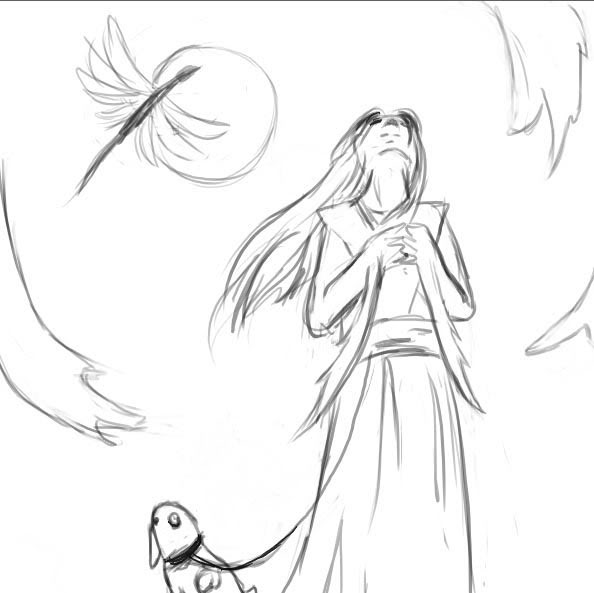 YOU KEEP WALKING.
>
---
mcc wrote:

>Trap the nearest non-Menchi animal, which is apparently that crab there.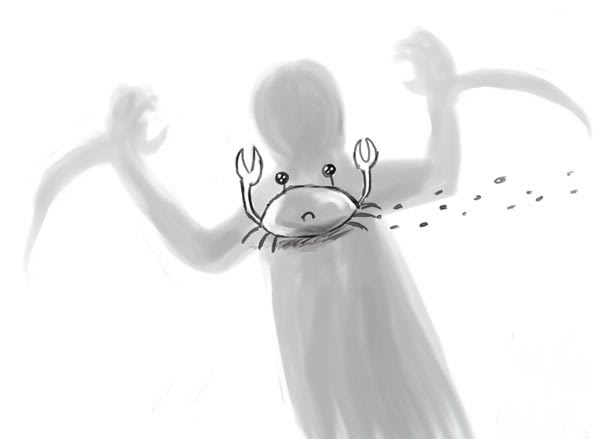 LUNCH!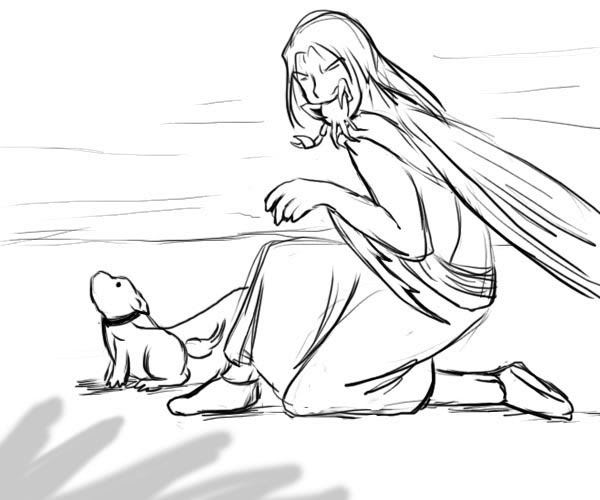 TO STEM YOUR MORNING HUNGER, YOU USUALLY HAVE TO STUFF YOURSELF FULL THE NIGHT BEFORE. THIS CRAB THAT YOU CAUGHT IS BARELY AN APPETIZER. BUT ITS JUICES ARE SWEET AND ITS SHELL IS COMFORTING TO RUB YOUR MANDIBLES AGAINST.
A SHADOW PASSES OVER YOU. AT FIRST YOU PAY IT NO MIND, BUT YOU REALIZE THAT THIS SAME SHADOW HAS PASSED OVER YOUR PATH MANY TIMES TODAY, AS IF SOMETHING HAS BEEN CIRCLING YOU IN THE SKY. YOU LOOK UP AND SEE THE INDISTINCT SHAPE AGAINST THE SUN.
>
---
Jesuits wrote:

>Use Hoic powers to enhance our vision and see just what it is, if possible. If not, I guess there isn't much we can do about it at the moment, so keep walking, but keep an eye on it in case it comes closer/does something weird.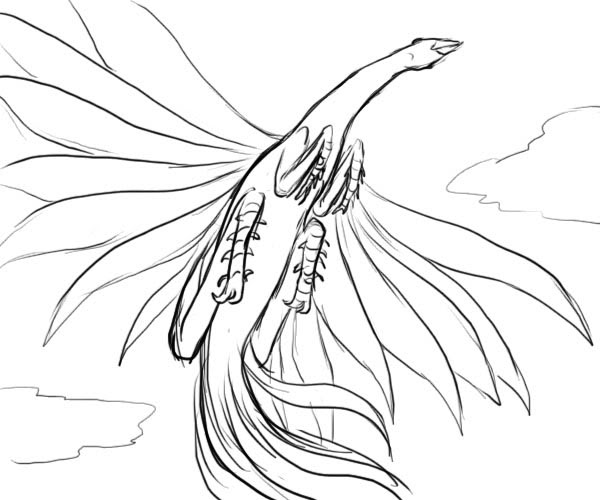 THIS IS WHAT YOU SEE. YOU DON'T RECOGNIZE THE CREATURE. IT'S QUITE BEAUTIFUL, WITH TRANSLUCENT WINGS LIKE A PRISM REFRACTION. IT SEEMS TO ALMOST FLOAT THROUGH THE SKY. YOU CAN'T TELL IF IT WOULD FLY FASTER THAN YOU IN THE AIR.
>
---
ThatOneYoYoGuy wrote:

>Attempt to Befriend it (use it to hunt for food)
YOU FLY UP TO THE CREATURE'S ALTITUDE AND ATTEMPT TO TALK TO IT. IT VEERS OFF SHYLY, BUT REMAINS NEARBY. IT IS CIRCLING IN PLACE, AS IF EXPECTING YOU TO FOLLOW IT.
>
---
PHI-1618 wrote:

>What the hell, follow it. And while following it, see how close you can get to it without it veering away. Don't press the issue but kind of feel out how contrary it is to you being near it.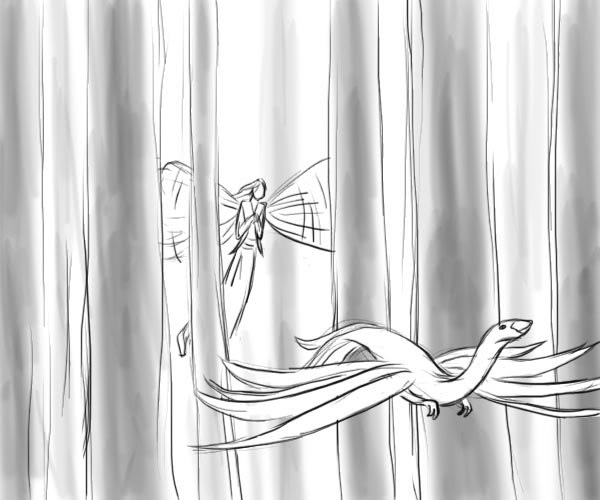 YOU FOLLOW THE CREATURE. IT FLIES AWAY AND DECREASES ITS ALTITUDE, BUT YOU ARE ABLE TO KEEP TRACK OF IT WITHOUT TROUBLE. IT LEADS YOU TO A FOREST WHERE THE TREES GROW AS ABNORMALLY STRAIGHT AND TALL AS PILLARS. THE CREATURE WINDS AROUND THEM HAPHAZARDLY, FOLLOWING A CONVOLUTED PATH AND THAT SOMETIMES VISITS THE SAME PLACE TWICE. YOU INITIALLY THINK IT IS TRYING TO LOSE YOU. THEN YOU THINK THAT IT IS TRYING TO CONFUSE ANYONE THAT MIGHT BE FOLLOWING THE TWO OF YOU.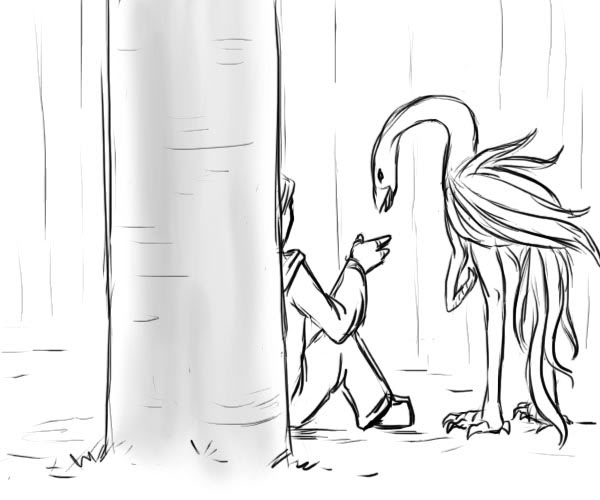 THE CREATURE SLOWS AND LANDS, ITS SOFT WINGS BARELY DISTURBING THE FOREST FLOOR DEBRIS. YOU LAND SOME DISTANCE AWAY AND REACH OUT WITH YOUR SENSES, FEELING THE SURROUNDINGS. THIS PLACE UNNERVES YOU. THE SILENCE OF IT, THE WAY THE TREES TOWER OVER YOU LIKE THICK BARS.
YOU SENSE A FIGURE OBSCURED BY THE TRUNK OF A TREE. SURE ENOUGH, A HAND REACHES OUT AND STROKES THE FLYING CREATURE'S HEAD.
"GOOD WORK, STALMARISA." THE PERSON SAYS. YOU RECOGNIZE THAT VOICE.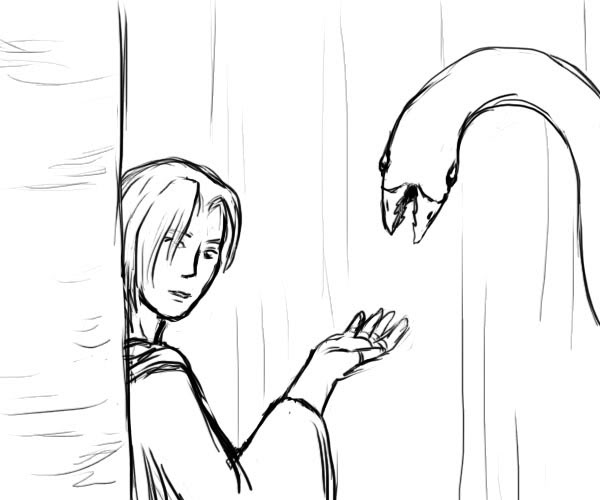 THE BEASTMASTER OWES TURNS SO THAT YOU CAN SEE HIS FACE.
"HELLO, TENO. OR DO YOU PREFER TO BE CALLED LADY TENODERA NOW?"
>
---
mcc wrote:

>"Either's fine. How have you been?"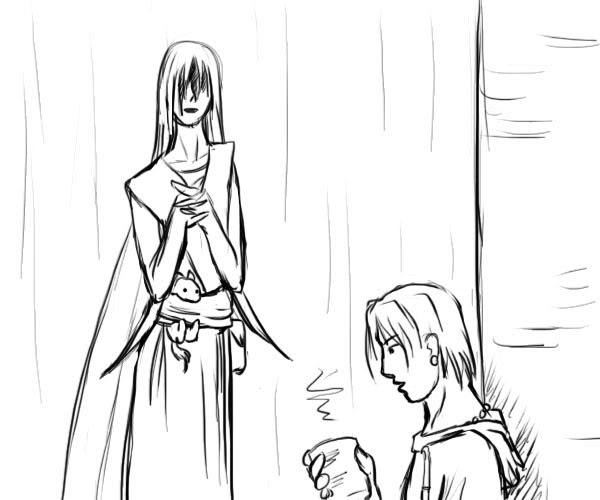 "EITHER IS FINE." YOU ANSWER PLEASANTLY, ALTHOUGH NOT WITHOUT A NERVOUS TINGE TO YOUR VOICE. "FUNNY STUMBLING UPON YOU HERE. SO HOW HAVE YOU BEEN?"
"OH, I COULDN'T BE BETTER." THE BEASTMASTER SAYS. HE HOLDS UP A CUP OF HOT LIQUID. "TEA?"
YOU HOLD YOUR HANDS OUT IN REFUSAL. "UM. I ONLY EAT MEAT."
"I KNOW THAT." THE CORNERS OF HIS LIPS TWITCH UPWARDS IN A GRIN. "THIS IS MADE FROM THE STOMACH LINING OF DANAIDS THAT WERE RAISED ON CAMELLIA LEAVES."
"WELL IN THAT CASE..." YOU HESITANTLY REACH FOR THE CUP.
"IT'S NOT DRUGGED, I ASSURE YOU." THE BEASTMASTER SAYS AS HE HANDS YOU YOUR TEA. YOU SIT DOWN AT THE BASE OF A TREE AND TAKE A CAREFUL SIP.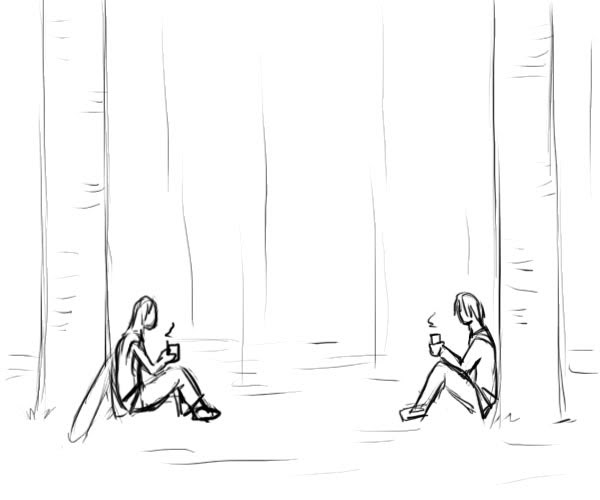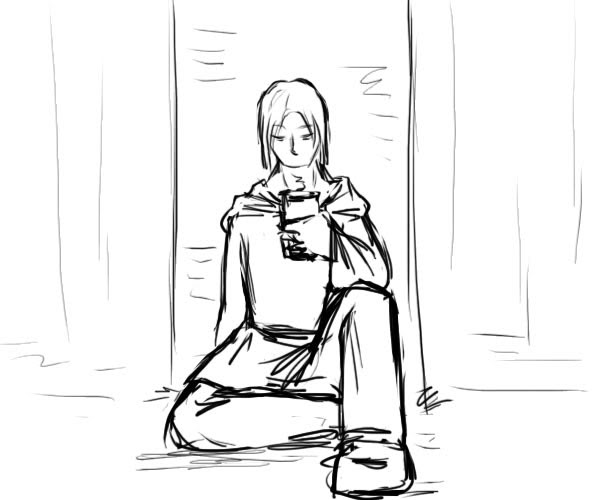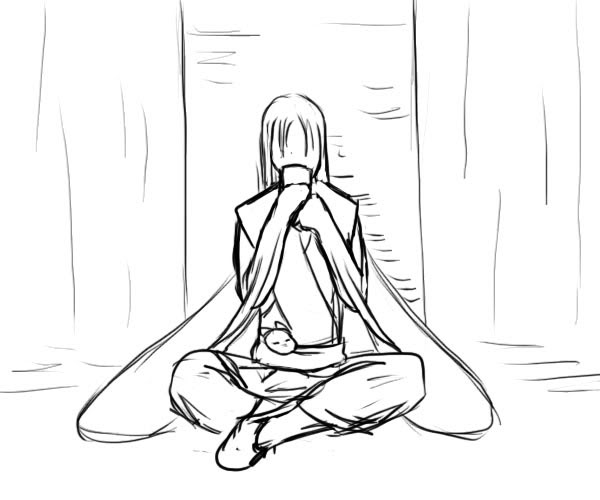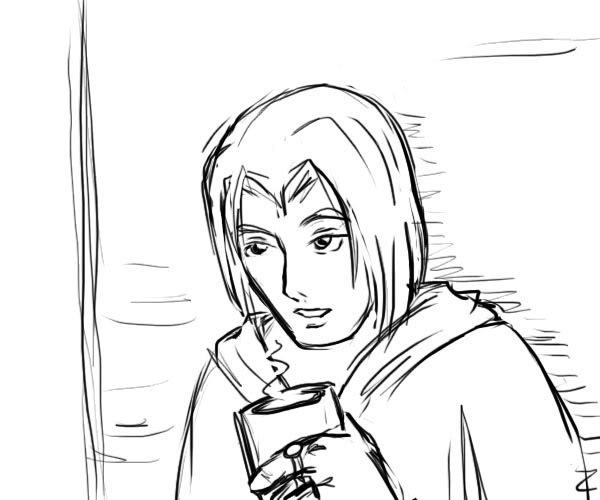 "SO HOW ABOUT YOU?" OWES ASKS. "WHY WHERE YOU WANDERING ABOUT IN YOUR NATURAL BODY WITHOUT THOSE COMPANIONS OF YOURS?"
>
---
Behemoth wrote:

>"Well, Chelling was incinerated by Master Infer, so Dymalkid is an emotional wreck, and I was exiled from Moemoea"

*sip*

"you?"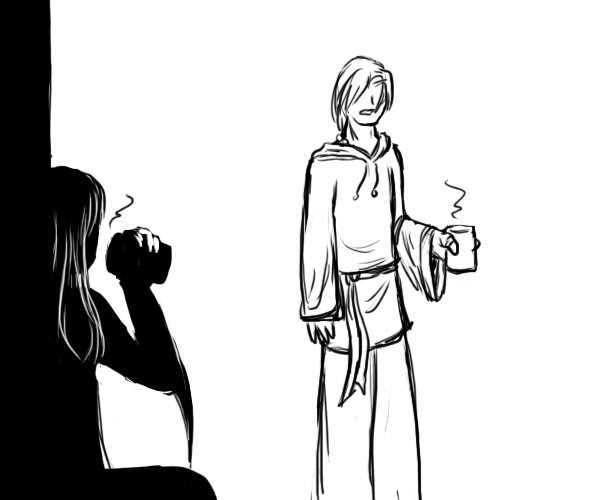 "WELL... HOW SHOULD I PUT THIS." YOU HAVE NO IDEA IF THE BEASTMASTER MEANS YOU HARM, BUT IT SEEMS THAT HE IS ABLE TO SEE THROUGH YOUR LIES. YOU TAKE A BREATH AND SAY REALLY FAST, "MASTER INFER ATTACKED ME IN MOEMOEA AND SHE KILLED CHELLING SO DYMALKID IS AN EMOTIONAL WRECK AND MASTER SHEER TOLD ME TO LEAVE THE CITY." YOU PAUSE TO BREATHE. "AND THEN I ATE A CRAB. AND THEN I FOLLOWED YOUR FLYING CREATURE TO YOU."
"WAIT WAIT WAIT." THE BEASTMASTER STANDS UP. "INFER ATTACKED YOU? WHERE?"
"RIGHT IN THE MIDDLE OF MOEMOEA. IN BROAD DAYLIGHT. WITH PEOPLE EVERYWHERE."
OWES BEGINS TO PACE. "I SEE. THAT IS WHY YOU DISCARDED THAT LESSER FORM OF YOURS." HE STOPS AND LEANS CLOSE TO YOU. "BUT WHY WOULD MASTER SHEER TELL YOU TO LEAVE THE CITY?"
"HE..." YOU COWER A BIT AGAINST THE HEAT OF HIS BREATH. "HE SAYS THAT LORD PETRANOIA WILL ORDER ME TO BE CAPTURED SOON. BUT HE'S LETTING ME LEAVE BEFORE THAT ORDER COMES IN."
"THAT..." OWES BACKS AWAY FROM YOU AND MUTTERS TO HIMSELF. "OF COURSE HE WOULD THINK THAT."
HE DOWNS HIS TEA IN A SCALDING SWALLOW AND POINTS TO YOURS. "FINISH THAT." HE SAYS. HE GESTURES TO HIS FLYING ANIMAL AND UNMAKES IT, TURNING IT INTO LIGHT AND ABSORBING IT INTO HIS HAND. "COME WITH ME."
YOU STAND UP HESITANTLY, CONFUSED.
>
---
Zierath wrote:

>"We're going... where?"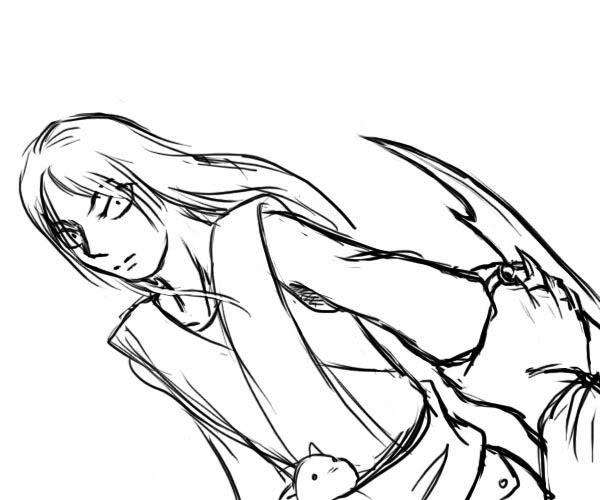 YOU FINISH YOUR TEA BUT DO NOT FOLLOW THE BEASTMASTER AS HE TAKES SEVERAL QUICK STEPS IN ONE DIRECTION. HE STOPS AND TURNS TO YOU. "WHAT ARE YOU WAITING FOR?" HE COMES BACK AND PULLS YOU UP BY THE ARM.
"WAIT. WHERE... ARE WE GOING?" YOU ASK UNCERTAINLY.
"TO SEE LORD PETRANOIA. IT'S WHAT YOU ORIGINALLY WANTED, AFTER ALL."
>
---
mcc wrote:

>Sure, why not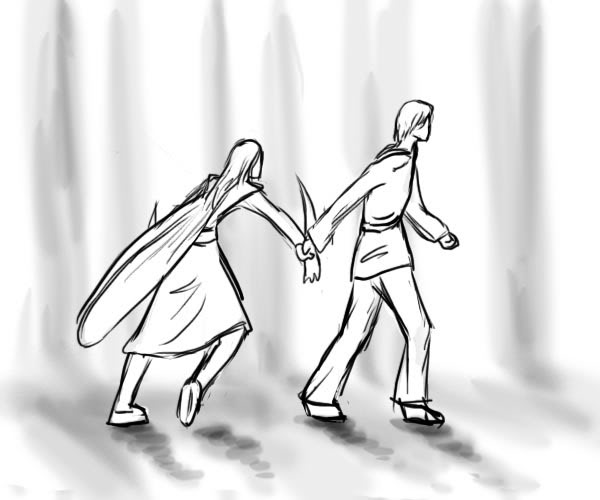 YOU MEEKLY LET YOURSELF BE PULLED ALONG BY THE BEASTMASTER, KNOWING THAT YOU CAN NOT HOPE TO OVERPOWER HIM. WASN'T HE PAYING ATTENTION? YOU CAN'T MEET LORD PETRANOIA ANYMORE; SHE IS ORDERING YOUR CAPTURE. UNLESS PRESENTING YOU TO HIS LORD IS HIS INTENTION, ALTHOUGH HE IS ACTING VERY CASUAL AROUND YOU IF YOU ARE INDEED HIS PRISONER. MAYBE HE DOESN'T CARE IF YOU TRY TO ESCAPE. MAYBE HE IS CONFIDENT THAT HE CAN CAPTURE YOU AGAIN IF YOU TRY.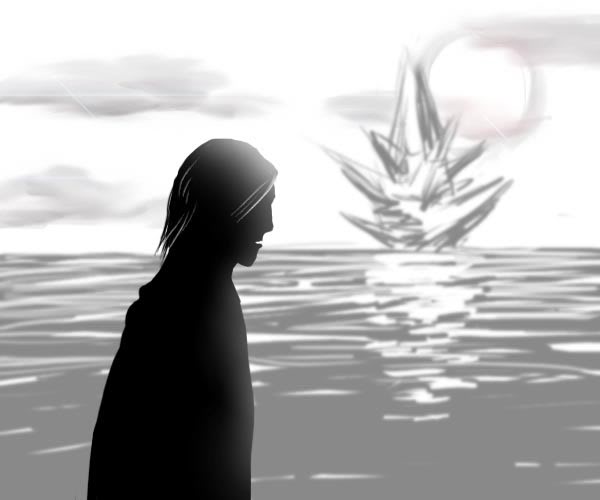 THE TWO OF YOU REACH THE EDGE OF THE FOREST AND ARE LOOKING OUT OVER THE OCEAN. THE BEASTMASTER SHADES HIS EYES AGAINST THE SETTING SUN AND POINTS TO THE CRYSTAL PALACE IN THE DISTANCE.
"THERE'S NOT A LOT OF COVER OVER THE OCEAN, SO WE ARE FOLLOWING THE NORTH-EASTERN COAST AS FAR AS WE CAN. IT CIRCLES AROUND AS A BAY AND ENDS IN A PENINSULA. THE CRYSTAL PALACE IS TRAVELING EASTWARD RIGHT NOW SO IF WE ARE LUCKY, WE CAN REACH IT WHILE MINIMIZING OUR TIME FLYING OVER WATER." OWES LOOKS AT YOU. "WHAT?"
"I DON'T... THINK I WANT TO SEE LORD PETRANOIA ANYMORE." YOU SAY WEAKLY.
THE BEASTMASTER STARES AT YOU FOR A MOMENT LONGER THEN RUBS HIS EYES. "I'M SORRY. I THOUGHT THE CONCLUSION WAS OBVIOUS, BUT MAYBE NOT." HE MOTIONS FOR YOU TO FOLLOW HIM DOWN THE CLIFF OVER THE ROCKY SHORE, WHERE THE TWO OF YOU WILL BE LESS VISIBLE FROM THE MAIN ROAD.
"THE LORD PETRANOIA IS A FREE SPIRIT." HE SAYS. "HER ACTIONS AND DESIRES ARE INEXPLICABLE AND RANDOM. SHE DOESN'T USUALLY INVOLVE HERSELF WITH MATTERS OF GOVERNING HER OWN LAND. INSTEAD, IT IS HER LEFT AND RIGHT HAND VICHEYS THAT CONTROL HER TERRITORIES. SO WHEN MASTER SHEER SAID THAT LORD PETRANOIA IS GOING TO ORDER YOUR ARREST, WHAT HE MEANS IS THAT MASTER M'ZEL AND MASTER NOCTUR ARE GOING TO ORDER YOUR ARREST."
THE BEASTMASTER LOOKS AT YOU AGAIN. HE SEEMS TO DO THAT A LOT, STARE RIGHT INTO YOUR SLITTED EYES.
"BUT THEY DOESN'T KNOW WHAT YOU AND I KNOW. I BET ANYTHING THAT IF THE LORD PETRANOIA MET YOU PERSONALLY, SHE WOULD WELCOME YOU AS A NEW ACQUISITION."
"BET... ANYTHING...?" YOU ASK.
HE SHRUGS. "I RISK MY REPUTATION AND RANK BY BEING HERE WITH YOU. IS THAT NOT ENOUGH?" HE LEAPS FROM ROCK TO ROCK WITH YOU HOVERING BEHIND. "ARE YOU TIRED?" HE ASKS. "IT'S LATE NOW. OR DO YOU WANT TO KEEP TRAVELING?"
>
Top of Page
Go back to Storytime of Epicness