Kyou wrote:

>Enter the closest dwelling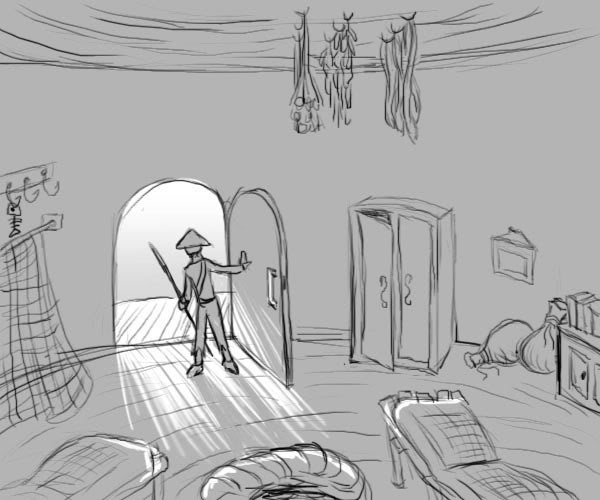 BRAVING THE ALARMINGLY WORN AND DAMP ROPES, YOU CLIMB UP A TREE TO REACH THE NEAREST DWELLING. WITH AN ALIMINUM DOOR AND NO WINDOWS, THE INTERIOR OF THE HOUSE IS WELL PRESERVED AND NOTABLY WARMER THAN THE OUTSIDE. THE PLACE SEEMS TO BE LONG ABANDONED. THERE ARE A LOT OF HOUSEHOLD AND PERSONAL ITEMS LEFT BEHIND, AS IF THE PREVIOUS OWNERS NEVER INTENDED TO LEAVE.
BY THE WAY, NIGHT IS FALLING. AND I SHOULDN'T HAVE TO REMIND YOU EVERY FREAKING DAY, BUT YOU SHOULD EAT SOMETHING SOON. OR YOU CAN SLEEP NOW, ALTHOUGH THERE IS STILL TIME TO DO SEVERAL OTHER THINGS. BY TOMORROW MORNING, FINDING FOOD WILL BE A PRIORITY.
>
---
mayor cigar face wrote:

>Search the dwelling for food and any other usable items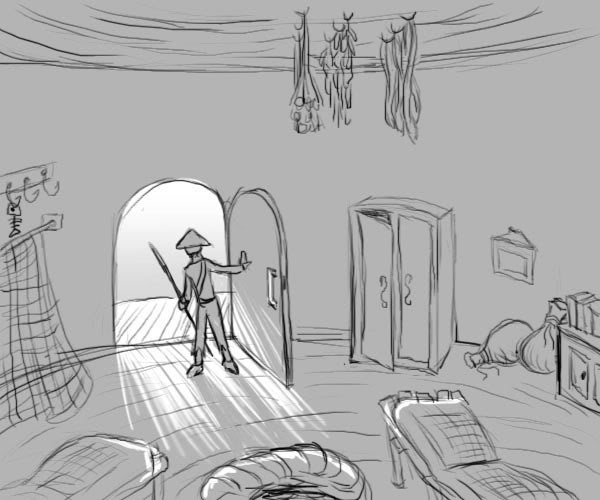 WHERE SHOULD YOU SEARCH FIRST?
>
---
mayor cigar face wrote:

>Search the sacks by the wall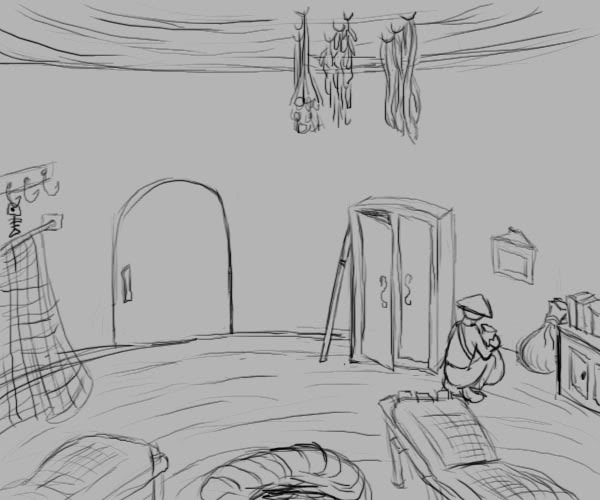 IT IS DIFFICULT TO SEE ANYTHING WITH DARKNESS FAST APPROACHING, BUT FROM FEEL AND SMELL YOU CAN TELL THERE IS SOME SORT OF OIL IN THE GOURDS.
Google Image Search wrote:

>Leave an upper-decker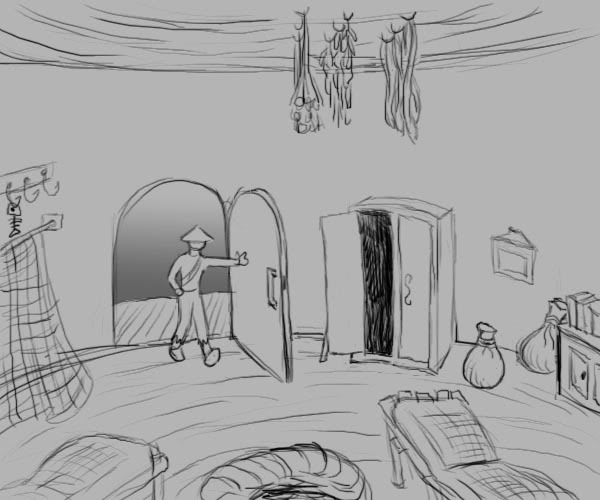 FRUSTRATED BY THE LACK OF HOSPITALITY IN THIS HOUSE, YOU DECIDE TO LEAVE THE OWNERS A PRANK. IT DOESN'T WORK VERY WELL BECAUSE THERE'S ONLY AN OUTHOUSE, BUT AT LEAST YOU FEEL A BIT BETTER.
Google Image Search wrote:

>Search wardrobe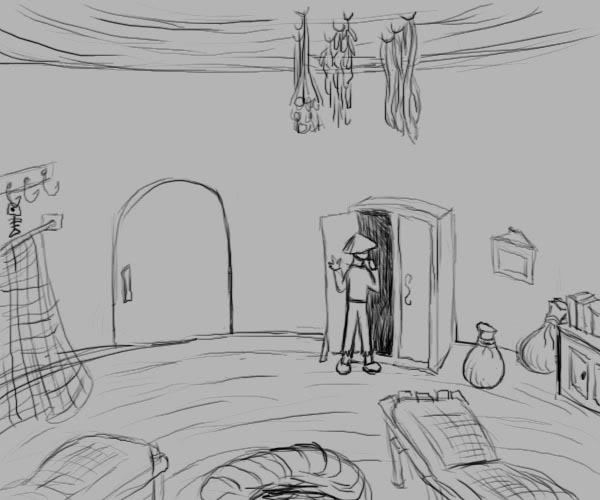 UNFORTUNATELY, IT IS TOO DARK TO SEE WHAT IS IN THE WARDROBE.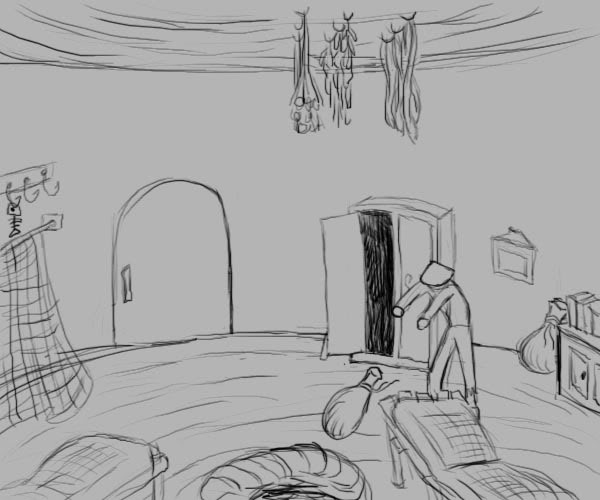 NOW FRUSTRATED ANEW, YOU SMASH ONE OF THE POTS IN YOUR ANGER.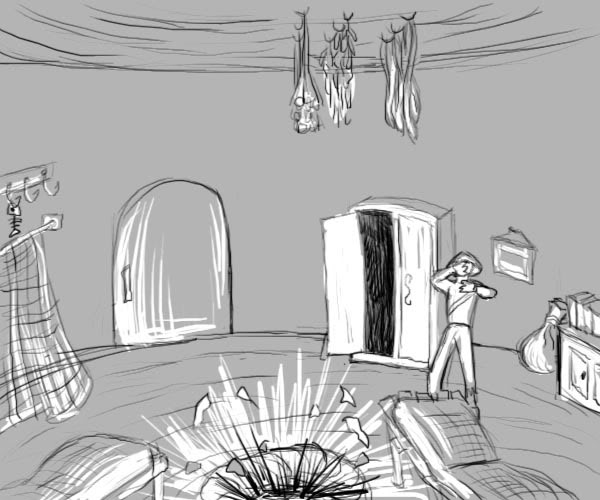 THE POT EXPLODES!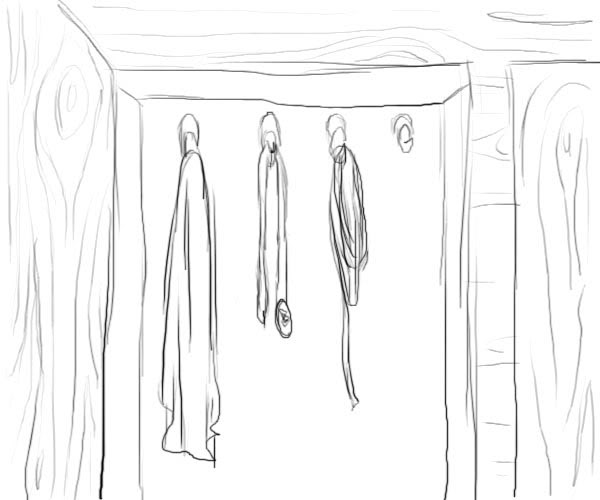 AT LEAST YOU CAN SEE INSIDE THE WARDROBE NOW. THERE IS A HALF-CLOAK HANGING ON A HOOK INSIDE, AS WELL AS A BELT WHICH HAS THE EMBLEM OF LORD PETRANOIA ENGRAVED ON THE BUCKLE, AND A LENGTH OF CORD MAYBE 4 METERS LONG. YOU LEAVE THE ITEMS UNTOUCHED FOR NOW.
Rayofash wrote:

>Decide that your journey has gone on long enough and make this place your new home.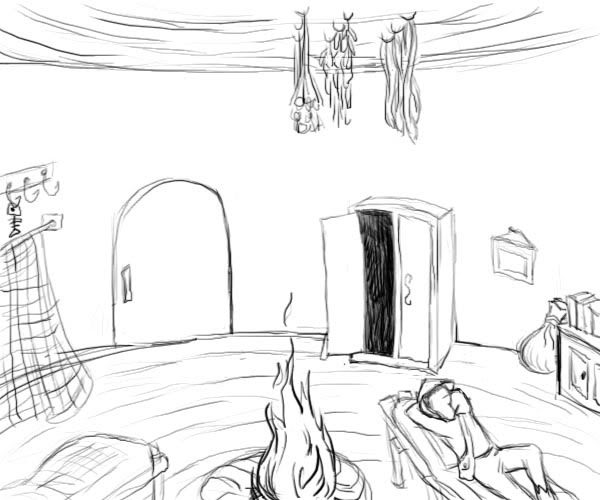 FINDING THE HOUSE VERY COZY, YOU DECIDE TO STAY HERE FOR THE REST OF YOUR LIFE. WHICH WILL BE UNTIL TOMORROW NIGHT, BECAUSE YOU HAVE A FAST METABOLISM AND YOU STILL HAVEN'T FOUND ANYTHING TO EAT.
SLEEP NOW? [Y/N]
>
---
Lavaknight wrote:

>NO. Use the opportunity of light to further search for food (hanging things?) in the dwelling that you could cook with the fire going.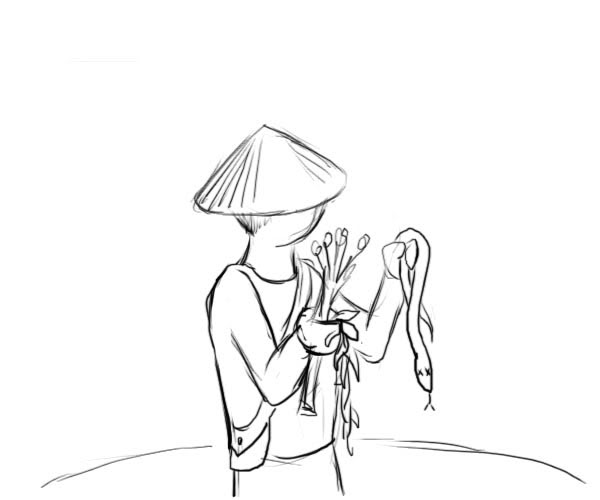 YOU EXAMINE THE SEVERAL ITEMS HANGING ON THE CEILING TO SEE IF ANY OF THEM ARE EDIBLE. THERE ARE HANKS OF MOULD FLOWERS, STRINGS OF WITHERED RED LEAVES, AND SEVERAL SWAMP SNAKES THAT HAVE BEEN DEBONED.
WILL YOU EAT ANY OF THESE?
>
---
Lanz wrote:

>Try to remember if said snake is edible. If so, roast it and then eat it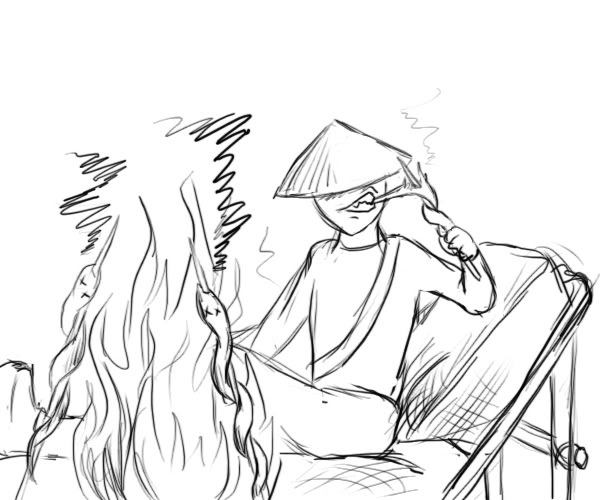 THE SNAKES SEEM TO HAVE A MEDICINAL PURPOSE BUT THEIR MEAGRE MEAT IS GOOD FOR EATING. YOU FRY UP THE FOUR THAT YOU FIND AND EAT THEM ALL, WHICH SHOULD BE ENOUGH FOOD TO SUSTAIN YOU TOMORROW.
SLEEP NOW? [Y/N]
>
---
mayor cigar face wrote:

>Y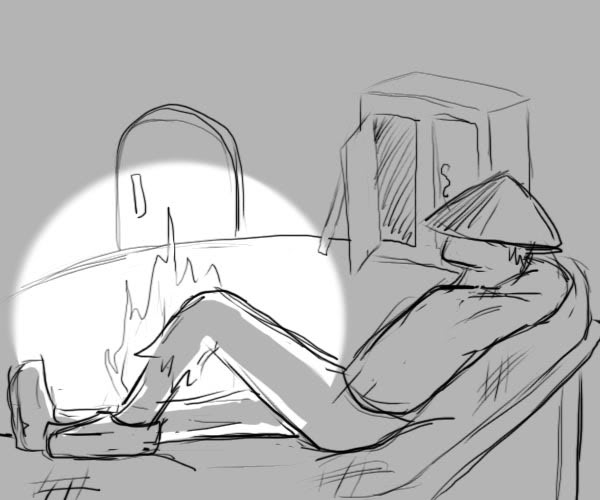 AS THE FIRE DIES DOWN, YOU FALL ASLEEP.
IN THE MIDDLE OF THE NIGHT, YOU ARE STARTLED AWAKE BY THE SOUND OF A HARPY'S SCREAM.
>
---
Furu wrote:

>Grab naginata and INVESTIGATE WITH GUSTO!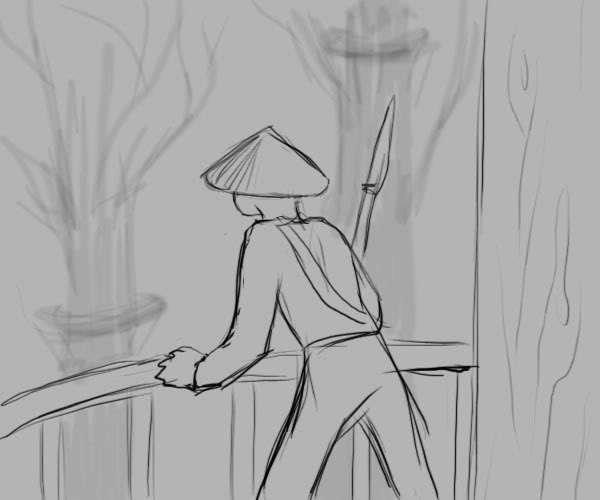 YOU GRAB YOUR NAGANATA AND RUN OUTSIDE TO INVESTIGATE, BUT IT IS TOO DARK FOR YOU TO SEE MORE THAN 5 METERS INTO THE DISTANCE. YOU HEAR THE SCREAM AGAIN, FAINTER THIS TIME, BUT YOU THINK YOU CAN PLACE ITS DIRECTION. WARNING: IF YOU WANDER TOO FAR, YOU WILL NOT BE ABLE TO FIND YOUR WAY BACK TO THE HUT.
>
---
Google Image Search wrote:

>throw another pot into the fire ring, wrap some cloth around a stick and light it as a torch. Cut marks into trees as you go out to serve as a guide back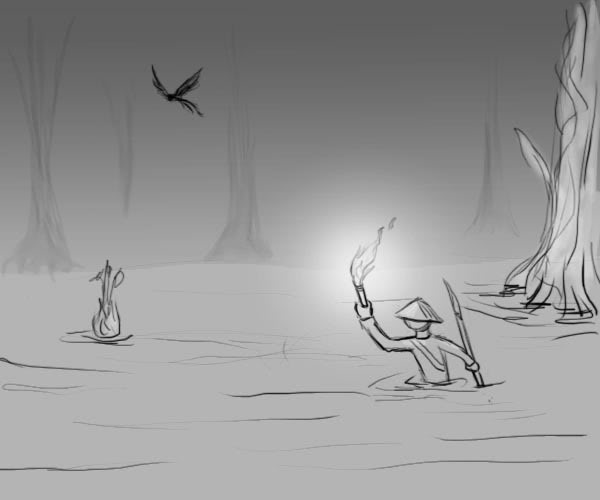 YOU START ANOTHER FIRE WITH THE REMAINING POT AND WRAP THE HALF-CLOAK AROUND A BRANCH TO MAKE A TORCH. YOU ARE MOMENTARILY PLEASED TO SEE THAT THE FOG HAS LIFTED AND YOUR LIGHT PENETRATES DEEP INTO THE MANGROVES. YOU HEAD IN THE DIRECTION YOU THINK YOU HEARD THE SCREAMS.
EVENTUALLY YOU SEE A HARPY SHAPE APPROACHING, NO DOUBT ATTRACTED TO YOUR TORCH. IT IS CHELLING, AND SHE IS SAFE. HARPIES SCREAM FOR A VARIETY OF REASONS, NOT NECESSARILY FOR WHEN THEY ARE IN DANGER. APPARENTLY SHE WAS LOOKING FOR YOU.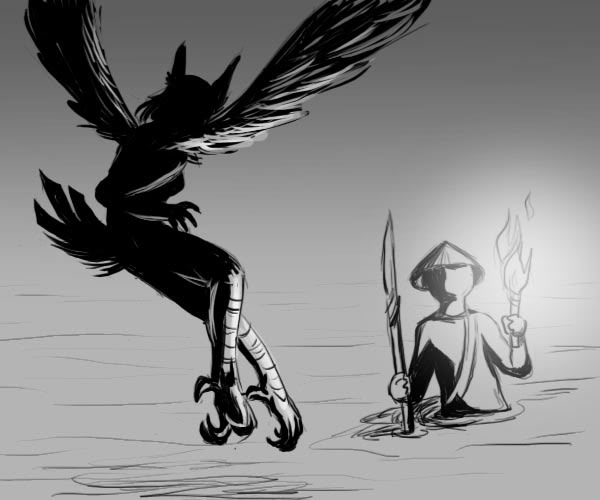 "TENO!" CHELLING SCREAMS, HOVERING IN FRONT OF YOU, JUST ABOVE THE WATER. SHE LOOKS FLUSTERED AND EXHAUSTED.
"YOU HAVE TO COME! IT'S DYMALKID-" SHE FLIES HIGHER AND GESTURES FOR YOU TO FOLLOW.
>
---
Hanku wrote:

>"Damnit woman, I was sleeping!" Follow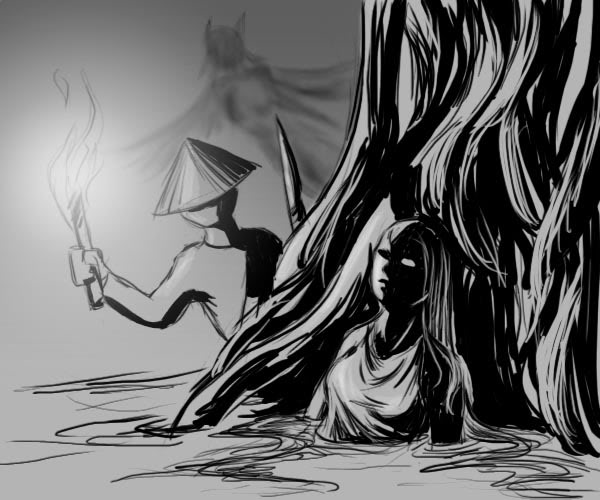 YOU CURSE UNDER YOUR BREATH FOR YOUR INTERRUPTED SLEEP BUT FOLLOW CHELLING WITH AS MUCH SPEED AS YOU CAN MANAGE. SHE LEADS YOU TO DYMALKID, WHO IS LYING UNCONSCIOUS AND HALF-SUBMERGED UNDER A MANGROVE TREE.
>
---
Google Image Search wrote:

>Fireman's Carry her back to the tree-hut. Ask Chelling to tell you what has happened since the monster attacked.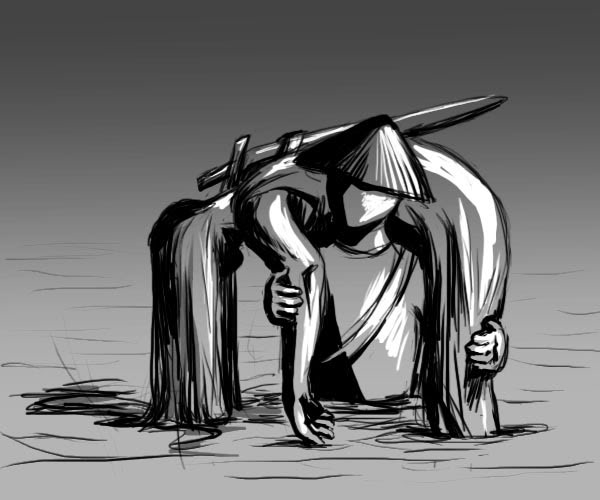 YOU HOIST DYMALKID ONTO YOUR BACK AND RECEIVE A SHOCK: HER WINGS ARE GONE.
"SHE CUT THEM OFF TO DISTRACT THE OLUK." CHELLING SAYS, WHISPERING FROM HER PERCH ON A TREE. "THEY'LL REGENERATE, BUT RIGHT NOW SHE'S SO WEAK... SHE JUST COLLAPSED WHILE WE WERE LOOKING FOR YOU."
THE DARK ANGEL IS EXTREMELY LIGHT, YOU ARE ABLE TO CARRY HER WITH NO TROUBLE.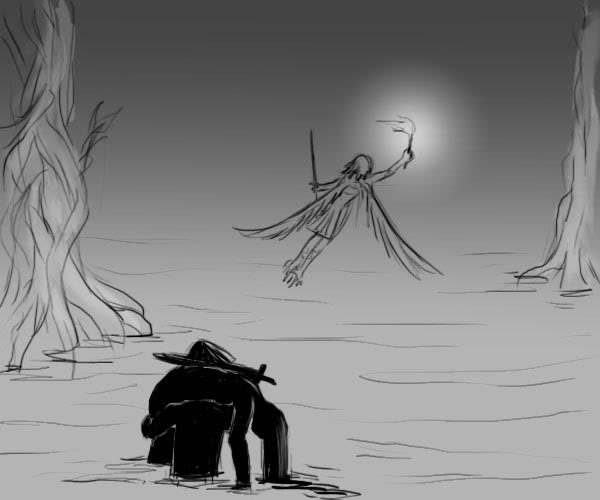 CHELLING CARRIES YOUR TORCH AND WEAPON, FLYING AHEAD TO LIGHT THE WAY. WHEN THE BOARDWALK VILLAGE COMES INTO VIEW, THE HARPY LANDS ON AN OLD PLANK AND COCKS HER HEAD IN CURIOSITY.
"WHAT IS THIS PLACE?"
YOU TELL HER THAT YOU DON'T KNOW.
"DYMALKID MIGHT KNOW." CHELLING SAYS. "SHE'S BEEN ALIVE LONG ENOUGH TO REMEMBER THE OLD WORLD. WE CAN ASK HER WHEN SHE WAKES UP."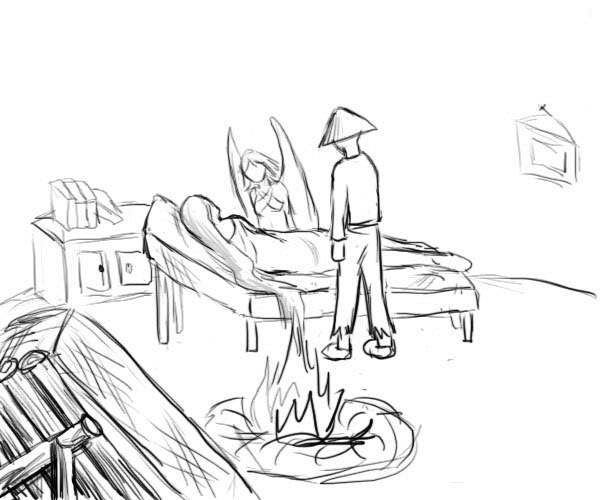 THE FIRE IN THE HUT YOU WERE IN IS STILL BURNING. YOU PUT DYMALKID ON ONE OF THE TWO BEDS TO WAIT FOR HER TO WAKE UP. IT IS EARLY, EARLY MORNING, BUT YOU FEEL LIKE YOU WANT TO SLEEP AND CHELLING LOOKS LIKE SHE HASN'T HAD ANY SLEEP AT ALL THIS NIGHT.
>
---
Drumble wrote:

>Tell Chelling to rest. Sit around and feel bad about yourself, feeding Dymalkid with your misery. Specifically recall that time you thought that fat woman was pregnant and got thrown out into the cold for your faux pas.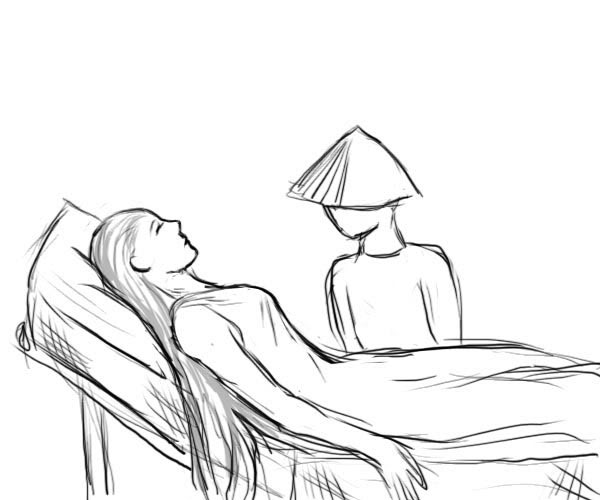 YOU TELL CHELLING TO TAKE THE OTHER BED, WHICH SHE DOES GRATEFULLY AND IMMEDIATELY FALLS ASLEEP. YOU SIT BESIDE DYMALKID AND, REMEMBERING SOMETHING SHE SAID EARLIER, TRY TO GIVE HER ENERGY BY FEELING MISERY. YOU RECALL THE BAD TIMES IN YOUR LIFE, THE ANGUISH, THE HUMILIATION, HOW YOU WERE OSTRACIZED, HOW YOU LOST YOUR LOVED ONES. IT DOESN'T SEEM TO HAVE ANY EFFECT OTHER THAN MAKE YOU DEPRESSED.
IT'S TIME TO UP THE ANTE.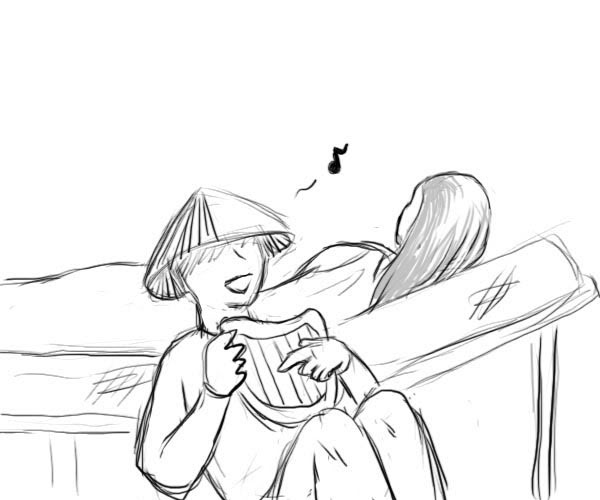 YOU TAKE DYMALKID'S HARP ALTHOUGH YOU HAVE NO IDEA HOW TO USE ONE, AND PLAY A RIVETING RENDITION OF "MISERY".
THEY SAY MISERY LOVES COMPANY
WE COULD START A COMPANY AND MAKE MISERY
FRUSTRATED, INCORPORATED
WELL I KNOW JUST WHAT YOU NEED
I MIGHT JUST HAVE THE THING
I KNOW WHAT YOU'D PAY TO SEE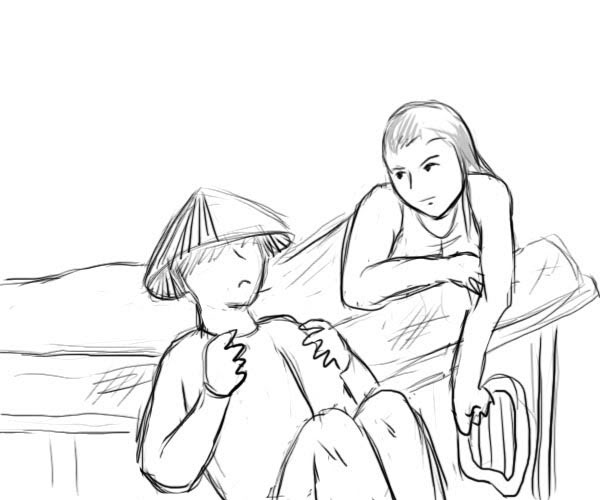 "BY THE GRAND GODDESS, YOU ARE TERRIBLE. GIVE ME THAT."
>
---
strideredge wrote:

>see if she knows what the tubing found in the swamp is.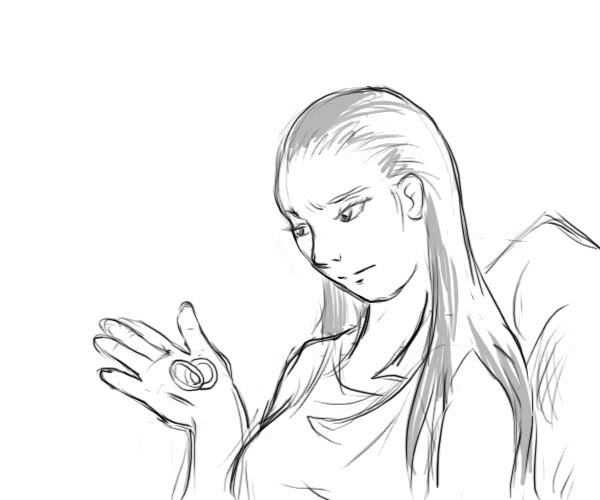 ALTHOUGH YOU ARE COMPLETELY TORN OVER DYMALKID'S CRITICISM, YOU CHANGE THE SUBJECT AND SHOW HER THE RINGS OF TUBING YOU FOUND IN THE SWAMP.
DYMALKID ROLLS THEM IN HER PALM. "THEY LOOK LIKE THEY WERE CUT FROM SOME BODY PART. AORTA OR COLON PERHAPS. I DON'T RE- NO, I DON'T KNOW WHERE THEY COME FROM." SHE GIVES THEM BACK TO YOU AND YOU PUT THEM IN YOUR BAG.
Non-Existent Freezer wrote:

>Feel bad about yourself because Dymalkid didn't like your song.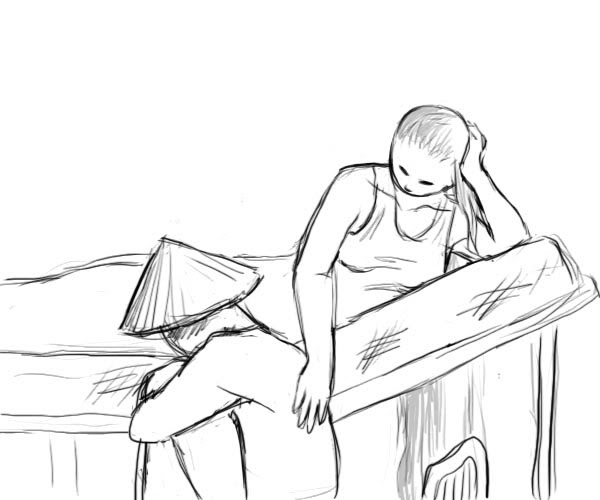 YOU ARE TIRED, DIRTY, DEPRESSED, AND ON TOP OF EVERYTHING DYMALKID DOESN'T LIKE YOUR SONG. YOU CAN'T TAKE IT ANYMORE AND TURN TO POUT.
"DON'T BE LIKE THAT." DYMALKID SAYS. "YOUR SINGING WAS FINE, YOU SIMPLY DON'T KNOW HOW TO PLAY A HARP." SHE TOUCHES YOUR BACK. "WHY DON'T YOU SING SOMETHING AND I WILL ACCOMPANY YOU?"
>
---
Drumble wrote:

>Just a small town girl
Livin' in a lonely world
She took the midnight train
Goin' anywhere
Just a city boy
Born and raised in South Detroit
He took the midnight train
Goin' anywhere

Don't stop believin'
Hold on to the feeeeeeelin'
Streetlights, people
Don't stop believin'
Hold on
Streetlights, people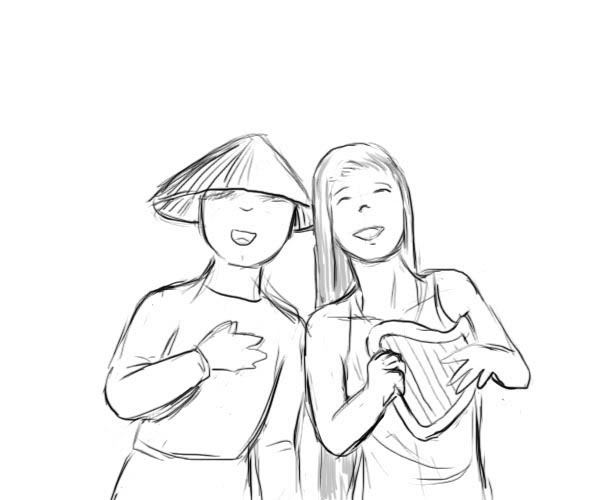 INSPIRED BY YOUR RECENT TRAVELS AND THE FATEFUL SERIES OF EVENTS THAT LED TO YOU MEETING THE LADIES, THE TWO OF YOU SING "DON'T STOP BELIEVIN'" WITH ALL YOUR HEART.
STRANGERS WAITING, UP AND DOWN THE BOULEVARD
THEIR SHADOWS SEARCHING THE NIGHT
STREETLIGHT PEOPLE, LIVING JUST TO FIND EMOTION
HIDING, SOMEWHERE IN THE NIGHT
Drumble wrote:

>After the song is done, ask her how she's feeling and what happened with the swamp monster.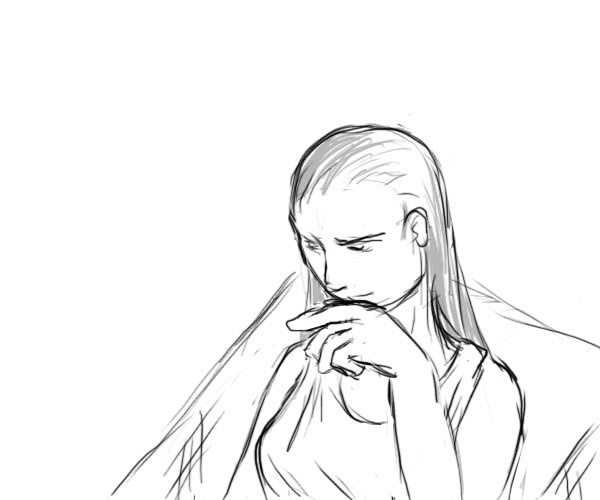 ONCE THE SONG IS DONE, YOU FEEL SIGNIFICANTLY LESS DEPRESSED. YOU ASK DYMALKID HOW SHE'S FARING AND HOW SHE MANAGED TO ESCAPE FROM THE SWAMP MONSTER.
"SWAMP MONSTERS- YOU MEAN THE OLUKS. I SUPPOSE THOSE BEASTS SENSED MY ENERGY. I ASSUME YOU KNOW THAT AS AN ANGEL, I AM MORE ETHEREAL THAN PHYSICAL AND A LOT OF MY ENERGY MANIFESTS AS WINGS. MY WINGS- THEY WILL TAKE TIME TO GROW BACK."
SHE STOPS AND WRAPS HER ARMS AROUND HERSELF, AS IF SHE IS SHIVERING. "IT HURTS." SHE WHISPERS. "I WANT TO GO TO THE GENETICS WAREHOUSE AS SOON AS POSSIBLE. I CAN BE HEALED THERE. IT IS PERHAPS ANOTHER DAY'S TRAVEL ON FOOT."
>
---
Seta FD wrote:

>Tell you you know to take her mind off of the pain and then make a :winky: face at her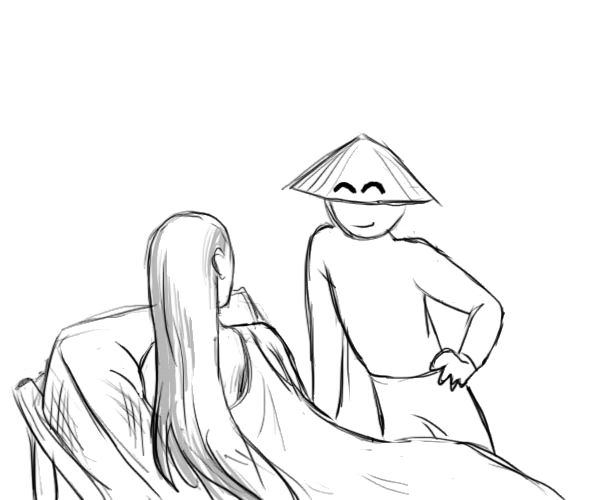 YOU TELL HER YOU HAVE AN IDEA TO TAKE HER MIND OFF THE PAIN AND MAKE A WINKY EXPRESSION.
DYMALKID LOOKS INTERESTED IN HEARING WHAT YOU HAVE TO SUGGEST.
>
---
PHI-1618 wrote:

>Offer her a massage.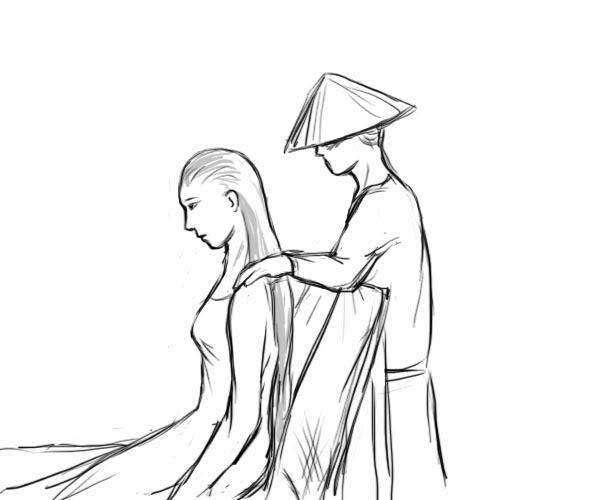 YOU GIVE DYMALKID A MASSAGE.
IT DOESN'T SEEM TO MAKE HER FEEL BETTER BUT SHE IS AMUSED BY YOUR EFFORTS.
>
---
Non-Existent Freezer wrote:

>Lick her ear sensually.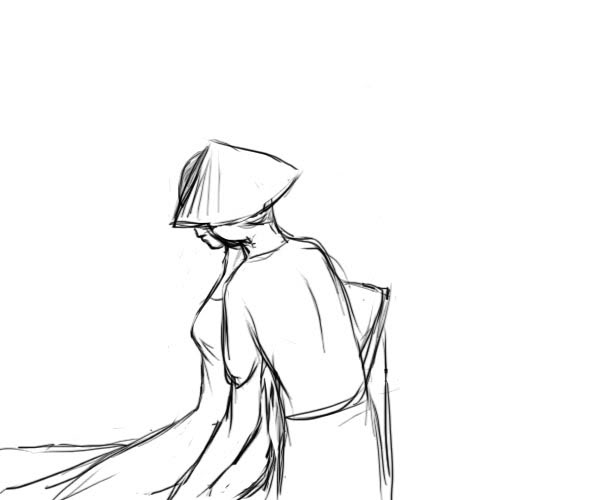 SLOWLY AND LIGHTLY SO YOU DO NOT SCARE HER, YOU RUN YOUR TONGUE ALONG THE OUTER SHELL OF DYMALKID'S EAR AND FOLLOW WITH A BRUSH OF YOUR BOTTOM LIP.
Hanku wrote:

>trace hand down back gently, wrap one arm around her waist then kiss her neck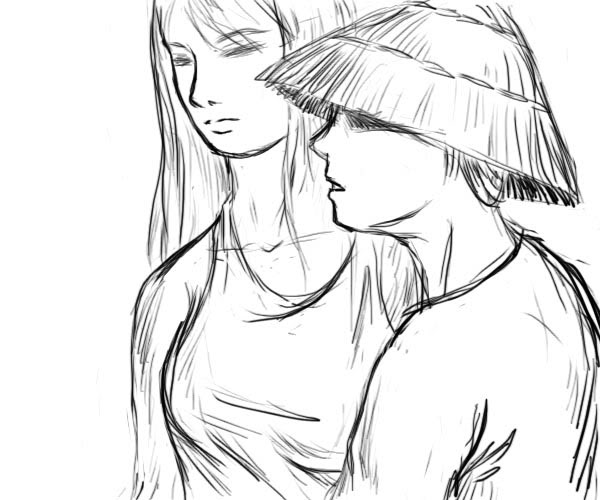 YOU RUN YOUR HAND DOWN HER BACK IN A GENTLE CARESS UNTIL AN ARM IS WRAPPED AROUND HER SLIM WAIST. BREATHING IN THE SCENT OF HER HAIR, YOU NUZZLE HER NECK AND KISS THE JAWLINE.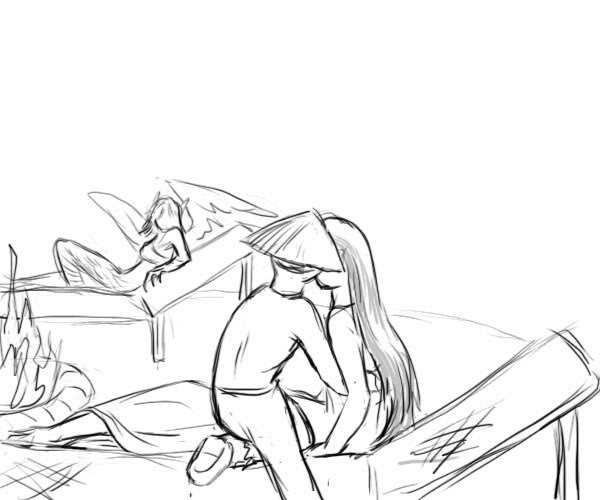 DYMALKID DOES NOT SPEAK OR CHANGE FACIAL EXPRESSIONS DURING ALL THIS, BUT SHE TILTS HER HEAD BACK, GIVING YOU ACCESS TO MORE OF HER PALE SKIN.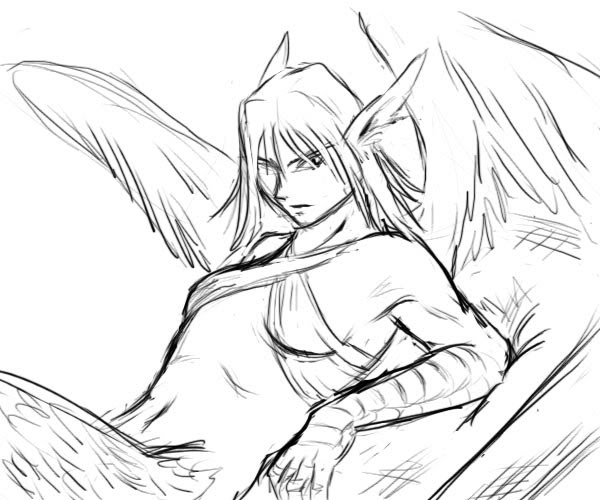 YOU NOTICE THAT CHELLING HAS WOKEN UP.
>
---
BlazeHedgehog wrote:

>Upon noticing Chelling, instantly stop and apologize to both Chelling and Dymalkid for being so brazen. After everything that has happened recently, it's a bit hard to think clearly. You wouldn't want to do anything to damage the friendly relationship you have with these ladies.
UPON SEEING CHELLING, YOU IMMEDIATELY SNAP BACK TO YOURSELF. HALTINGLY YOU EXPLAIN YOUR BRAZEN ACTIONS AND ATTEMPT TO APOLOGIZE, BUT EVEN AS YOU TRY TO DO SO DYMALKID TAKES HOLD OF YOUR SHOULDERS AND PRESSES YOU DOWN ONTO THE MATTRESS.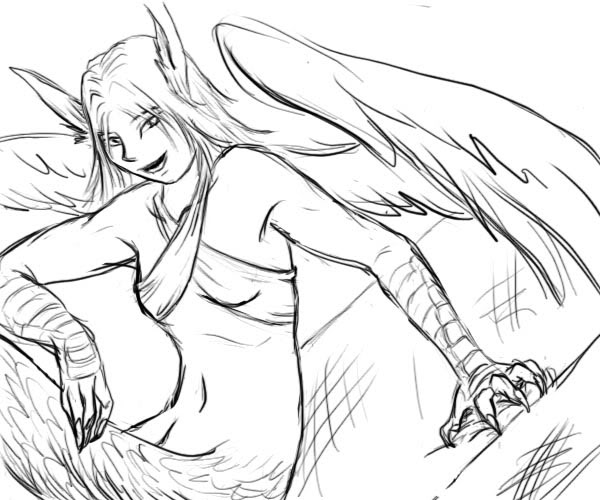 "DYMALKID," CHELLING CHIRPS AS SHE PUSHES OFF HER BED. "THAT'S NOT FAIR. YOU KNOW WE HAVE TO SHARE."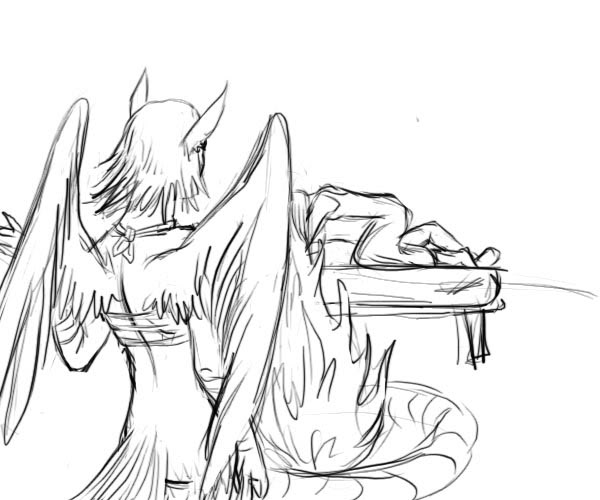 CONFUSED, YOU STRUGGLE WEAKLY, BUT THE DARK ANGEL HOLDS YOU DOWN BETWEEN HER LEGS AND LEANS HER WEIGHT ONTO YOUR WRISTS.
"DON'T BE SURPRISED." CHELLING SAYS TO YOU. "LET ME EXPLAIN HOW THE TWO OF US USUALLY DO THIS."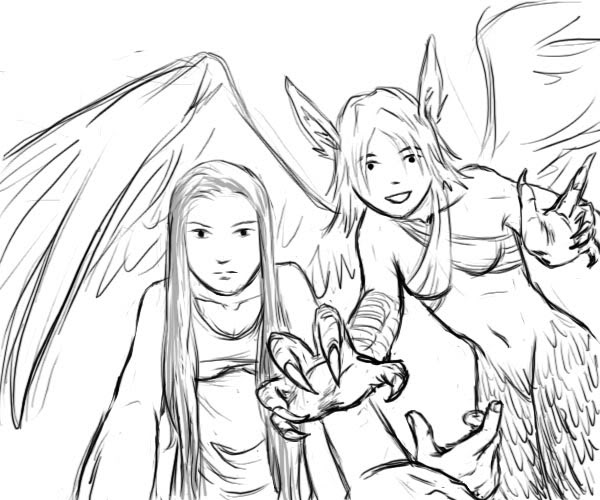 "DYMALKID GETS YOUR LUST, TERROR AND PAIN, AND I GET TO EAT YOUR FLESH AND ORGANS."
>
---
BlazeHedgehog wrote:

>Ask if they are serious.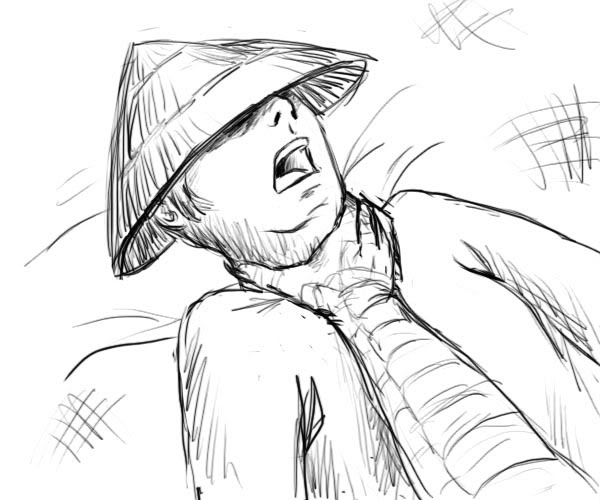 EVEN THOUGH YOU ACTED OUT OF LINE, YOU CAN NOT BELIEVE YOUR COMPANIONS WOULD DO THIS TO YOU IN RESPONSE. YOU ARE ABOUT TO ASK THEM IF THEY ARE SERIOUS WHEN CHELLING WRAPS A TALONED HAND AROUND YOUR NECK AND SQUEEZES HARD ENOUGH FOR YOU TO FEEL THE FRICTION OF CARTILAGE. DYMALKID IS RUNNING SOME SORT OF ENERGY DOWN YOUR ARMS TO MAKE THEM LOSE FEELING AND YOUR HEAD IS BEGINNING TO SPIN.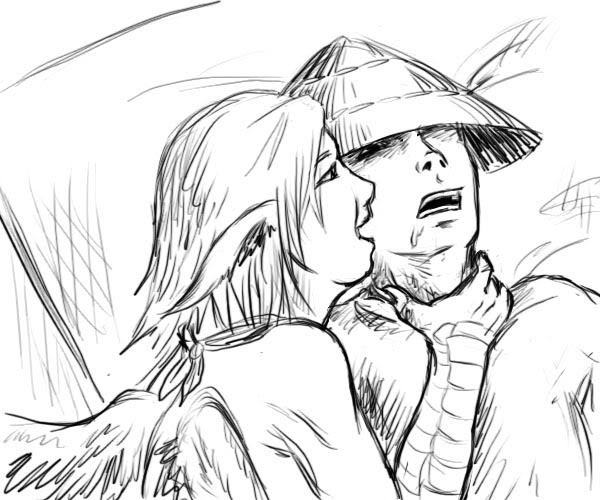 "OH TENO," CHELLING SQUEALS, GRAZING HER TEETH AGAINST YOUR FACE. "YOU ARE SO SOFT!"
>
---
Behemoth wrote:

>Freak the fuck out! Grab weapon! kill! run!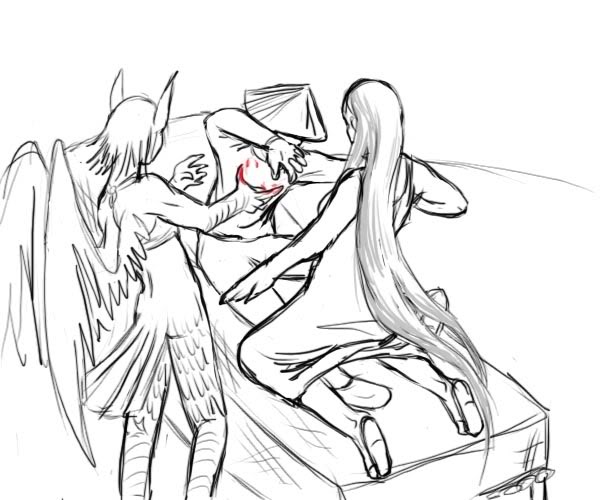 YOU LURCH VIOLENTLY FORWARD. THE DARK ANGEL, WEIGHING LITTLE, IS UNABLE TO HOLD YOU DOWN AND RELEASES YOUR WRISTS. YOU FLAIL YOUR NUMB ARMS AGAINST THE HARPY'S GRIP WHICH MAKES HER TEAR HER HAND AWAY.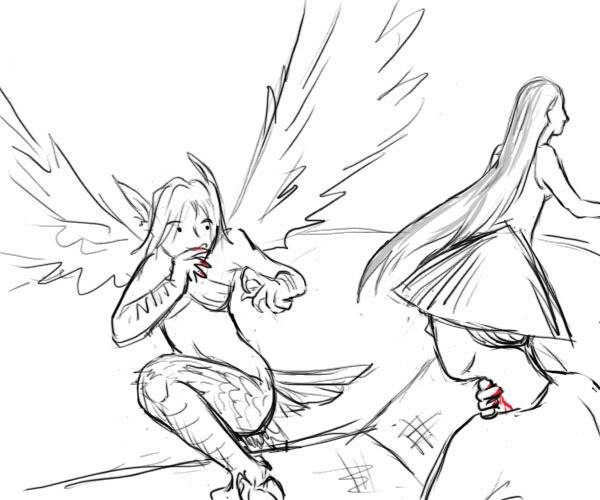 YOU STUMBLE BACK AND PUT PRESSURE ON YOUR NECK, FEELING FOR ANY TORN ARTERIES. THERE DOESN'T SEEM TO BE ANY FATAL INJURIES, ALTHOUGH YOU ARE COUGHING AND GASPING FROM THE CRUSHING CHOKE.
DYMALKID IS RUNNING TOWARDS THE ENTRANCE OF THE HOUSE WHERE HER SWORD AND YOUR NAGANATA ARE PLACED. CHELLING, LOOKING GREATLY AMUSED, HAS HER WINGS AND TAIL FEATHERS FLARED OUT. YOU RECOGNIZE THE ATTACK POSE. YOU HAVE FOUGHT HARPIES BEFORE, BUT YOU DO NOT THINK YOU CAN FIGHT ONE ALLIED WITH AN ANGEL UNARMED AND IN YOUR CURRENT CONDITION.
>
---
Kriz wrote:

>run! dive out the window!
strideredge wrote:

>throw an exploding pot at Chelling.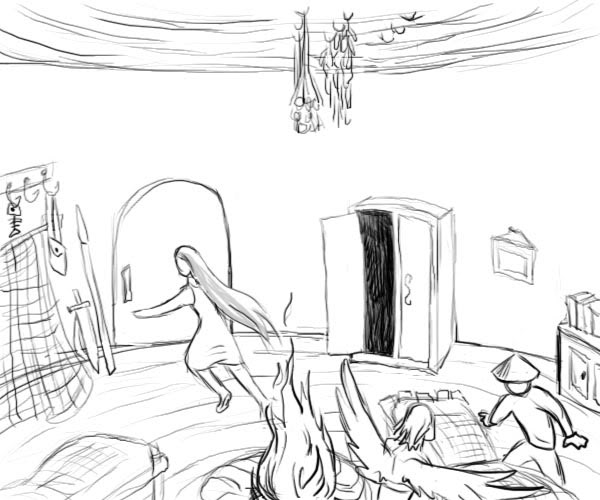 HERE IS WHAT THE SITUATION LOOKS LIKE RIGHT NOW. THERE ARE NO WINDOWS AND YOU HAVE ALREADY USED UP THE TWO POTS.
>
---
Trame wrote:

>Kick the bed forward so it turns onto its side and hits Chelling
>Try to beat Dymalkid to the weapons, using whatever means necessary - trip her if you can catch up and (now) throw the hat at her if it has any chance of slowing her down
YOU KICK THE BED FORWARD IN HOPES THAT IT WILL PUSH CHELLING INTO THE FIRE. SHE CLIMBS OVER IT EFFORTLESSLY AND CLOSES THE DISTANCE BETWEEN THE TWO OF YOU, BUT THIS GIVES YOU ENOUGH TIME TO TRY AND CATCH DYMALKID.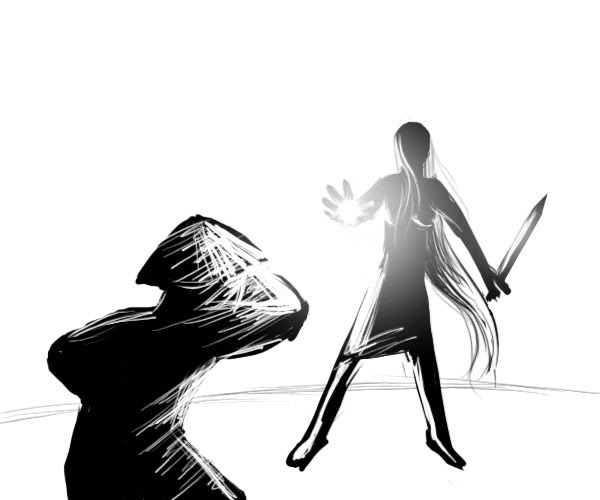 THE DARK ANGEL UNSHEATHS HER SWORD MOMENTS BEFORE YOU REACH HER. SHE SPINS AROUND AND DAZZLES YOU WITH AN INTENSE BURST OF LIGHT, FORCING YOU TO SQUEEZE YOUR EYES SHUT. YOU ARE BLINDED TEMPORARILY, BUT PERHAPS SO IS CHELLING.
>
---
Lanz wrote:

>Clearly our martial prowess in the past is a testament to some form of formal martial arts training. We don't need sight, instead use hearing, smell, and other useful senses to fight.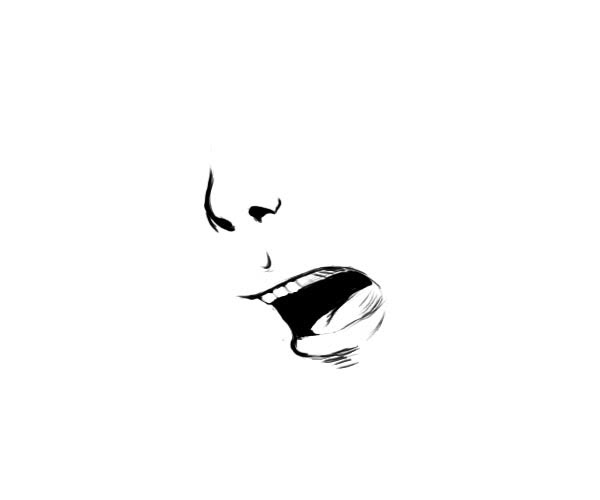 UNABLE TO SEE, YOU TRY TO TAKE IN WHAT YOU CAN USING YOUR SENSE OF TASTE AND SMELL. IT DOES NOT WORK WELL ON RAPIDLY MOVING TARGETS, BUT NEITHER CHELLING NOR DYMALKID ARE MOVING IN THE AFTEREFFECTS OF THE FLASH.
Kyou wrote:

>Body check her and head for the door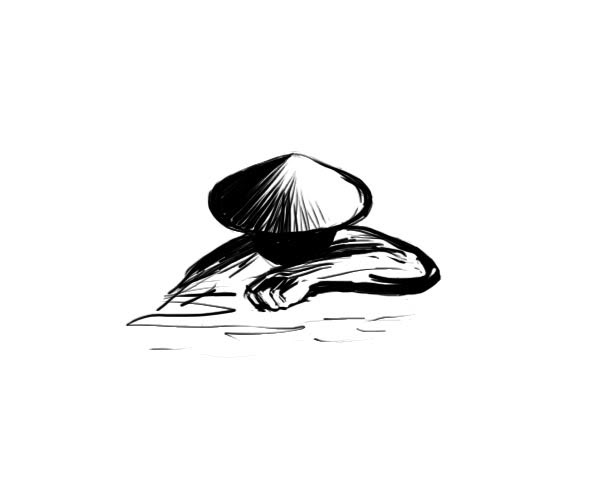 YOU DETERMINE THE DARK ANGEL'S DIRECTION AND CHARGE BLINDLY AHEAD.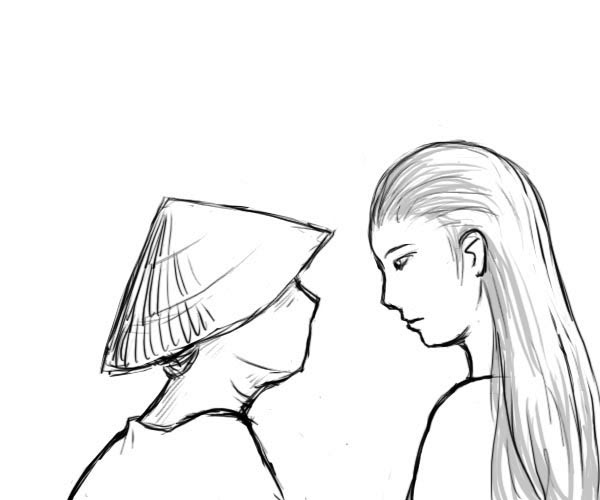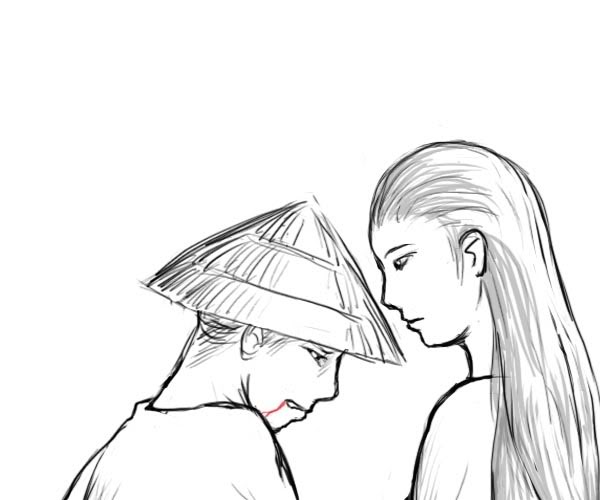 THERE IS A WRETCHING PAIN WITHIN YOUR BODY. YOU DO NOT KNOW WHAT HAS HAPPENED.
>
---
?WHAT?WhatWhat?WGkkdfFVBBBBOUTDDKNONOAWAWHWAm
YcHildreNwarmkkXXSTT!@#$%ttthhhiissssttttorrriiiiYyYYY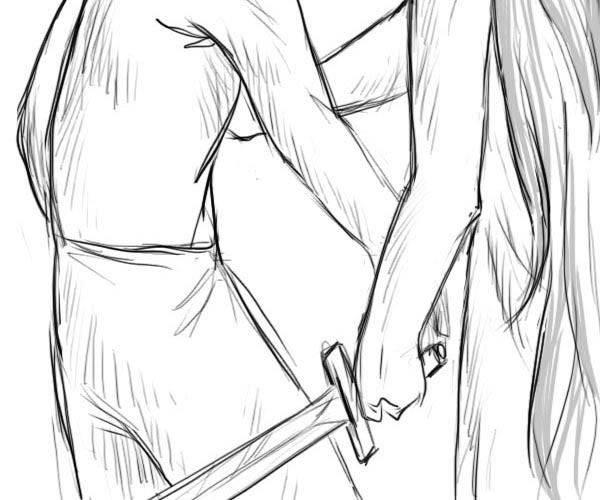 YOUR THOUGHTS WILL NOT COME CLEAR.

Go back to Storytime of Epicness