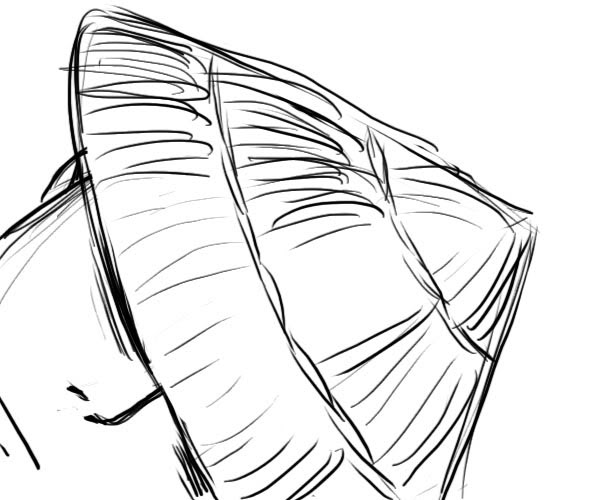 YOU WAKE UP.
FOR SOME REASON, YOU CAN NOT MOVE YOUR BODY BELOW YOUR NECK.

HMM.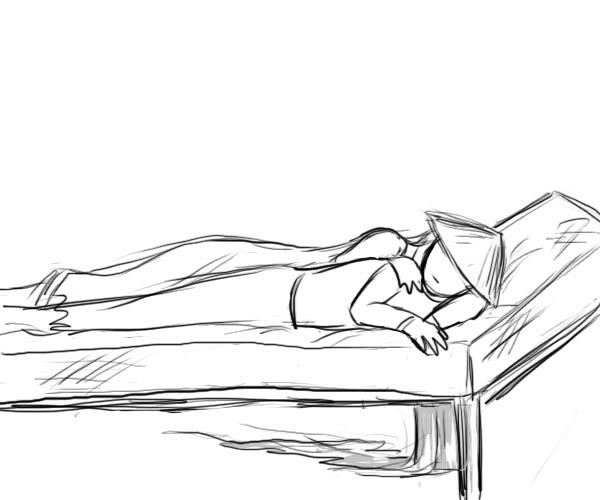 OH WELL. THIS IS RATHER COMFORTABLE.
>
---
strideredge, Trame and PenguinSeph wrote:

>whenever you can move... check on your vital organs.
>Flesh too. Make sure we still have all our flesh.
>Then check neck and then time and pitch self to make sure that you are awake.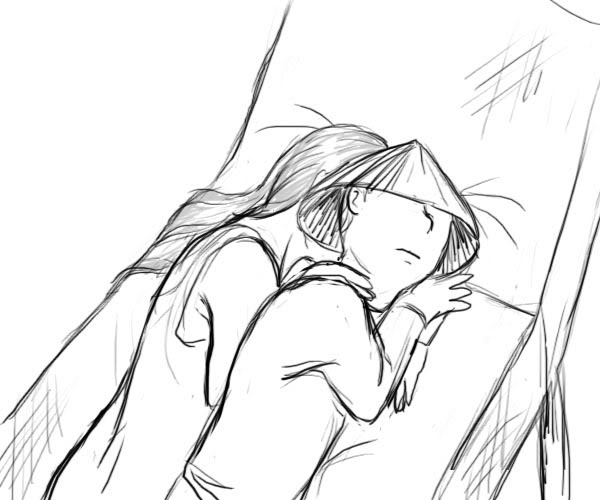 YOU ATTEMPT TO CHECK YOUR PHYSICAL CONDITION, BUT YOU CAN ONLY MOVE YOUR HEAD ABOUT. SO THAT'S WHAT YOU DO. YOU BELIEVE YOU ARE INTACT AND AWAKE. THERE IS SOMEONE BEHIND YOU, PROBABLY DYMALKID, WITH HER HAND ON YOUR NECK. YOU CAN NOT SHAKE THE HAND OFF, BUT BY RUBBING IT AGAINST YOUR SKIN YOU FEEL THAT THERE ARE NO WOUNDS ON YOUR NECK.
YOU HEAR THE DOOR TO THE HOUSE OPENING AND SHUFFLING FOOTSTEPS SLOWLY DRAWING CLOSER.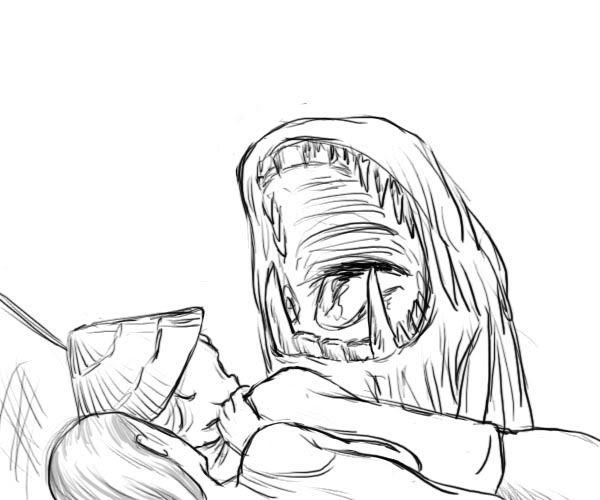 YOU ARE UNEXPECTEDLY CONFRONTED BY A SMALL OLUK! THE CREATURE GROWLS AT YOU, BARING ITS OVERSIZED TEETH.
"GWAAARAAHHHH WRAAAAAHH HAHAHAH HA HA HA"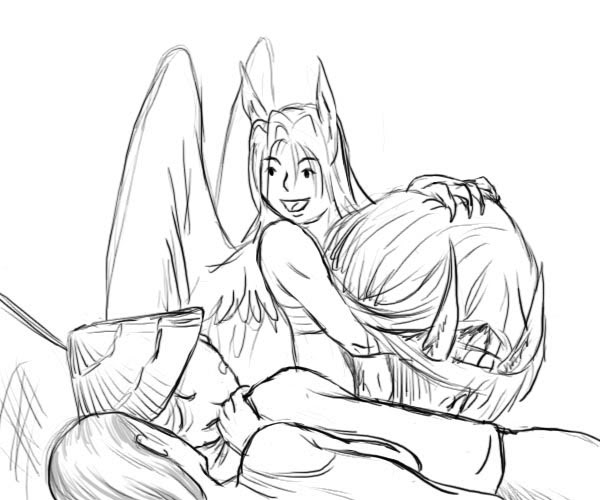 "...HA HA HA. GOOD MORNING!" CHELLING CHIRPS FROM BEHIND THE DEAD OLUK SHE'S HOLDING. "I HAVE BREAKFAST. HOW DO YOU LIKE YOUR MEAT? CHARRED? RAW? HEE HEE!"
>
---
LightReaper wrote:

>Freak the fuck out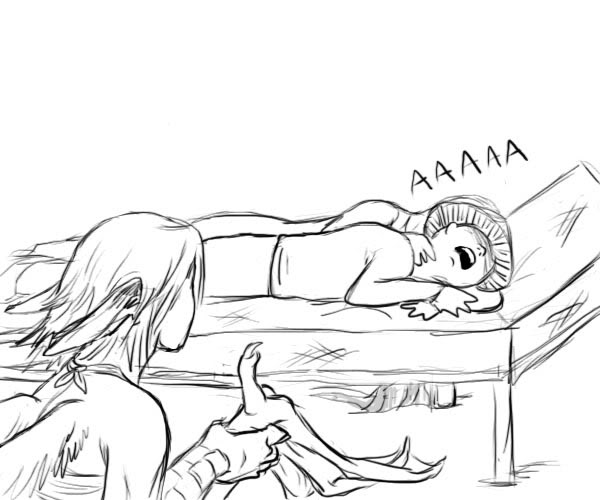 THRASHING YOUR HEAD ABOUT, YOU YELL AND CRY.
"WHAT IS IT?" CHELLING ASKS. "ARE YOU TOO HOT? TOO COLD? ITCHY? DON'T YOU LIKE OLUK MEAT? WHAT! WHAT! USE WORDS!"
strideredge wrote:

>Medium
>Might want to inquire into why he cannot move any longer.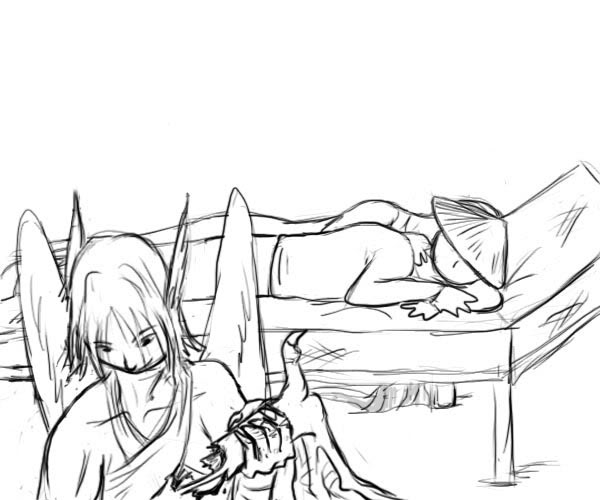 YOU TELL HER THAT YOU LIKE YOUR MEAT COOKED MEDIUM.
"OKAY." SHE SAYS AND TURNS TO WORK. WITH A POWERFUL AND PRACTICED HAND THE HARPY TEARS AT THE CREATURE'S FLESH, SEPERATING OFFAL, BONE AND HAIR FROM THE MEAT SHE PROCEEDS TO ROAST OVER THE FIRE. YOU THINK THIS IS A GOOD MOMENT TO ASK HER WHY YOU CAN'T MOVE.
"DYMALKID'S HAND AT YOUR NECK IS PREVENTING YOUR NERVOUS SIGNALS FROM REACHING THE REST OF YOUR BODY. WE DIDN'T WANT YOU DOING ANYTHING DRASTIC WHILE I WAS OUT HUNTING."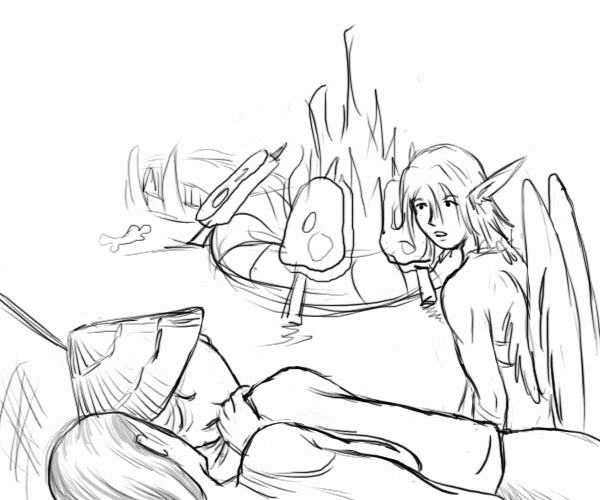 THE HARPY FALLS SILENT, WATCHING THE FLAMES LICK THE CUTS OF MEAT.
"LISTEN." SHE SAYS EVENTUALLY. "ABOUT LAST NIGHT. DYMALKID WAS DYING. SHE WOULDN'T HAVE LASTED AS LONG AS SHE DID WITHOUT A STRONG JOLT OF YILIXA. LIKE, FOR EXAMPLE, YOUR TERROR. THAT'S WHY WE PRETENDED TO KILL YOU. WE USED YOU, BUT WE HAD NO CHOICE. YOU SEE? BUT WE FIXED YOU UP AND NOW EVERYTHING'S FINE, RIGHT?"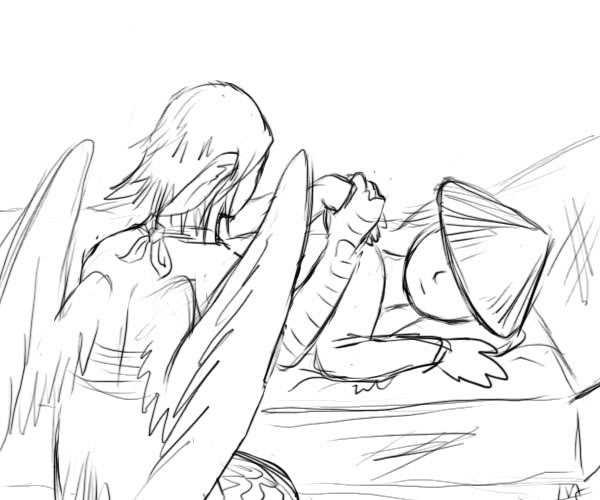 CHELLING COMES OVER AND KNEELS BESIDE YOU. "YOU GOTTA BE STARVING. I'M GOING TO LET YOU GO NOW." SHE SAYS AS SHE LIFTS DYMALKID'S HAND FROM YOUR NECK. YOU ARE NOW FREE TO MOVE.
>
---
PHI-1618 wrote:

>Sit next to Chelling as she roasts the food, looking a little haunted from what happened last night, and tell her, "Listen, I get it. I understand why you two did what you did. But, it's going to take time to get over that. You were the only two people I trusted around here and to suddenly ... That's not an experience I want to repeat anytime soon. Okay?" [I must make it vitally clear that we are not whining or sobbing here; we're just being honest and to the point.]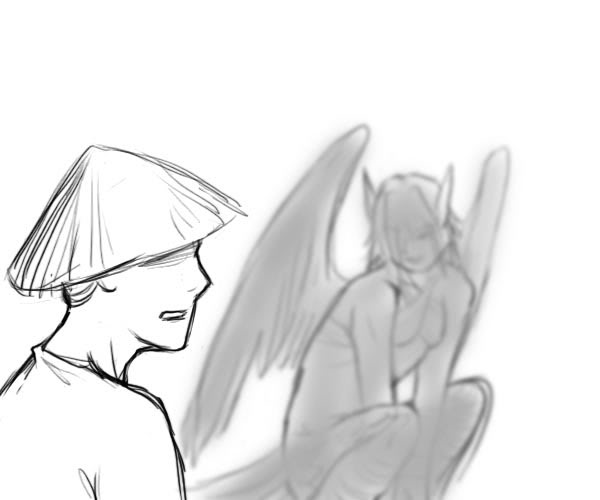 YOU CAREFULLY SIT DOWN NEXT TO THE FIRE WITH CHELLING, YOUR MOVEMENTS A BIT UNCERTAIN. "LISTEN," YOU SAY. THE HARPY DOESN'T QUITE LOOK AT YOU BUT FLICKS HER EARS IN YOUR DIRECTION TO SHOW THAT YOU HAVE HER ATTENTION. "....I GET IT. I UNDERSTAND WHY YOU TWO DID WHAT YOU DID. BUT IT'S GOING TO TAKE TIME TO GET OVER THAT. YOU WERE THE ONLY PEOPLE I TRUSTED AROUND HERE AND SUDDENLY..."
YOU TAKE A DRAMATIC PAUSE. "THAT'S NOT AN EXPERIENCE I WANT TO REPEAT ANYTIME SOON. OKAY?"
CHELLING SNIFFS AND LOUDLY LICKS HER LIPS AT THE SMELL OF MEAT. "OKAY." SHE SAYS SIMPLY. THE TWO OF YOU WAIT IN SILENCE AS THE MADDENINGLY DELECTIBLE SCENT GROWS STRONGER.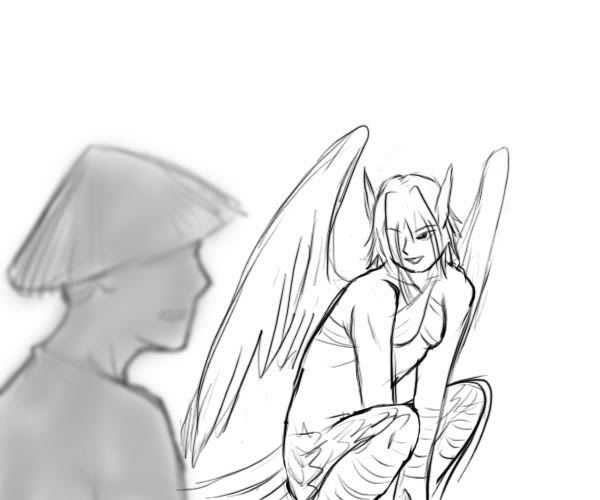 "WELL, SAY SOMETHING." CHELLING CHIRPS UP. "DON'T TELL ME YOU'RE STILL UPSET."
HER VOICE IS SO INNOCENT THAT YOU FEEL A BIT EMBARASSED. "YOU DID PRETEND TO KILL ME..." YOU SAY.
"YOU ARE A FRAGILE ONE." CHELLING PRACTICALLY PURRS. "THIS IS LORD PETRANOIA'S LANDS. YOU KNOW HER. LORD OF CONSIOUSNESS. LORD OF DREAMS. HER REALM IS FULL OF SADISTS AND ANGELS. IF YOU CAN'T TAKE A BIT OF MENTAL TRAUMA YOU SHOULD HAVE JUST STAYED HOME."
"I DON'T HAVE A HOME." YOU SAY. "MY ESTATE WAS SET AFLAME AND ALL MY FAMILY MURDERED."
"OH THAT'S TOO BAD." CHELLING RUNS A HAND CASUALLY THROUGH HER HAIR. "YES, KEEP THAT UP. YOUR ANGUISH WILL WAKE DYMALKID SOON. HEY, BREAKFAST'S DONE!" SHE GRABS A SLAB OF MEAT AND FLUTTERS HER WINGS OVER IT TO COOL IT DOWN.
Taya wrote:

>"THIS BETTER BE THE BEST DAMN BREAKFAST EVER!"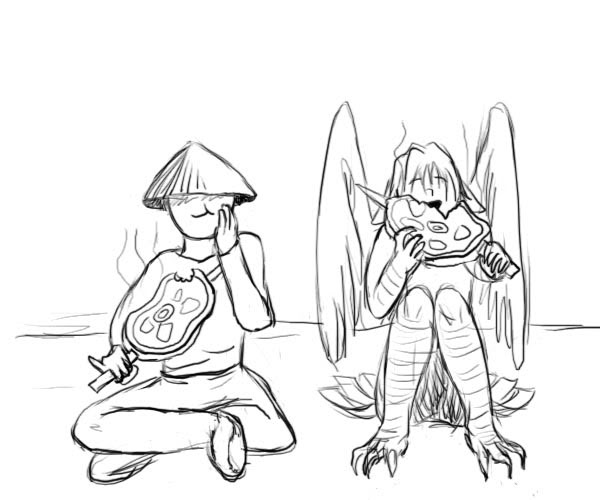 "THIS BETTER BE THE BEST DAMN BREAKFAST EVER." YOU MUTTER AS YOU REACH ONE FOR ONE OF THE STEAKS.
IT'S NOT QUITE THE BEST EVER, BUT YOUR MOUTH IS TOO FULL TO COMPLAIN.
>
---
Lanz wrote:

>"By the way... didn't you used to have pigtails?"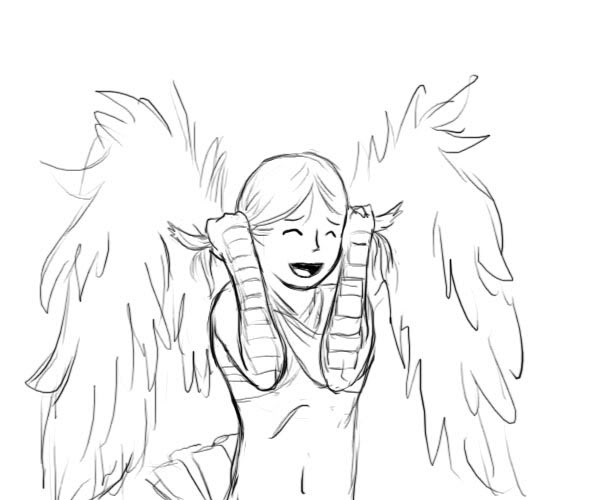 CHELLING CATCHES YOU STARING AT HER. "WHAT?"
"UM, DIDN'T YOU USE TO HAVE PIGTAILS?" YOU ASK.
"OH, THEY CAME UNDONE WHEN I WAS FIGHTING IN THE MARSH."
>
---
Google Image Search wrote:

>Giver her those two tubing things you found, they're her scrunchies or whatev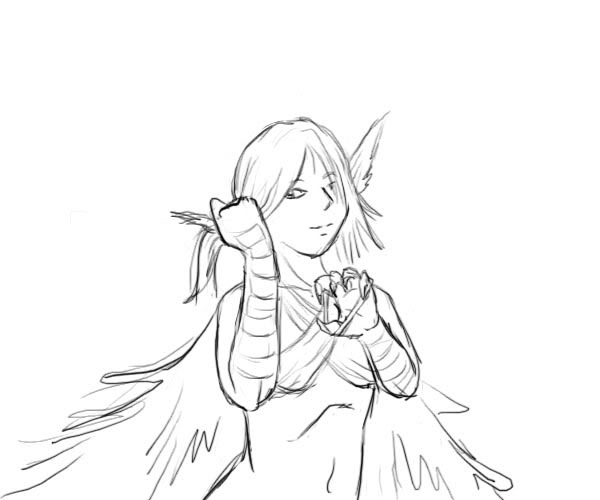 YOU GIVE CHELLING THE TWO SLICES OF TUBING.
"OH! MY LUCKY ENTRAILS!" SHE EXCLAIMS, SNATCHING THEM UP AND USING THEM TO TIE BACK HER PIGTAILS.
YOU ASK HER WHY THEY'RE SO SPECIAL TO HER.
"MY EGG MOTHER GAVE IT TO ME. SHE SAID IT WAS SOMETHING THAT BELONGED TO MY FATHER, BUT WHAT I REALLY WANTED WAS HIS JAWBONE OR ONE OF HIS FINGERS."
>
---
Trame wrote:

>SINCE YOU HAVE FOUGHT THEM BEFORE try to remember, in general, how harpies fight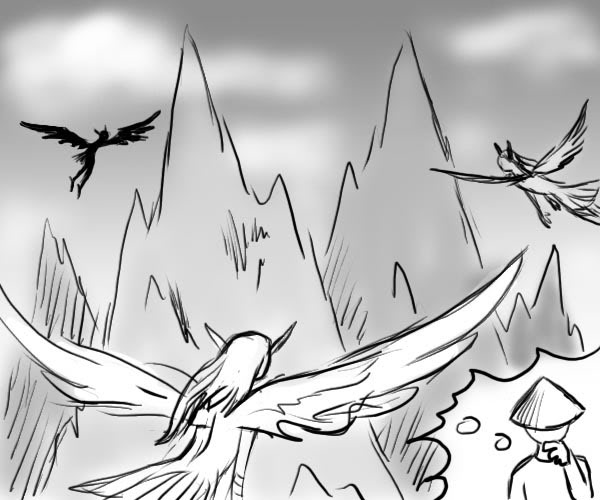 SINCE YOU JUST HAD A CLOSE ENCOUNTER WITH A HARPY, YOU RECALL WHAT YOU KNOW ABOUT THEM FROM THE YEARS OF SERVICE IN THE PINNACLE SPIRES, THE PALACE OF LORD CERLIONESS AND ROCLIONESS.
THE SPIRES ARE A TANGLE OF PEAKS WHERE THOUSANDS OF HARPIES, HARPY SUBSPECIES AND ALLIES MAKE THEIR HOME. NORMALLY, THEY ARE PHYSICAL BEINGS WITH A WEAK GRASP OF YILIXA PROPERTIES, PREFERING TO USE THEIR BODIES TO ACCOMPLISH MOST TASKS. THEIR STRENGTH IS IMPRESSIVE, BUT THEY ARE MOST DEADLY WHEN THERE IS AN OPEN SKY, ALLOWING THEM TO DIVE BOMB THEIR TARGET WITH ENOUGH FORCE TO PUNCH THROUGH SOME METALS. HARPIES PREFER TO HUNT IN FLOCKS KNOWN FOR THE EAR-PIERCING SCREAMS THEY USE TO DISORIENT AND COMMUNICATE.
HARPIES DO NOT FIGHT WELL IN ENVIORNMENTS WHERE THERE ARE A LOT OF OBSTACLES IN THE AIR, SUCH AS IN DENSE JUNGLES, AND THEIR MOVEMENT IS SEVERELY LIMITED WHEN THEY ARE WET. THEY DO NOT ENJOY WALKING FOR LONG DISTANCES AND THEY FIND IT MUCH MORE NATURAL TO FIGHT WITHOUT WEAPONS, USING THEIR SCALED HANDS AND FEET.
LIKE A LOT OF IALA, HARPIES DO NOT NECESSARILY MATE WITHIN THEIR SPECIES. A SINGLE INSTANCE OF COPULATION CAN MAKE A HARPY'S NEXT 10 EGGS FERTILE, BUT MALES RARELY SURVIVE THESE ENCOUNTERS. MOTHERS MAY OR MAY NOT MAINTAIN A RELATIONSHIP WITH THEIR OFFSPRING, WHO ARE RAISED IN THE COMMUNAL NURSERIES OF THE FAMILY.
PenguinSeph wrote:

>Check Dymalkid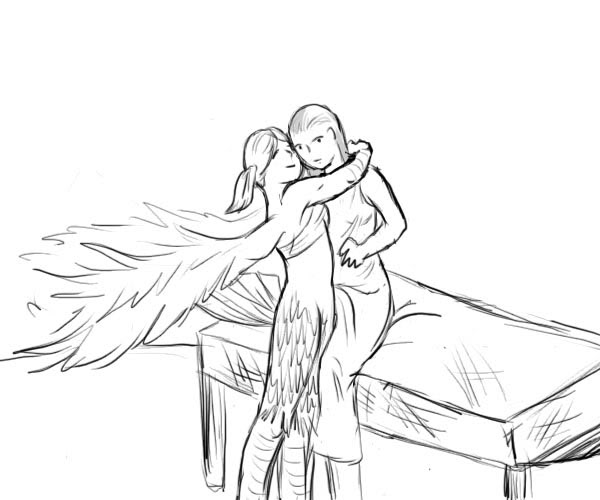 DYMALKID STIRRS AND CHELLING RUNS TO PULL THE DARK ANGEL TO HER FEET.
"HOW'S MY FAVORITE ANGEL?" THE HARPY COOS.
"YOU..." DYMALKID SAYS, LOOKING AT YOU.
"I TOLD TENO WHAT HAPPENED." CHELLING REMARKS.
"I SEE." DYMAKID'S EXPRESSIONLESS FEATURES ARE BROKEN BY A SHY SMILE. "I ASSUME YOU DO NOT HATE US BECAUSE YOU ARE STILL HERE. CAN I ASSUME YOU WILL ACCOMPANY US FURTHER?"
>
---
Mbnmac wrote:

>yes, but first search for more supplies in the other houses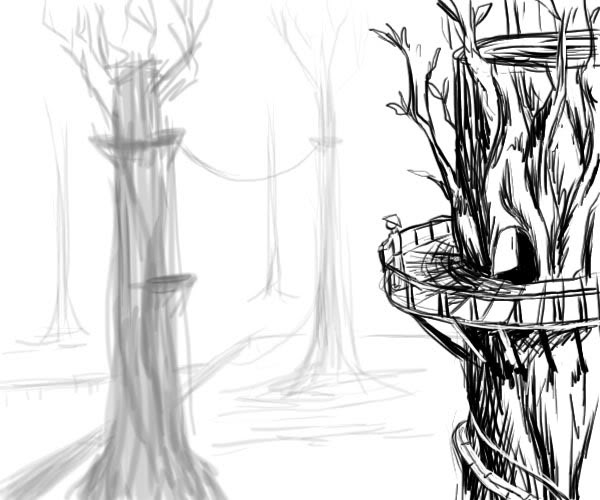 YOU AGREE TO TRAVEL FURTHER WITH CHELLING AND DYMALKID. AS YOU MAKE PREPERATIONS TO LEAVE, YOU THINK IT MIGHT BE WISE TO SEE WHAT YOU CAN LOOT FROM THE OTHER HOUSES. HOWEVER, IT LOOKS AS IF THE STAIRS AND BRIDGES LEADING TO THE OTHER HOUSES ARE WORN TO THE POINT OF BEING UNUSABLE.
>
---
Mbnmac wrote:

>ask Chelling to fly up and check if there is anything worth taking in the houses, if not, pack the left over meat and get a move on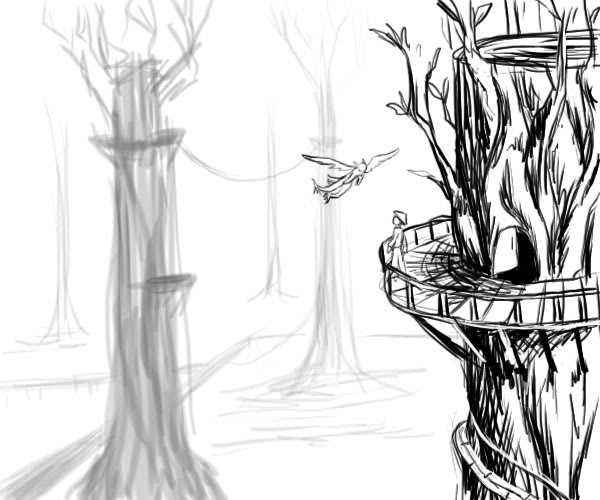 YOU ASK CHELLING TO FLY TO THE OTHER HOUSES AND CHECK FOR ANYTHING WORTH TAKING. SHE FLIES OFF AND YOU WATCH HER WINGED FORM FLIT FROM TREE TO TREE.
"I DON'T KNOW WHAT YOU CONSIDER VALUABLE," SHE SAYS UPON RETURN. "BUT MOST OF THE STUFF IS JUST JUNK. I DID FIND THIS NICE CONCH SHELL, IF YOU WANT IT."
DYMALKID EMERGES FROM THE HOUSE WITH YOUR BAG AND NAGANATA. "I SLEPT IN." SHE SAYS IRRITABLY. "IF WE DO NOT MAKE GOOD TIME, WE WILL HAVE TO SPEND A NIGHT IN THE SLANTS AND I DO NOT WANT TO DO THAT." SHE HANDS YOU YOUR ITEMS. "IS THERE ANYTHING ELSE YOU NEED BEFORE WE GO?"
>
---
Mbnmac wrote:

>Take conch and Do not forget the stuff we found in the closet!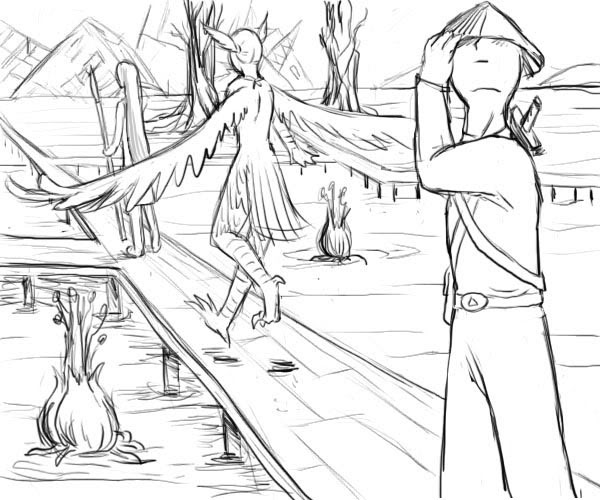 YOU PUT THE CONCH AND THE CORD FROM THE CLOSET IN YOUR BAG. THE BELT WITH LORD PETRANOIA'S EMBLEM YOU WEAR AROUND YOUR WAIST. IN ADDITION, YOU HAVE TEMPORARILY TRADED YOUR NAGANATA FOR DYMALKID'S SWORD SO SHE CAN USE IT AS A MAKESHIFT CANE. YOU DECLARE YOURSELF READY TO THE LADIES AND THE THREE OF YOU LEAVE THE ANCIENT MANGROVE VILLAGE.
IT TURNS OUT THE VILLAGE WAS CONSTRUCTED ON THE VERY EDGE OF THE SWAMP, ONLY A SHORT DISTANCE FROM THE SLANTS. THE MARSH WATERS, PLANTS, AND BOARDWALK END ABRUPTLY AS YOU STEP ONTO THE BROKEN ASHPHALT OF THIS ALIEN REGION.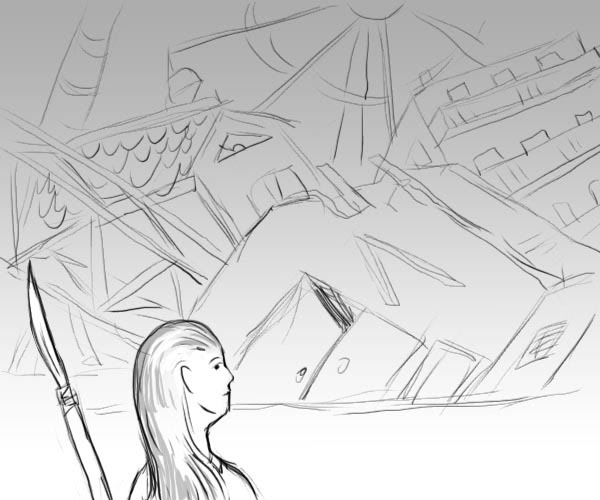 "LET US MOVE QUICKLY." DYMALKID ADVISES. "THERE ARE A LOT OF...RESIDUES HERE FROM THE LAST APOCALYPSE. THE LORDS HAVE PRESERVED IT. PLANTS DO NOT GROW IN THIS PLACE AND I HAVE HEARD THAT IF YOU DIE HERE, YOUR BODY DOESN'T DECOMPOSE."
THE THREE OF YOU PAUSE TO GAZE UPON WHAT IS KNOWN AS THE "GRAVEYARD OF THE OLD WORLD". ARCHITECHTURE FROM BEFORE YOUR TIME LIE SUNKEN AND CRUMBLING, PILED HAPHAZARDLY ON TOP OF EACH OTHER. THERE SEEMS TO BE A FAINT TRAIL WHERE TRAVELERS CAN PASS THROUGH, BUT IT WINDS THROUGH THE DOORS AND WINDOWS OF BUILDINGS WHOSE FUNCTIONS YOU CAN NOT UNDERSTAND.
"USUALLY WE FLY OVER BUT... WELL, THIS TIME CHELLING WILL HAVE TO WAIT FOR US AT THE OTHER SIDE."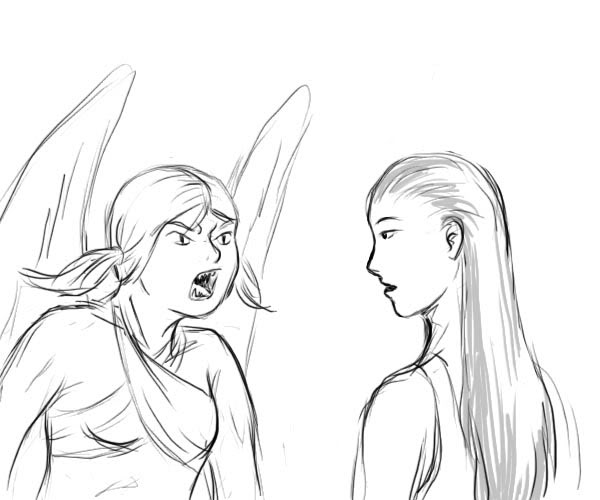 "WHAT?" CHELLING EXCLAIMES. "I'M GOING WITH YOU."
"NO YOU ARE NOT." DYMALKID SAYS CALMLY. "YOU WILL SLOW US DOWN EVEN MORE IF YOU WALK. THERE IS NO ROOM FOR YOU TO FLY UNDER THE SLANTS."
"I AM GOING WITH YOU!" CHELLING SHRIEKS IN HER HARPY'S VOICE.
>
---
Google Image Search wrote:

>Propose Chelling just kinda fly over us as we go, keeping an eye out for anything that might be a hazard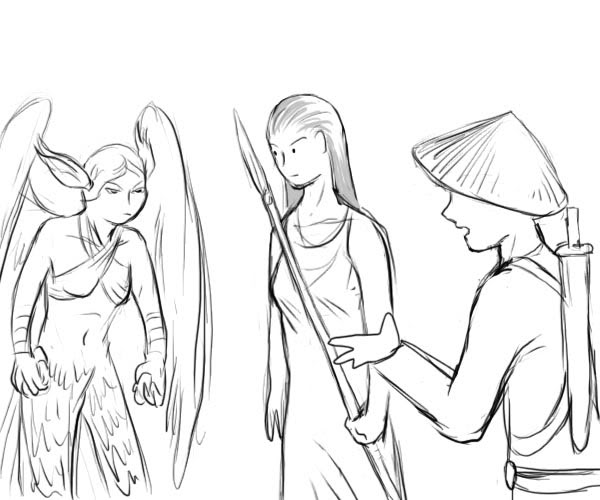 YOU PROPOSE THAT CHELLING CAN KEEP A WATCH OVER YOU TWO FROM THE AIR, BUT DYMALKID SHAKES HER HEAD.
"THERE ARE LAYERS AND LAYERS OF RUINS ON TOP OF EACH OTHER. UNLESS WE ARE WILLING TO CLIMB TO THE TOP MOST LAYER AND WASTE EVEN MORE TIME, WE WILL BE TAKING THE FASTEST ROUTE THROUGH THE BOTTOM."
YOU CONTINUE TO BACK DYMALKID'S DECISION BECAUSE YOU FEEL SHE IS MUCH MORE KNOWLEDGABLE ABOUT THE SLANTS THAN YOU OR CHELLING.
FINALLY, THE HARPY THROWS YOU A DISTAINFUL GLANCE AND LEAPS INTO THE SKY. YOU AND DYMALKID WALK ONWARDS TOGETHER.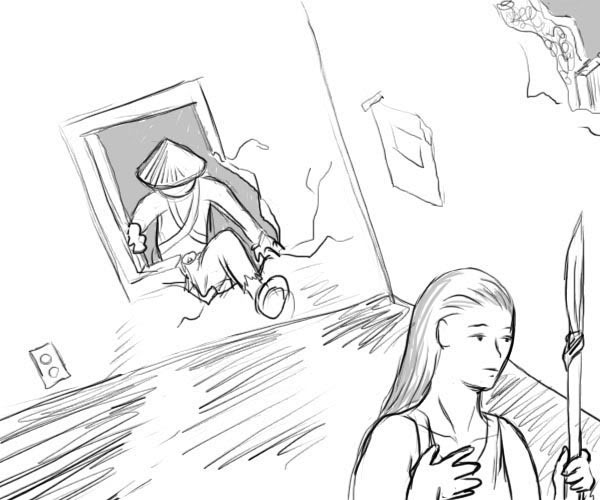 THE TRAIL QUICKLY TIRES YOU OUT. THERE ARE HEAPS OF RUBBLE, WINDOWS AND ENTIRE WALLS TO CLIMB OVER. YOU THINK DYMALKID MIGHT HAVE AN EASIER TIME SINCE SHE WEIGHS SO LITTLE, BUT WEARINESS EVENTUALLY SHOWS IN HER POSTURE.
"CAN'T YOU FEEL IT?" DYMALKID SAYS. "THE WAY THIS PLACE PULLS AT YOU. OH... I SUPPOSE NOT, NOT WITH YOUR YILIXA SO WEAK. NOTHING CAN LIVE HERE MORE THAN A FEW DAYS."
>
---
jarbornza wrote:

>"Yilixa-what?"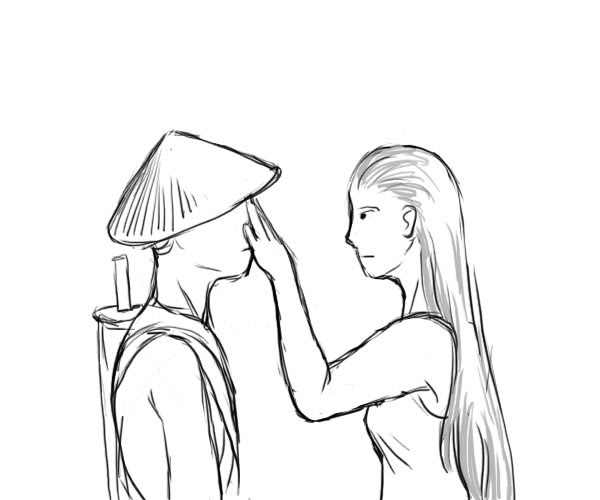 YOU ASK ABOUT YILIXA.
"OH, YOUR YILIXA. IT IS..." DYMALKID HOVERS HER HAND IN FRONT OF YOUR BODY AND RESTS IT ON YOUR NOSE. "IT IS NOT AS STRONG AS MOST IALA. I WOULD SAY IT SEEMS CRIPPLED, EVEN. CUT-OFF."
YOU BACK AWAY. YOU DECIDE YOU WILL NOT ASK HER ABOUT YILIXA ANYMORE.
>
---
Drumble and Lanz wrote:

>Press on, asking how long she has known Chelling.
>+how they met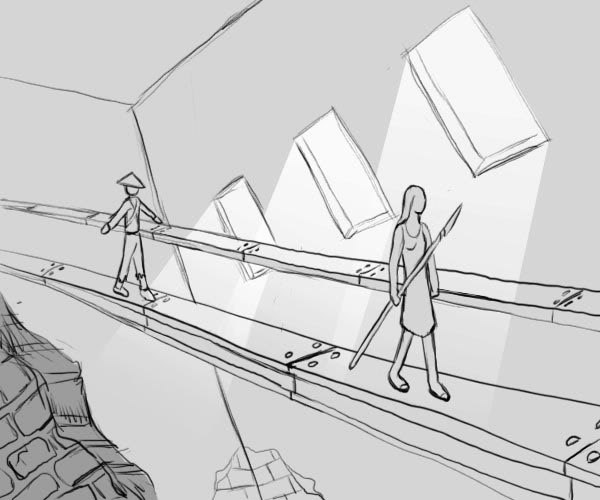 TO KEEP YOUR MIND OFF HOW TIRED YOU ARE, YOU ASK DYMALKID ABOUT HOW SHE AND CHELLING MET. THE DARK ANGEL ALSO SEEMS RELIEVED TO HAVE A DISTRACTION.
"I MET CHELLING WHEN SHE WAS INITIATED INTO THE CULT OF SHEER. THAT IS THE LARGEST ANGEL CULT IN EXISTANCE AND IT IS ALSO RESPONSIBLE FOR MOEMOEA. CHELLING HAD JUST BEEN TRADED FROM LORD ROCLIONESS'S TERRITORY AND SINCE THERE ARE NO HARPY CULTS IN MY LORD'S LANDS, AN ANGEL CULT IS THE NEXT BEST THING FOR HER. I AM LUCKY TO HAVE MET HER. SHE IS A SOUL MATE OF MINE."
SOUL MATES ARE TWO INDIVIDUALS WHOSE CONSCIOUSNESSES ARE CLOSELY COMPATIBLE. THEIR FRIENDSHIP TRANSCENDS SPECIES, AGE, RANK, AND SEX, AND THEY MAY OR MAY NOT BE LOVERS. AN INDIVIDUAL CAN HAVE A NUMBER OF SOUL MATES AT A TIME, ALTHOUGH IT IS RARE FOR A PERSON TO FIND EVEN ONE.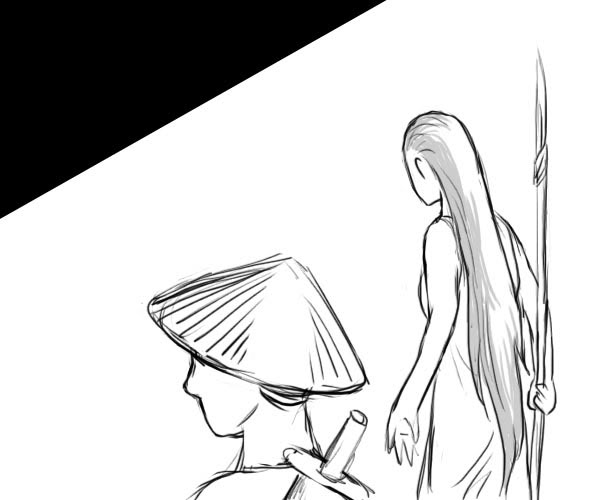 DYMALKID STOPS. "WAIT," SHE SAYS.
YOU STOP AS WELL, LOOKING AROUND FRANTICALLY TO SEE WHAT SHE IS SEEING. BUT NO, IT IS SOMETHING SHE HEARS. YOU HEAR IT TOO. MUSIC.
>
---
Mbnmac and strideredge wrote:

>listen closely, what kind of music is it? what kind of instrument? What does Dymalkid seem to think of it?
>try to identify the source of the music.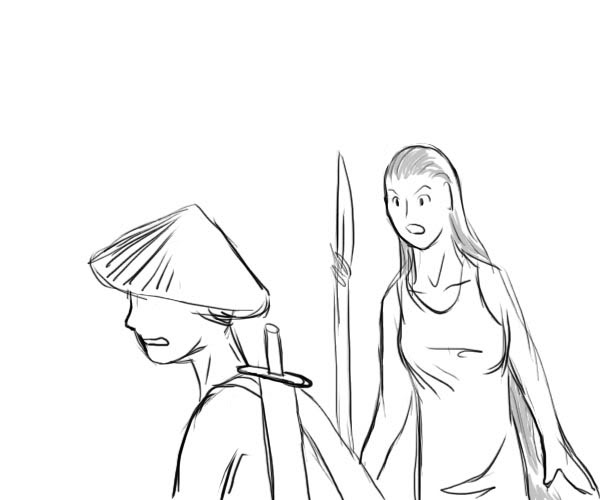 YOU TRY TO IDENTIFY THE TYPE OF MUSIC IT IS. THERE ARE A VARIETY OF INSTRUMENTS AND SOME SOFT SINGING. YOU ARE NOT AN EXPERT IN MUSIC SO YOU ASK DYMALKID FOR HER OPINION.
"I DO NOT RECOGNIZE THE SONG." SHE ADMITS. "IT SOUNDS LIKE A RECORDING."
YOU BEGIN TO SEARCH FOR THE SOURCE OF THE MUSIC.
"NO!" DYMALKID SAYS. "YOU CAN NOT JUST WANDER OFF! WE NEED TO MAKE GOOD TIME AND CHELLING IS WAITING FOR US ON THE OTHER SIDE!"
>
---
rayofash wrote:

>Continue on to the other side.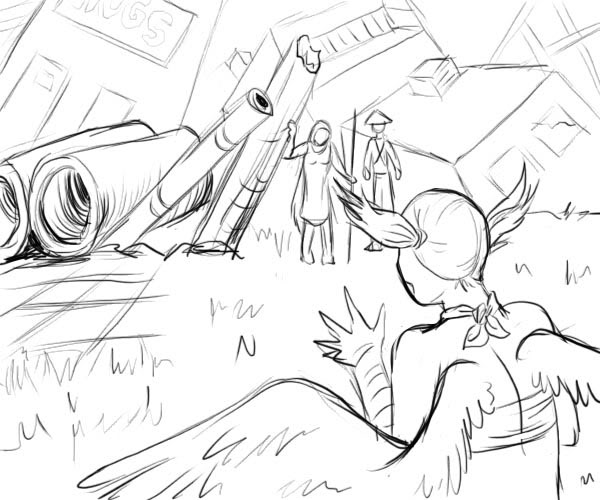 AS CURIOUS AS YOU ARE, THE MUSIC HAS NOTHING TO DO WITH YOU, SO YOU CONTINUE TO THE OTHER SIDE OF THE SLANTS. YOU ARE GLAD YOU MADE THAT DECISION. ALTHOUGH SHE KEEPS UP A STRONG EXTERIOR, DYMALKID'S CONDITION IS RAPIDLY DETERIORATING AND SHE LEANS HEAVILY ON THE NAGANATA AS SHE WALKS.
THE SLANTS END AS ABURPTLY AS THEY HAD BEGUN. CHELLING CALLS OUT TO THE TWO OF YOU AND WRAPS HER ARMS AROUND YOUR SHOULDERS.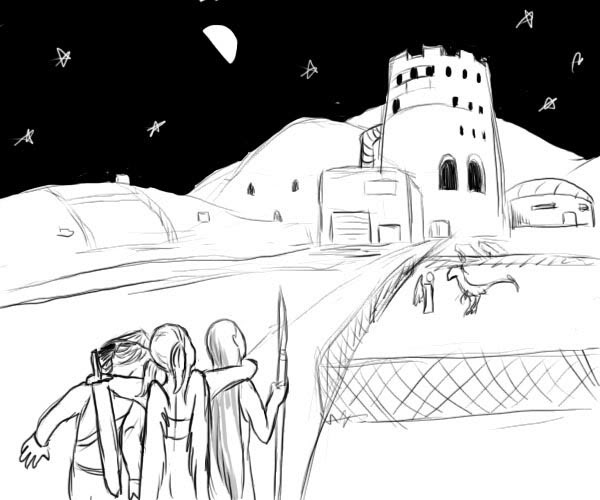 "I THOUGHT WE'D NEVER GET HERE!" CHELLING SAYS. "BUT HERE WE ARE. THE GENETICS WAREHOUSE."
>
Go back to Storytime of Epicness