Trame wrote:

>Is there any chance that Infer knows where we are, or that Sheer came after us himself? That either of them could have caught up with us overnight?"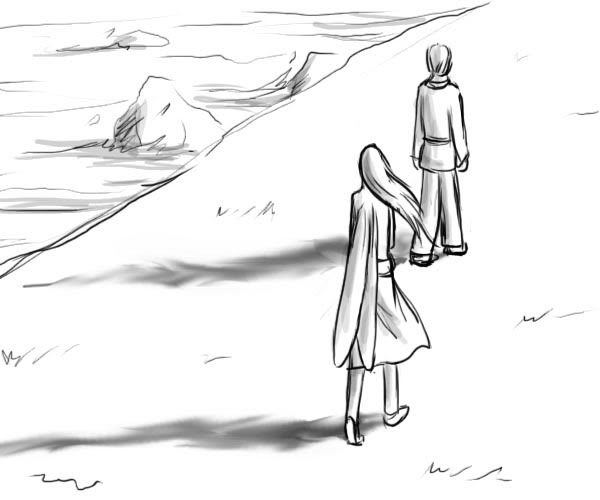 IT IS EARLY MORNING AND YOU LOOK OUT TOWARDS THE OPEN OCEAN. THE CRYSTAL PALACE IS LARGER THAN BEFORE AND DRAWING CLOSER TO A DISTANT JUT OF LAND. THE BEASTMASTER BEGINS WALKING TOWARD THE PENINSULA. EITHER HE DOESN'T WANT TO RISK SUMMONING MORE CREATURES, OR HE FEELS THAT IT'S EASIER TO TALK TO YOU WHEN THE TWO OF YOU ARE NOT ON MOUNTS.
"LET ME TELL YOU ABOUT THE CRYSTAL PALACE." HE SAYS. "IT WAS DESIGNED AS A WARSHIP AND A BASE DURING THE APOCALYPSE AND IT CAN MOVE THROUGH WATER AND AIR. MOST OF IT IS MADE OUT OF CRYSTALIZED YILIXA."
"REALLY?" YOU GLANCE AT THE DISTANT STRUCTURE SO MUCH LIKE A GLASS GLACIER. YOU CAN'T IMAGINE THE AMOUNT OF POWER IT MUST CONTAIN.
"MASTER M'ZEL AND MASTER NOCTUR ARE PROBABLY IN THERE, RUNNING LORD PETRANOIA'S TERRITORY. THE LORD MAY NOT BE IN HER PALACE, BUT ONE OF HER CHANNELERS IS ALWAYS LIVING THERE. YOU NEED TO FIND HER, OR LORD PETRANOIA, WITHOUT ALERTING THE VICHEYS."
"WHY ARE YOU TELLING ME THIS?" YOU ASK. "AREN'T YOU GOING TO COME WITH ME?"
BEASTMASTER OWES TURNS SLIGHTLY, PRESENTING YOU WITH HIS PROFILE. THEN YOU UNDERSTAND THAT THE DISTRESS IN HIS EYES AND TENSION IN HIS SHOULDERS ARE SIGNS OF FEAR. BUT THAT LASTS ONLY A MOMENT. HE SHRUGS AND SAYS, "JUST IN CASE."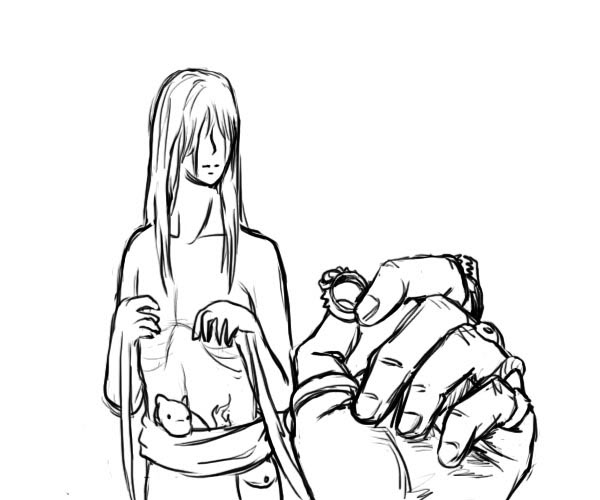 "DO YOU THINK MASTER SHEER OR MASTER INFER ARE FOLLOWING US?" YOU SAY ANXIOUSLY, LOWERING YOUR VOICE.
"DEPENDS ON HOW DETERMINED THEY ARE. I DON'T THINK SHEER WOULD COME AFTER US. HE ALREADY SENT A HUNTING PARTY AND NOW WE ARE AT THE FAR END OF HIS JURISDICTION. BUT INFER... SHE CROSSED THE BORDER INTO OUR LORD'S TERRITORY AND RISKED MASTER SHEER'S WRATH IN MOEMOEA. AND THERE'S ALSO MASTER SLYCH TO WORRY ABOUT."
"MASTER SLYCH?" YOU KNOW HIM PRETTY WELL. HE WAS FOND OF MANTODEAS, LIKE MASTER SNAKE WAS, BUT LARGELY IGNORED YOU AFTER YOUR BODY WAS SEALED AWAY.
"HE VISITED ME SHORTLY AFTER YOU LEFT THE GENETICS WAREHOUSE." OWES SAYS, RUNNING A HAND THROUGH HIS HAIR. "THAT'S WHEN I FOUND OUT YOU WERE RUNNING FROM LORD CERLIONESS'S LANDS. I DIDN'T ADMIT THAT I SAW YOU, THOUGH. MAYBE HE WENT HOME AFTERWARDS, BUT I CAN'T BE SURE."
HE BLINKS, REMEMBERING SOMETHING. "I WANT YOU TO HAVE THIS." HE TAKES A RING OFF HIS RIGHT HAND AND HOLDS IT BEFORE YOU. "JUST IN CASE..."
>
---
megamario77 and J Detan wrote:

>Accept ring. "Thank you"

>"Can I have a shirt?"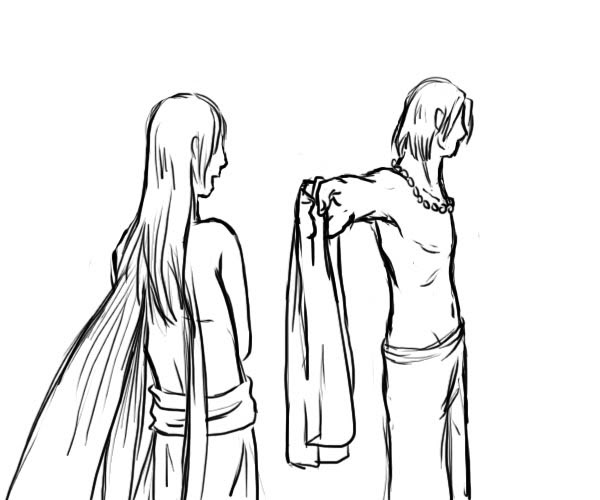 YOU ACCEPT THE RING AND SLIP IT ONTO YOUR RIGHT INDEX FINGER. OWES HOLDS YOUR HAND FOR A MOMENT AND ADMIRES THE RING'S RED SPARKLE. THEN HE KEEPS WALKING. HIS POSTURE RESTLESS, LOOKING FROM SIDE TO SIDE TO TAKE MEASURE OF HIS SURROUNDINGS. WITH HIS SCOUTS MISSING, TENDRILS OF HIS AWARENESS HAVE BEEN SNUFFED OUT AND HE IS NO LONGER AT EASE. YOU FOLLOW HIM FOR SOME TIME, UNTIL YOU NOTICE THAT YOU ARE SHIVERING FROM THE OCEAN WIND.
"WOULD YOU HAPPEN TO HAVE AN EXTRA SHIRT?" YOU ASK MEEKLY.
WITHOUT A WORD, THE BEASTMASTER TAKES OFF HIS HOODIE AND THRUSTS IT TOWARDS YOU, LOOKING AWAY AS IF EMBARRASSED. YOU POKE HOLES IN THE BACK FOR YOUR WINGS AND HAPPILY SLIP IT OVER YOUR HEAD. YOU WERE FEELING SOMEWHAT INDECENT WITH YOUR FRONTAL SCLERITES EXPOSED.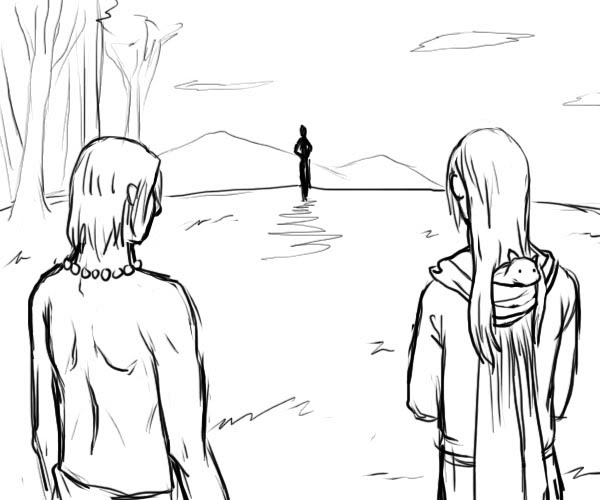 YOU EXPECT TO KEEP WALKING, BUT THE BEASTMASTER HASN'T MOVED. THEN YOU REALIZE THAT HE WASN'T LOOKING AWAY DUE TO MODESTY, BUT BECAUSE HE SEES SOMETHING IN THE DISTANCE.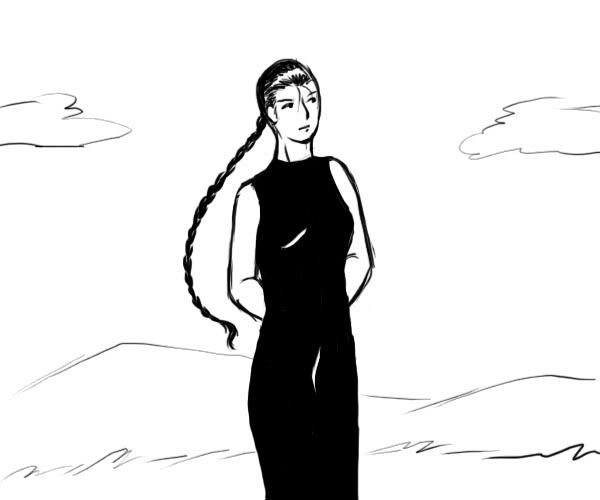 CASUALLY STROLLING TOWARDS THE TWO OF YOU IS THE DARK, LITHE FIGURE OF MASTER INFER. SHE DOESN'T LOOK YOUR WAY, DOESN'T SPEED UP WHEN YOU SEE HER, BUT YOU HAVE NO DOUBT THAT SHE IS AWARE OF YOUR PRESENCE.
>
---
megamario77 wrote:

>See what Owes does and follow his lead.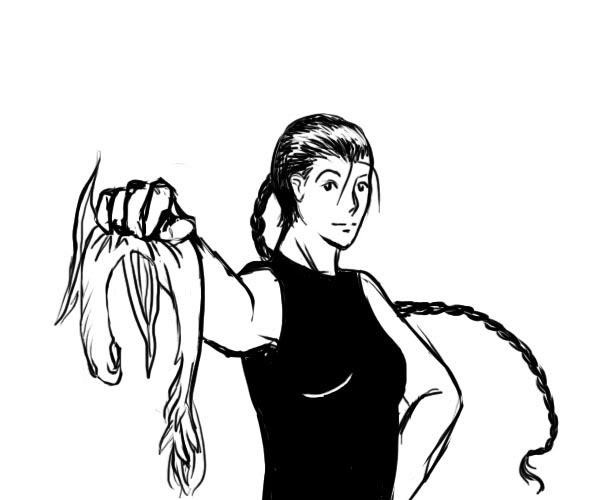 MASTER INFER STOPS AT A DISTANCE FROM YOU AND OWES. SHE HOLDS OUT THE CORPSE OF AN ANIMAL, EVIDENTLY ONE OF THE BEASTMASTER'S SPIES, AND TOSSES IT AT HIS FEET.
SHE GETS RIGHT DOWN TO BUSINESS. "STEP OUT OF THE WAY, OWES." SHE SAYS. "I AM TAKING THE MANTODEA."
YOU HISS SOFTLY AND RETRACT YOUR CLAWS, BUT YOU DO NOT DARE TO MAKE A MOVE. YOU WATCH OWES FOR HIS REACTION.
"LEAVE US." HE WHISPERS QUIETLY, PERHAPS TOO LOW FOR MASTER INFER TO HEAR. THEN YOU REALIZE THAT HE IS TALKING TO YOU. NEVER TAKING HIS EYES OFF THE FIRE ELEMENTAL, HE CONTINUES, "TAKE THE RING I GAVE YOU AND TRAVEL OVER THE OCEAN, WHERE INFER WILL HAVE LESS POWER. GO DIRECTLY TO THE CRYSTAL PALACE AND LET NOTHING STOP YOU. I WILL SLOW HER DOWN." THE LAST PART WAS SPOKEN SADLY, AS IF THAT WAS ALL HE COULD DO.
>
---
ThatOneYoYoGuy wrote:

>Kiss him on the cheek as a farewell.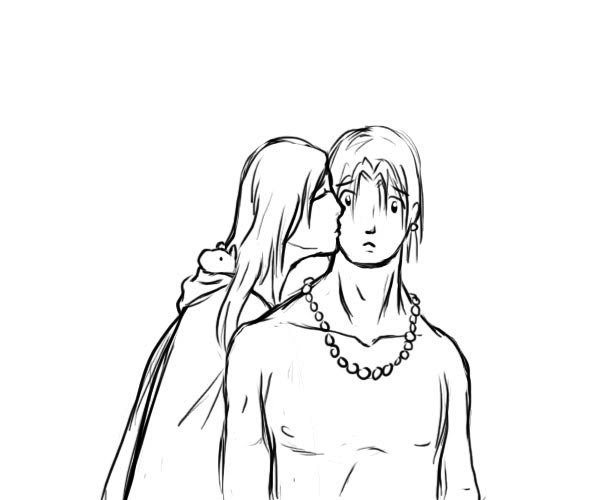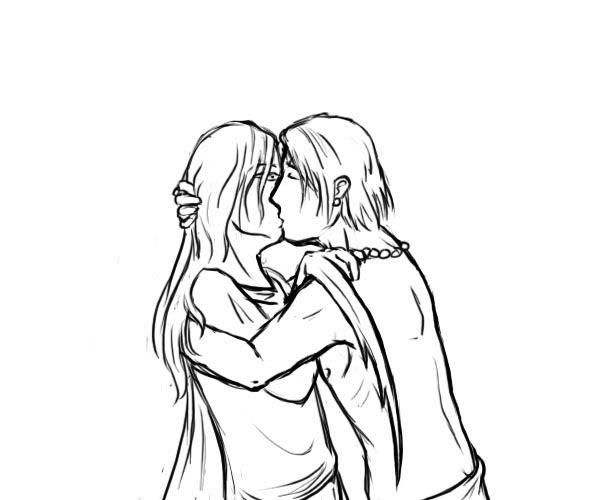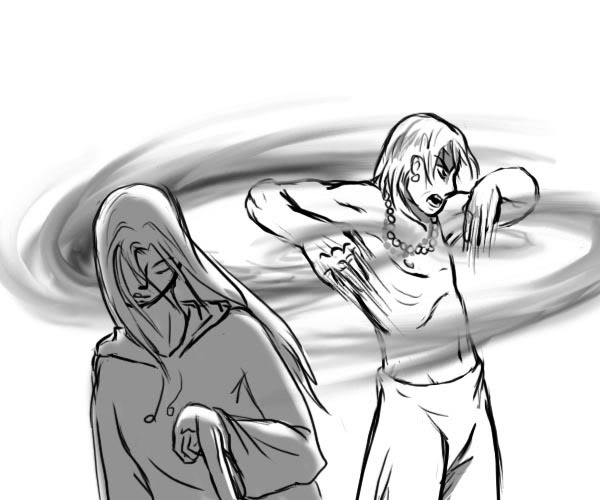 "NOW GET OUT OF HERE." THE BEASTMASTER SAYS, PUSHING YOU AWAY.
MASTER INFER SMILES MILDLY AT YOU AND OWES'S LITTLE DISPLAY. "STILL HAVE A TASTE FOR THE MANTODEAS, DON'T YOU, OWES?" SHE CHUCKLES.
THE BEASTMASTER SMILES BACK, SADLY. "IT'S BEEN A LONELY 800 YEARS." HE ADMITS. THEN HE SNARLS, BEAST-LIKE HIMSELF, AND GATHERS HIS ENERGIES AROUND HIM IN A FEARSOME VORTEX.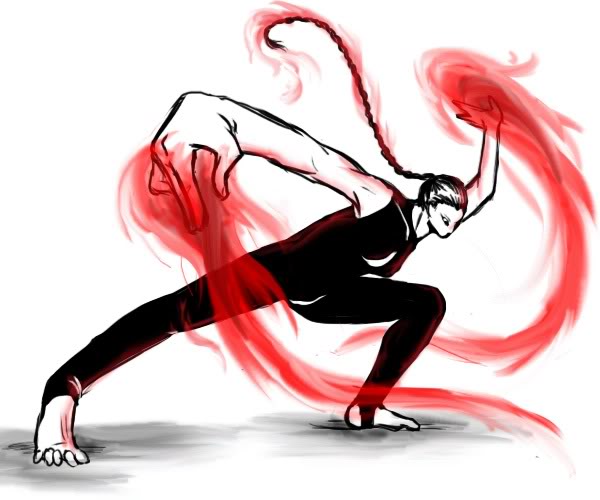 HE AND INFER BEGIN THE RITUALISTIC DANCE BETWEEN VICHYS BEFORE THEY ENGAGE IN COMBAT. IT IS AN ANCIENT PRACTICE THAT YOU DO NOT FULLY UNDERSTAND, BUT A PART OF IT IS MEANT TO MINIMIZE DAMAGE TO THE LANDSCAPE AND TO EACH OTHERS' SUBORDINATES. WITHOUT SPEAKING, THEY AGREE ON HOW MUCH POWER THEY SHOULD USE, WHETHER THEY SHOULD FIGHT TO THE DEATH, WHAT TROPHIES GO TO THE VICTOR, AND ALL MANNER OF OTHER RULES. THE DISPLAY IS FULL OF POMP AND AGGRESSION, OF GRACE AND BRUTALITY.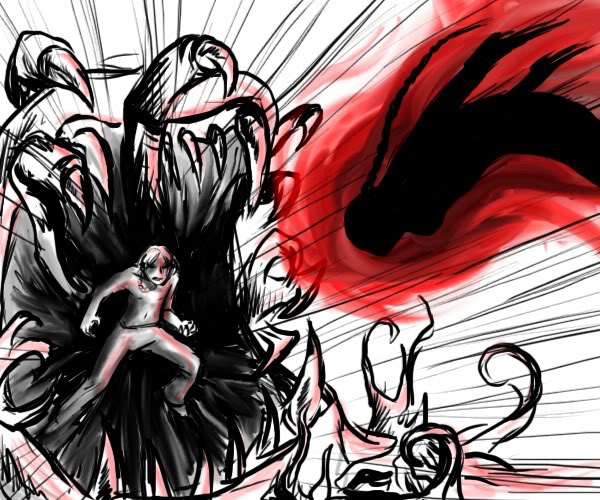 AND WHEN THE OPPONENTS FINALLY CRASH INTO EACH OTHER, ENERGY AND YILIXA EXPLODE FROM THE IMPACT POINT IN WAVES. EVEN FROM A DISTANCE, THE SOUND THREATENS TO TEAR SOMETHING APART AND THE HEAT IS RAW ON YOUR SKIN. YOU FEEL THEIR ANGUISH AND PAIN, THEIR DETERMINATION. YOU SENSE PIECES OF THEIR LIFE-YILIXA FLYING BY AND YOU REALIZE THAT WITH EACH BLOW, BOTH THE MASTERS ARE DYING A LITTLE.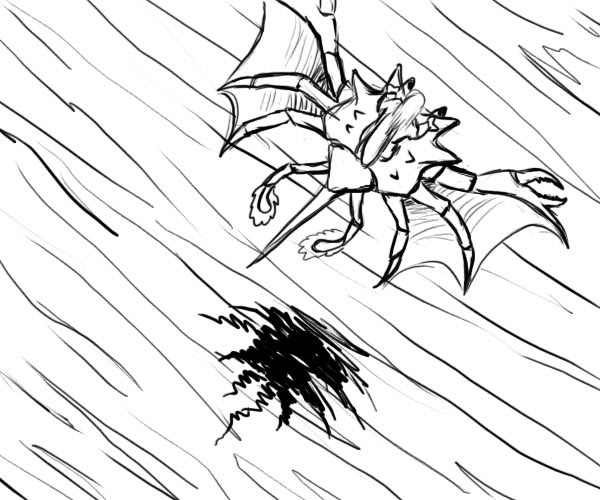 YOU DO NOT SEE THIS VERY CLEARLY, AND YOU CERTAINLY DON'T SEE WHO EMERGES VICTORIOUS. RIDING THE ANIMAL THAT EMERGED FROM THE RING OWES GAVE YOU, YOU FLY OUT OVER THE OCEAN. THE CRYSTAL PALACE GROWS STEADILY IN YOUR VISION, BUT NEVER SEEMS TO GET ANY CLOSER. YOU FLY FOR HOURS.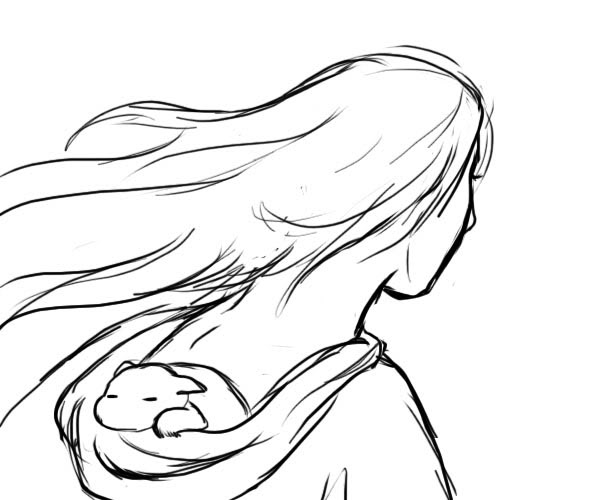 IT IS NEARLY EVENING AND IT HAS BEEN QUITE SOME TIME SINCE YOU SAW ANY LAND ASIDE FROM THE CRYSTAL PALACE. YOUR MOUNT SEEMS TIRELESS ENOUGH TO CONTINUE FLYING FOREVER, BUT YOU ARE CONCERNED THAT YOU MIGHT NOT REACH YOUR DESTINATION BEFORE DAWN.

YOU HEAR A FAINT SQUEAKING IN YOUR HOOD AND IT SURPRISES YOU. IT'S MENCHI, OF COURSE, BUT HE NEVER MAKES A SOUND. THEN YOU REALIZE THAT IT'S HIS STOMACH RUMBLING. HE HASN'T EATEN IN TWO DAYS.

>

Top of Page

Go back to Storytime of Epicness