Kriz wrote:

>There's no need to panic; if they wanted to kill you, they could have easily done so while you were sleeping. greet them.
YOU WILL YOURSELF TO FOLD BACK YOUR BLADES. IF THIS PERSON IS TRYING TO DECIDE IF YOU ARE A THREAT, YOU DON'T WANT TO MAKE UP HIS MIND FOR HIM.
"HELLO" YOU SAY CAUTIOUSLY.
"HI." HE ANSWERS UNCERTAINLY, SOUNDING AS BEWILDERED AS YOU FEEL. THERE IS SOMETHING PECULIAR ABOUT THIS PERSON. YOU CAN'T SAY FOR CERTAIN IF HE IS A MALE OR FEMALE, OR IF HE EVEN COMES FROM A SPECIES THAT HAS HUMAN-LIKE SEXES. YOU TRY TO GET A SENSE FOR HIS YILIXA, BUT IT READS LIKE WHITE NOISE. MAYBE THAT'S AN EFFECT OF BEING IN THIS PALACE MADE OF YILIXA.
HE BLINKS AT YOU. "WHAT ARE YOU DOING HERE?"
---
Behemoth wrote:

>"Uh, it's a long story. Who are you?"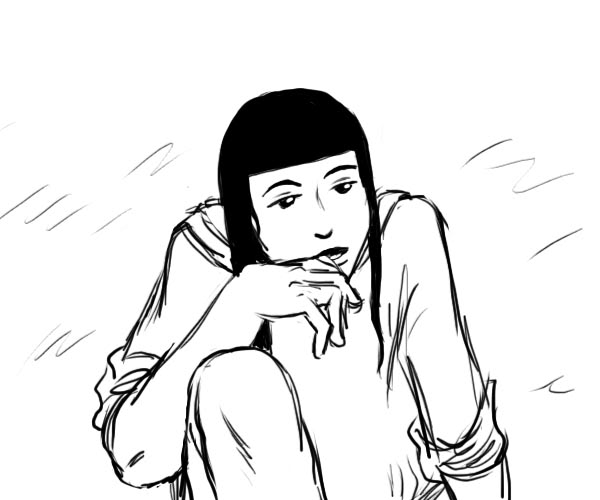 "UH, IT'S A LONG STORY..." YOU BEGIN.
"NO, I MEAN, YOU SHOULDN'T BE HERE." THE MAN INTERRUPTS. "THIS IS A RIFT IN SPACE THAT WAS MADE BACK AT THE APOCALYPSE. IT CAN BE DANGEROUS HERE WHEN THE MOOD IS WRONG. IF YOU WANTED TO SEE LORD PETRANOIA, YOU SHOULDA GONE THROUGH THE FRONT DOOR LIKE A NORMAL PERSON."
"I..." YOU BLINK. YOU HAVEN'T TOLD THE MAN THAT YOU ARE LOOKING FOR THE LORD.
"YOU'RE LOOKING FOR HER, RIGHT?" HE SAYS DREAMILY. "EVERYONE'S TRYING TO FIND HER BUT SHE'S NOOOO WHEEERRREE TOOOO BEEEE FOOOUUUNNNDDDD." HE SINGS THE LAST PART AND LAUGHS AT HIMSELF, AS IF AT A PRIVATE JOKE.
>
---
Lanz wrote:

>Can you take me to the front door? Are you perhaps her channeler?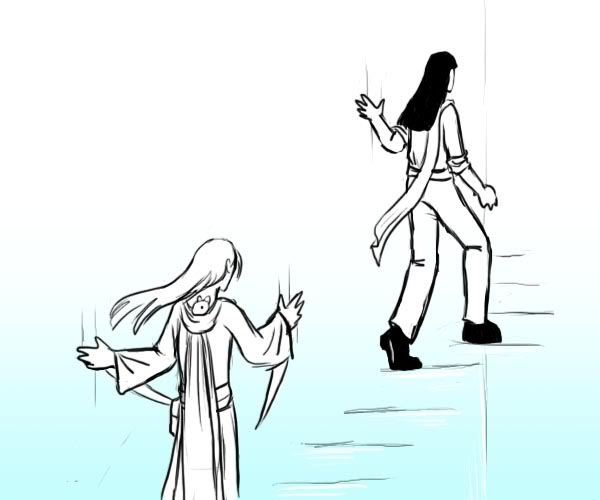 "FRONT DOOR, HUH." YOU SAY. "CAN YOU SHOW ME WHERE IT IS AND GET ME OUT OF HERE?"
"NO PROBLEM." THE MAN SAYS. HE WALKS TOWARDS THE INVISIBLE OBJECT AND STEPS ONTO IT WITHOUT HESITATION. YOU WATCH HIM FOR A MOMENT AND REALIZE THAT THE OBJECT IS LIKE A PILLAR WITH STEPS PROTRUDING OUT OF IT. USING YOUR SENSE OF TOUCH, BECAUSE EVEN YOUR YILIXA SENSES SEEM UNABLE TO SENSE IT, YOU CAUTIOUSLY MAKE YOUR WAY UP TO THE SKY.
WHICH IS NOT A SKY AT ALL. ABRUPTLY, LIKE SOMEONE TURING OFF A SWITCH, THE GRASSY PLAIN DISAPPEARS AND YOU ARE BATHED IN NATURAL LIGHT.
"THIS WAY," YOUR GUIDE SAYS, BEACONING YOU TO ITS SOURCE.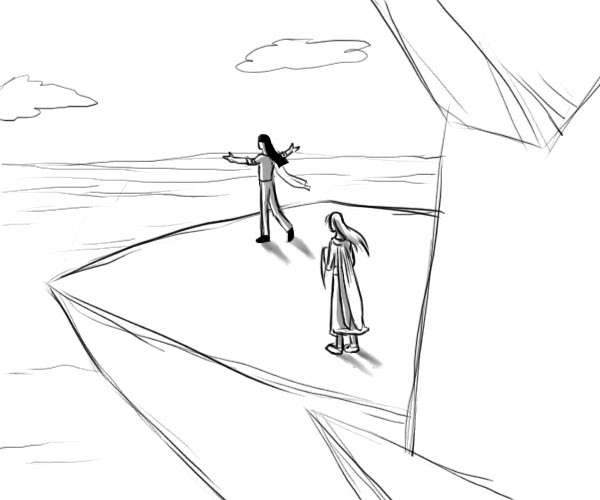 YOU STEP OUTSIDE TO THE FRONT ENTRANCE OF THE CRYSTAL PALACE.
"ONE OF THE MAIN ENTRANCES." THE MAN ADMITS. "THERE ARE BIGGER ONES. BUT THIS IS USUALLY THE ONE ON WHICH PETRANOIA ADDRESSES THE CROWDS BELOW."
"YOU SURE KNOW A LOT ABOUT THE PALACE." YOU SAY. "WOULD YOU HAPPEN TO BE ONE OF LORD PETRANOIA'S CHANNELERS?"
"NOPE." HE OPENS HIS ARMS AND TAKES IN THE OCEAN WIND. "LOVELY DAY."
>
---
J Detan wrote:

>"Cut the crap, Lord Petranoia."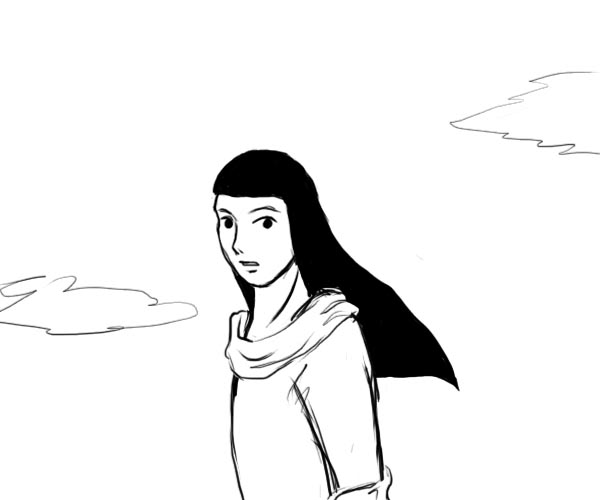 "OKAY..." YOU SAY. "THEN WOULD YOU HAVE ANY IDEA WHERE THE LORD DISAPPEARED TO?"
"PETRANOIA WAS MISSING." YOUR GUIDE SAYS CRYPTICLY. "BUT SHE'S BEEN FOUND."
THERE ARE THINGS ABOUT THIS PERSON THAT MAKE YOU UNEASY. THE CASUAL WAY HE SPEAKS THE LORD'S NAME, WITHOUT ADDING THE 'LORD' IN FRONT OF IT, THE WAY HE SEEMS TO MOVE ABOUT IN THIS PALACE WITH ABSOLUTE AUTHORITY. YOU HAVE NOT RUN INTO ANYONE IN THE PALACE YET, BUT YOU FEEL IT IS BECAUSE HE DOES NOT WANT ANYONE TO APPEAR.
"FOUND? THAT WAS EASY." YOU SAY CASUALLY. YOU WALK UP TO HER, DECIDING THAT SHE'S A HER. "I WASN'T EVEN TRYING."
"HUH?" YOUR GUIDE LOOKS DIRECTLY AT YOU WITH HER INKWELL EYES. YOU GLARE BACK STEADILY, ALTHOUGH YOU ARE BREATHING HARD.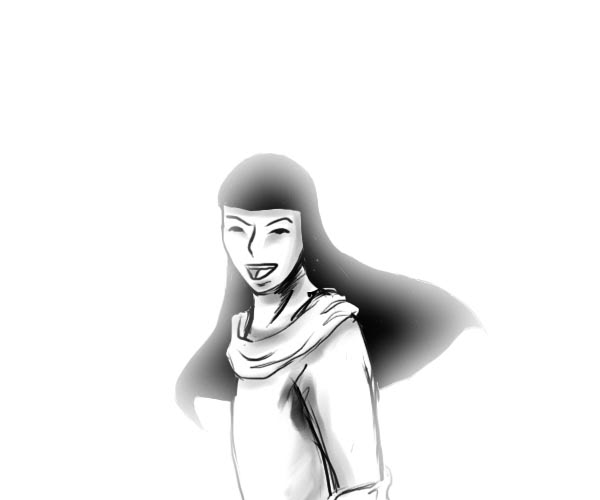 SHE LAUGHS BLITHELY. "AW, I GUESS PLAYTIME'S OVER."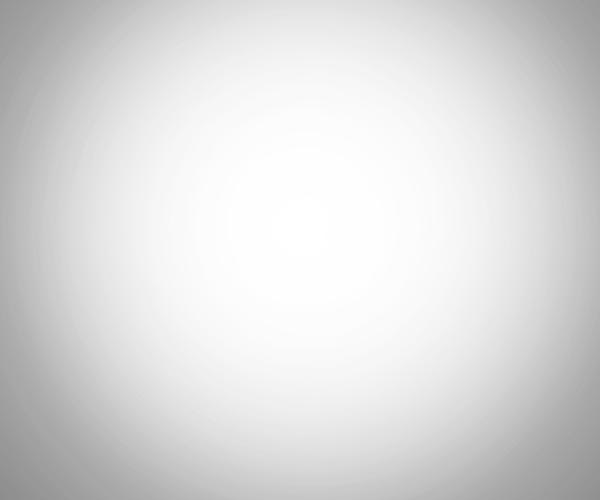 SUDDENLY, LIGHT POURS FORTH SO FAST AND SO POWERFULLY THAT IT FEELS LIKE A PHYSICAL BLOW. MAYBE IT KNOCKS YOU OUT, AS TIME SEEMS TO STOP AND WHITE ENVELOPES YOUR VISION.
EVENTUALLY, CONTRAST SEEPS BACK INTO THE WORLD.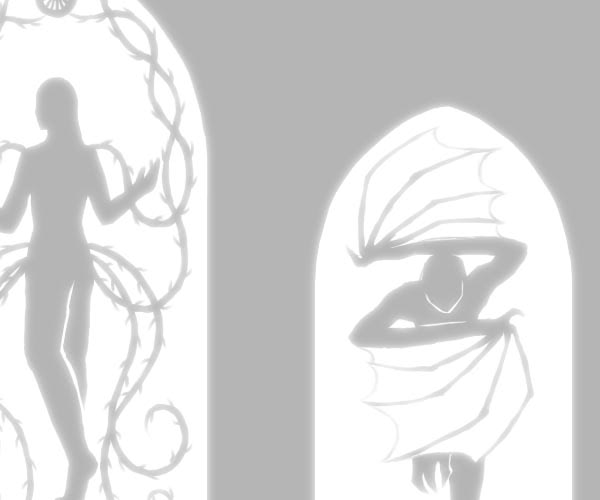 YOU WAKE UP IN A DIFFERENT LOCATION. BLINKING UP AT THE LIGHT, YOU MAKE OUT FIGURES SUSPENDED IN THE AIR. FLAT AND UNMOVING, YOU REALIZE THAT THEY ARE PICTURES ON CRYSTAL WINDOWS CRAFTED WITH EXQUISITE BEAUTY. THERE IS LORD PETRANOIA FLANKED BY HER LEFT AND RIGHT HAND VICHEY.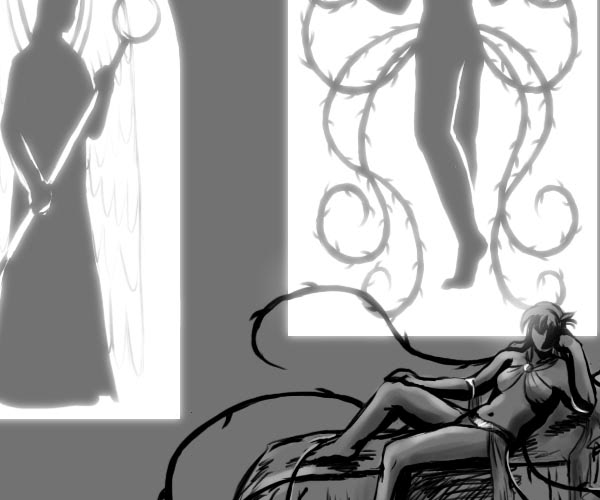 AS YOUR EYES ADJUST AND THE ROOM DIMS FURTHER, YOU MAKE OUT AN INDIVIDUAL RESTING ON WHAT LOOKS LIKE A MELTED STONE. WITH A SHOCK, YOU RECOGNIZE IT AS LORD PETRANOIA. SHE IS USUALLY PERSONIFIED AS A HUMAN WOMAN WITH LACERATING TENTALCLES SPROUTING FROM HER FLESH. BUT BY THE INERTNESS OF THE FIGURE, YOU DECIDE THAT WHAT YOU ARE LOOKING AT IS BUT A VERY CONVINCING STATUE.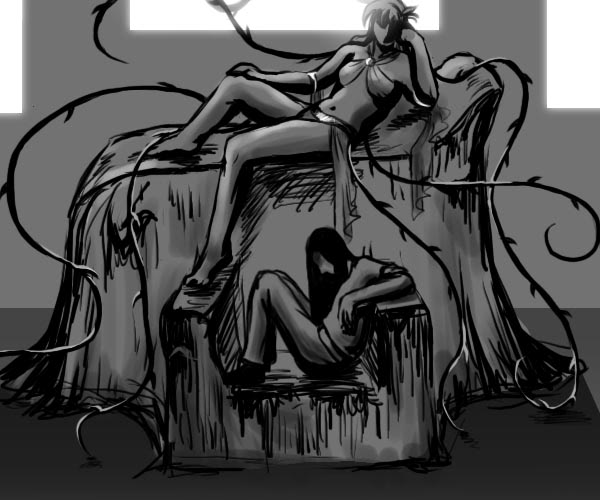 PERCHED ON A ROUGHLY CARVED THRONE, BARELY VISIBLE IN THE SHADOWS, IS THE PERSON WHO BROUGHT YOU HERE.
"TENODERA OF THE TEMPLATE MANTODEAS." THE LORD PETRANOIA SAYS IN A SMALL VOICE WHICH AT THE SAME TIME FEELS IMMENSE. "HIGH PRIESTESS AND PRIMARY CHANNELER OF LORD CERLIONESS." YOU QUAIL AT HER POWER, WHICH SHE HAS LET LOOSE FOR YOU TO FEEL. IT SEEMS TO FILL THE ROOM, PRESSING AGAINST THE WALLS AND CEILING, SMOTHERING YOU WITH ITS PRESSURE. YOU CLENCH AT YOUR CHEST, FEELING FEAR ENOUGH TO DRIVE YOU MAD.
"WHAT BRINGS YOU TO MY HUMBLE ABODE?"
>
---
Lanz wrote:

>I humbly seek sanctuary, m'lord (or whatever address is best befitting Lord Petranoia), if you would grant it to one such as I.

>And mention what Owes has done for us, and how we fear for his safety.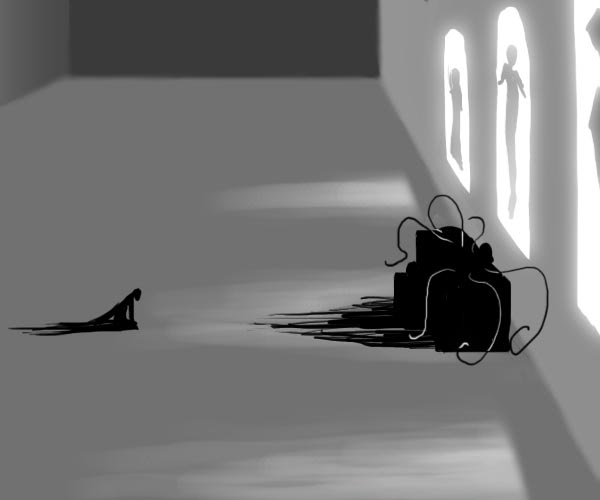 "LORD PETRANOIA." YOU SAY, SURPRISING YOURSELF WITH THE POWERFUL ECHO OF YOUR OWN VOICE. YOU BOW YOUR HEAD AND KNEEL BEFORE THE LORD'S THRONE. "I FIRST MUST SPEAK TO YOU OF AN URGENT MATTER. MASTER OWES, WHO HAS ASSISTED IN MY ARRIVAL HERE, MIGHT BE IN DANGER. WHEN I LAST LEFT HIM, HE WAS ENGAGED IN BATTLE WITH MASTER INFER."
"AH. CONFLICTS BETWEEN MASTERS. THE MOST ENJOYABLE TYPE OF CONFLICT." LORD PETRANOIA REPLIES CASUALLY WITHOUT LOOKING AT YOU. "I DON'T THINK YOU SHOULD WORRY ABOUT OWES. HE'S A BIG BOY. HE CAN TAKE CARE OF HIMSELF." SHE STRETCHES OUT HER WHOLE BODY, PROPPING HER LEGS UP ON THE ARMRESTS. "IF MY CALCULATIONS ARE CORRECT, HE SHOULD BE ON HIS WAY HERE. YOU NEED TO WORRY MORE ABOUT YOURSELF."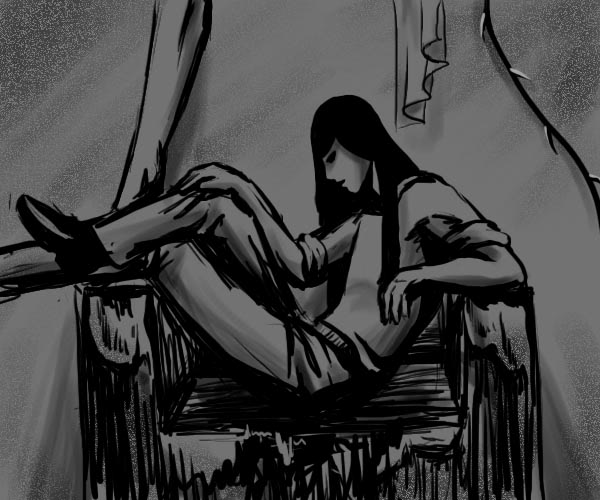 "I KNOW A FAIR BIT ABOUT YOU, LITTLE MANTODEA. WELL, I'M THE GODDESS OF KNOWLEDGE. IT'S MY BUSINESS TO KNOW A BIT ABOUT EVERYTHING. I KNOW THAT CERLIONESS IS TRACKING YOU AND, FROM MANIPULATING YOUR DREAMS, I KNOW WHY. I KNOW YOU CAUSED MASTER SHEER SOME TROUBLE IN MOEMOEA. I KNOW THAT MY TOP TWO VICHEY GAVE THE ORDER FOR YOU TO BE KILLED OR CAPTURED IN EXCHANGE FOR A LITTLE PEACE FROM CERLIONESS. WITHOUT LETTING ME KNOW. BUT THAT'S HOW I LIKE IT. I KNOW OWES DROPPED EVERYTHING AND WENT TO HELP YOU AS SOON AS HE DISCOVERED YOU WERE IN DANGER."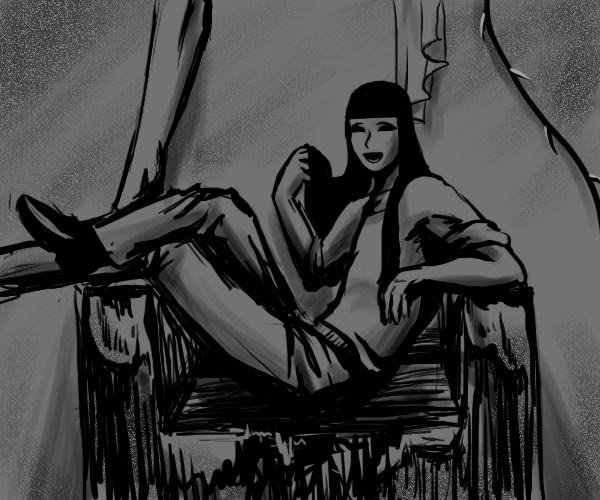 "ISN'T THAT SWEET? DID YOU KNOW THAT THE FIRST MANTODEA WAS HIS SOUL MATE? BY PROTECTING YOU, HE'S PROTECTING WHAT'S LEFT OF HER. THAT'S HILARIOUS. NOW HE'S LED YOU HERE. HE THINKS THAT, BECAUSE HE AND I CREATED YOUR KIND, I WILL BE AS EAGER TO PRESERVE YOU AS HE IS."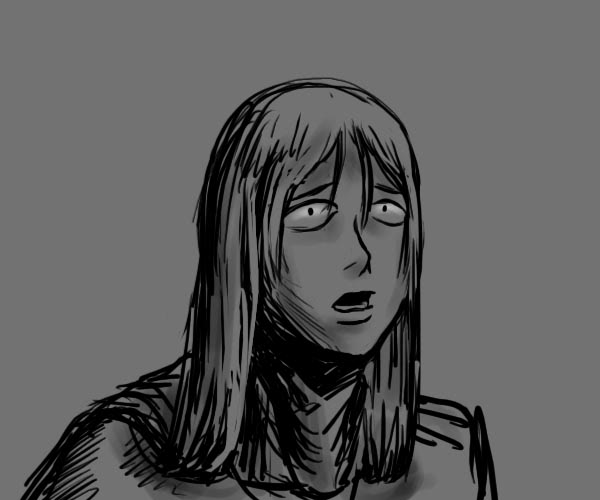 "LORD PETRANOIA." YOU SAY, TRYING TO KEEP YOUR VOICE STEADY. "I HAVE TRAVELLED THIS FAR ON THE SAME HOPE. THAT YOU WILL ALLOW ME TO LIVE IN YOUR LANDS SAFE FROM LORD CERLIONESS'S WRATH. I SHALL BE ETERNALLY GRATEFUL. I SHALL SERVE UNDER YOU UNTIL MY DYING BREATH. PLEASE. LORD OF DREAMS. I CAN NOT SURVIVE WITHOUT YOUR AID."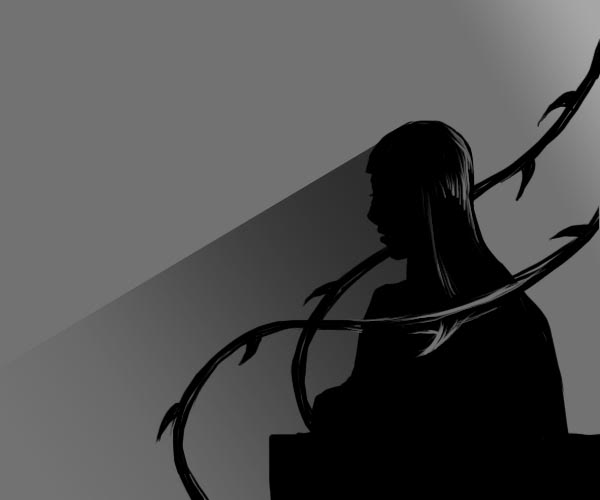 "I CAN'T."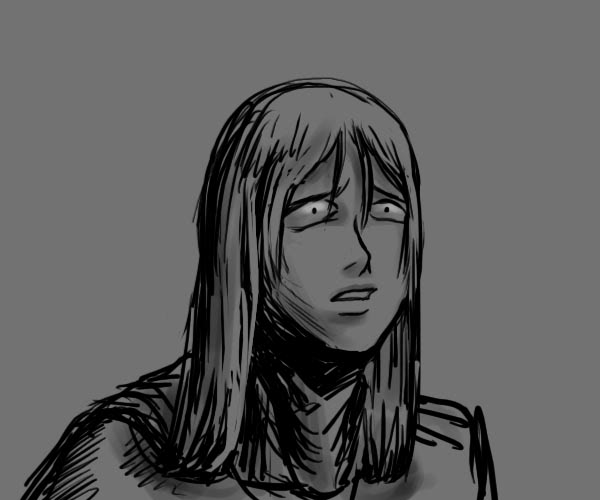 "DON'T LOOK AT ME LIKE THAT." LORD PETRANOIA SAYS, HER BOTTOM LIP TREMBLING IN SYMPATHY. "YOU'RE GOING TO MAKE ME CRY." THEN SHE LICKS IT.
"IT'S NOT THAT EASY." SHE EXPLAINS. "YOU BELONG TO ANOTHER LORD. TO KEEP YOU WITHOUT PERMISSION WOULD ESSENTIALLY BE STEALING, WOULDN'T IT? OF COURSE, THERE ARE OTHER WAYS OF ACQUIRING SOMEONE ELSE'S PROPERTY. FOR EXAMPLE, THROUGH A TRADE. IF I GIVE HER SOMETHING SHE WANTS IN EXCHANGE FOR YOU, THEN YOU WILL BECOME MINE."
"YOU ARE WILLING TO DO THIS FOR ME, LORD PETRANOIA?" YOUR HEART CHURNS WITH SWELLING HOPE AND DISBELIEF. "I CAN NOT EXPRESS MY GRATITUDE ENOUGH!"
THE LORD SIGHS, AN AMUSED SMIRK DRAWN TIGHT ALONG HER FACE. "OWES IS CORRECT. I DO WANT YOU. YOU HAVE SOME SENTIMENTAL VALUE AND I LIKE COLLECTING RARE THINGS. BUT DON'T THANK ME YET, MANTODEA. CERLIONESS HAS TO BE WILLING TO GO THROUGH WITH THE TRADE AS WELL. AND I MIGHT CHANGE MY MIND IF HER PRICE IS TOO HIGH."
THE LORD FALLS SILENT. YOU ARE NOT SURE WHAT SHE EXPECTS OF YOU, SO YOU ALSO STAY SILENT.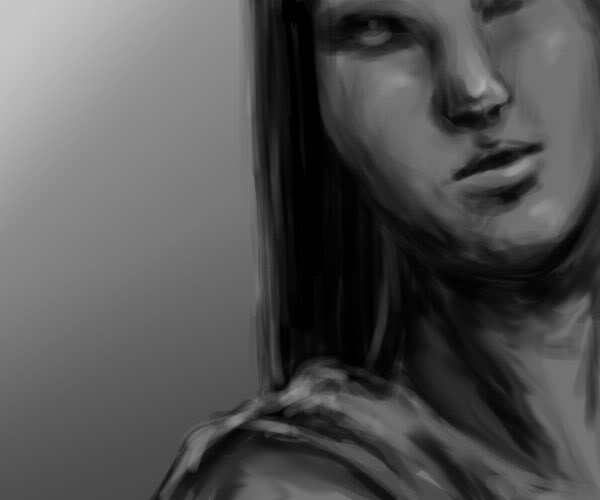 "WELL?" SHE FINALLY SAYS. "LET ME TALK TO CERLIONESS. BRING HER HERE. CHANNEL HER."
>
---
J Detan wrote:

>Well, what do we have to lose? Except everything.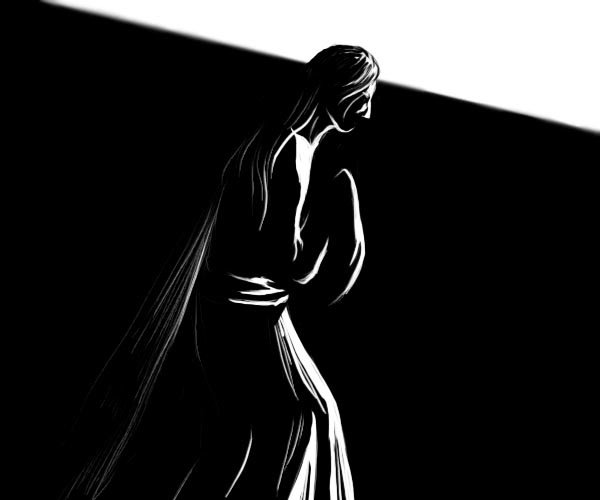 YOU STAND UP.
YOU BREATHE IN THE AIR.
YOU TAKE IN THE LIGHT.
ONE LAST GLANCE AT THE WORLD INTACT.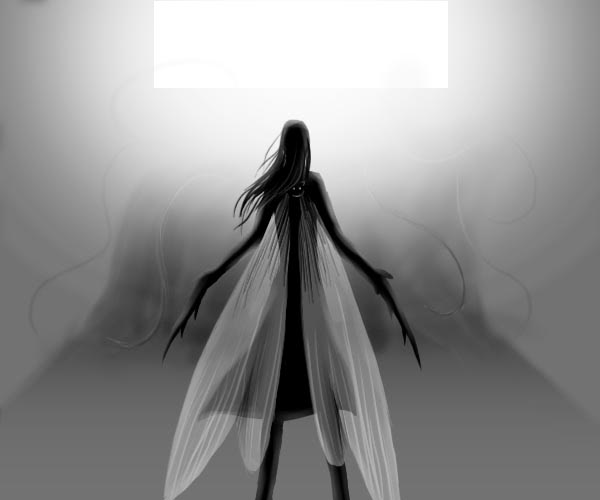 YOU LET YOUR MIND CROSS WITH THAT OF A HIGHER POWER.
AND SURRENDER YOURSELF TO IT.
...
---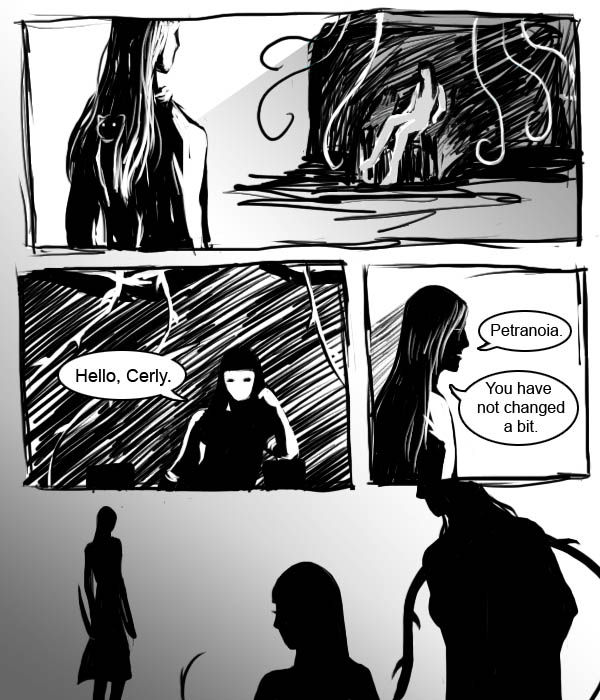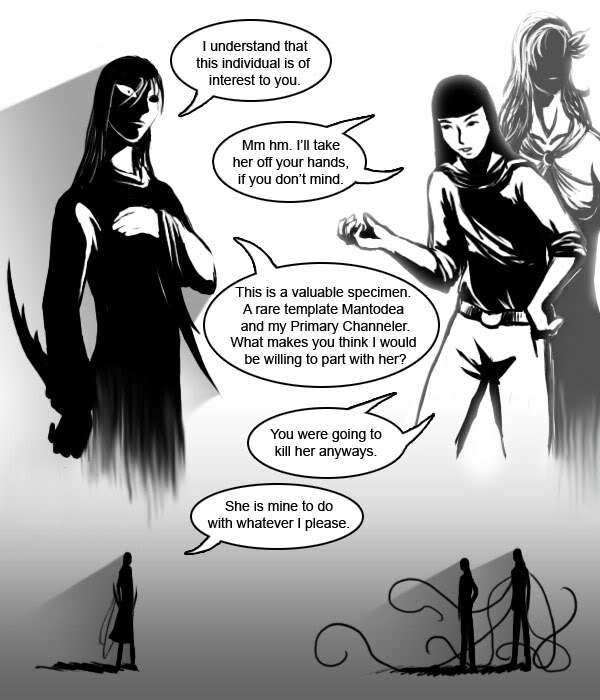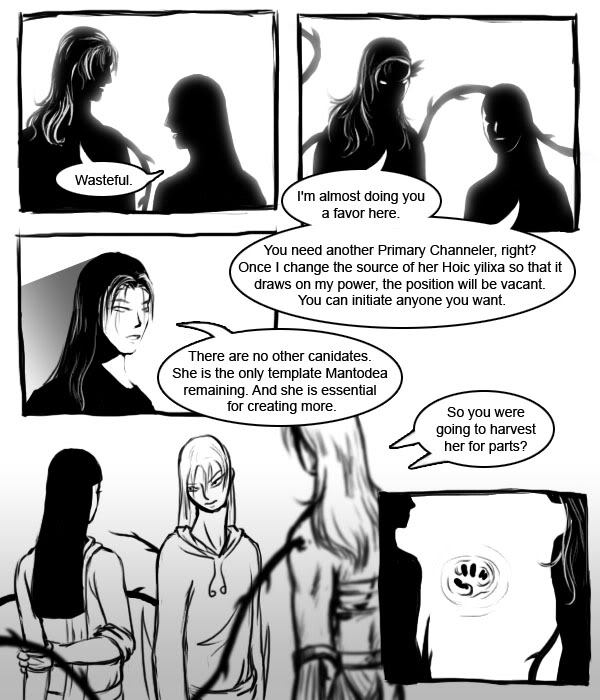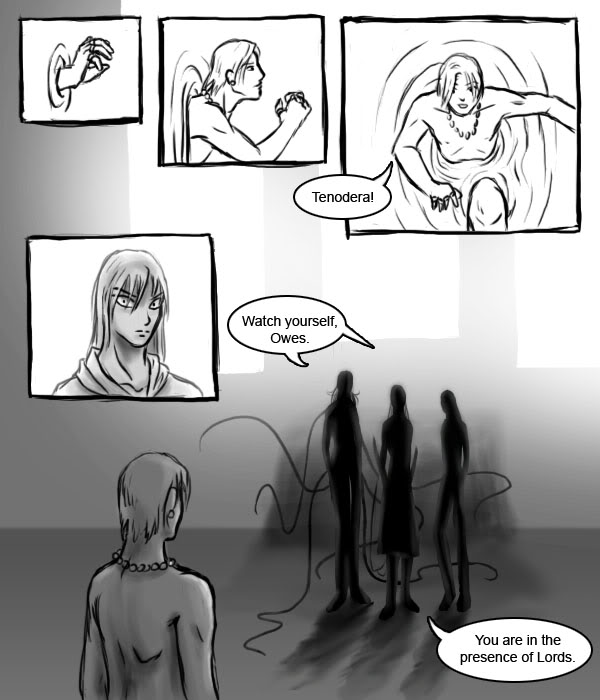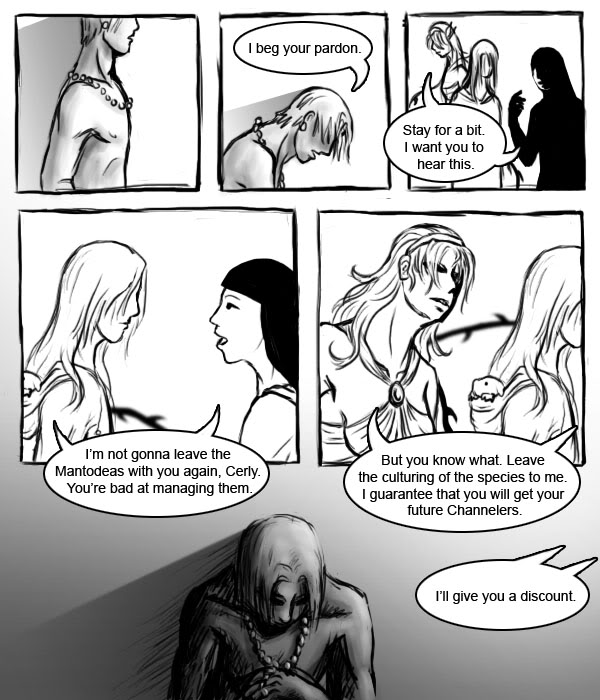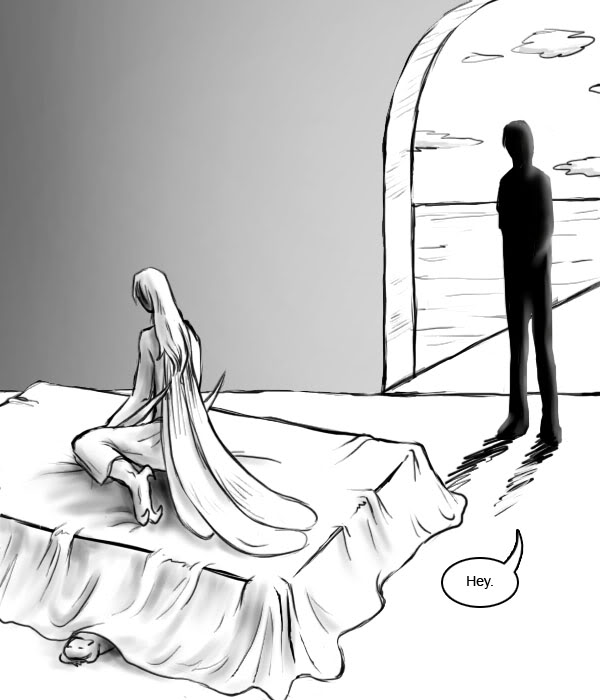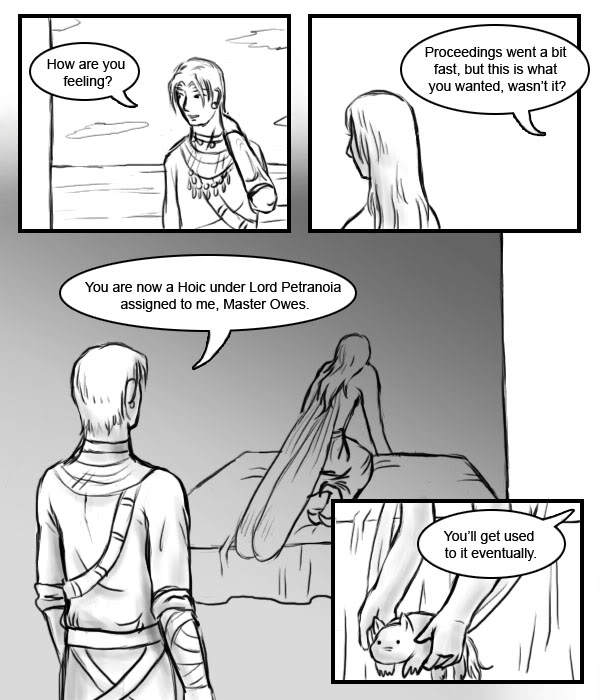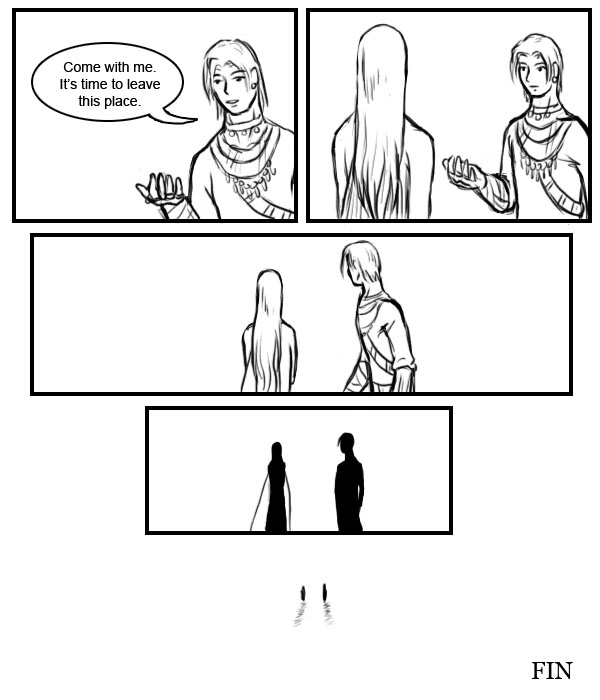 Go back to Storytime of Epicness