Lanz wrote:

>let our mount skim the water, spear some fish, maybe find some kind of aquatic vegetation for Menchi.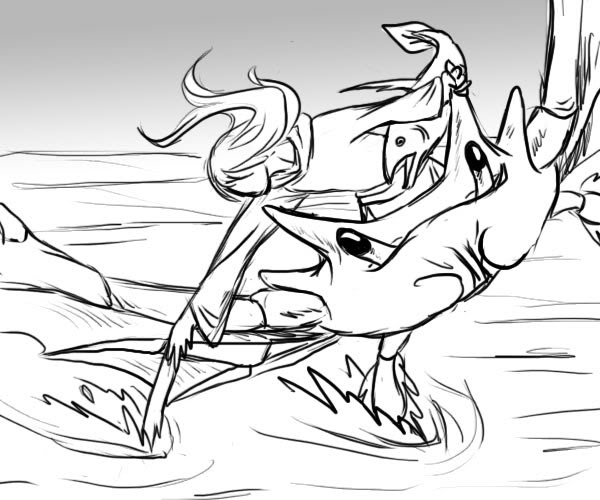 DUSK AND DAWN ARE THE BEST TIMES TO CATCH FISH, SO YOU EASILY CATCH A FEW FINE SPECIMENS AS THE SUN SETS BEHIND YOU. THIS IS ENOUGH TO SATIATE YOU UNTIL TOMORROW. BUT UNFORTUNATELY FOR YOUR FRESH SKIBLY SUPPLY, HE DOESN'T SEEM TO BE ABLE TO EAT AQUATIC VEGETATION.
>
---
Jesuits wrote:

>Do we still have those Skibly nutrition packs we won at the races, or did we lose them at some point?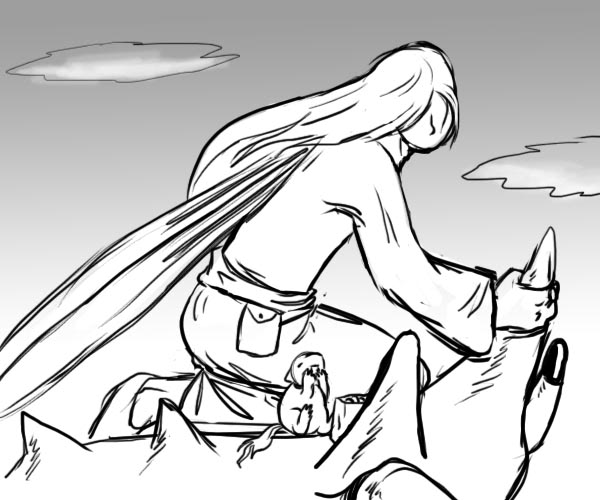 YOU LOOK IN YOUR BAG IN HOPES OF FINDING SOMETHING FOR YOUR SKIBLY TO EAT. WELL WHADDAYA KNOW? THERE'S THAT POUCH OF GRASSY FOODSTUFFS YOU WON AT THE ABERAL RACE. YOU HAD ALMOST FORGOTTEN ABOUT IT. YOU OFFER THE POUCH TO MENCHI, WHO CONSUMES ALL THE CONTENTS IN HIS HUNGER.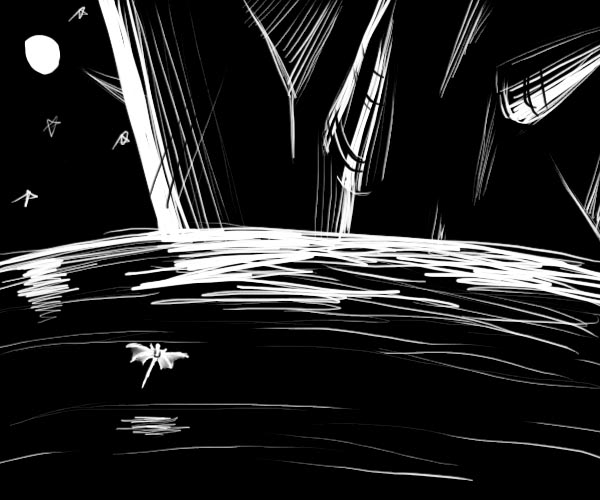 YOU FLY ON THROUGH THE NIGHT. THE CRYSTAL PALACE GROWS AND GROWS IN YOUR VISION UNTIL YOU CAN SEE IT ENCOMPASS THE CURVE OF THE HORIZON AND STILL IT GROWS EVER LARGER. ITS SURFACE GLOWS FAINTLY UNDER THE MOONLIGHT, CASTING STRANGE SHADOWS OVER THE OCEAN SWELLS.
UNFORTUNATELY, YOU SEEM TO HAVE APPROACHED THE PALACE FROM THE BACK BECAUSE THERE IS NO OBVIOUS ENTRANCE AS FAR AS YOU CAN SEE. IT WILL TAKE ALL NIGHT AND A PART OF THE MORNING TO CIRCLE THE STRUCTURE IF YOU WANT TO FIND A MAIN ENTRANCE. OR YOU CAN TRY SEARCHING FOR A BACK DOOR. OR, YOU THINK AS YOU RUB YOUR TIRED EYES, YOU CAN OPT FOR SLEEP.
>
---
BlazeHedgehog wrote:

>Look for a rear entrance first.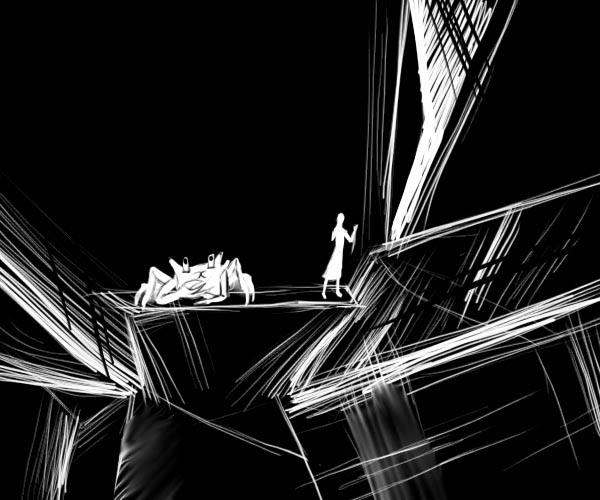 YOU DON'T HAVE THE TIME OR ENERGY TO GO LOOKING FOR THE FRONT ENTRANCE SO YOU LOOK FOR A BACK ONE, AS IMPROBABLE AS IT SEEMS. HOVERING NEAR THE OUTER WALL OF THE PALACE, YOU CAN PEER THROUGH THE TRANSLUCENT CRYSTAL AND SEE THAT IT IS METERS THICK BEFORE A REFLECTIVE SURFACE DETERS YOUR EYES. IT SEEMS IMPENETRABLE. TESTING IT WITH YOUR CLAWS, YOU FEEL THAT IT IS HARDER THAN ANY METAL OR POLYMER YOU KNOW OF.
AND YET, YOU ARE ABLE TO FIND AN OPENING IN THE CRYSTAL. IT CAN HARDLY BE CALLED A DOOR, IT'S MORE OF A FISSURE. YOU UNMAKE YOUR MOUNT AND WITHDRAW IT BACK INTO ITS RING AND TAKE A CLOSER LOOK AT THE OPENING.
IT IS VERY STRANGE. YOUR HAND IS IMMEDIATELY SWALLOWED BY DARKNESS WHEN YOU PLACE IT IN THE FISSURE'S SHADOW. BUT, WHEN YOU LOOK THROUGH THE CRYSTAL, YOU CAN NOT SEE YOUR HAND AT ALL. YOU CAN NOT SEE ANY EVIDENCE OF AN OPENING. AND WHEN YOU STEP INTO THE SHADOW, YOU CAN NOT SEE ANYTHING AT ALL.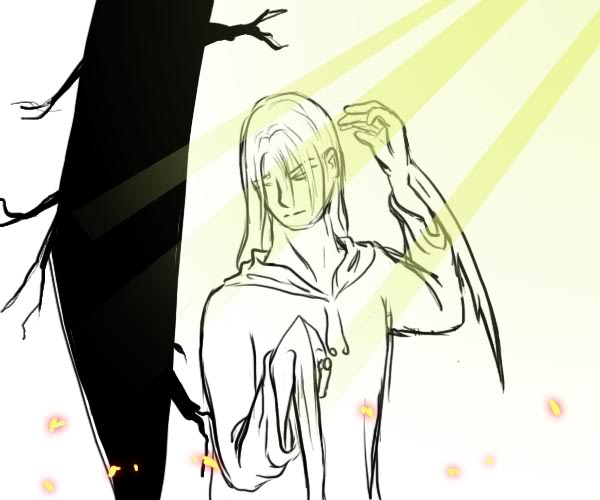 AFTER THREE STEPS IN COMPLETE DARKNESS, YOU ARE ABRUPTLY ASSAULTED BY A BRILLIANT LIGHT.
...WHAT? ISN'T IT THE MIDDLE OF THE NIGHT...? BUT...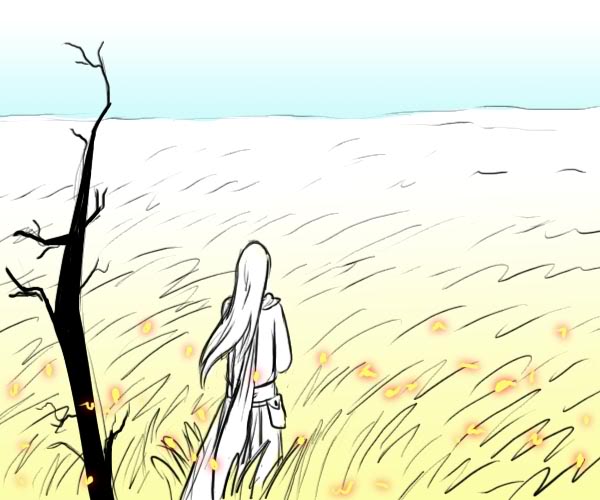 YOU EMERGE TO A FIELD OF GOLDEN GRASS WHICH EXTENDS AS FAR AS THE EYE CAN SEE. THERE IS NO SUN IN THE SKY, BUT A WARM LIGHT RADIATES FROM AN UNDEFINED POINT HIGH ABOVE. IS IT EVEN SAFE TO CALL IT A SKY? THERE ARE NO CLOUDS. NO LANDMARKS.
WHERE ARE YOU?
>
---
PenguinSeph and Jesuits wrote:

>Shout out as loud as we can.

>Look around a bit for people, more food to be safe, and/or something approximating shelter to get some sleep in.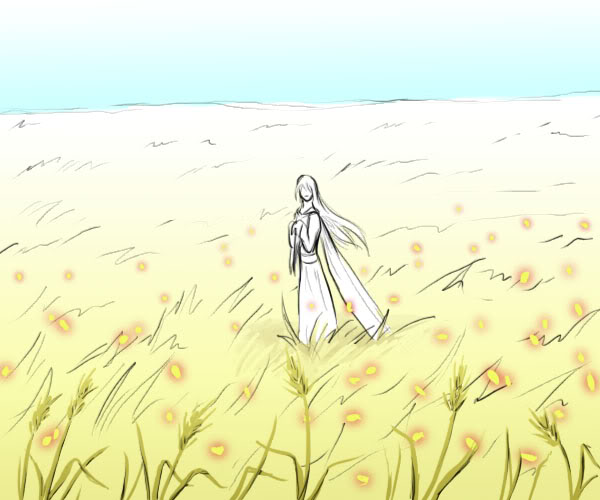 YOU TAKE A BREATH AND CALL OUT, BUT STOP SHORT AFTER THE FIRST SYLLABLE. YOU RECALL WHAT MASTER OWES SAID ABOUT THE CRYSTAL PALACE, THAT YOU HAVE FIND THE LORD OR ONE OF HER CHANNELERS WHILE AVOIDING THE VICHEYS. YOU HAVEN'T GIVEN IT MUCH THOUGHT BECAUSE THE TASK SEEMS IMPOSSIBLE. YOU HAVE NO IDEA WHERE TO GO, HOW MUCH SURVEILLANCE THEY HAVE, OR EVEN WHAT SOME OF THEM LOOK LIKE. AND WHO KNOWS HOW MANY OTHER PEOPLE ARE LIVING IN THE PALACE.
ALTHOUGH NO ONE SEEMS TO BE IN THIS AREA. THE LANDSCAPE IS ENTIRELY DEVOID OF ANYTHING OF INTEREST. YOU CAN WALK FOR DAYS IN A CIRCLE AND THINK YOU ARE MAKING PROGRESS. THE ONLY DISTINGUISHING FEATURE IS HOW MOST OF THE GRASS IS BENDING IN ONE DIRECTION, EVEN THOUGH THERE'S NO WIND.
>
---
Lanz wrote:

>Fly as high as we can in the direction of the pointing grass.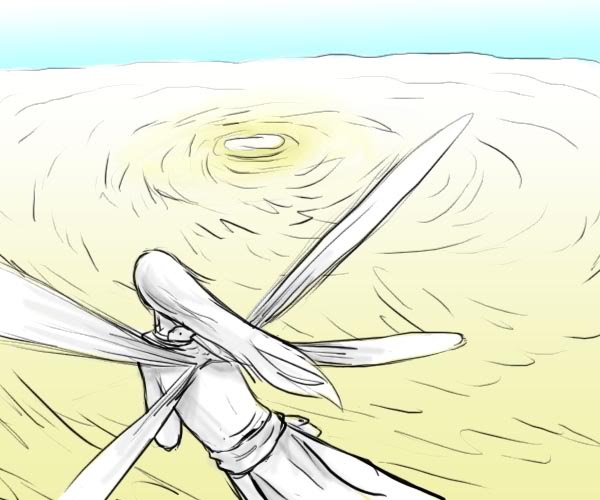 YOU FLY FOR HOURS IN THE DIRECTION OF THE GRASS. BUT EVENTUALLY, YOU CAN SEE IT ALL BEND SLIGHTLY TO THE RIGHT AS IT APPROACHES THE HORIZON. THE CURVE GROWS SHARPER UNTIL YOU SEE HOW IT FORMS A SPIRAL AROUND ONE CURIOUS AREA. YOU FLY A BIT CLOSER TO INVESTIGATE.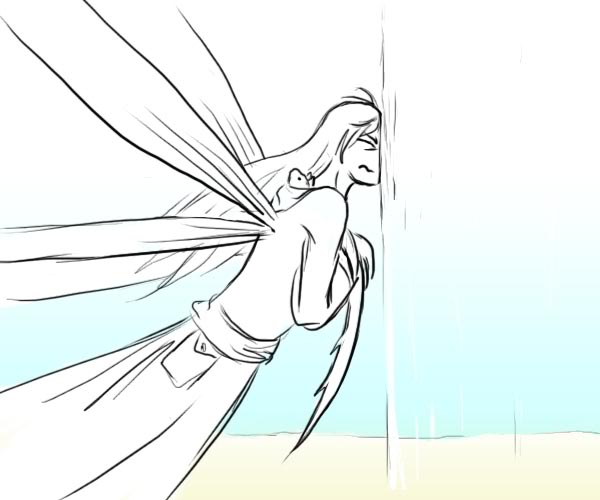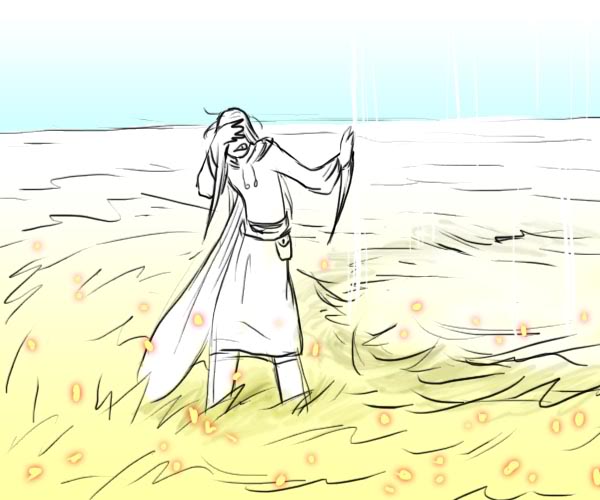 AND HIT SOMETHING INVISIBLE IN MIDAIR. NOW ON TOP OF BEING SLEEPY, YOU HAVE A HEADACHE.
>
---
megamario77 wrote:

>get comfy and sleep.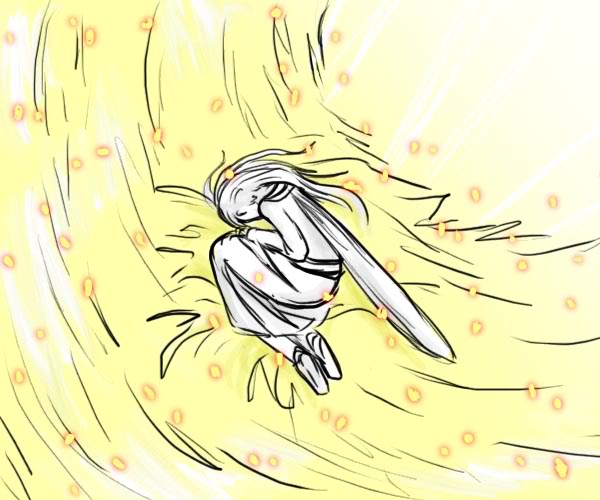 YOU ARE DESPERATELY TIRED. TURNING IN A SHAKY CIRCLE, YOU FLATTEN THE GRASS BEFORE CURLING UP AT THE BASE OF THE INVISIBLE STRUCTURE. AS YOU DRIFT OFF TO SLEEP, YOU REMEMBER THAT YOU ARE IN THE PALACE OF LORD PETRANOIA, LORD OF CONSCIOUS THOUGHT, LORD OF SENTIENCE, LORD OF DREAMS.
SO YOUR DREAMS ARE STUNNINGLY CLEAR. SO VIVID AND FAMILIAR THEY ARE, THAT YOU DO NOT REALIZE YOU ARE DREAMING UNTIL YOU WAKE UP.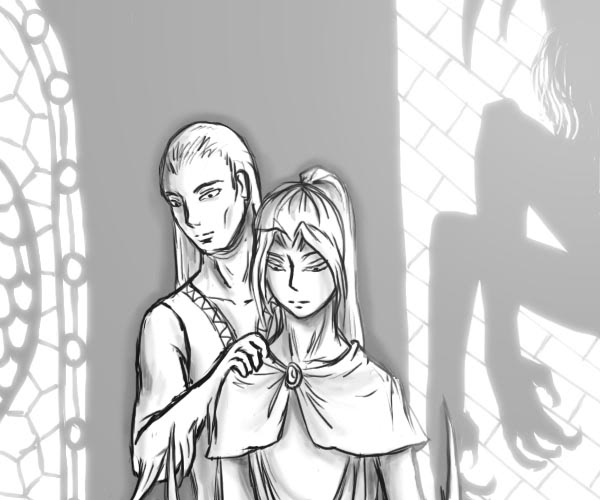 YOU DREAM ABOUT TYTHRONE, YOUR HUSBAND AND SOUL MATE. WHEN HE WAS ALIVE, YOU LIVED TOGETHER IN BLESSED DAYS OF LIGHT AND PRIVILEGE. YOU WERE ALREADY A HOIC AND THE PRIMARY CHANNELER OF LORD CERLIONESS. YOU HAD TWO CHILDREN. THEY WOULD HAVE BEEN 8 YEARS OLD BY NOW.
SIX YEARS AGO, THERE WAS AN ACCIDENT. ONE MORNING YOU WOKE UP WITH THE SIGNS OF A STRUGGLE ALL AROUND YOU. WHAT REMAINED OF TYTHRONE'S BODY WERE SMEARED ON THE WALLS AND THE FLOOR AND YOURSELF. YOU SWALLOWED AND TASTED HIM IN YOUR MOUTH.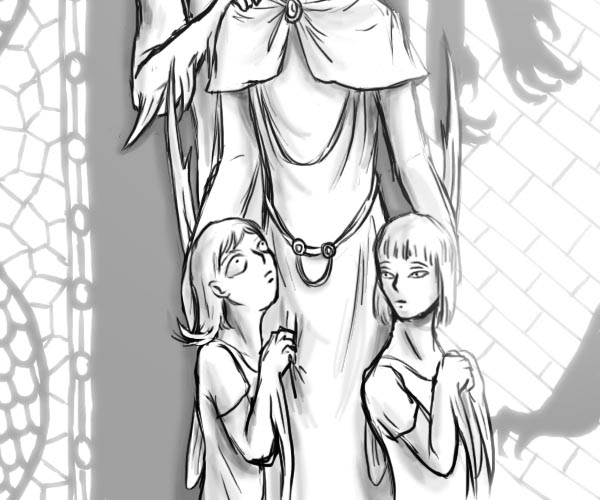 TWO MONTHS LATER, THE LORD CERLIONESS CAME TO VISIT YOU IN PERSON. "I NEED YOU TO COME OUT OF ISOLATION, MY TENODERA." SHE BREATHED. "I NEED YOU TO RESUME YOUR ROLE AS MY PRIMARY CHANNELER. RISE, TENODERA. I COMMAND YOU." WHEN YOU DIDN'T REPLY, YOUR LORD'S ANNOYANCE SEEMED TO PERMEATE INTO THE SURROUNDING AIR. "HOW TIRING." SHE WHISPERED AS IF TO HERSELF. "IT'S REGRETTABLE THAT YOU WERE CREATED WITH THIS INSTINCT THAT YOU CAN NOT CONTROL. AND THAT YOU CAN FEEL THIS AMOUNT OF INCAPACITATING GRIEF. BUT ENOUGH. YOU CAN NOT CHANGE WHAT HAS BEEN DONE."
"MY LORD..." YOU SAY WEAKLY. "BUT IF I CAN NOT CONTROL MYSELF, WHAT ABOUT MY CHILDREN? WHAT IF LOSE CONTROL AROUND THEM... HOW CAN I..."
LORD CERLIONESS WAS AS SYMPATHETIC AS A LORD WAS EXPECTED TO BE. SHE HAD AN INTEREST IN KEEPING YOUR CHILDREN ALIVE AND PREVENTING YOU FROM FALLING INTO DESPAIR. SHE OFFERED TO FREE YOU OF YOUR MORNING HUNGER AND MAKE YOU WEAKER THAN YOUR CHILDREN. SHE SEALED MOST OF YOUR YILIXA INTO CRYSTAL, WHICH YOU WORE AS A BROOCH. AND SO FOR THE NEXT SIX YEARS, YOU LIVED WITH YOUR TRUE NATURE SIMMERING WITHIN A BODY THAT WAS NOT YOUR OWN. IT WAS A RELIEF. A COMFORT.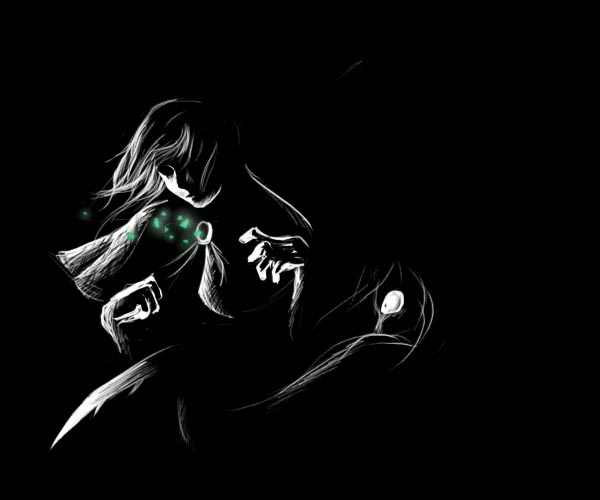 THE NEXT VISION YOU HAVE IS STRANGE. BECAUSE YOU ARE IN YOUR BODY, BUT YOUR ACTIONS ARE NOT YOUR OWN. YOU REALIZE THAT IT IS LORD CERLIONESS CONTROLLING YOUR BODY DURING ONE OF THE TIMES YOU HAVE CHANNELED HER. USUALLY, YOU DO NOT REMEMBER WHAT HAPPENS WHEN YOU ARE POSSESSED, BUT IN THIS DREAM, YOU SEE WHAT YOUR EYES HAD SEEN, HEAR WHAT YOUR EARS HAD HEARD.
THIS ISN'T JUST A DREAM. THIS IS A MEMORY. WITH GROWING DREAD, YOU REALIZE WHAT IS GOING TO HAPPEN.
IT WAS THE NIGHT AFTER THE ANNUAL PROMOTION CEREMONIES AND, INSTEAD OF RELEASING YOU, LORD CERLIONESS DECIDED TO WALK YOU HOME. THIS WASN'T UNUSUAL; SHE JUST LIKES DOING THAT SOMETIMES. ONCE OR TWICE SHE EVEN PRETENDED TO BE YOU AND PLAYED WITH YOUR CHILDREN.
BUT THAT NIGHT, YOUR SERVANTS MUST HAVE FORGOTTEN TO FEED YOUR CHILDREN BEFORE THEY SLEPT. AND LIKE YOU, THEY WERE PRONE TO THE MORNING HUNGER. ONE OF THEM WOKE UP AND SLIPPED OUT OF THE SHADOWS, SLASHING AT YOU WITH HER SHARP, BEAUTIFUL CLAWS. LORD CERLIONESS REELED AWAY QUICKLY, BUT YOUR CRYSTALLIZED YILIXA WAS SHATTERED.
FOR A WHILE, YOU BECAME YOUR OLD SELF. POWERFUL, VORACIOUS AND MADDENED. LORD CERLIONESS WAS UNABLE TO PREVENT YOU FROM REPEATING THE SLAUGHTER OF YOUR OWN KIN.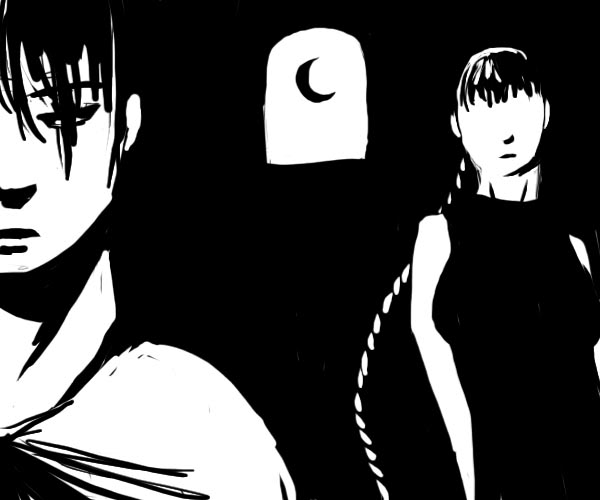 BUT SHE TRIED. SHE MENTALLY CALLED TO MASTER INFER IN HOPES THAT THE VICHEY COULD RESTRAIN YOUR BODY. ALTHOUGH BY THE TIME SHE ARRIVED, IT WAS TOO LATE. YOU SEE HER ENTERING THROUGH A WINDOW AND GINGERLY STEPPING OVER PUDDLES OF BLOOD. SHE CLICKS HER TONGUE AT THE CARNAGE. "I'M SORRY I'M LATE, MY LORD. WHAT SHOULD I DO NOW?"
YOU CAN FEEL THE LORD'S LOGIC IN YOUR MIND. THE LAST TIME YOU KILLED A LOVED ONE, YOU BECAME USELESS TO HER. BUT IF YOU BELIEVED THAT SOMEONE ELSE COMMITTED THE CRIME, THEN YOU WILL NOT BE AS TRAUMATIZED.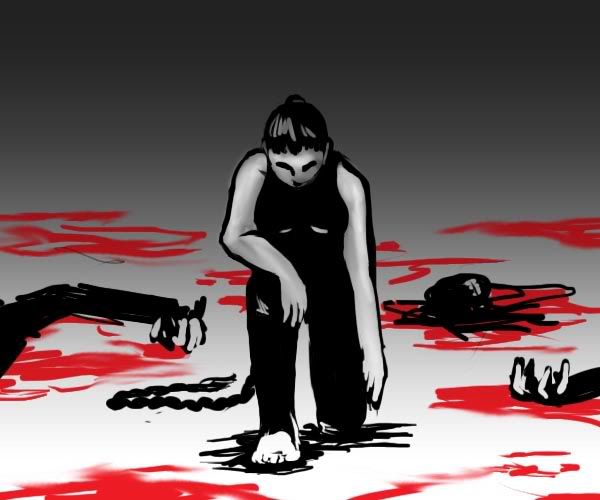 THE BEST COURSE OF ACTION SEEMED SIMPLE. YOUR MOUTH OPENED AND YOUR VOICE SAID, "BURN THE EVIDENCE."

FOR A LONG TIME, WHAT KEPT YOU GOING WAS THE CONVICTION THAT SOMEONE ELSE WAS RESPONSIBLE FOR THE DEATH OF YOUR CHILDREN. AND, ALTHOUGH YOU HAD YOUR SUSPICIONS, YOU IGNORED THEM BECAUSE THE TRUTH WAS TOO WRENCHING FOR YOU TO LIVE WITH.
AND NOW YOU KNOW FOR CERTAIN. NOW THERE IS NOTHING LEFT TO LIVE FOR.
BUT STILL YOU MUST LIVE.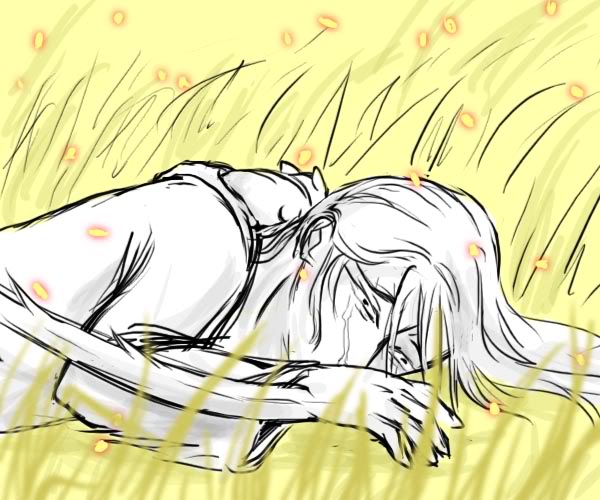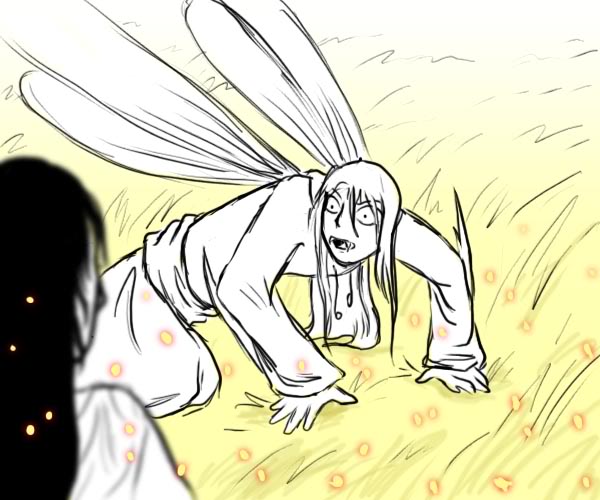 YOU WAKE UP WITH A START. SOMEONE IS SITTING NEAR YOU.
>
Go back to Storytime of Epicness