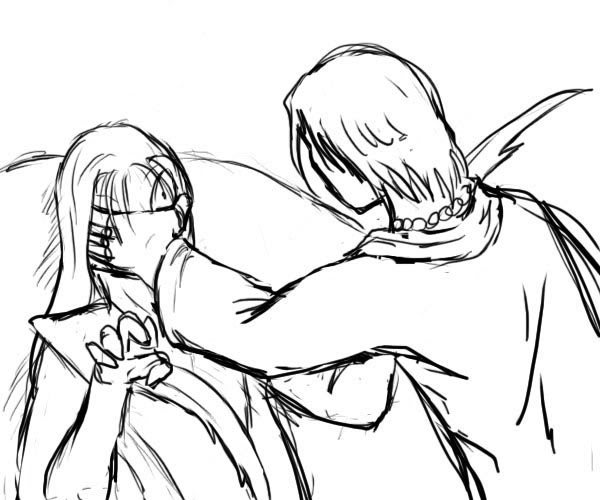 "AAAAA-MMPH!"
THE BEASTMASTER CLAMPS HIS HAND OVER YOUR MOUTH. HE LETS YOU GO ONCE HE SEES THAT YOU ARE NOT GOING TO YELL.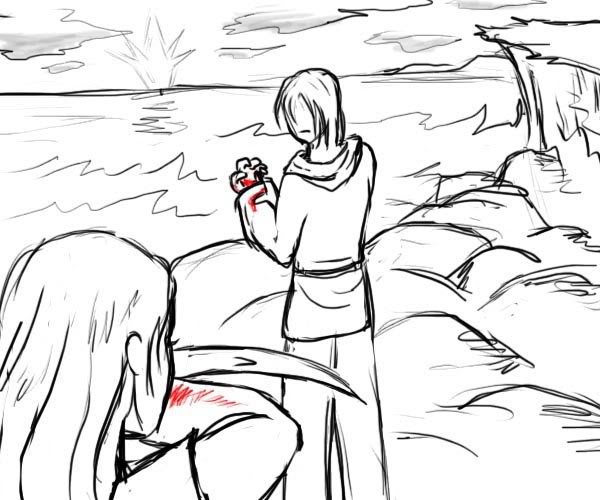 "THE HUNTING PARTY IS DRAWING CLOSER." OWES SAYS.
"CLOSE ENOUGH TO HEAR US?" YOU WHISPER.
"PROBABLY NOT, BUT YOU NEVER KNOW." HE TURNS TO THE HORIZON WHERE THE CRYSTAL PALACE IS VISIBLY SMALLER THAN IT WAS YESTERDAY, HAVING MOVED CLOSER TO THE PENINSULA. "WE NEED TO MAKE BETTER TIME. HOW ABOUT WE TAKE TWO OF MY MOUNTS.?" HE FLEXES HIS FINGERS, MAKING HIS RINGS GLITTER IN THE LIGHT. "WHAT KIND OF TRAVEL DO YOU PREFER? BY LAND, SEA, OR AIR?"
YOU THINK ABOUT WHICH MODE OF TRANSPORTATION IS MOST SUITABLE FOR YOUR SITUATION. GOING BY AIR AND SEA WILL MAKE YOU MORE VISIBLE AND EXPOSED. YOU WILL HAVE A DIFFICULT TIME FIGHTING IN THE OCEAN IF IT COMES DOWN TO THAT, BUT IT IS THE MOST DIRECT ROUTE TO THE CRYSTAL PALACE. YOU FIGHT BEST ON LAND. THE WEATHER IS WINDY TODAY, USHERING IN A STORM THAT MIGHT MAKE FLYING DIFFICULT.
>
---
Lanz wrote:

>Ride on his fastest land mounts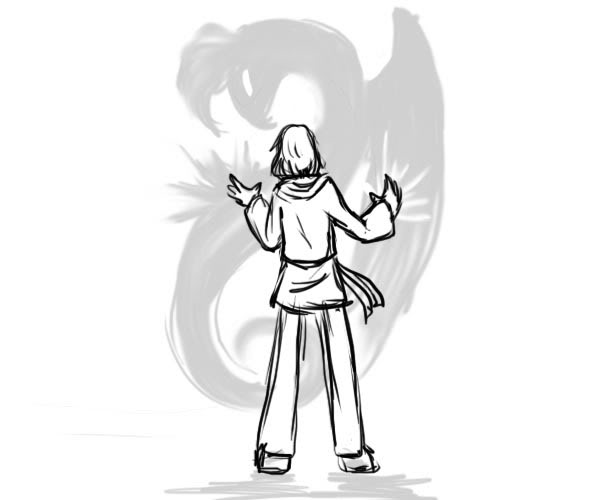 "LET'S GO BY LAND." YOU SAY.
THE BEASTMASTER DOESN'T SAY ANYTHING. HE TURNS AROUND AND FOCUSES HIS ENERGY OUTWARDS, FORMING TWO MOUNTS FROM THE YILIXA IN HIS RINGS.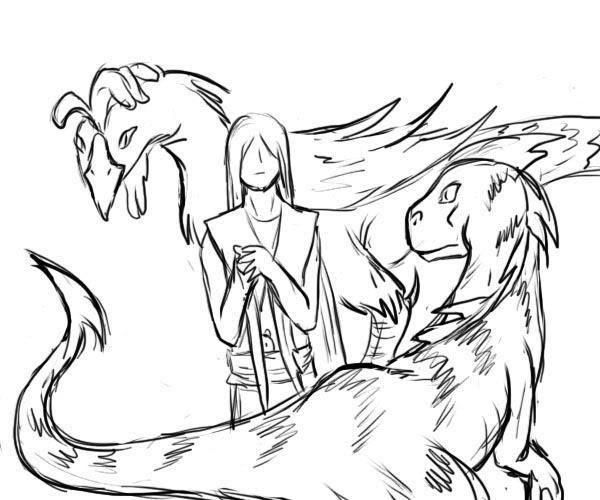 YOU CAN CHOOSE BETWEEN RIDING A VELOCINDER OR A COCKATRICE.
>
---
Behemoth wrote:

Yoshi!

>Ride the Velocinder.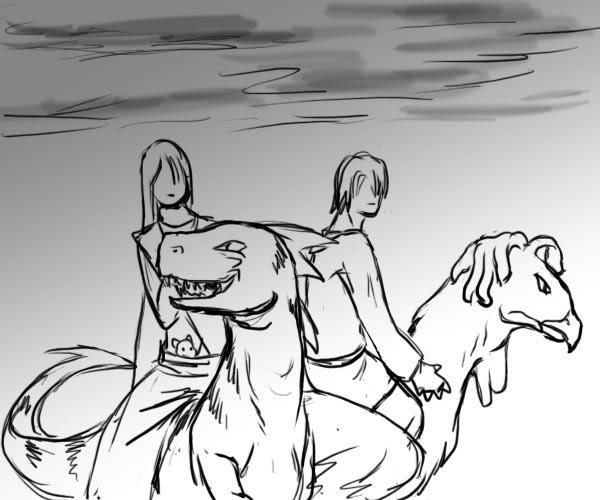 "YOSHI!" YOU CRY GLEEFULLY, CLIMBING ONTO THE VELOCINDER'S BACK.
IF YOUR MOUNT REGISTERS ANY SURPRISE AT BEING GREETED THIS WAY, HE DOESN'T SHOW IT. IN FACT HE SMILES HIS TOOTHY SMILE AND SAYS, "IMAGINE US MEETING AGAIN LIKE THIS. ....LADY TENODERA, WAS IT?" BUT HE DOESN'T GIVE YOU TIME TO ANSWER AS HE RUNS TO FOLLOW THE BEASTMASTER, WHO HAS KICKED HIS COCKATRICE INTO A JOG.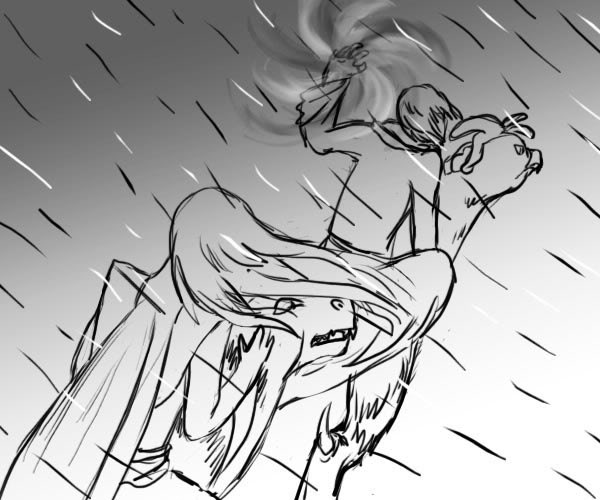 THE STORM COMES IN FIERCELY, WHIPPING YOUR HAIR AROUND YOUR FACE AND AGAINST THE VELOCINDER'S NECK. YOU AND OWES DO NOT GO AT TOP SPEED, BUT SLOW ENOUGH FOR HIS SCOUTS TO CATCH UP TO HIM. OCCASIONALLY HE RAISES HIS ARM AND A WHORL OF YILIXA CONDENSES DOWN INTO HIS HAND. IT IS ALSO DIFFICULT TO SEE THROUGH THE CLOUDS, SO YOU ASSUME YOU HAVE SOME COVER FROM YOUR PURSUERS. YOU TRAVEL FOR SEVERAL TEDIOUS HOURS.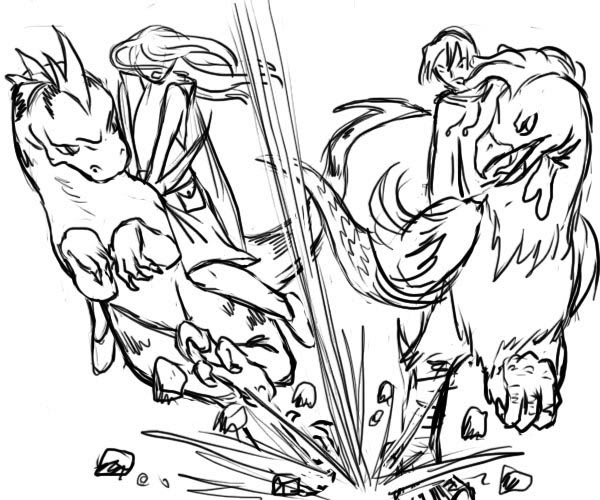 BUT AS THE CLOUDS BREAK, A STREAK OF LIGHT BLASTS OPEN THE EARTH AT YOUR FEET AND YOU REALIZE THAT YOU HAVE BEEN FOUND.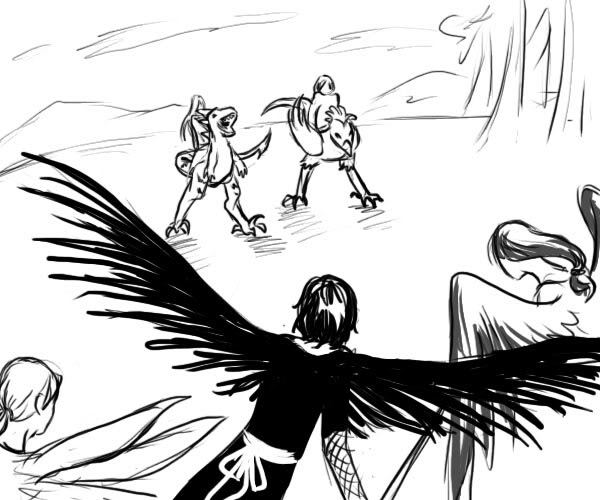 IT SEEMS LIKE THE HUNTING PARTY HAD USED THE STORM AS COVER FOR THEMSELVES AND TOOK ADVANTAGE OF ITS FAST WINDS. YOU AND OWES GLANCE BRIEFLY AT EACH OTHER.
>
---
ThatOneYoYoGuy wrote:

>Follow Owe's Lead and watch his back.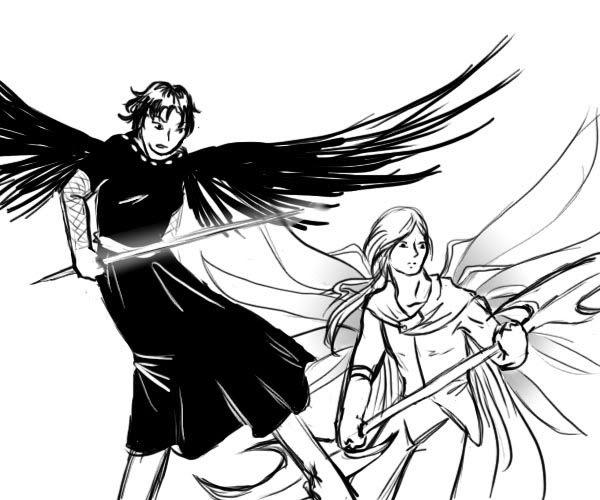 "MASTER OWES!" LADY LITTIE GASPS, CLEARLY SURPRISED TO SEE HIM WITH YOU. HER BROTHER ISN'T WITH HER. SHE IS ACCOMPANIED BY A HOIC YOU ARE UNFAMILIAR WITH, AS WELL AS THE REST OF THE LOWER RANKING HUNTING PARTY.
"IT'S BEEN SOME TIME, LITTIE." OWES SAYS. "I SEE THAT YOU ARE DILIGENTLY FOLLOWING ORDERS, AS USUAL."
"I AM BUT A SERVANT TO MY LORD AND MASTER." THE DARK ANGEL REPLIES, TIGHTENING HER GRIP ON HER LIGHT NEEDLE. SHE FLICKS IT OUT, POINTING IT AT YOU. "BEASTMASTER OWES, MY MASTER SHEER AND OUR LORD PETRANOIA DEMANDS THE CAPTURE OF THE HOIC TENODERA. MAY WE ASK FOR YOUR ASSISTANCE IN SUBDUING HER?"
"NO. I DON'T THINK ANY SUBDUING IS GOING TO HAPPEN, LITTLE LADY." THE MASTER SMILES AT HER AND HIS COCKATRICE MOUNT GROWLS WITH BARELY CONTAINED VIOLENCE. "UNLESS IT IS OF YOU AND YOURS."
THE ANGELS HOVER IN THE AIR, INDECISIVE. BUT WITH EACH PASSING MOMENT IT BECOMES CLEARER THAT LADY LITTIE ISN'T GOING TO LEAVE WITHOUT A FIGHT.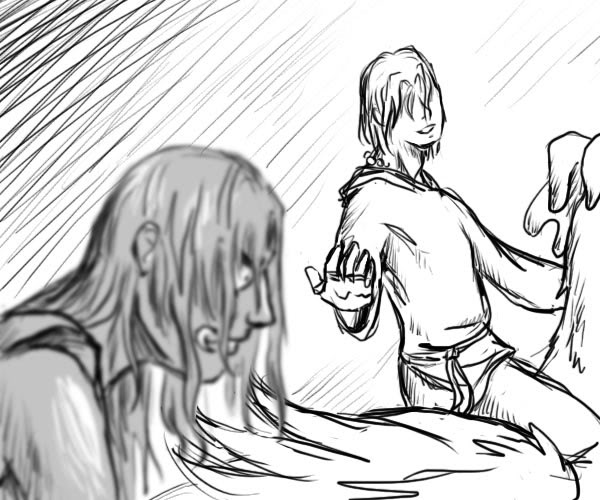 "A HUNTING PARTY OF 30 WITH TWO HOICS. RATHER LARGE FOR CAPTURING A SINGLE HOIC." OWES REMARKS TO YOU. "BUT CAN IT TAKE ON A HOIC AND A VICHEY?" HE GRINS AND LIGHTLY LICKS HIS UPPER LIP. "I'LL TAKE THE TWO HOICS. DO YOU THINK YOU CAN HANDLE THE OTHER TWENTY-EIGHT?"
>
---
J Detan wrote:

>"28 people, some possibly approaching my level of power, all aiming to hunt me down like a dog, and they're all going to attack me at once?

Sounds about fair. LET'S DO IT."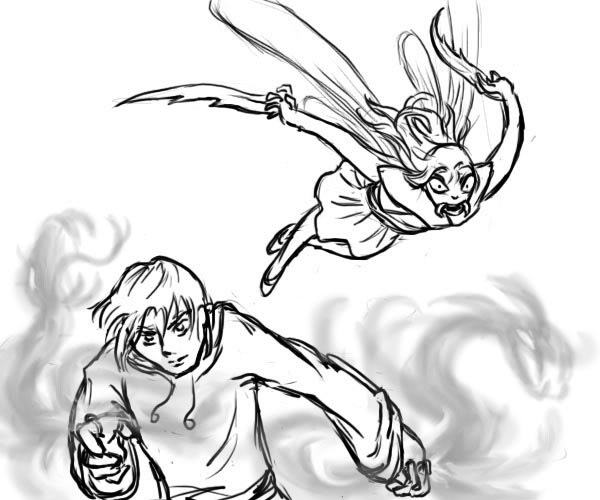 YOUR HESITATION IS BRIEF. WITH A DRY SNAP OF YOUR WINGS, YOU LAUNCH YOURSELF INTO THE SKY WITH YOUR BLADES AT THE READY, AIMING FOR THE NEAREST ANGEL. THE ENTIRE HUNTING PARTY RUSHES TOWARDS YOU, BUT AS HE PROMISED, THE BEASTMASTER SUMMONS HIS COLLECTIVE TO FIGHT OFF THE TWO HOICS. YOU HEAR THE SOUNDS OF HIS BATTLE ARE LIKE A DOZEN ANIMAL CRIES BUT YOU IGNORE THEM, CONCENTRATING ON YOUR OWN FIGHT.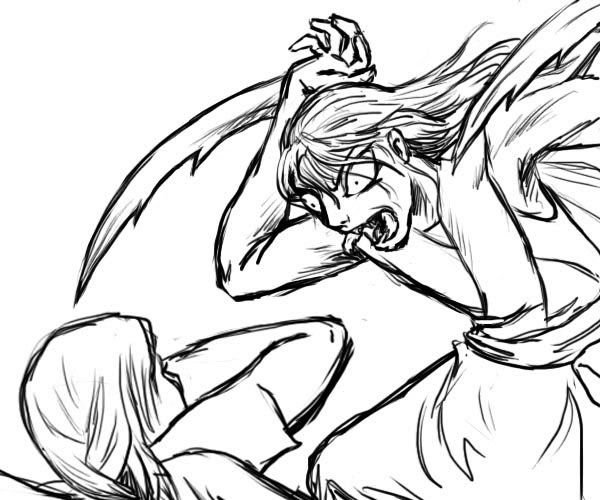 IT IS ALMOST IMPOSSIBLE FOR ANYONE TO SNEAK UP BEHIND YOU. ALTHOUGH YOUR SENSE OF PERSPECTIVE IS STILL BAD, YOU HAVE A WIDE RANGE OF VISION WITH YOUR LARGE EYES AND AN APTITUDE FOR FOCUSING ON ANY MOVING TARGET. YOUR REACTIONS ARE NEARLY INSTANTANEOUS. SWORD SWINGS AND EVEN INCOMING ARROWS ARE KNOCKED AWAY WITH EASE. YOU ARE A BLUR OF SLASHING AND BITING. ANGEL LIMBS AND BODIES DISSOLVE INTO SMOKE IN YOUR WAKE.
PERHAPS YOU LOSE YOURSELF A BIT, BECAUSE YOU DIDN'T NOTICE. NOT UNTIL THE CRUCIAL MOMENT DO YOU DEMAND STILLNESS FROM YOUR MUSCLES, HOLDING BACK A LETHAL JAB.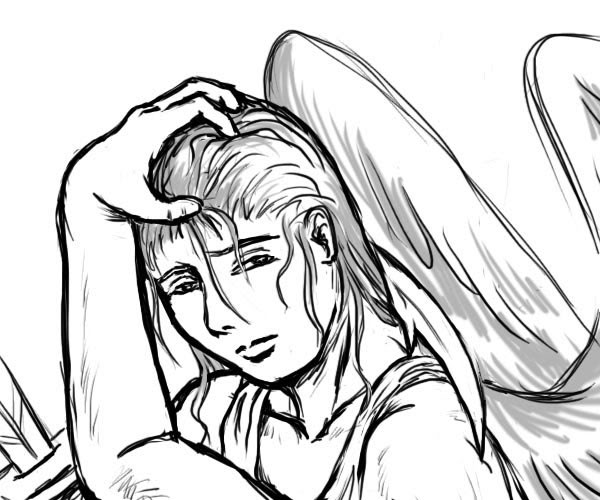 YOU HAVE DYMALKID'S HEAD GRIPPED TIGHTLY IN YOUR CLAWS.
>
---
Jesuits wrote:

What did I say about not killing people? D:

>Throw her off to the side, disarm rest of the attackers, and don't kill any more. Seriously, we're trying to be taken in by their Lord.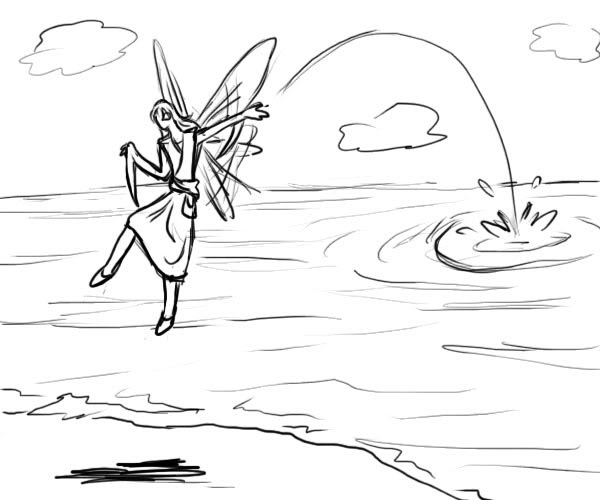 YOU TOSS DYMALKID AWAY.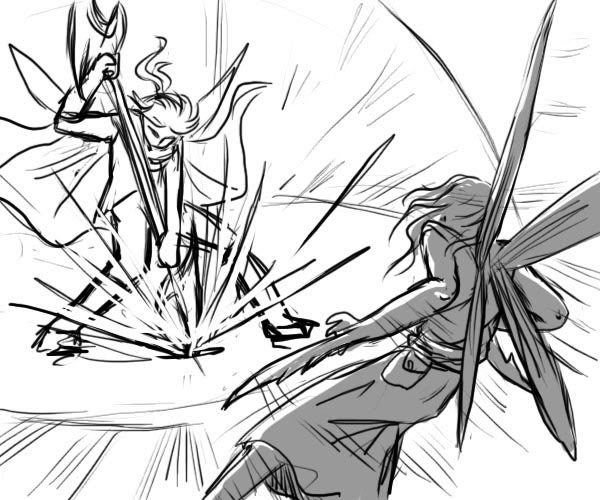 BUT IN DOING SO, YOU LEAVE YOURSELF OPEN FOR A BRIEF MOMENT, WHICH IS ENOUGH FOR THE OTHER HOIC TO UNLEASH A DEVASTATING ATTACK.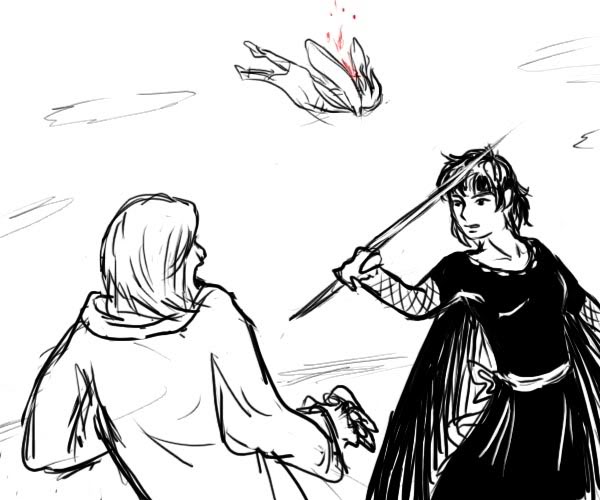 A FARAWAY PART OF YOUR MIND TELLS YOU THAT IT IS NOT A VERY DAMAGING ATTACK. IT'S ONLY MEANT TO FACILITATE UNBEARABLE PAIN. SHRIEKING, YOU CLAW AT YOUR OWN CHEST, MAKING THE MELTED WOUNDS ON YOUR BODY EVEN WORSE. YOUR HAIR WHIPS AROUND YOU AS YOU FALL. YOU HEAR AN ENRAGED ROAR FROM A DISTANCE.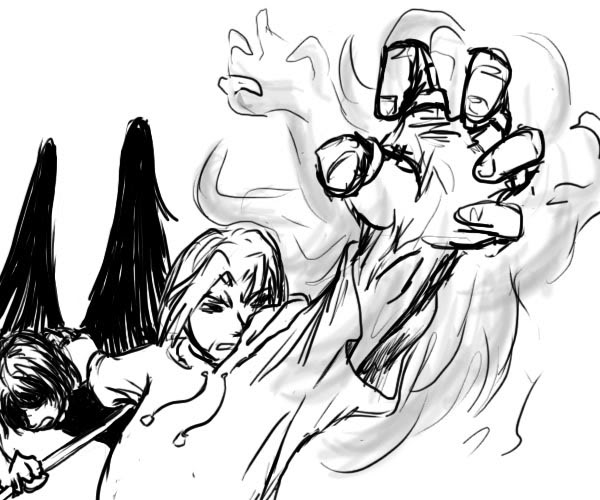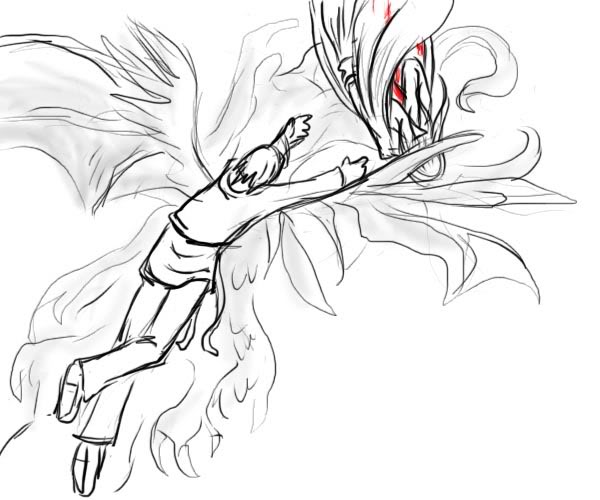 YOUR FRAZZLED CONSCIOUSNESS REGISTERS THE BEASTMASTER'S RAPID APPROACH, FLYING ON A DOZEN PAIRS OF WINGS AND CATCHING YOU IN MIDAIR WITH A MULTITUDE OF HANDS.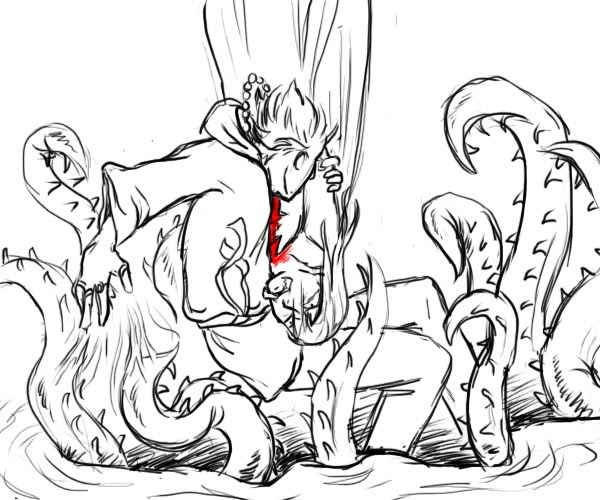 THE TWO OF YOU CONTINUE TO FALL. AT THE LAST MOMENT, THE GROUND OPENS UP AND SWALLOWS YOU AND THE BEASTMASTER. THEN IT SEALS OFF THE LIGHT, ENGULFING THE TWO OF YOU IN DARKNESS.

YOU LAND ABRUPTLY IN A HEAP. DISORIENTED AND TIRED, YOU ARE CONTENT TO REMAIN IN THE POSITION YOU FIND YOURSELF IN. AT LEAST THE PAIN ON YOUR RIBS IS FADING ALREADY, ALTHOUGH YOU ARE STILL BLEEDING FROM THE SEARED OFF FLESH. THE SHIRT YOU WERE WEARING HAS BEEN REDUCED TO A FEW SCRAPS OF CLOTH.
YOU CAN'T SEE A THING. THERE IS THE SUFFOCATING PRESSURE OF THE EARTH AND THE HEAVY BREATHING OF THE BEASTMASTER WHO IS SOMEWHAT CRUSHING YOUR RIGHT SHOULDER WITH HIS WEIGHT.
YOU OPEN YOUR MOUTH TO SPEAK. BUT JUST THEN YOU FEEL SOMETHING... THICK AND FLESHY... REST ON YOUR BLOODY CHEST.
>
Top of Page
Go back to Storytime of Epicness