FZeroRacer wrote:

>Uhh, Beastmaster, what is this thingandohgodwhyisitonmychest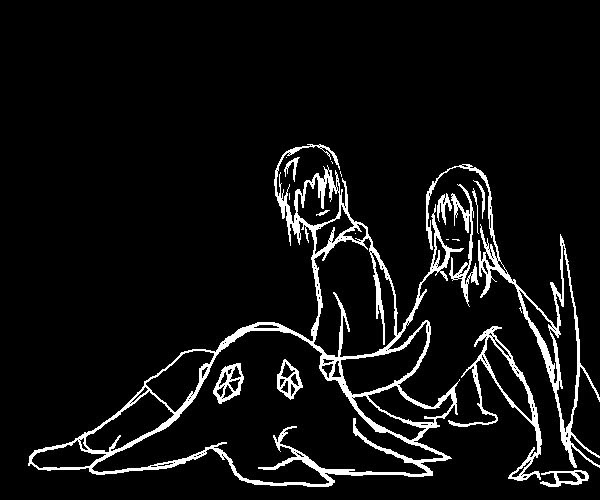 "BEASTMASTER!" YOU CRY, SITTING UP AND EXTENDING YOUR CLAWS. "WHAT IS THIS-!"
MASTER OWES ROLLS OFF YOUR SHOULDER. "RELAX." HE GENTLY PRESSES ON YOUR NECK WITH TWO FINGERS, EASING YOU BACK DOWN. "I'VE SUMMONED A HEALER OF MINE. LET HER DO HER WORK." HIS FINGERS RUN DOWN YOUR BODY SLIGHTLY, DRAWING AWAY AT THE EDGE OF YOUR INJURY. "ALTHOUGH... IT SEEMS LIKE NEW SKIN IS ALREADY GROWING OVER YOUR WOUND."
IT'S BEEN SO LONG SINCE YOU HAD ACCESS TO YOUR REAL BODY AND YOUR HOIC POWERS, YOU HAD FORGOTTEN THAT YOU CAN DO SOMETHING ABOUT YOUR INABILITY TO SEE IN THE DARK. YOU CAN CREATE LIGHT OR FIRE IF YOU WANT, BUT ITS EASIER FOR YOU TO REACH OUT WITH YOUR YILIXA ABILITIES TO SENSE THE EDGES OF THINGS. YOU 'SEE' THE HEALER AS A SEA STAR-LIKE CREATURE WHO IS RUNNING ONE APPENDAGE OVER YOUR CHEST, SEARCHING FOR DAMAGE THAT HASN'T ALREADY BEEN MENDED.
"USEFUL, ISN'T IT." THE BEASTMASTER COMMENTS. "YOUR BODY'S ABILITY TO HEAL QUICKLY. I'M GLAD I MADE YOU THAT WAY."
OWES UNMAKES THE HEALER AND ABSORBS HER. YOU REACH OUT WITH YOUR SENSES TO OBTAIN A HAZY VIEW OF THE SKIES ABOVE YOUR HASTILY MADE SUBTERRANEAN CAVERN. IT'S EMPTY. IT SEEMS LIKE ALL THE ANGELS ARE GONE.
"I DON'T THINK THEY WILL CHASE US BELOW GROUND." OWES SAYS. "THEY'LL BE OUT OF THEIR ELEMENT. AND WE'RE TOO STRONG FOR THEM ANYWAYS. YOU KILLED A LOT OF THEM."
>
---
ThatOneYoYoGuy wrote:

>"YOUR BODY'S ABILITY TO HEAL QUICKLY. I'M GLAD I MADE YOU THAT WAY."

>"What." Press him on this.

>Make Light.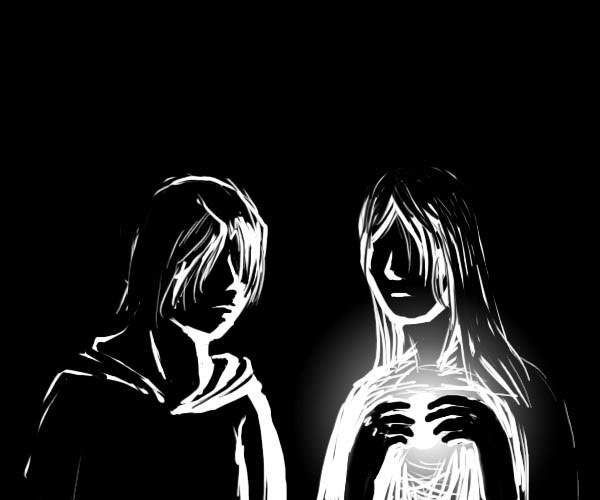 YOU DECIDE YOU WANT SOME LIGHT AFTER ALL. YOU CALL UP A DIMLY GLOWING BALL AND HOLD IT IN YOUR HANDS.
"DO YOU WANT TO STAY HERE TONIGHT?" OWES ASKS. YOU CAN BARELY STRETCH TO YOUR FULL LENGTH IN THIS LITTLE HOLE. BUT YOU ARE TIRED FROM A DAY'S TRAVEL AND A BATTLE. AND IT WILL TAKE SOME TIME FOR REINFORCEMENTS TO COME FROM MOEMOEA, AND EVEN THEN MASTER SHEER MIGHT DECIDE THE BEASTMASTER IS TOO MUCH TO HANDLE.
"I FIRST WANT TO KNOW WHY YOU THINK LORD PETRANOIA IS WILLING TO GRANT ME SANCTUARY." YOU SAY. "IT'S BEEN BOTHERING ME. WHY ARE YOU SO SURE? MASTER SHEER SEEMS SURE THAT THE OPPOSITE IS TRUE."
"IT HAS TO DO WITH THE CREATION OF YOUR SPECIES." THE BEASTMASTER REPLIES, LEANING AGAINST THE CAVERN WALL WITH A SIGH. HE LOOKS AT YOUR EXPRESSION, HIS EYES FLICKERING WITH THE LIGHT OF YOUR GLOWING BALL. HE BLINKS. "YOU MEAN YOU DON'T KNOW HOW YOU CAME TO BE?"
"I KNOW MOST OF IT." YOU SAY INDIGNANTLY. "I THINK. BUT YOU KNOW HOW IT IS WHEN THINGS ARE PASSED DOWN THE GENERATIONS... DETAILS ARE LEFT OUT, FACTS GET MUDDLED..."
"I FORGET HOW QUICKLY MORTALS DIE AND THEIR MEMORIES WITH THEM." OWES TURNS BACK TO FACE TO DARKNESS. "ALRIGHT. IT BEGAN ABOUT 800 YEARS AGO, ABOUT FIVE YEARS BEFORE THE START OF THE APOCALYPSE."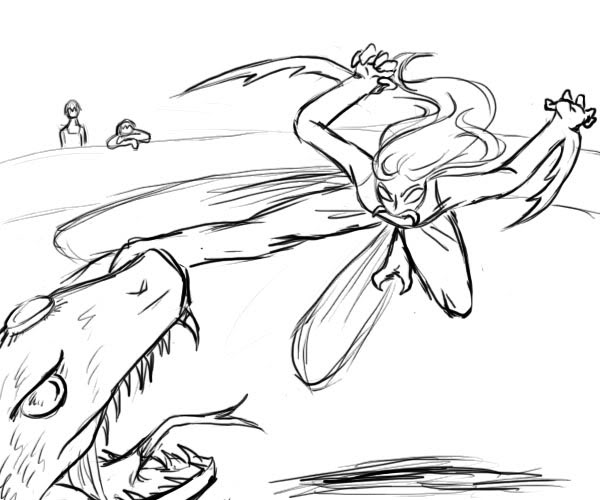 "I BELONGED TO LORD PENTILPLE BACK THEN. AND LORD PETRANOIA, SHE WAS ONLY A HUMAN ARTISAN UNDER LORD L'EROLO. BUT SHE WAS TALENTED AS A LIFE-SCULPTOR, SO MUCH THAT IT CAUGHT LORD CERLIONESS'S ATTENTION. THE LORD CONTRACTED THE TWO OF US TO CREATE A NEW BODY FOR HER."
"LET ME EXPLAIN HOW BODIES ARE MADE. THE SIMPLEST ONES CAN BE MADE OUT OF PURE YILIXA, AND THE MORE YOU HAVE TO SPARE AND THE MORE KNOWLEDGE YOU HAVE ON HOW TO MAKE THEM, THE BETTER THEY WILL BE. BUT NOT EVEN THE LORDS CAN MAKE A COMPLICATED CREATURE OUT OF JUST YILIXA. THERE IS ALSO THE TRADITIONAL METHOD OF SELECTIVE BREEDING FOR DESIRABLE TRAITS, BUT THAT ONLY WORKS AS FAR AS GENETIC VARIATION ALLOWS. THE THIRD METHOD IS TO TAKE PIECES OF EXISTING ORGANISMS AND PIECE THEM TOGETHER, LIKE A CRUDE PUZZLE."
"BUT LORD PETRANOIA AND I... WE HAD TO MAKE A BODY SUITABLE FOR A LORD. AND FOR THAT, WE NEEDED 'PUZZLE PIECES' THAT WERE MADE TO FIT TOGETHER NICELY AND THAT WOULD FULFILL HER SPECIFICATIONS. AND FOR THAT, WE USED A NUMBER OF TECHNIQUES TO CUSTOMIZE THE PIECES THAT WE NEEDED. ONE OF THEM WAS YOUR ANCESTOR, METILIA. SHE WAS THE FIRST 'TEMPLATE' MANTODEA."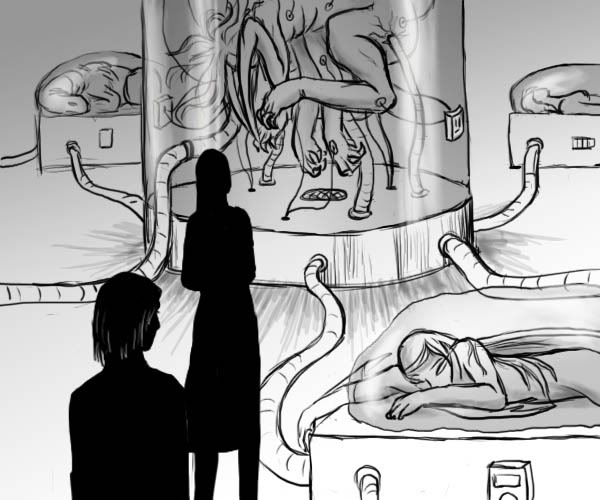 "ALTHOUGH LORD PETRANOIA HAS SINCE GONE ON TO MAKE GREATER THINGS, LORD CERLIONESS'S BODY WAS MY MOST RECENT GREAT WORK OF ART. AND METILIA, SHE WAS BEAUTIFUL TOO. LORD PETRANOIA KEPT HER AT FIRST, BUT LATER GAVE HER BACK TO ME. I GOT TO KEEP HER FOR A WHILE."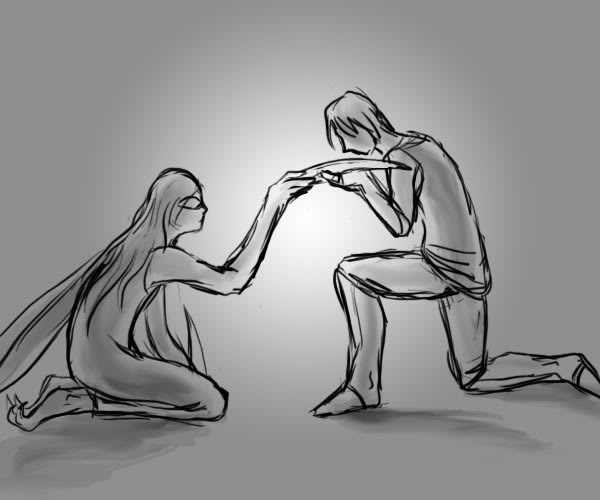 BUT WHEN LORD PETRANOIA WAS INITIATED AS A SALABAN, ALL THE LORDS' ASSETS WERE REDISTRIBUTED, AND THEY MADE FIRM BORDERS IN PREPARATION FOR FOR THE APOCALYPSE. METILIA WAS TAKEN AWAY FROM ME. I NEVER SAW HER AGAIN."
"BUT YOU SEE WHY I THINK LORD PETRANOIA WOULD BE WILLING TO TAKE YOU IN. YOU ARE THE DESCENDANT OF A PIECE OF HER MASTERPIECE."
BEASTMASTER OWES PASSES HIS GAZE OVER YOU. "YOU LOOK JUST LIKE HER." HE SAYS. "EVEN BEHIND THAT CRUDELY MADE FALSE BODY OF YOURS, I COULD RECOGNIZE YOUR FINE ANCESTRY."
HE TURNS AWAY FROM YOU. THE TWO OF YOU SIT IN SILENCE FOR A WHILE.
>
---
Lanz wrote:

>Check with owes if there is possibly anything he has that we could eat before settling for the night. Otherwise, we'll end up either eating him or Menchi from the morning Hunger.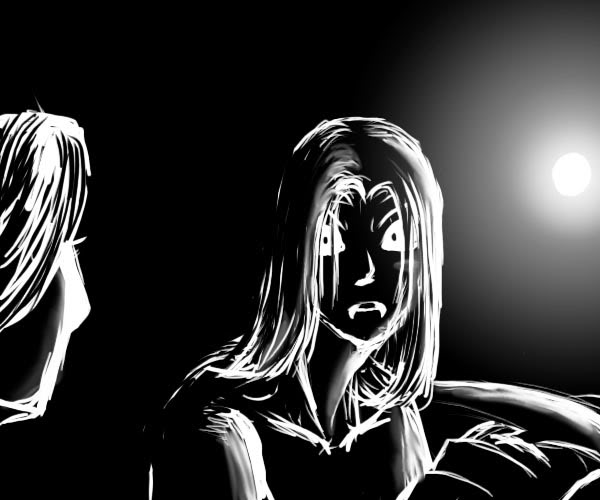 YOU ASK THE BEASTMASTER IF HE HAS ANYTHING FOR YOU TO EAT SO YOU WON'T GO THROUGH YOUR MORNING HUNGER.
"Y...OF COURSE." HE PUTS A HAND AGAINST THE CAVERN WALL AND SUMMONS A BURROWING CREATURE TO HUNT FOR YOU. "I REMEMBER WHEN METILIA HAD IT AND..." HE SHAKES HIS HEAD AND BREATHES AN EXASPERATED SIGH. "I GUESS I DIDN'T PUT A LOT OF FORESIGHT INTO THIS DETAIL WHEN I CREATED HER."
SOMETHING ABOUT HIS WORDS BOTHERS YOU, BUT AT THAT MOMENT YOU ARE DISTRACTED BY A LARGE MAGGOT THAT OWES'S BEAST PUSHES THROUGH THE CAVERN WALLS WITH A SHOWER OF ROCKS. YOU SEIZE THE MORSEL AND START CHEWING. HALF WAY THROUGH, YOU STOP.
"WAIT." YOU TURN TO OWES QUICKLY AND FIND HIM STARING AT YOU, AS HE OFTEN DOES WHEN YOU ARE DISTRACTED. "YOU MEAN YOU KNEW ABOUT THE MORNING HUNGER? AND YOU DIDN'T DO ANYTHING TO CHANGE IT?"
"IT WAS AN INCONVENIENCE, BUT WHY SHOULD I?" HE SHRUGS AS IF HELPLESS. "LORD CERLIONESS AND GOD-BEAST CERL DIDN'T END UP WITH THAT TENDENCY BECAUSE THERE WERE TRAITS IN THE OTHER 'PIECES' OF THEM THAT SUPPRESSED IT. METILIA DIDN'T NEED TO BE FIXED."
YOU CONTINUE TO CHALLENGE HIM WITH YOUR GAZE. "DO YOU KNOW HOW MUCH ANGUISH THAT HAS CAUSED MY SPECIES OVER THE GENERATIONS?" YOU HISS. "WE BECOME MINDLESS KILLERS UNTIL WE ARE SATIATED. AND THEN WE MUST LIVE WITH THE CONSEQUENCES. CAN YOU IMAGINE HOW PAINFUL THAT IS? TO KILL FRIENDS, RELATIVES... LOVERS...."
"OH, I CAN IMAGINE, ALL RIGHT." THE BEASTMASTER SNAPS HARSHLY. "IN FACT, I CAN IMAGINE DOING THAT WHILE HAVING COMPLETE CONTROL OF MY BODY. NOW EAT YOUR MAGGOT, LADY."
YOUR ANGER EVAPORATED, YOU MEEKLY FINISH THE REST OF YOUR MEAL.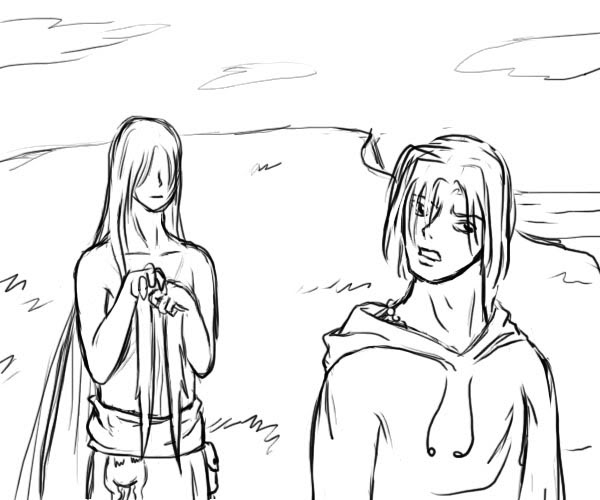 THE NEXT MORNING, THE TWO OF YOU EMERGE CAUTIOUSLY ABOVE GROUND. YOU LET OWES GO FIRST SINCE HE CAN HANDLE ANY THREAT BY HIMSELF, BUT HE SEEMS LOST. HE WALKS IN A CIRCLE, SCANNING THE SKIES AND SEA.
"WHAT IS IT?" YOU ASK.
"NONE OF MY BEASTS ARE HERE." HE SAYS, PERPLEXED. "I SENT OUT A LOT OF SPIES YESTERDAY AND MOST OF THEM SHOULD HAVE RETURNED BY NOW."
>
Go back to Storytime of Epicness