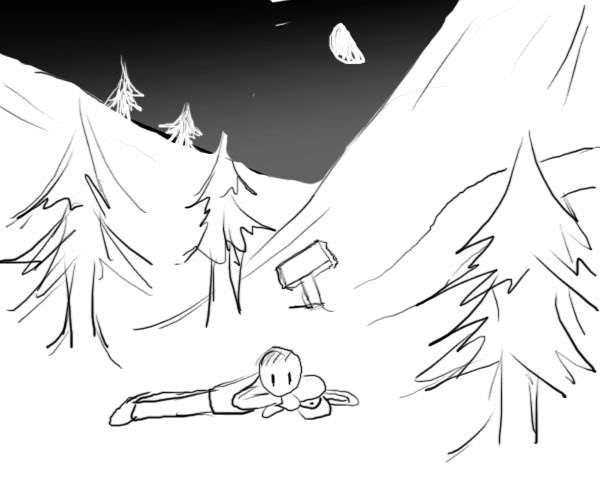 YOU HAVE SLEPT THROUGH MOST OF THE NIGHT AND NOW A HINT OF DAWN CAN BE SEEN ON THE HORIZON. YOU WAKE UP AT THE BASE OF A MOUNTAIN RANGE, REFRESHED, FOR COLEOPTERA FLESH IS SLOW TO DIGEST AND SO YOU STILL FEEL FULL.
>
---
Lanz wrote:

>Find a hard, sturdy stick or good sized tree limb to use as a weapon until something better can be found, then read sign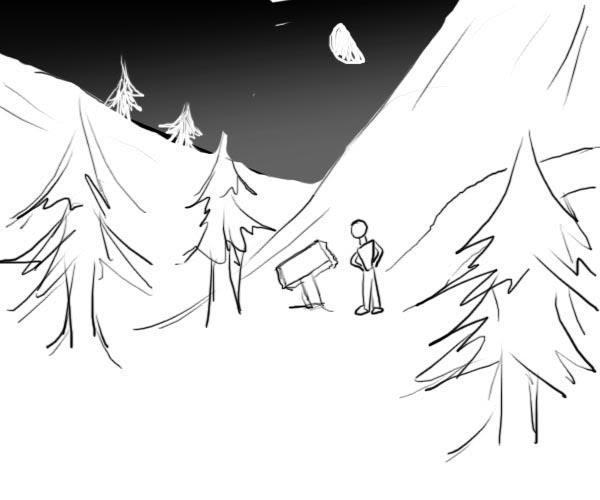 YOU CAN NOT FIND ANY SUITABLE TREE LIMB AS A WEAPON BECAUSE CONIFEROUS TREE BRANCHES REALLY SUCK FOR THAT PURPOSE. TOO BAD YOU DIDN'T THINK OF THAT WHEN YOU WERE AMONG THE DECIDUOUS TREES. SO INSTEAD YOU READ THE SIGN AT THE BEGINNING OF A MOUNTAIN PATH.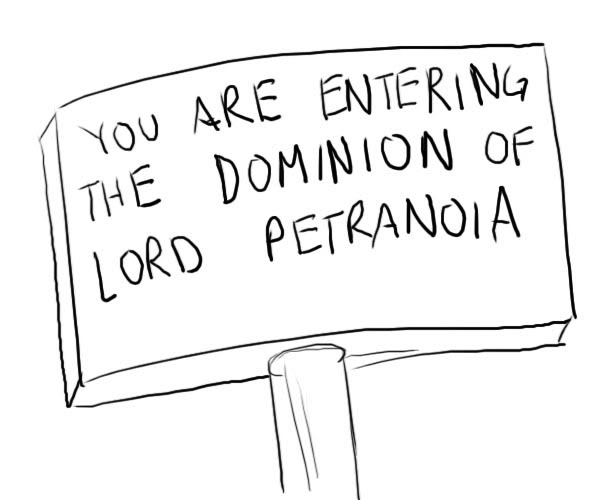 THE WORDS SEND A SHIVER THROUGH YOUR SOUL.
>
---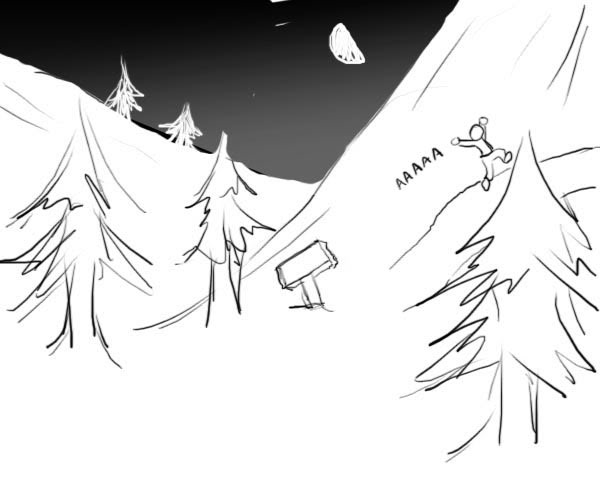 BOY, THAT SIGN SURE IS SCARY! YOU RUN AWAY, UP THE MOUNTAIN PATH.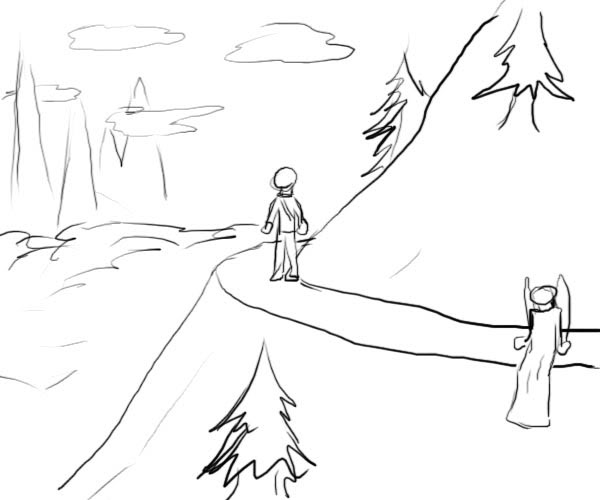 BEFORE THE CURVE IN THE PATH OBSCURES YOUR VIEW, YOU TAKE ONE LAST LOOK AT YOUR HOMELAND WHICH YOU ARE LEAVING.
>
---
J Detan wrote:

>A girl! Stare obsessively!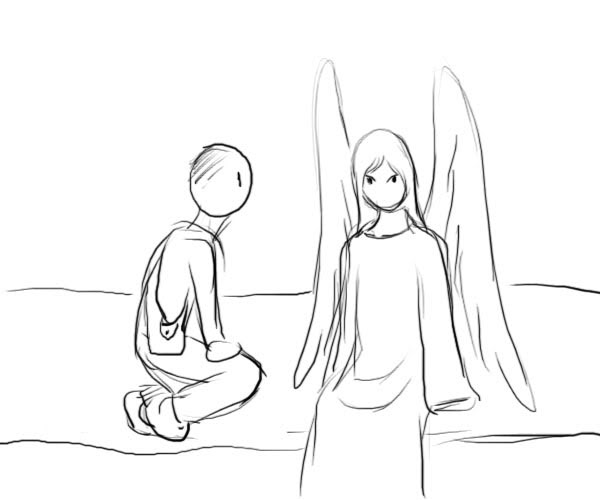 SOMEONE THAT APPEARS TO BE A GIRL AT A GLANCE IS SITTING ON THE PATH. UPON CLOSER INSPECTION, IT IS ACTUALLY A MAN WITH LONG BLONDE HAIR AND A WHITE ROBE. REGARDLESS, YOU STARE OBSESSIVELY. HE IS LOOKING INTO THE DISTANCE AND DOESN'T REACT TO YOUR PRESENCE.
>
---
J Detan wrote:

>Look him straight in the face and say "I killed baby birds today. I enjoyed it."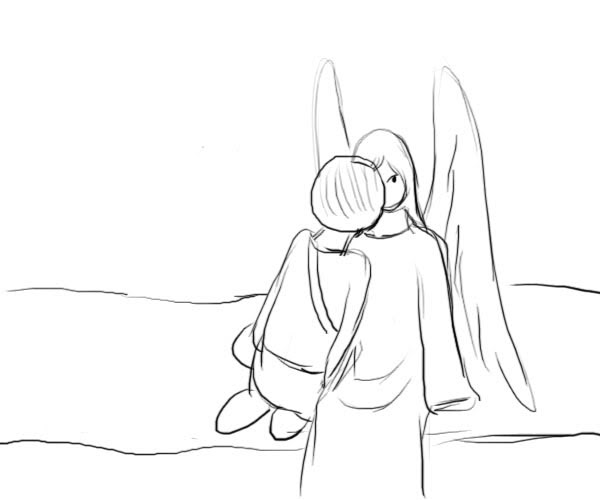 YOU DIDN'T KILL ANY BABY BIRDS TODAY (YOU KILLED THEM YESTERDAY) SO YOU SAY "I KILLED BABY BIRDS YESTERDAY. I ENJOYED IT." THE MAN DOES NOT REACT.
>
---
Google Image Search wrote:

>Braid his hair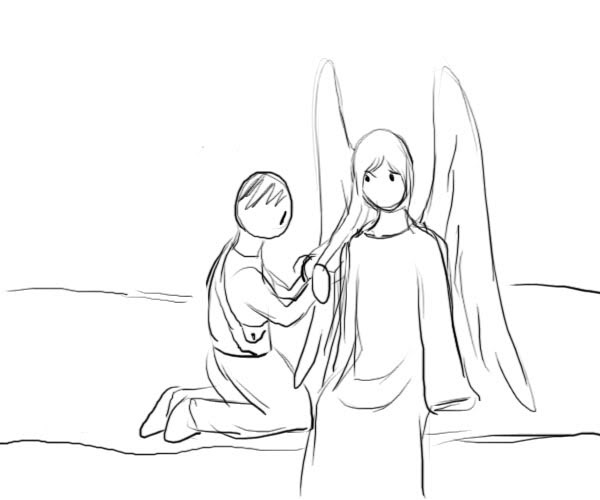 THINKING THAT THE MAN'S HAIR MIGHT GET IN THE WAY OF HIS WINGS, YOU PROCEED TO BRAID IT. THE MAN GIVES YOU A BIT OF AN EYEBROW, BUT OTHERWISE DOES NOT MOVE.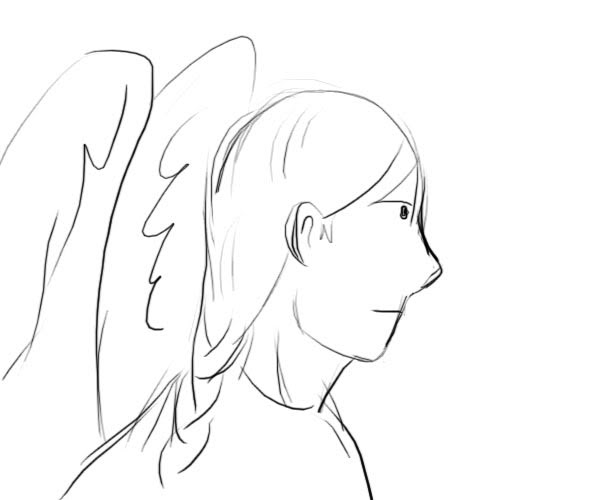 WOW! SO PRETTY! FORTUNATELY, YOU ARE QUITE ADEPT AT BRAIDING HAIR, AS YOU ONCE HAD LONG HAIR YOURSELF.
>
---
rayofash wrote:

>Ask about himself. His name, his past, what he's doing there, why he has wings, and about the mountain and surrounding area. Also ask about Lord Petranoia.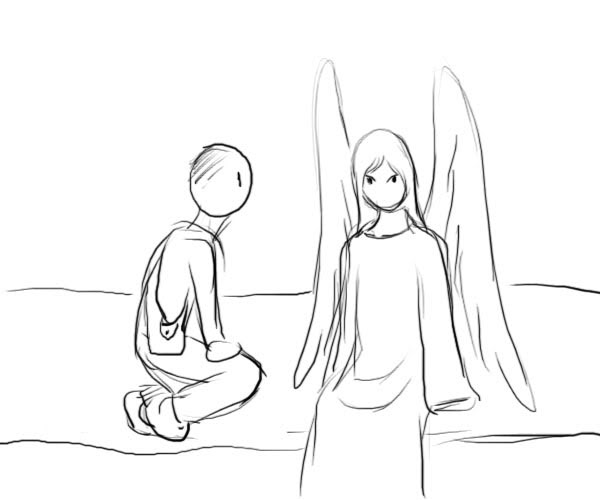 YOU ASK THE MAN ABOUT HIS NAME, HIS PAST, WHAT HE'S DOING HERE, WHY HE HAS WINGS, ABOUT THE MOUNTAIN AND THE SURROUNDING AREA, AND ABOUT LORD PETRANOIA. ALTHOUGH THE NAME PETRANOIA INCITES A SMALL REACTION, HE DOES NOT RESPOND.
YOU KNOW THE ANSWERS TO SOME OF THESE QUESTIONS ANYWAYS. HE IS OBVIOUSLY A WHITE ANGEL, A SERVANT OF LORD PETRANOIA WHO HAS BID ALL WHITE ANGLES TO SILENCE UNTIL FURTHER NOTICE. THESE MOUNTAINS ARE THE BOUNDARIES BETWEEN THE REALM OF LORD CERLIONESS AND HER BROTHER LORD ROCLIONESS, AND LORD PETRANOIA. UNLIKE YOUR OWN DIETY, PETRANOIA IS RESPONSIBLE FOR CREATURES OF HIGHER SENTIENCE AND INTELLIGENCE, SUCH AS HUMANS AND ANGELS.
>
---
Sarksus wrote:

>Search your own pockets, then the angel's.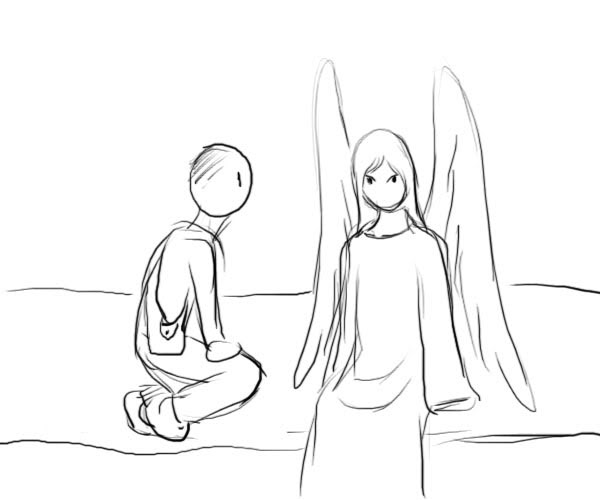 NEITHER OF YOU HAVE POCKETS. YOU DON'T EVEN HAVE ANY KNOTS, WHICH IS WHY THE ANGEL'S HAIR HAD COME UNDONE.
>
---
Athenor wrote:

>Sit down and meditate and try to remember everything you can. Notably: Who you are, what your homeland is, why everything is so deadly, who these Lords are, who you are to them, why you are bald, and if you can fly.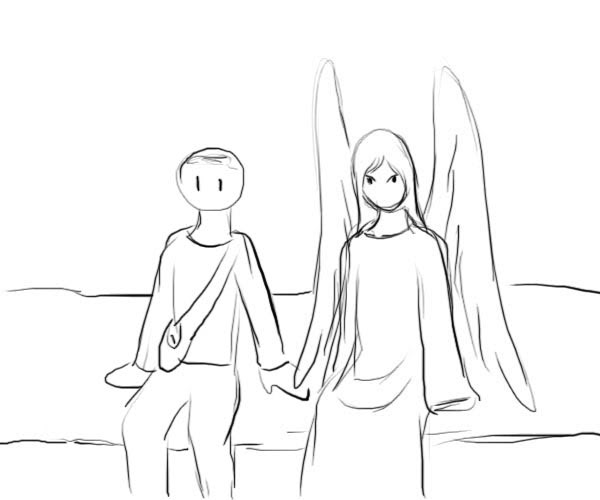 YOU SIT DOWN AND TRY TO REMEMBER EVERYTHING. THERE IS ONLY ONE THING THAT ESCAPES YOUR MEMORY, WHICH IS WHY YOU WERE BALD. YOU ALSO REMEMBER THAT STRING NEEDS TO BE CONVERTED INTO KNOTS BEFORE THEY ARE USEFUL FOR TYING HAIR, OTHERWISE YOU WILL NEED THE AID OF A HAIR CLAW OR A STRETCHY BAND.
>
---
becca wrote:

>Give him your comb in exchange for letting you pass.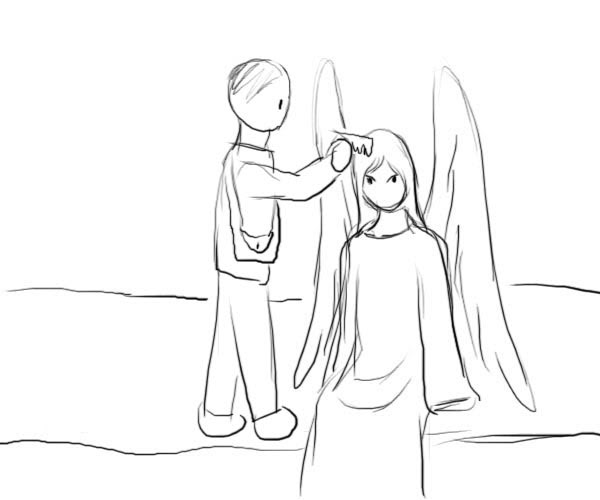 ALTHOUGH YOUR COMB IS MADE OF PRECIOUS PINK AMBER FROM THE JAYRIAN MOUNTIAN BLOODTREES, THE ANGEL PROBABLY NEEDS IT MORE THAN YOU DO. YOU GIVE IT TO HIM AND CONTINUE YOUR JOURNEY.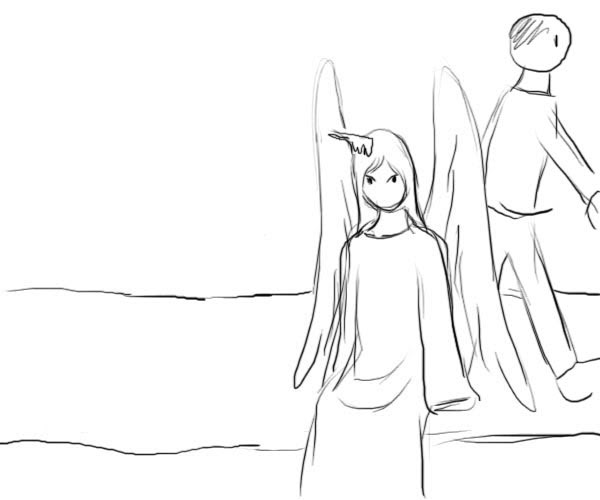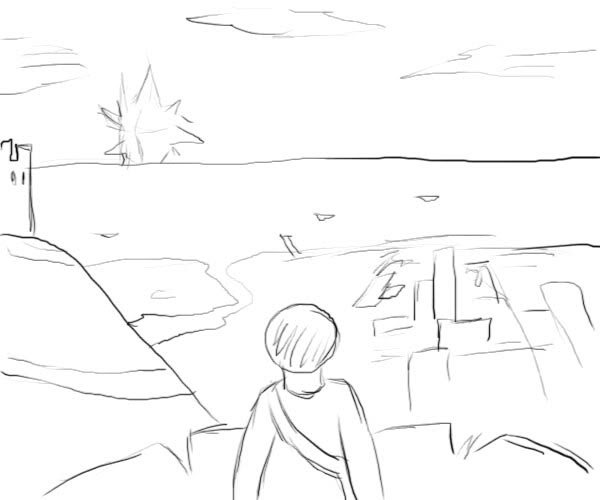 YOU CAN NOW SEE THE OTHER SIDE OF THE MOUNTIANS AND BEFORE YOUR EYES SPRAWL WHAT IS PRESUMABLY ONLY A PORITON OF LORD PETRANOIA'S VAST DOMAIN. A BUSTLING CITY LIES BELOW YOU, WITH SKYSCRAPERS AND PAVED STREETS AND QUILTED PATCHES OF AGRICULTURE. EVEN FROM THIS DISTANCE, THE WINDS CARRY TOWARDS YOU THE SOUNDS OF EVERYDAY BUSTLE. THERE IS A PORT AND A RIVER LEADING TO THE OCEAN. BEYOND THE OCEAN THERE IS A STRUCTURE OF CRYSTAL OR ICE OR DIAMOND, AND WITH YOUR POOR SENSE OF PERSPECTIVE YOU CAN'T EVEN BEGIN TO IMAGINE HOW MASSIVE IT IS. ON THE MOUNTAIN NEARBY THERE IS A TOWER MADE OF STONE.
>
---
J Detan wrote:

>Run back and kick angel into tree, or, failing that, mountain.
YOU RUN BACK AND ATTEMPT TO KICK THE ANGEL INTO THE MOUNTAIN (PERHAPS TO SEE IF HE WILL REACT?)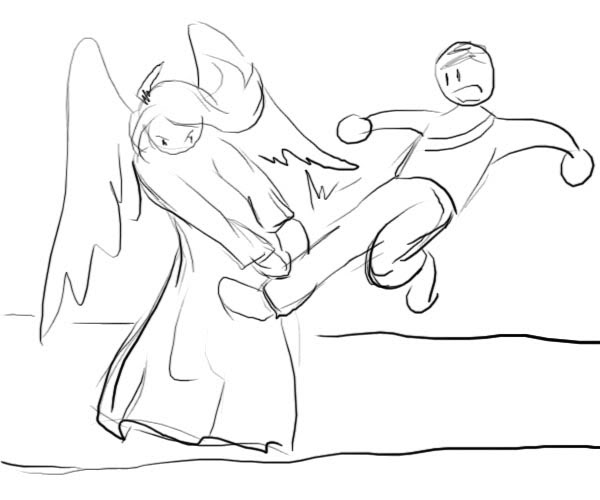 UNFORTNATELY, THE ANGEL IS STRONG AND HAS QUICK REFLEXES.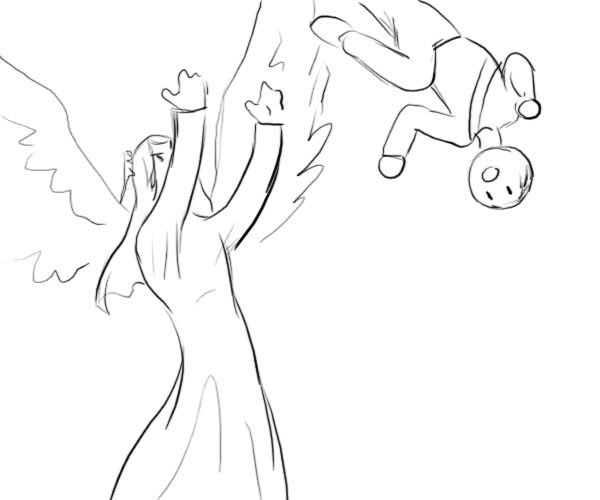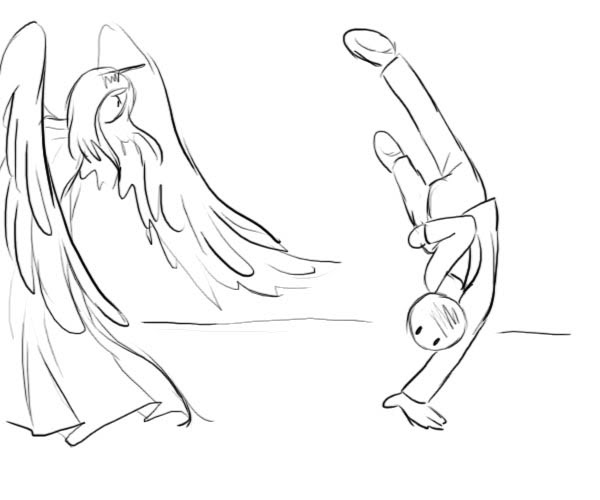 FORTUNATELY, SO DO YOU.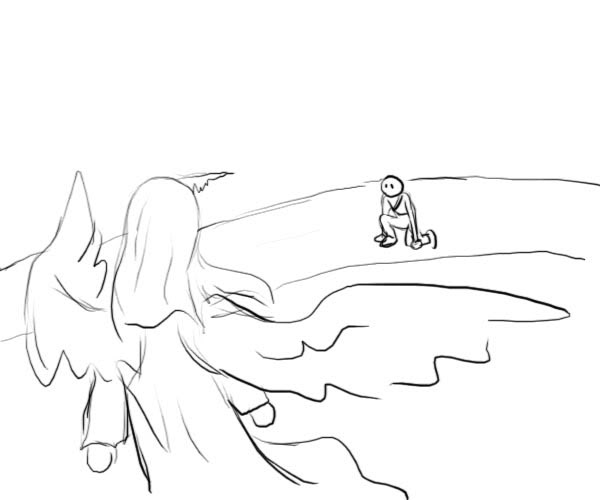 THE ANGEL HAS TAKEN TO THE AIR, OUT OF REACH. ALTHOUGH YOU CAN NOT READ THE EXPRESSION ON HIS FACE, HE DOES NOT SEEM TO BE PARTICULARLY ENRAGED.
>
---
mayor cigar face wrote:

>Offer angel apology ice cream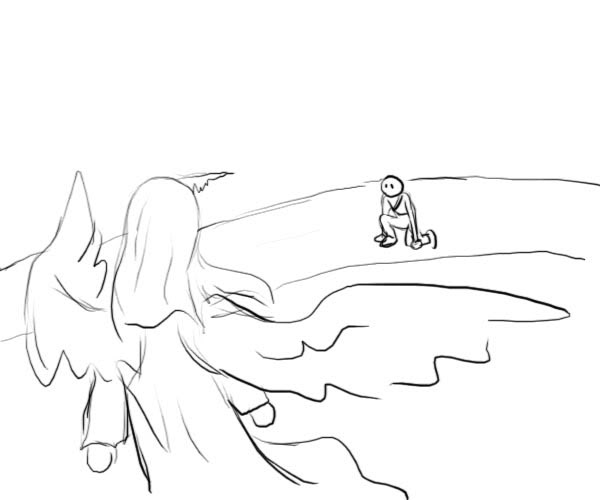 AFTER A THOROUGH SEARCH ON YOUR PERSON, YOU DISCOVER TO YOUR HORROR THAT YOU DO NOT POSSES ANY ICE CREAM. HOW CAN YOU APOLOGIZE UNLESS YOU HAVE ICE CREAM?
>
---
UncleSporky wrote:

>say "sorry, I just needed to get that out of my system"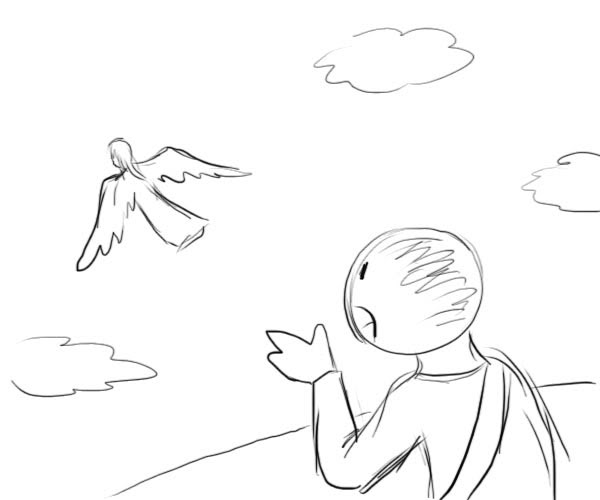 IN AN ATTEMPT TO PATCH THINGS UP WITH THE ANGEL, YOU CALL OUT, "I'M SORRY, I JUST NEEDED TO GET THAT OUT OF MY SYSTEM."
IF THE ANGEL HEARD, OR EVEN UNDERSTOOD, HE GIVES NO INDICATION AND BEGINS TO FLY OUT OF EARSHOT.
>
---
Kyou wrote:

>Throw a rock then run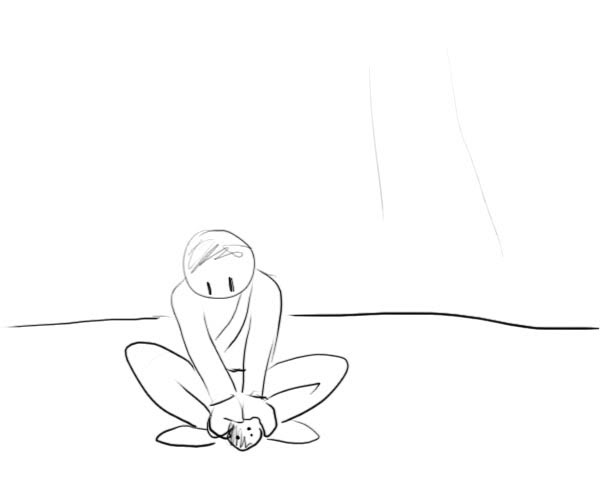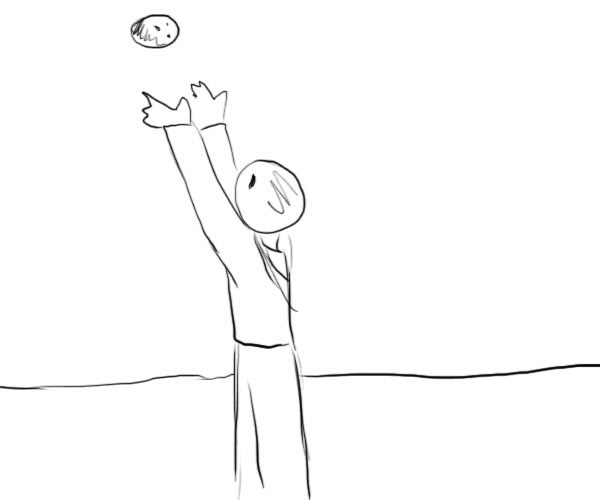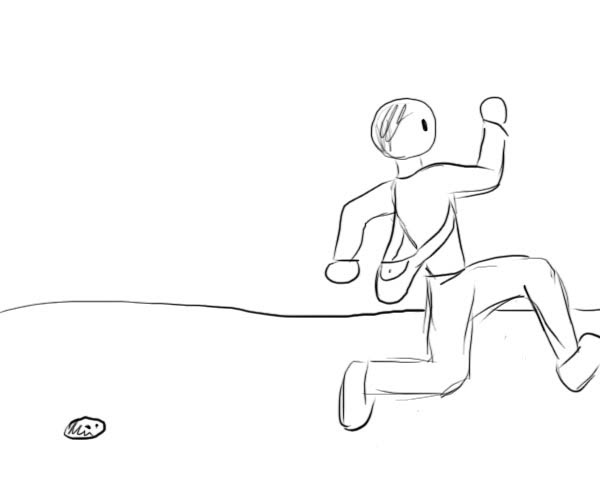 WHAT NOW?
>
---
rayofash wrote:

>Scream "AAAAAAAAAA" while running into the city and pointing towards the sky.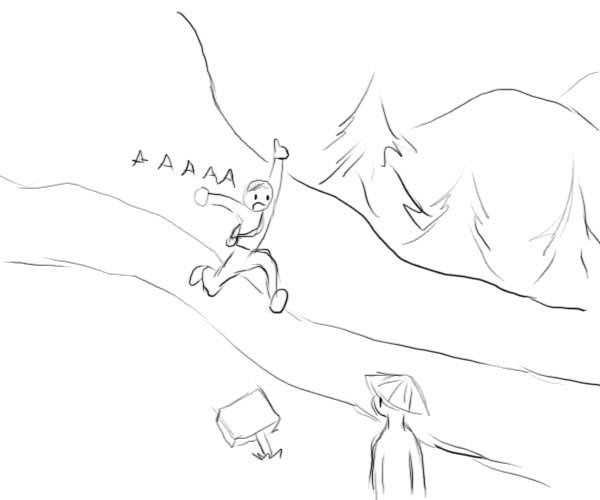 YOU RUN INTO THE CITY SCREAMING "AAAAA" AND POINTING TOWARDS THE SKY AS IF BEING CHASED BY SOMETHING.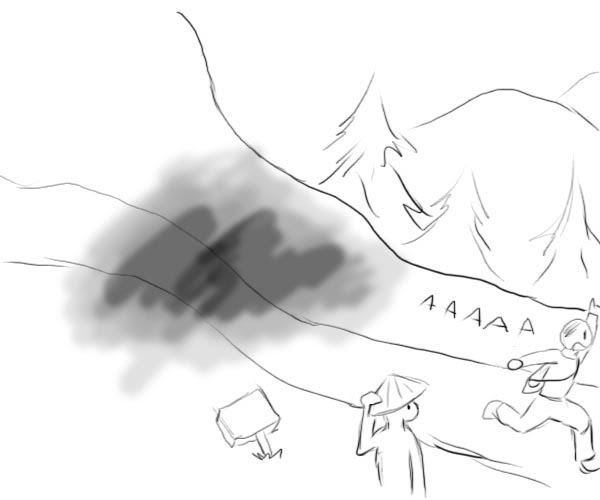 YOU'RE NOT SURE WHAT IT IS YET SINCE YOU HAVEN'T SEEN ANYTHING OTHER THAN ITS SHADOW.
>
---
Lightreaper wrote:

>Take cover in the first building you find, arm yourself with whatever is to hand.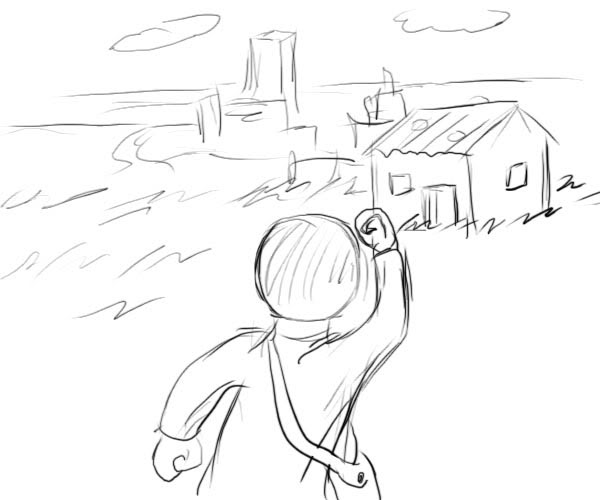 FEARFUL OF EVEN LOOKING BACK, YOU CHARGE INTO A FIELD OF WHITE ALFALFA TOWARDS A SMALL CONSPICUOUSLY PLACED HUT.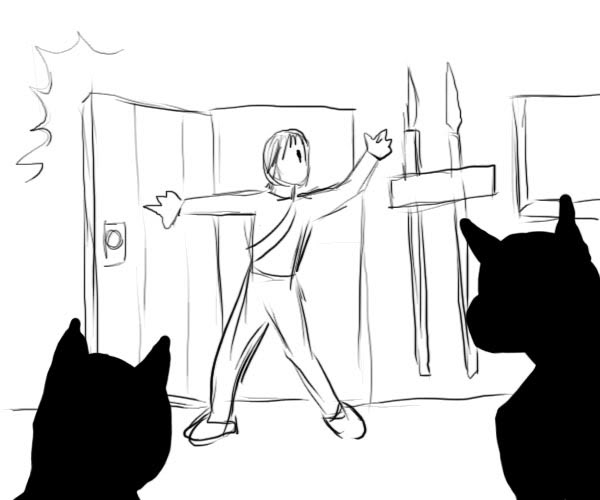 STARTLING THE RESIDENTS WITH YOUR ABRUPT ENTRANCE, YOU SEARCH FEVERISHLY FOR SOME FORM OF ARMAMENT. YOU TAKE A NAGANATA HANGING CONVENIENTLY BY THE DOOR AND PREPARE YOURSELF FOR THE WORST.
>
---
Hanku wrote:

>run back outside with the weapon before the people kick your ass and look at what made the shadow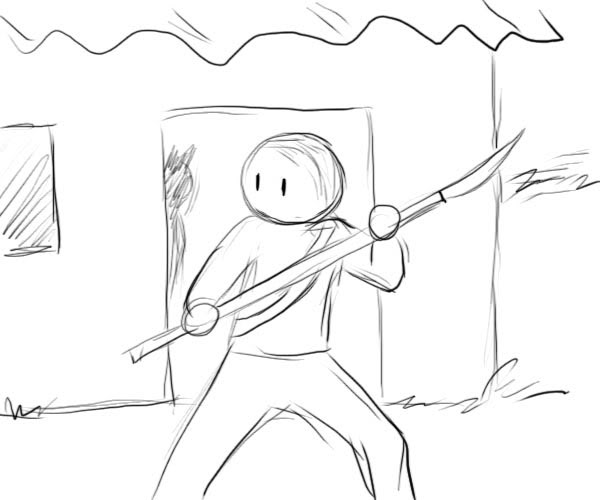 YOU RUN OUTSIDE EXPECTING TO FACE WHATEVER IT IS MAKING THE SHADOW, BUT YOU CAN NOT SEE IT IN THE IMMEDIATE VICINITY.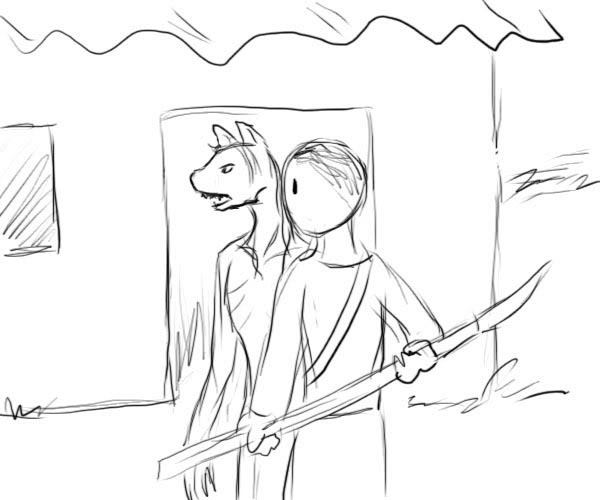 "YOU SAW THE MISN'GO, DIDN'T YOU." ONE OF THE HUT'S RESIDENTS COMES OUT AND ASKS YOU. "STARTLED YOU GOOD? IT OFTEN PASSES BY HERE WHEN SUMMONED BY OUR LORD."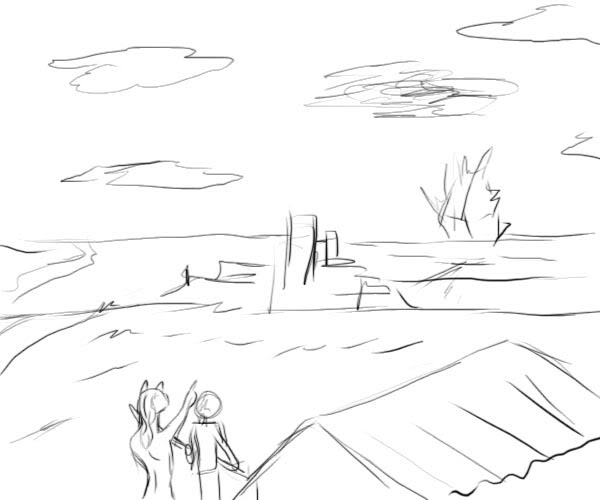 YOU SEE THE MISN'GO IN THE DISTANCE, A BLACK AMORPHOUS FORM, PERHAPS CONCEALING SOME VAST CREATURE, RAPIDLY FLYING TOWARDS THE CRYSTALLINE STRUCTURE BEYOND THE OCEAN. IT WASN'T CHASING YOU AFTER ALL.
THE RESIDENT POINTS HIS EARS IN YOUR DIRECTION. "YOU ARE NOT FROM AROUND HERE." HE SAYS CURIOUSLY.
>
---
Lanz wrote:

>ask "Why do you have no pants?"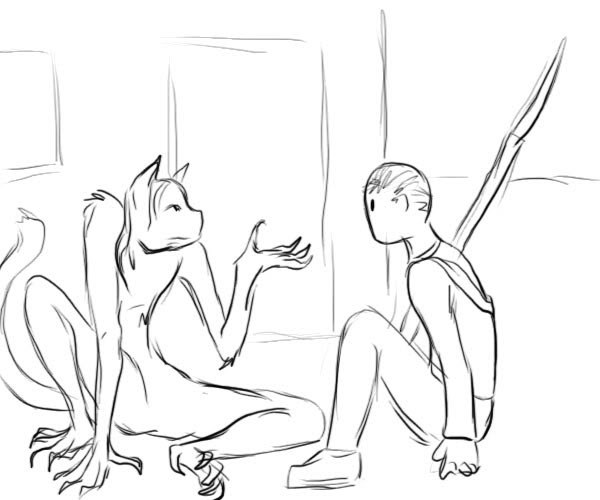 SHRUG.
PenguinSeph wrote:

>Say "I don't think I am good sir. I seem to be lost" very nicly.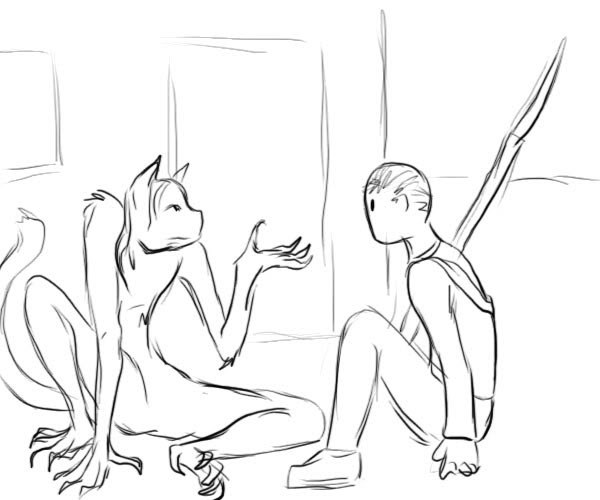 YOU SAY, "I DON'T THINK I'M FROM AROUND HERE, GOOD SIR, I SEEM TO BE LOST." VERY NICELY.
THE RESIDENT, A MAEROAN FARMER IT SEEMS, PULLS HIS LIPS INTO A FELINE SMILE THAT YOU CAN'T HELP BUT FEEL UNEASY ABOUT. "YOU ARE IN THE PREIPHERY OF LORD PETRANOIA'S DOMAIN, AS I'M SURE YOU KNOW BY THE SIGNS PLACED AROUND THE BOUNDARY MOUNTAINS. THIS IS THE MUNICIPALITY OF OFFERTIEL, WHICH INCLUDES THE FARMS ON THIS SIDE OF THE RIVER AND THE CITY BY THE BAY."
THE MAEROAN SNIFFS DEEPLY. "YOU BELONG TO LORD CERLIONESS. WHAT BUSINESS DO YOU HAVE IN MY LORD'S LANDS?"
>FORTUNE
>REVENGE
>LOVE
>ADVENTURE
---
>Two parts revenge, one part love.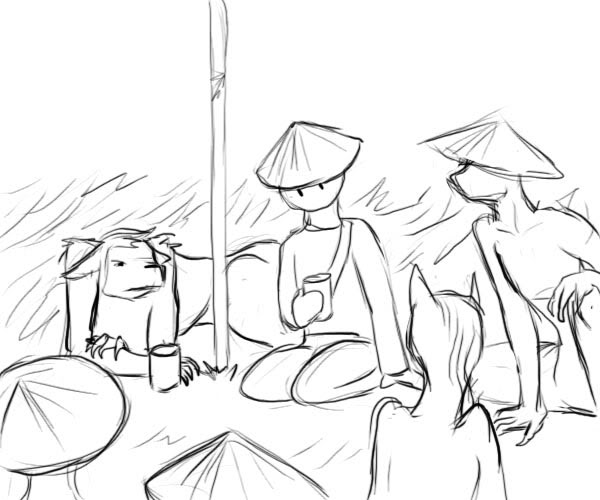 IT IS MIDDAY. THE MAEROAN'S FAMILY TAKE A REPRIVE FROM THEIR CHORES AND GATHER AROUND YOU TO HEAR YOUR STORY. HATS ARE GIVEN TO THOSE WHO WANT THEM, AS ARE FRUIT JUICES AND RICECAKES, BUT SINCE YOU CAN'T EAT THOSE YOU SETTLE FOR WATER AND FISH JERKY. YOU ARE HESITANT TO TELL THESE HUMBLE PEASANTS EVERYTHING, ALTHOUGH THEY HAVE BEEN NOTHING BUT TRUSTING AND HOSPITABLE TOWARDS YOU.
"I SEEK TO AVENGE MY SLAIN FAMILY." YOU SAY. WITH THAT BRIEF INTRODUCTION YOU BEGIN THE TALE OF YOUR JOURNEY. THE NIGHTTIME TREAKS THROUGH THE COTTONSTONE FOREST, YOUR MEETING WITH THE DREAD DICTYOMATA, YOUR DASH UP AND DOWN THE BOUNDARY MOUNTAINS (ALTHOUGH YOU SKIP THE PART ABOUT THE ANGEL. IT DOESN'T MAKE YOU LOOK GOOD.), AND THE BOUTS OF MADNESS AND SPONTANEITY THAT HAVE PLAGUED YOU SINCE YOUR TRAVELS BEGAN.
"SO IS THE MURDERER SOMEWHERE IN OUR LANDS?" ONE OF THE FARMERS ASKS.
YOU PAUSE BEFORE YOU REPLY. "YES. YES, I THINK SO."
THE SHADOWS ARE GROWING LONGER AND THE FAMILY RISES TO RETURN TO THEIR WORK. ONE OF THEM PRESENTS YOU WITH THREE WRAPPED FISHES WHICH YOU PUT IN YOUR BAG.
A MAEROAN, THE ONE YOU FIRST SPOKE TO, WISHES THE WIND BE ALWAYS AT YOUR BACK.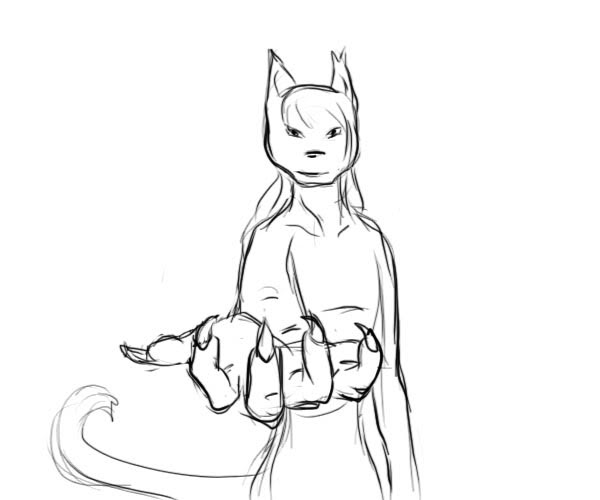 HE HOLDS HIS HAND OUT TOWARDS YOU AS IF EXPECTING SOMETHING.
>
---
J Detan wrote:

Either >Shake hand in a friendly manner

>cut off hand and run around cackling

>kick into his own hut

>pay the sum of one (1) fish

or

>Pet like a kitten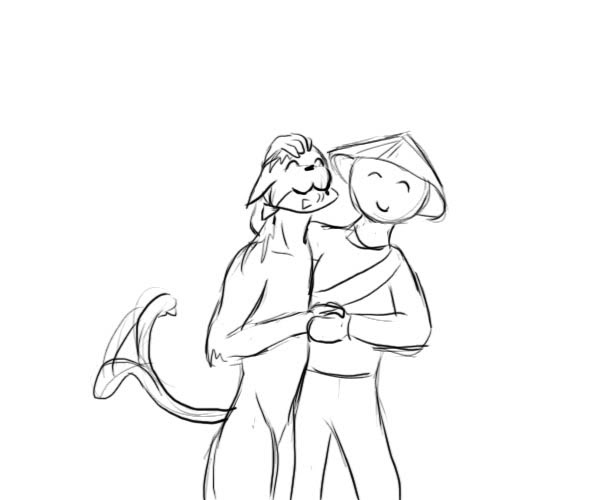 KICKING AND DISMEMBERING YOUR NEW FRIEND WOULDN'T BE VERY NICE, BUT YOU CAN CERTAINLY SHAKE HIS HAND, PET HIS HEAD, AND GIVE HIM A FISH. YOU ARE NOW DOWN TO 2 FISHES.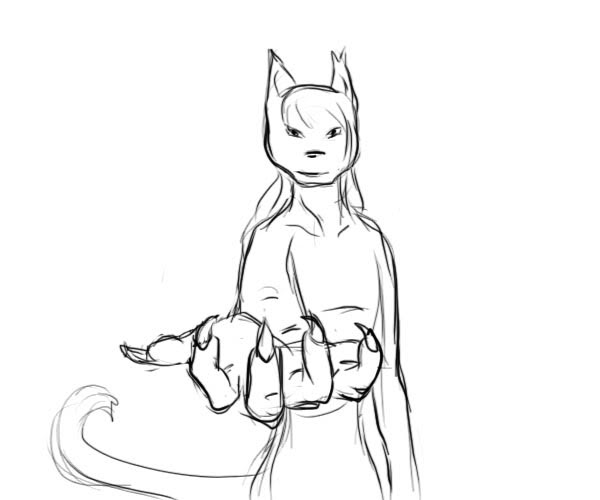 "ACTUALLY, I WANT MY NAGANATA BACK." THE MAEROAN SAYS. "UNLESS YOU HAVE SOMETHING SUITABLE TO PAY FOR IT?"
>
---
Google Image Search wrote:

>check bag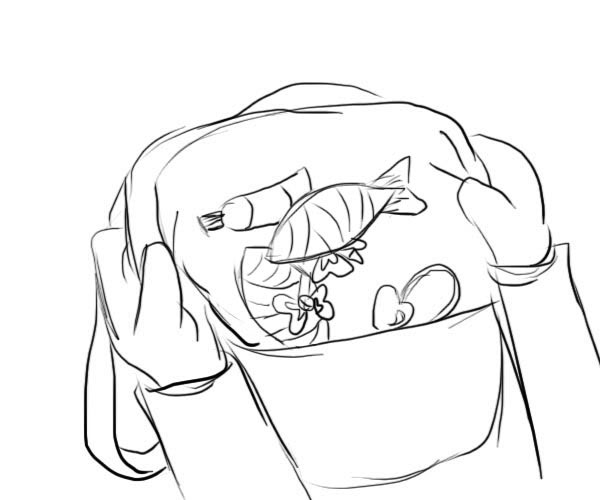 WONDERING WHAT YOU MIGHT EXCHANGE FOR THE NAGANATA, YOU CHECK YOUR MEAGRE POSSESSIONS. NOTHING SEEMS PARTICULARLY SUITABLE. THERE IS A TUBE OF ANTI-INFLAMMITORIES WHICH CAN BE BOUGHT AT ANY DRUG STORE, TWO WRAPPED BRITHDAY FISHES, GOOD FOR SPECIAL OCCASIONS SUCH AS BIRTHDAYS, TEARFUL GOODBYES, AND STARVATION, AND YOUR ORIHALCON HEART LOCKET.
>
---
J Detan wrote:

>Offer locket as payment.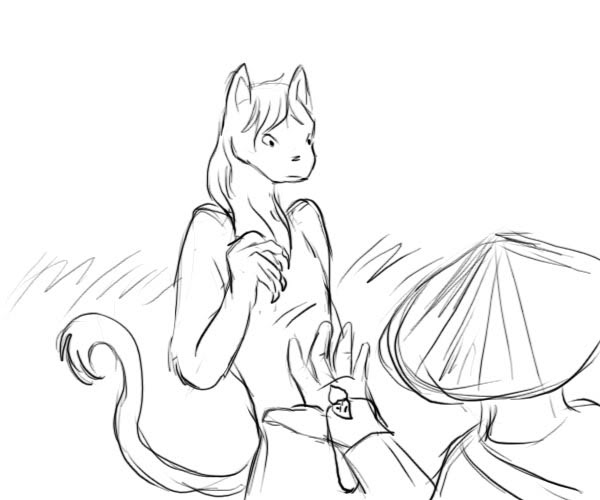 .
THE ORIHALCON LOCKET'S PURPOSE WAS TO PROTECT THE GREEN SHARDS, BUT THE LOCKET ITSELF HAS LITTLE SIGNIFICANCE TO YOU. YOU OPEN THE LOCKET TO REMOVE THE SHARDS.
THE MAEROAN BACKS AWAY. "PERHAPS," HE SAYS "YOU HAVE MORE USE FOR THE WEAPON THAN I DO. YOU CAN KEEP IT." HE RETREATS INTO HIS HUT AND CLOSES THE DOOR. YOU PUT THE LOCKET SAFELY BACK IN YOUR BAG. NOW SATIATED, ARMED AND SLIGHTLY MORE STYLISH, YOU ARE FREE TO TRAVEL AS YOU WILL.
>
Top of Page
Go back to Storytime of Epicness