PenguinSeph wrote:

>Look surrounding, looking for the nearest interesting things (I think there was a town and a tower or something, and there might be other stuff)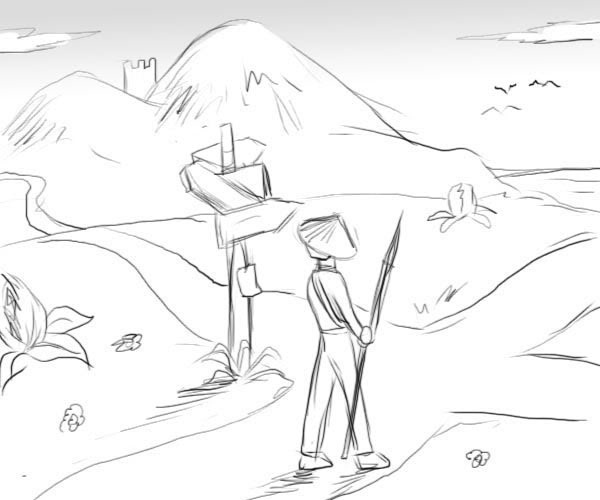 THE FARMLANDS SEEM TO STRETCH ENDLESSLY WHEN YOU ABRUPTLY CREST A HILL AND BEGIN TO SEE THE LANDS BEYOND. IT IS DIFFICULT TO DISCERN DETAILS, HOWEVER, WITH DUSK APPROACHING AND SHADOWS OBSCURING YOUR VISION. YOU READ A STREET SIGN AND CONSIDER WHERE YOU MIGHT FIND A GOOD PLACE TO SPEND THE NIGHT.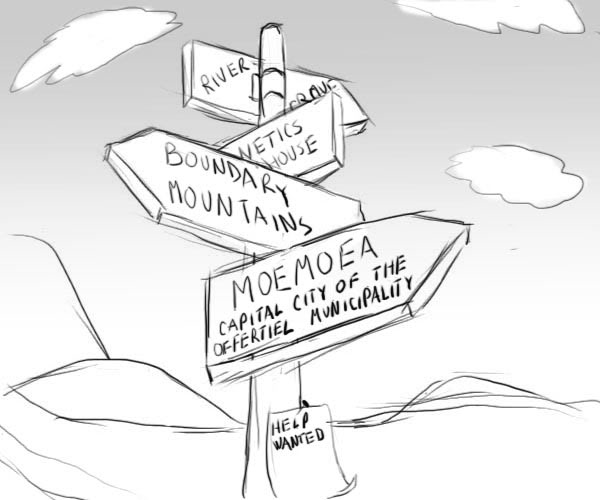 THE SIGN POINTS IN FOUR DIRECTIONS. FROM THE WAY YOU CAME, ARE THE BOUNDARY MOUNTAINS. ANOTHER PATH LEADS TO MOEMOEA, WHOSE LIGHTS YOU CAN ALREADY SEE GLITTERING IN THE DISTANCE, JUST SHY OF THE GLITTERING SUN UPON THE OCEAN. THE OTHER TWO SIGNS SAY "RIVER GROVE" AND "GENETICS WAREHOUSE". YOU ARE NOT SURE WHAT SORTS OF DESTINATIONS THOSE ARE AND SILENTLY CURSE THE INCOMPETENCY OF OFFERTIEL'S TOURISM INDUSTRY. THERE IS A SMALL "HELP WANTED" POSTER NAILED AGAINST THE SIGN POST. IT SAYS "EARN EASY UNITS WITH A HALF-DAY'S WORK! NO EXPERIENCE NECESSARY! wearenottobeheldresponsibleforlossofpropertysanityvoiceorlife. WE ARE LOCATED 20KM WEST OF RIVER GROVE GROVE."
>
---
Typhus wrote:

>head 20k west of River Grove Grove
YOU HEED THE HELP WANTED SIGN BECAUSE YOU WILL NEED MONEY TO STAY AT ANY HOTELS IN THE CITY, AND SO YOU BEGIN TO SEARCH FOR THE GROVE BY RIVER GROVE AND THE LOCATION 20KM WEST OF IT. HOPEFULLY YOUR FUTURE EMPLOYERS WILL ALLOW YOU TO STAY FOR FREE OR AT A GOOD DEAL. ALAS, YOU DID NOT THINK ABOUT HOW LONG IT WOULD TAKE YOU TO GET THERE. FARMLAND HAS LONG GIVEN WAY TO MORE UNKEPT AREAS, CHOKED WITH UNFAMILIAR PLANTS AND STRANGE SOUNDS. NIGHT HAS FALLEN AND YOUR KNEES BEGIN TO SHAKE IN WEARINESS. YOU NEED TO REST.
>
---
Kyou wrote:

>Look for some berries or fruit and rest in the grass
YOU PICK SOME BERRIES OFF THE UNFAMILIAR ROADSIDE BUSHES AND SIT DOWN IN THE GRASS BEYOND THEM TO EXAMINE YOUR FINDINGS.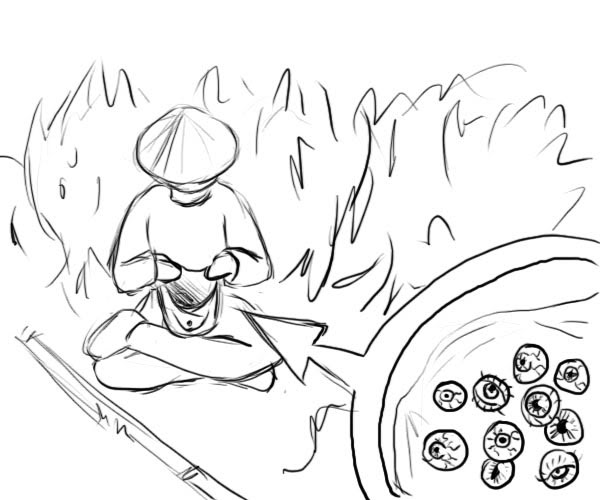 MAYBE THESE WILL BE GOOD ON A NECKLACE OR SOMETHING.
>
---
UncleSporky wrote:

>Fall asleep on back, placing two berries over your eyes so it looks like you're awake and would freak out any skulkers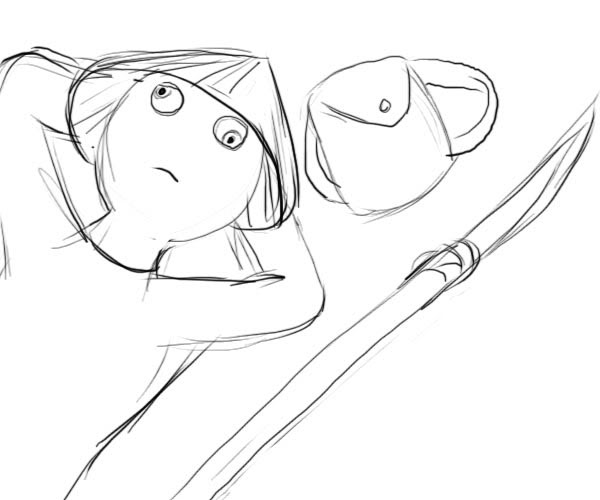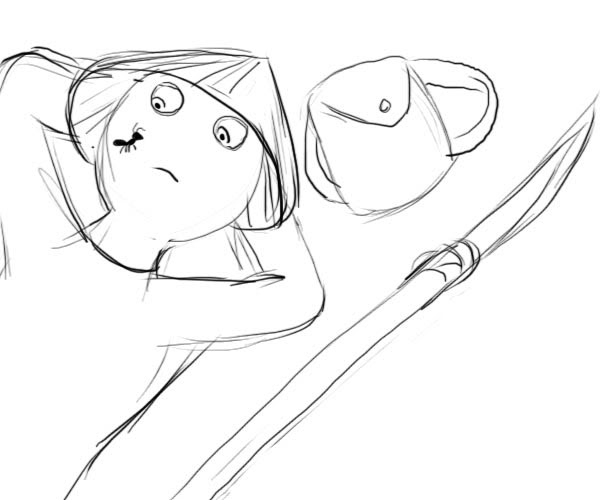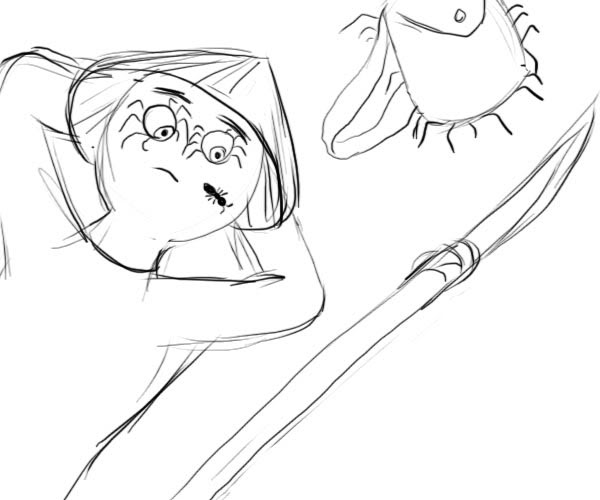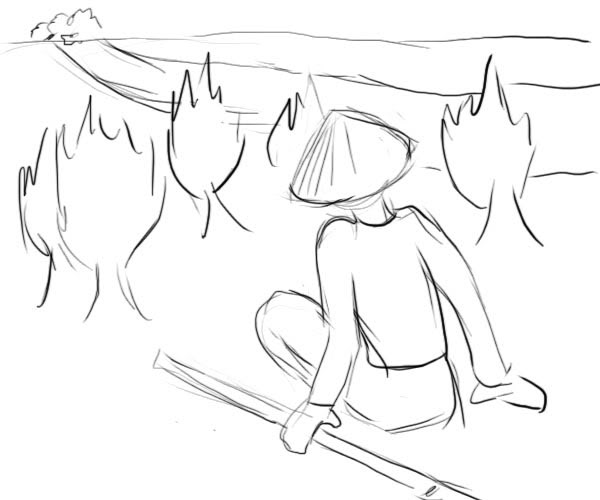 THE NEXT MORNING YOU ARE STARTLED AWAKE BY A DISTANT RUMBLING WHICH IS GROWING STRONGER WITH EACH PASSING MOMENT. A CLOUD OF DUST IS BEING RAISED ON THE PATH.
>
Top of Page
Go back to Storytime of Epicness