Kyou wrote:

>Find our bag. Godamn spider eyeball berry thieves.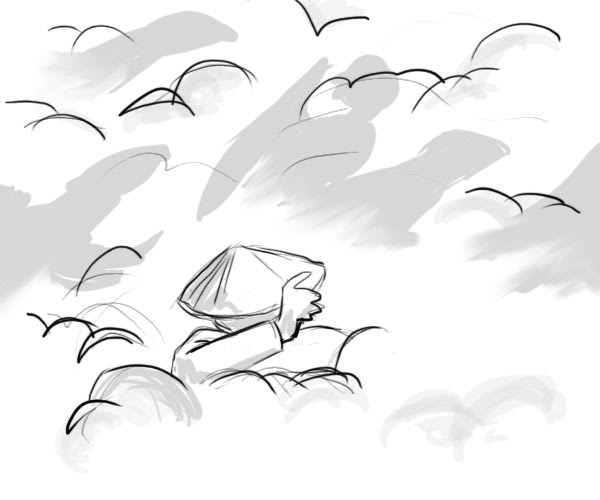 YOU NOTICE YOUR BAG IS MISSING. YOU SEARCH FOR IT FRANTICALLY AND JUST AS YOU NOTICE FAINT DRAG MARKS ON THE GROUND, THE CLOUD OF DUST ENVELOPES YOU AND FORCES YOU TO COVER YOUR EYES. WHATEVER IS MAKING IT DOESN'T NOTICE YOU, HOWEVER, AND WILL SOON PASS
>
---
Taya wrote:

>Take dust. Place dust in pockets for later.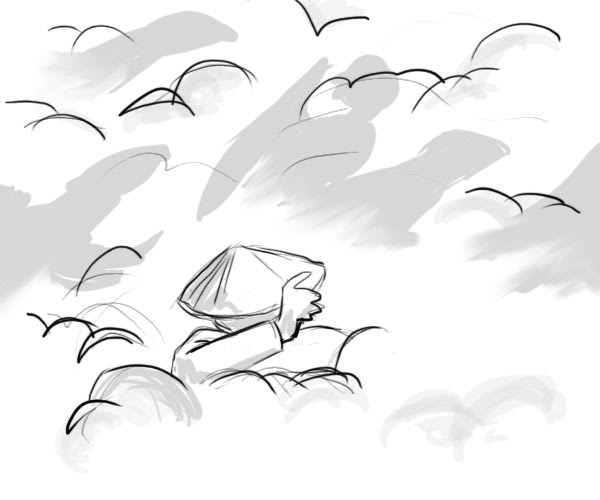 WE'VE GONE OVER THIS. YOU HAVE NO POCKETS. ACK COUGHCOUGH ACHOO.
Hanku wrote:

>spin weapon around to blow dust away.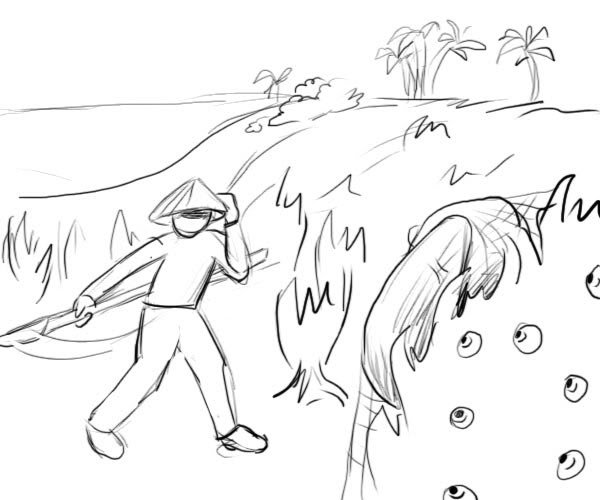 YOU SPIN YOUR WEAPON AROUND IN AN EFFORT TO CLEAR THE DUST ALTHOUGH IT'S NOT NECESSARY. THE DUST CLOUD MOVES OFF ON ITS OWN SOON ENOUGH. OH HEY. THERE'S YOUR BAG, MYSTERIOUSLY CAUGHT AMONG THE SILKEN THREADS OF A NEARBY BUSH. NOW HOW'D IT GET THERE?
>
---
Kyou wrote:

>Grab bag and boot the eyeball bush, continue down road keeping an eye out for slightly more edible berries.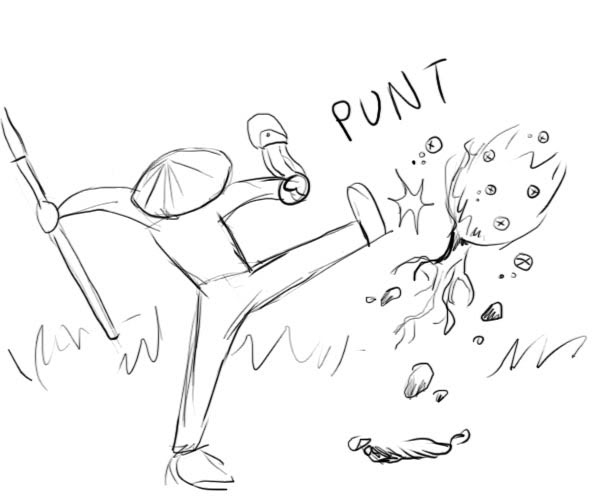 STUPID BUSH! YOU GO PUNT NOW!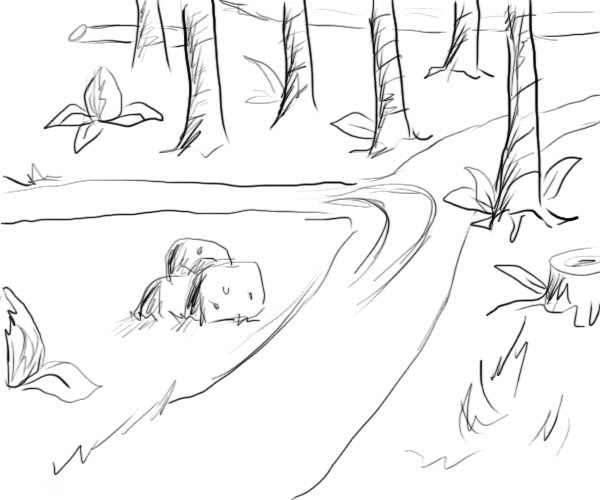 YOU FIND NO OTHER VARIETIES OF BERRIES AS YOU CONTINUE DOWN THE PATH. EVENTUALLY, YOU REACH WHAT YOU ASSUME IS RIVER GROVE GROVE. THERE IS CLEARLY A GROVE OF TREES HERE AND YOU CAN HEAR THE SOUND OF GENTLY FLOWING WATER. THERE IS A PATH THAT GOES DIRECTLY WEST AND SHOWS SIGNS OF HEAVY TRAFFIC. BUT THE THOUGHT OF REFRESHING YOURSELF AT THE RIVER IS TEMPTING.
>
---
becca wrote:

>check to make sure the water isn't evil in any way (blood-red, flowing upstream, has eyes, etc.), then if everything is ok, take a (small) drink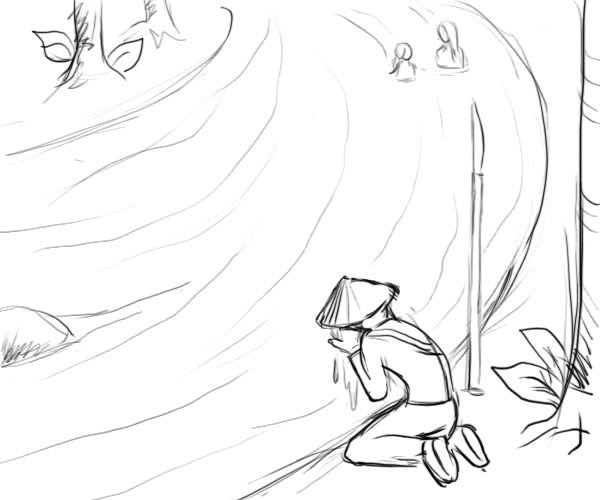 YOU ENTER THE GROVE AND CAREFULLY EXAMINE THE WATER FOR ANY UNSAFE SIGNS, INCLUDING BUT NOT EXCLUSIVE TO BLOOD-LIKE COLOR, FLOWING UPSTREAM, EYES, ODD SMELLS, PIHRANAS, SHARKS, ELECTRIC EELS, ALLIGATORS, JELLYFISH, SOULS, GARBAGE, URINE, EXCESSIVE ALGEA, LEECHES, DEAD BODIES, BOTTLES, CANOES, HIGH PH, LOW PH AND SUSPICIOUS BUBBLING. YOU BELIEVE THE WATER TO BE SAFE AND TAKE A CAUTIOUS SIP.
>
---
Imran wrote:

>Wash your clothes in the river.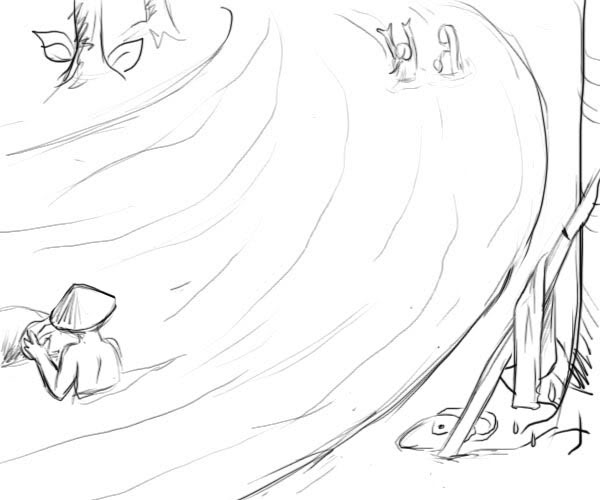 FEELING AWFULLY GRINGY FROM THE SEEMINGLY ENDLESS TRAVELLING YOU HAVE DONE OVER THE PAST SEVERAL DAYS, YOU DECIDE TO WASH YOUR CLOTHES. TAKING THEM OFF, YOU APPRECIATE HOW BAD THEY SMELL, LIKE THE ODOR OF FERMENTING WASPS. YOU HAVE NO SOAP, BUT YOU FIND A LARGE ROCK IN THE MIDDLE OF THE RIVER TO RUB THE FABRIC AGAINST. YOU SET YOUR CLOTHES OUT TO DRY.
>
---
Imran wrote:

>GUARD THE CLOTHES, YOU FOOL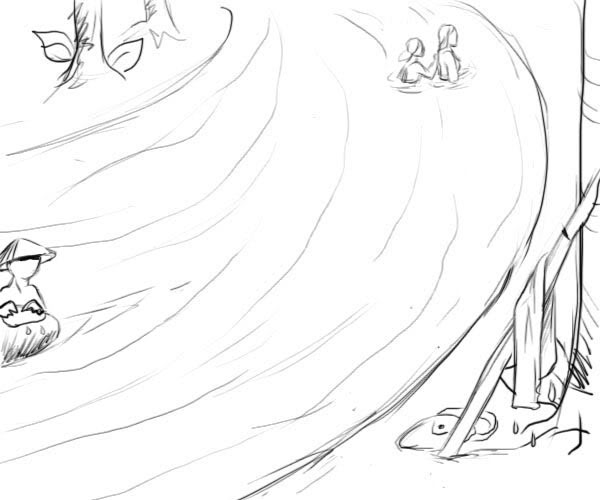 IN A SUDDEN SPASM OF PARANOIA, YOU TURN TO USE THE OTHER SIDE OF THE ROCK SO YOU CAN KEEP AN EYE ON YOUR THINGS. HA! LET'S SEE ANYONE STEAL YOUR BELONGINGS THIS TIME! YOU ARE TOTALLY PREPARED FOR IT!
>
---
Ichnob wrote:

>After finishing washing up, clothe and arm yourself then converse with womens to find out more about surroundings + the details of the "Help Wanted" poster. If possible, make with the sexy-time as well.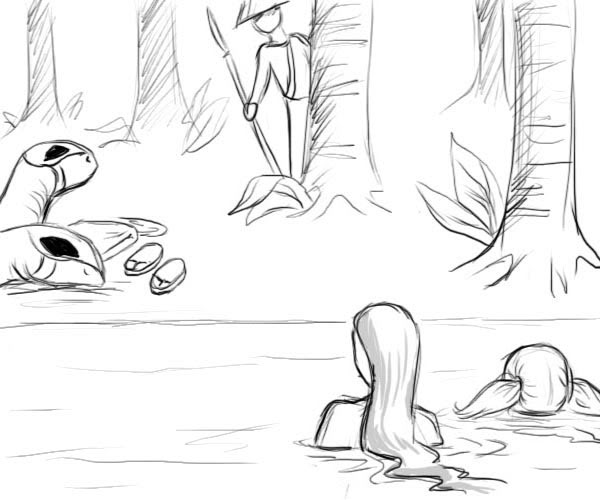 NOW THAT YOU ARE CLEAN AND PRESENTABLE, YOU INTRODUCE YOURSELF TO THE TWO WOMEN YOU SAW BATHING DOWNSTREAM. THEY APPEAR TO HAVE BEEN EXPECTING YOU TO COME OVER EVENTUALLY. YOU ASK IF THEY KNOW ANYTHING ABOUT THE "HELP WANTED" 20KM WEST OF RIVER GROVE GROVE.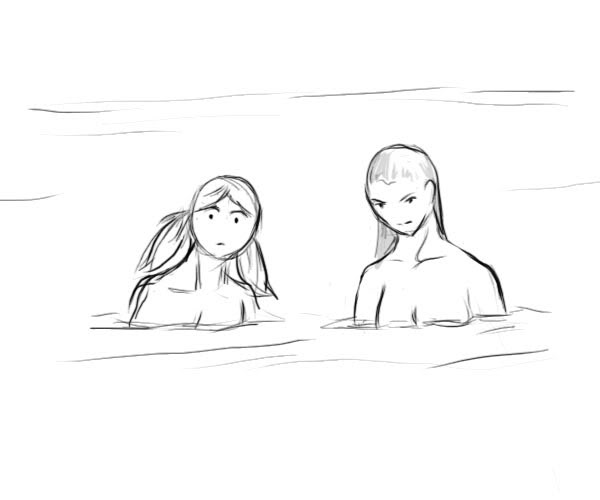 "OF COURSE." THE ONE WITH GREY HAIR SAYS. "WE ARE GOING THERE TOO."
>
---
Kyou wrote:

>Steal their clothes and run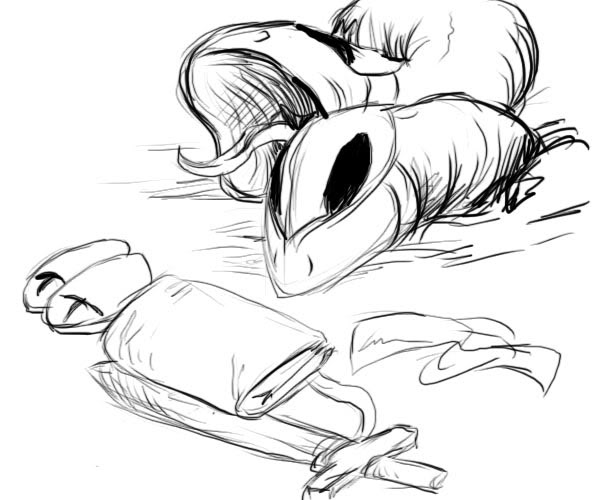 TWO HALF-BURIED MOLEWORMS GUARD THE WOMEN'S POSSESIONS. YOU WON'T BE ABLE TO STEAL THEM WITHOUT A FIGHT.
STEAL WHAT YOU CAN ANYWAYS? [Y/N]
>
---
Kyou wrote:

>N

>Ask them if they want to travel together with you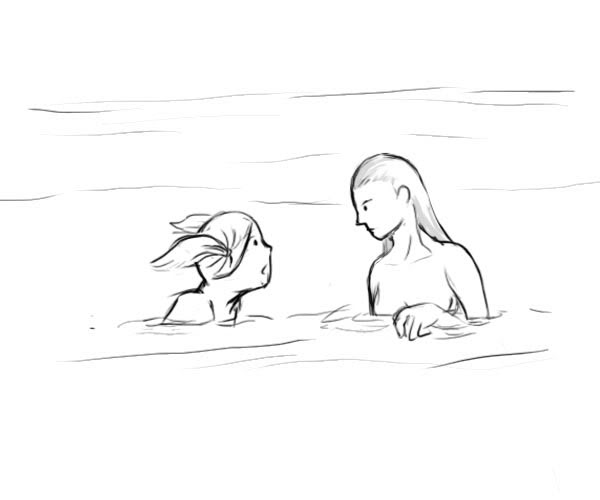 YOU ASK THE LADIES IF THEY WOULD LIKE YOU TO ACCOMPANY THEM.
"SURE, IT'LL BE FUN!" THE ONE WITH PONYTAILS CHIRPS. "JUST WAIT FOR US TO FINISH." SHE SUBMERGES HERSELF UP TO HER NECK AND GIVES YOU A SLY SMILE. "IT'S A GOOD THING THAT YOU'RE ARMED. I HEAR THAT IT CAN BE DANGEROUS WORK."
"NO, IT'S NOT." THE OTHER WOMAN SAYS DISMISSIVELY.
"WHAT MAKES YOU SO SURE, DYMALKID?"
"WE ARE GOING TO A LANNE PLANTATION. THE MOST DANGEROUS THINGS THERE ARE THE BEES."
"B-BUT WHAT ABOUT THE POSTER? THAT FINE PRINT WE SAW?"
"CHELLING, THAT WAS JUST A PART OF THE STATIONARY."
"...OH."
>
---
rayofash wrote:

>Tell them you killed a baby bird the other day, you enjoyed it.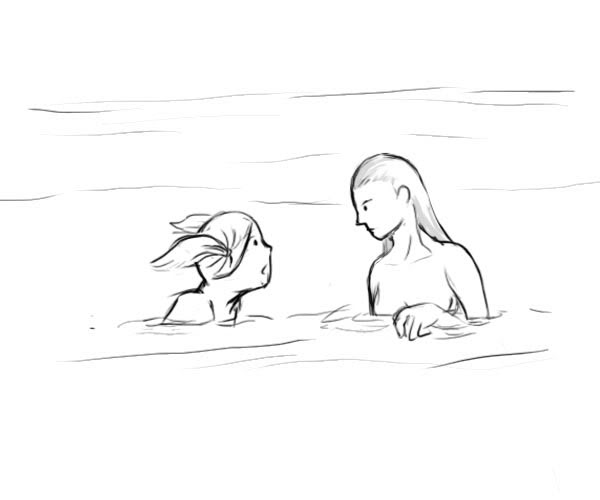 YOU TELL THEM YOU KILLED A BABY BIRD THE OTHER DAY, SPECIFICALLY A COCKATRICE, AND THAT YOU ENJOYED IT.
DYMALKID LOOKS IMPRESSED. "THOSE ARE A DELICACY, AREN'T THEY?"
CHELLING REPLIES, "YEAH, BUT THEY GIVE YOU GAS."
>
---
Non-Existent Freezer wrote:

>Pray that they aren't bizarre tentacle monsters or anything. As far as we know, their bottom halves could be giant pincers or something.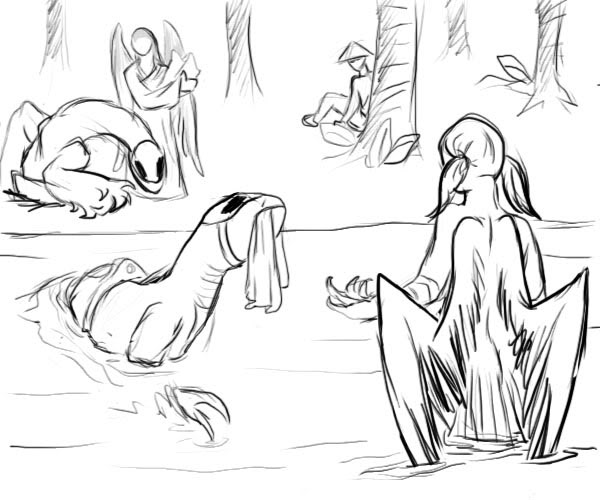 NAH, THEY'RE JUST A HARPY AND DARK ANGEL PAIR. PERFECTLY NORMAL. THEY FINISH THEIR BATH, DRESS, AND MOUNT THE MOLEWORMS.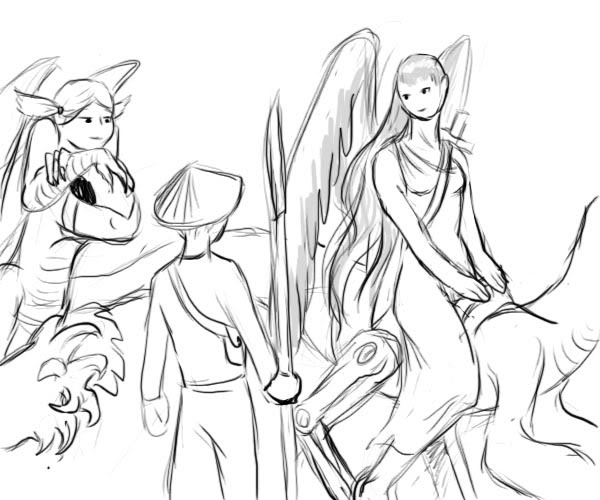 "HOP ON" DYMALKID OFFERS. "WE WILL GET THERE FASTER IF YOU RIDE." YOU STAND ON THE BACK EDGE OF THE MOLEWORM'S HIP-GEAR AND HOLD ONTO THE DARK ANGEL'S WINGS FOR BALANCE.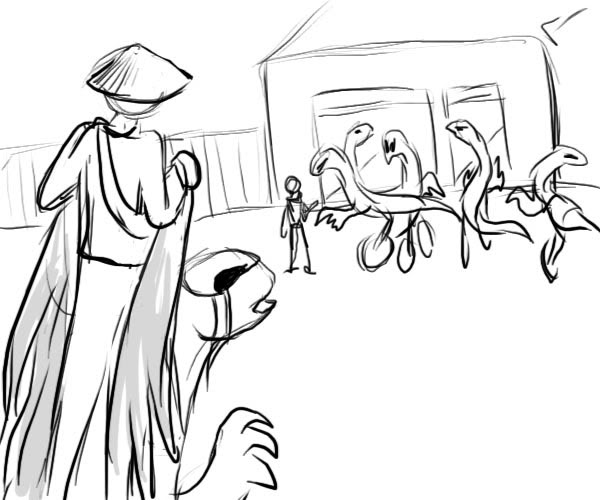 THE MOLEWORMS COVER THE 20KM IN MERE HOURS. THE PLANTATION AT THE END OF THE PATH CONSISTS OF LANN CROPS WITH A FENCED PERIMETER AND A SMALL SQUARE BUILDING.
"THERE'S EVERYBODY." CHELLING SAYS HAPPILY. "WE'RE HERE!" SHE JUMPS OFF HER MOUNT AND WAVES.
AT THE FRONT OF THE BUILDING A HERD OF MOLEWORMS MILL ABOUT, WAITING FOR INSTRUCTIONS. A MAN, PRESUMABLY THE SUPERVISOR, IS HANDING OUT APPLICATION FORMS.
>
---
mayor cigar face wrote:

>Fill out an application form, hand it to the supervisor, and then ask what it's for.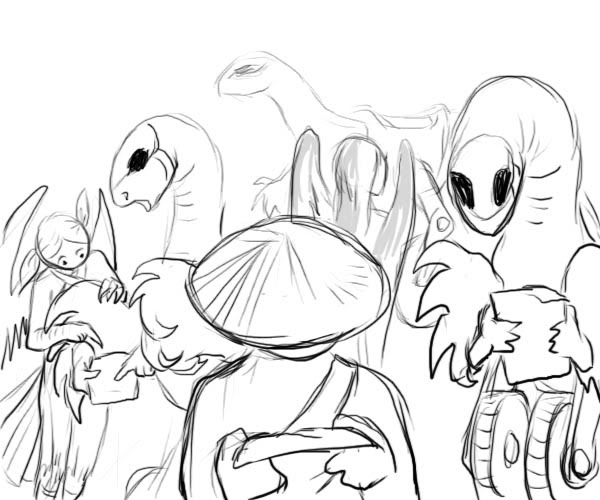 YOU TAKE AN APPLICATION FORM AND LOOK FUTILELY FOR SOME FINE PRINT. EVERYTHING IS RATHER STRAIGHTFORWARD. IT SEEMS LIKE THE PLANTATION NEEDS A NUMBER OF OBSERVATION POSTS ACTIVATED WHICH REQUIRES THE JOINT EFFORT OF A MOLEWORM AND RIDER.
"WANT ME TO EXPLAIN IT TO YOU?" THE SUPERVISOR ASKS. HE PAIRS YOU UP WITH A MOLEWORM AND LEADS YOU TO THE FIELD YOU WILL BE IN CHARGE OF.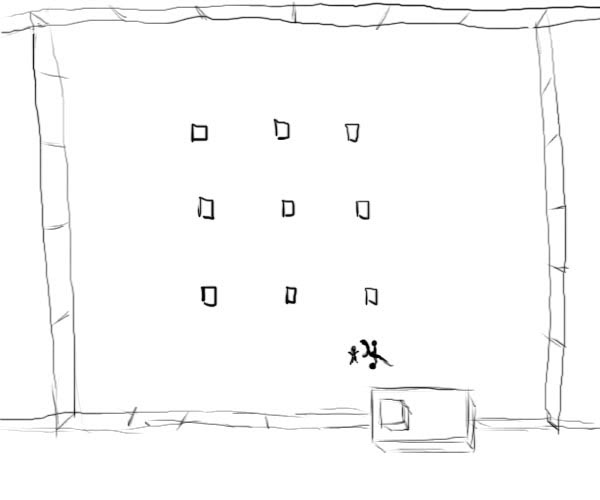 THERE ARE NINE POSTS EVENLY SPACED IN A GRID IN THE CENTER OF THE FIELD. ALL NINE NEED TO BE ACTIVATED WITHIN A CERTAIN AMOUNT OF TIME IN ORDER FOR THEM TO FUNCTION. "SPEED IS THE KEY." THE SUPERVISOR ADVISES. "BUT THERE'S A PROBLEM WITH HOW THE MOLEWORMS TURN AND ACCELERATE. TURNING SLOWS THEM DOWN CONSIDERABLY, AND THEY TRAVEL DOWN A STRAIGHT COURSE MUCH FASTER THAN THEY WOULD A CURVED ONE. IF YOU'RE GONNA DO THIS, YOU CAN ONLY MOVE IN STRAIGHT LINES AND YOU CAN ONLY TURN THREE TIMES."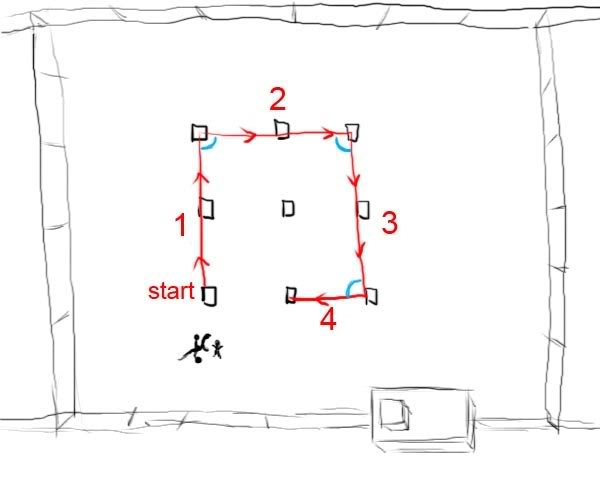 "FOR EXAMPLE, YOU MIGHT FOLLOW THIS PATH. YOU ARE DRIVING STRAIGHT, AND YOU MAKE ONLY THREE TURNS. BUT YOU MISS THE CENTER POST SO THIS PATH WON'T WORK."
"HERE'S ANOTHER EXAMPLE, BUT YOU'LL MISS TWO POSTS. SO THIS IS NO GOOD."
HE PATS THE MOLEWORM ON THE TAIL. "ANYWAYS, I'LL LEAVE IT UP TO YOU. GOOD LUCK." AND WITH THAT HE LEAVES TO INSTRUCT THE OTHER EMPLOYEES.
YOU ARE SOMEWHAT CONFUSED AT BEING SO ABRUPTLY THRUST INTO A JOB LIKE THIS. AND YOU ARE NOT SURE IF YOU CAN ACCOMPLISH IT PROPERLY. OH WELL. IT CAN'T HURT TO TRY.
YOU TIGHTEN YOUR GRIP ON THE SADDLE. WITH YOUR EYES SHADED YOU SQUINT AT THE SUN. YOU ESTIMATE THAT THERE'S FIVE HOURS TO DO THIS BEFORE NIGHTFALL.
>
Top of Page
Go back to Storytime of Epicness