Kyou wrote: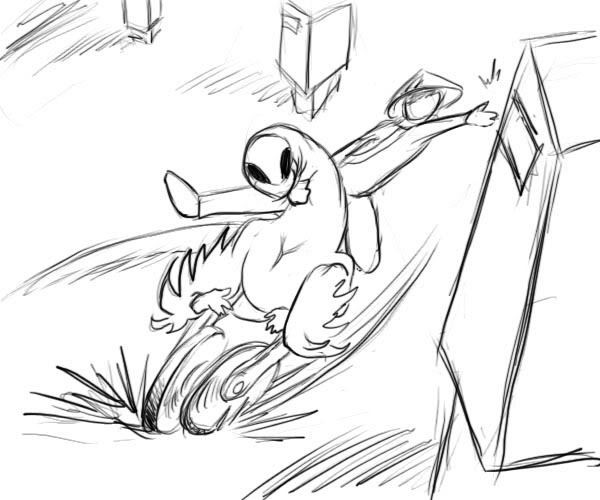 AFTER A BIT OF TRIAL AND ERROR, YOU ARE ABLE TO ACTIVATE ALL NINE POSTS SUCCESSFULLY. LORDS BE PRAISED! YOU HAVE EARNED 200 UNITS!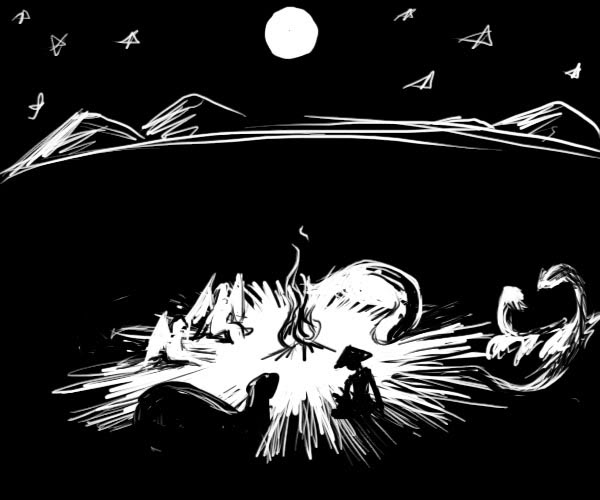 WITH YOUR JOB DONE, THE SUPERVISOR KICKS YOU OUT AND YOU HAVE TO SPEND ANOTHER NIGHT IN THE WILDERNESS. AT LEAST YOU'RE NOT ALONE THIS TIME.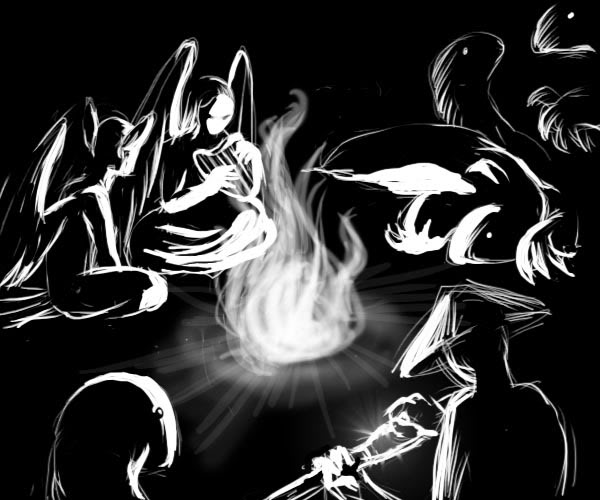 UNDER THE FULL MOON, YOU, CHELLING, DYMALKID, AND A FEW REMAINING MOLEWORMS ARE GATHERED AROUND A TOASTY FIRE. DYMALKID IS PLAYING HER HARP WITH CHELLING LISTENING INTENTLY AND TWO MOLEWORMS ARE DANCING OR FIGHTING OR SOMETHING. YOU ARE SHARPENING YOUR NAGAGATA BUT THERE ARE A FEW THINGS YOU CAN DO BEFORE YOU GO TO SLEEP. YOU CAN TALK TO THE LADIES, EXAMINE THINGS, EAT, HOWL AT THE FULL MOON, WHATEVER. GO NUTS.
>
---
J Detan wrote:

>Ask the dark angel if she has any realtives that like to sit on mountains and stare.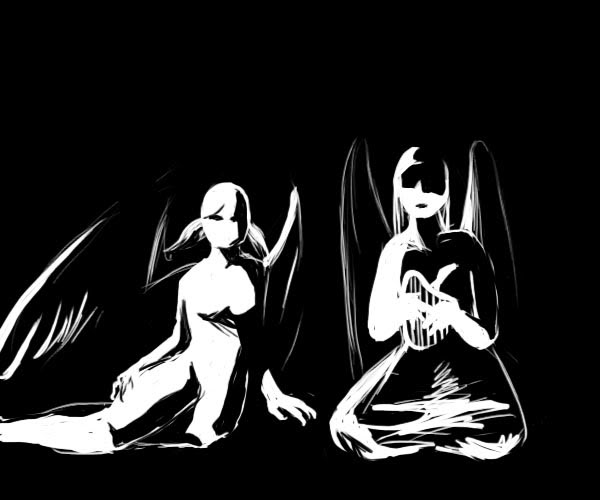 "SEVERAL."
mayor cigar face wrote:

>Howl at the moon.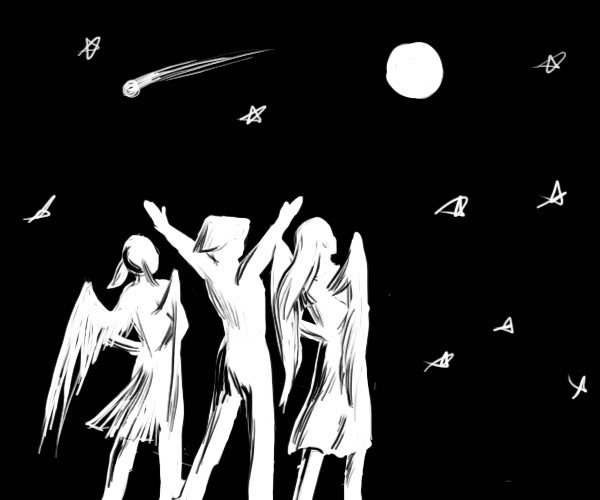 HEY DJ KAMASE YEAH YEAH YEAH
KIBUN JOUJOU NO
HARI OTOSE OTO NARA SE PAARINAI
NOMO URAI RAI RAI
MINNA DE ODORE
HIP POP PIIPOO
KAKETE YO MIRAKURU NUMBER
Drumble wrote:

>Ask the ladies what their plans are now.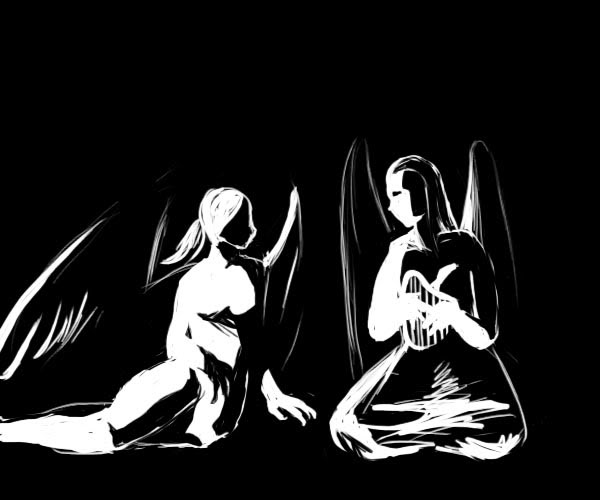 AS YOU WONDER ABOUT YOUR OWN FUTURE, YOU ASK THE LADIES WHAT THEIR PLANS ARE NOW. THE GLOW OF THE FIRE PASSES A STRANGE EXPRESSION OVER CHELLING'S FACE.
"I'VE BEEN SUMMONED TO THE GENETICS WAREHOUSE AGAIN." SHE SIGHS. "THEY'RE ALWAYS AFTER MY BLOOD."
"AND EGGS." DYMALKID SAYS BETWEEN NOTES.
"AND EGGS."
"DO ME A FAVOR THIS TIME. TRY NOT TO HARASS THE BEASTMASTER."
"AWW. BUT HE'S SO CUTE! AND SOFT."
"HE'S GOING TO KILL YOU, YOU STUPID CLUCK."
>
---
Non-Existent Freezer wrote:

>Ask why the Genetics lab wants Chelling's genetic material so much.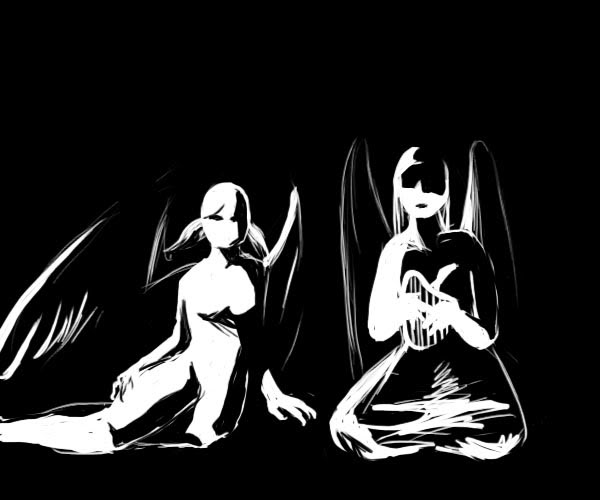 "LORD PETRANOIA DOESN'T HAVE A LOT OF HARPIES AND I HEARD LORD ROCLIONESS IS BEING STINGY WITH HIS THESE DAYS."
DYMALKID STOPS PLAYING AND CRACKS A SMILE. "HE MUST NOT BE MAKING ENOUGH." ALL OF YOU LAUGH.
>
---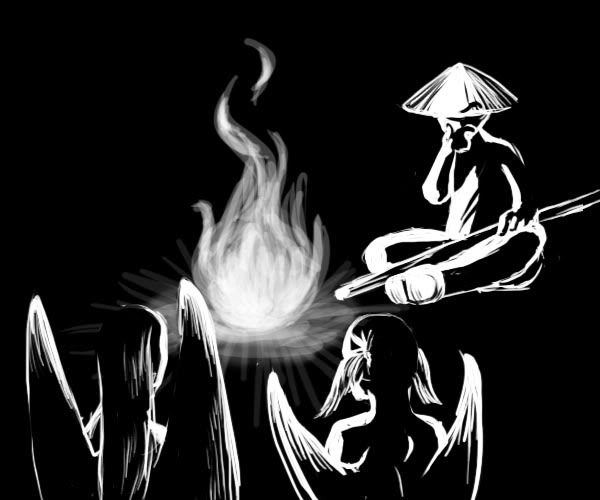 HOW...HOW DO YOU INTEND TO GO ABOUT THIS?
>
---
rayofash wrote:

>"It's getting a bit hot here, do you mind if I take off my shirt?"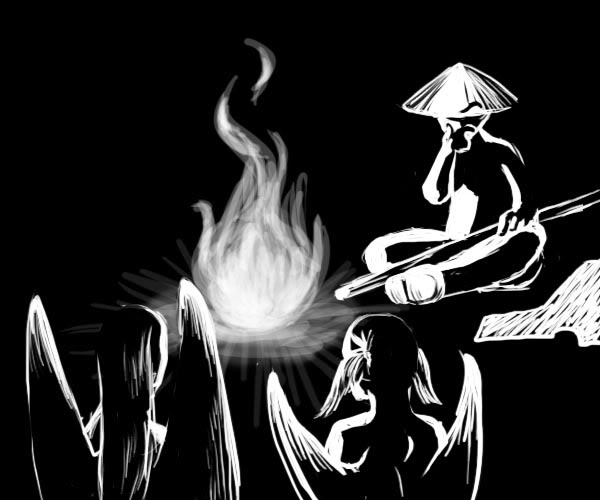 STEP 1: TAKE OFF SHIRT.
STEP 2: >
---
Drumble wrote:

>Jump over the bonfire in an attempt to impress them, then when our pants inevitably catch fire, frantically shout for them to smother the flames with their bodies.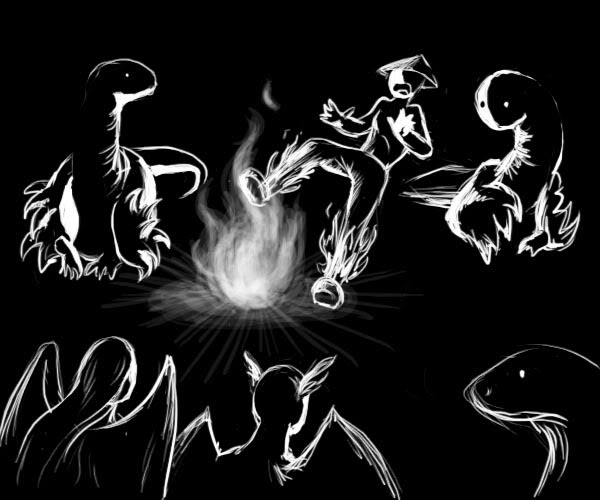 YOUR PANTS! THEY'RE ON FIRE!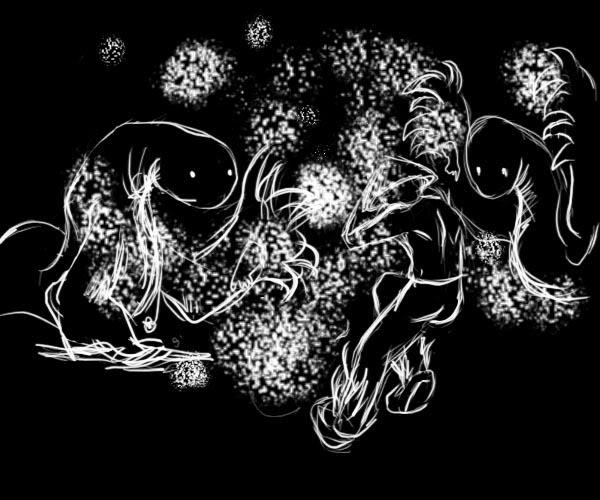 IMMEDIATELY, THE MOLEWORMS SMOTHER YOU WITH SHOVELFULLS OF DIRT, DOUSING BOTH THE FIRE ON YOUR PANTS AND THE BONFIRE.

"OH WELL." CHELLING SAYS IN THE DARK. "IT'S ABOUT TIME TO SLEEP ANYWAYS." FEELING FOOLISH AND COLD, YOU PUT ON YOUR SHIRT AND SETTLE DOWN FOR THE NIGHT.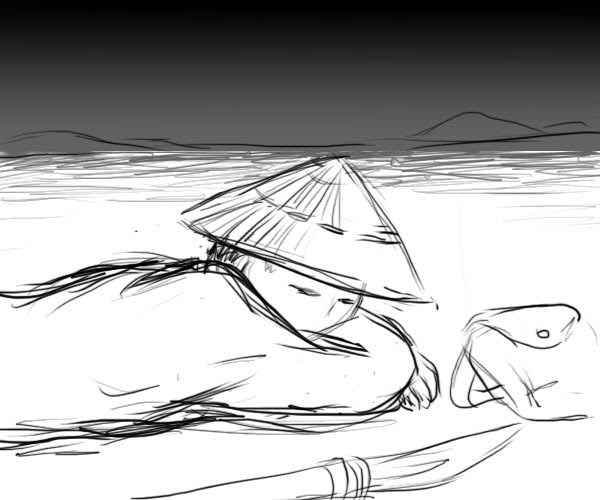 YOU WAKE UP AT THE BAREST HINT OF DAWN. IT SEEMS LIKE YOU ARE THE FIRST ONE AWAKE.
>
Go back to Storytime of Epicness