Kyou wrote:

>Find food to surprise the girls with some breakfast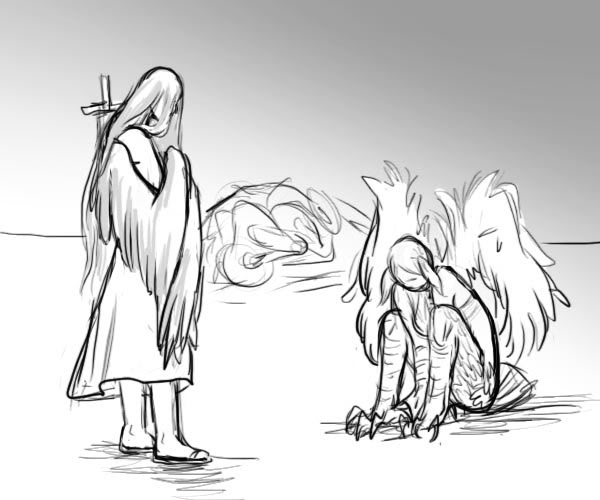 NOTHING SEEMS TO BE AWRY. CHELLING AND DYMALKID ARE STILL SLEEPING, AND THE MOLEWORMS ARE UNDERGROUND BUT NEARBY. THEY LEFT THEIR HIP-GEAR AND EYESHILDS IN A PILE ABOVE GROUND.
YOU ARE EXTREMELY HUNGRY BECAUSE YOU STUPIDLY NEGLECTED TO EAT ALL YESTERDAY. YOU DON'T RECALL THE LADIES HAVING EATEN ANYTHING EITHER. FORAGING SEEMS LIKE A GOOD IDEA AT FIRST, BUT NONE OF THE PLANTS AROUND HERE LOOK EDIBLE. YOU CONSIDER YOUR OTHER FOOD OPTIONS.
>
---
Furu wrote:

>Offer your fishes to the girls (you do still have the fishes right?)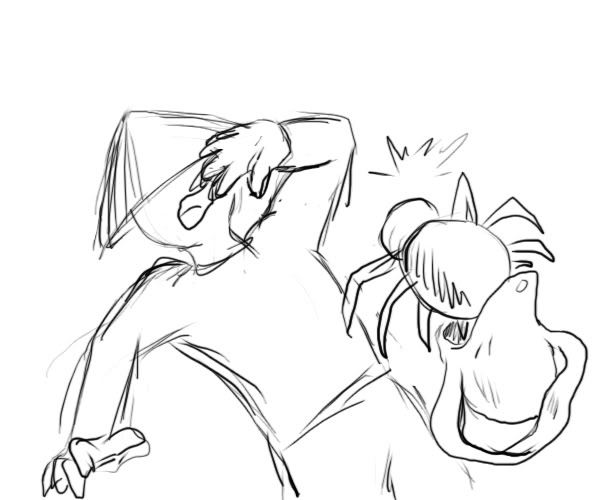 REMEMBERING YOUR BIRTHDAY FISHES, YOU OPEN YOUR B- WTF?!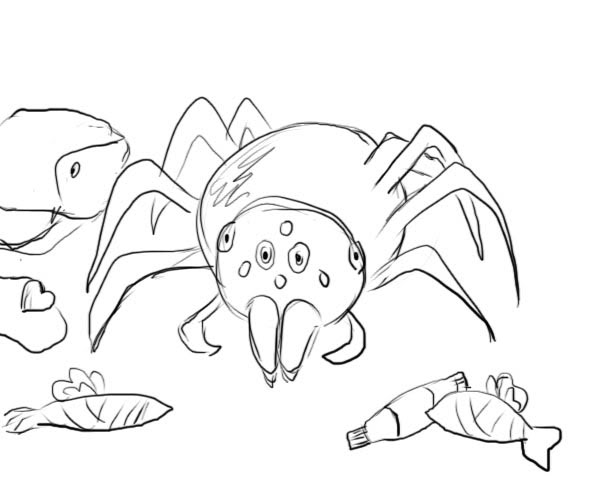 YOUR BAG GOES FLYING AS YOU ARE STARTLED BY A FUZZY BUSH SPIDER!
>
---
J Detan wrote:

>STAB STOMP SCREAM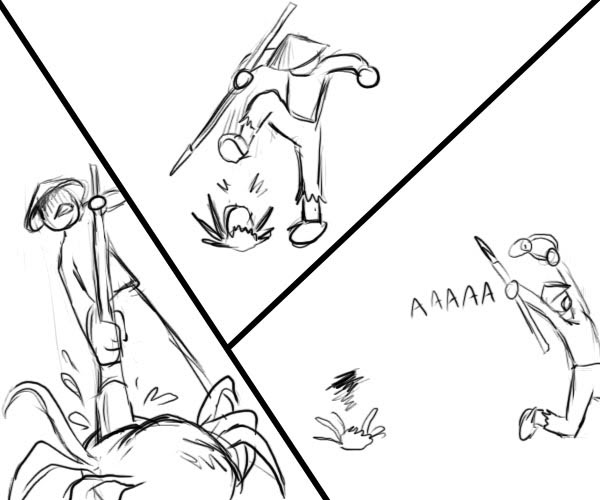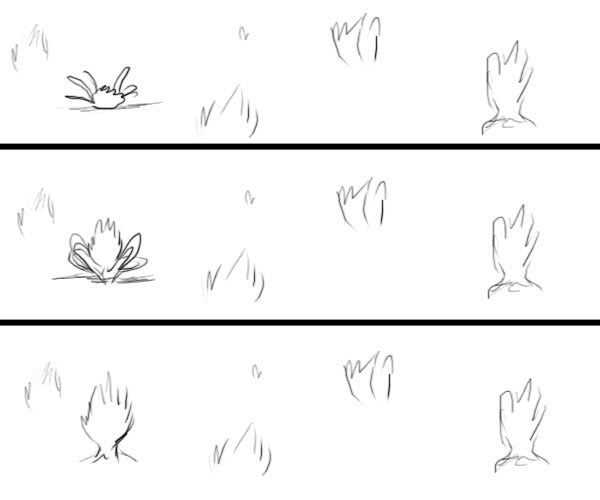 NOW, WHERE WERE WE?
>
---
Hanku wrote:

>make with the cooking of fishes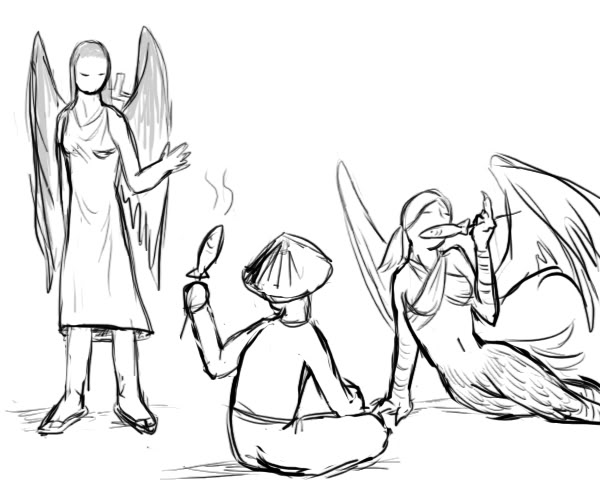 YOU FRY UP YOUR FISHES AND OFFER TO SHARE THEM WITH YOUR COMPANIONS WHO HAVE JUST WOKEN UP. CHELLING EAGERLY ACCEPTS WHILE DYMALKID DECLINES.
"YOURS AND CHELLING'S PAIN IS SUSTENANCE ENOUGH FOR ME." SHE EXPLAINS.
THE HARPY FLICKS A FISH BONE FROM HER TEETH. "WELL?" SHE CLAWS IMPATIENTLY AT THE EARTH. "ARE WE READY TO GO? OR IS THERE SOMETHING YOU STILL HAVE TO DO?"
>
---
Drumble wrote:

>Remove hat, check hair growth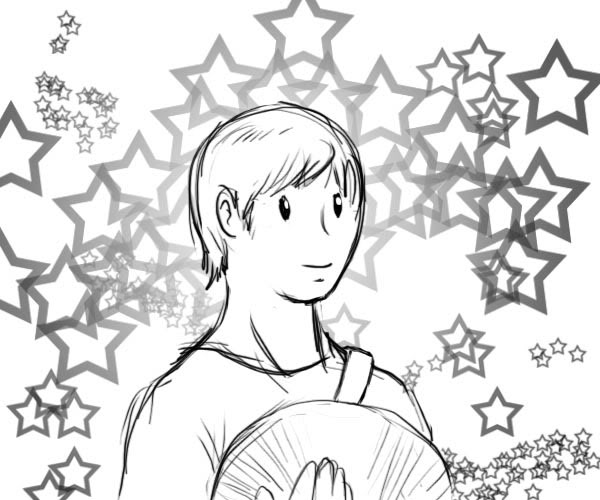 YOU TAKE OFF YOUR HAT FOR A MOMENT TO RUN YOUR FINGERS THROUGH YOUR NEW MOP OF HAIR. YOU LOOK RATHER DAPPER, IF YOU DO SAY SO YOURSELF.
Kyou wrote:

>Check spider bush, then set off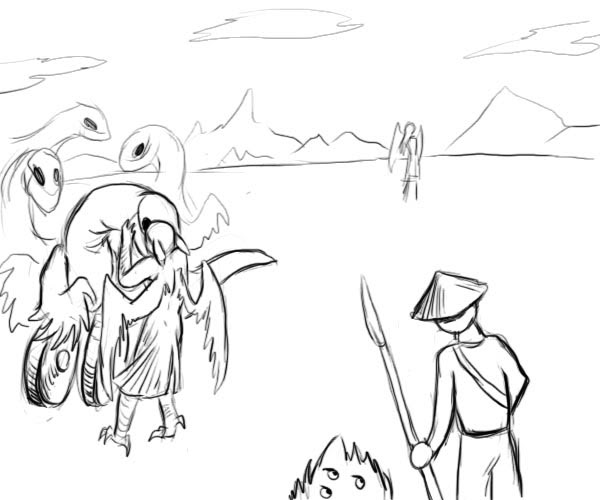 YOU GLARE SUSPICIOUSLY AT THE BUSH THAT MAGICALLY APPEARED WHERE YOU KILLED THE FUZZY BUSH SPIDER (DID IT JUST GLARE BACK?) AS YOUR COMPANIONS PREPARE TO LEAVE. CHELLING BIDS THE MOLEWORMS FAREWELL, FOR THEY WILL BE TRAVELING ELSEWHERE ON THE MAIN ROAD.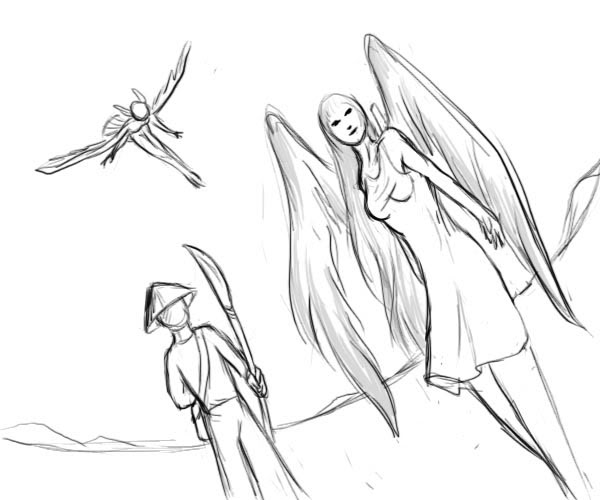 "WE WILL BE TAKING A SHORTCUT THROUGH THE TAR MANGROVES AND SLANTS." DYMALKID SAYS AS SHE WALKS BESIDE YOU, KEEPING YOU COMPANY RATHER THAN FLYING. "IT'S THE MOST STRAIGHTFORWARD WAY OF REACHING THE WAREHOUSE."
"MAYBE IT'S A SHORTCUT." CHELLING CALLS OUT FROM THE AIR. "BUT WE DON'T KNOW HOW MUCH IT'LL SLOW YOU DOWN ON FOOT."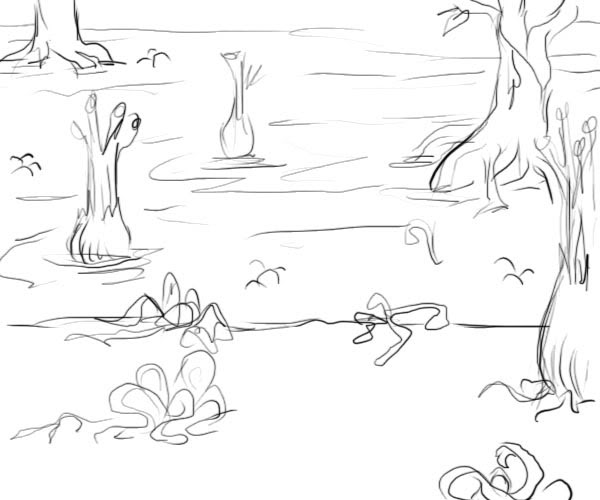 ONE LOOK AT THE TAR MANGROVES AND YOU CAN SEE HOW IT MIGHT TAKE YOU A LONG TIME TO CROSS. THE WATER, IF IT'S ACTUALLY WATER, IS THICK AND BLACK, WITH BUBBLES OF UNKNOWN GASES STRUGGLING TO BREAK ON THE SURFACE. MANGROVES AND LARGE MOULDS OCCASIONALLY RISE FROM THE SWAMP AND ARE THE ONLY PLANTLIFE CAPABLE OF GROWING IN THIS HARSH HABITAT. YOU CAN NOT TELL HOW DEEP THE SWAMP MIGHT GO.
"IT'S SAFE ENOUGH." DYMALKID REASSURES YOU, ALTHOUGH SHE WALKS ON TOP OF THE WATER.
SAFE MAYBE, BUT NOT PLEASANT.
>
---
PenguinSeph wrote:

>Ask if they could carry you across, making sure to secure items before you take off.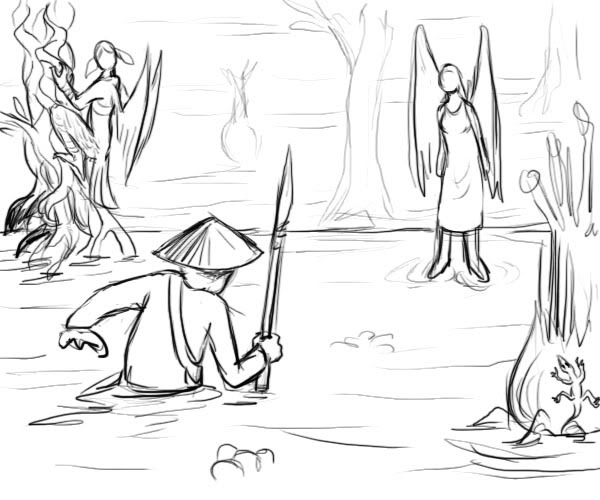 YOU ASK IF YOU CAN BE CARRIED ACROSS, BUT THEY SAY IT'S IMPOSSIBLE. EVEN IF YOU WEIGHED LESS, ANGELS AND HARPIES HAVE DIFFERENT FLYING PATTERNS AND CAN NOT FLY IN SYNC.
YOU BEGIN TO SLOWLY MAKE YOUR WAY THROUGH THE SWAMP. INSTEAD OF WALKING A STRAIGHT PATH, YOU ZIGZAG TO EACH NEAREST MANGROVE TREE WHERE THE WATER IS GUARANTEED TO BE SHALLOWER. YOU USE THE BUTT OF YOUR NAGANATA TO FIND SECURE FOOTING AND EVEN THEN YOUR FEET OFTEN SINKS BELOW THE SOFT MUD OF THE SWAMP FLOOR.
THE LADIES WAIT FOR YOU ALWAYS SLIGHTLY AHEAD. THEY ARE BEGINNING TO SHOW SIGNS OF IMPATIENCE AND YOU CAN'T HELP BUT WONDER IF THEY ARE HAVING SECOND THOUGHTS ABOUT YOU ACCOMPANYING THEM.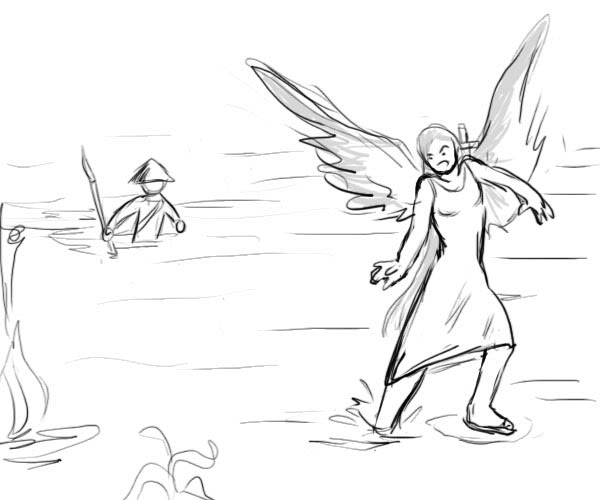 YOUR MUSCLES ARE BEGINNING TO BURN IN EXHAUSTION WHEN DYMAKID'S WINGS FLARE OUT AS IF SHE LOST HER BALANCE. YOU WONDER HOW SOMEONE CAN TRIP OVER WATER WHEN YOU SEE THAT ONE OF HER LEGS HAS BECOME PARTIALLY SUBMERGED.
>
---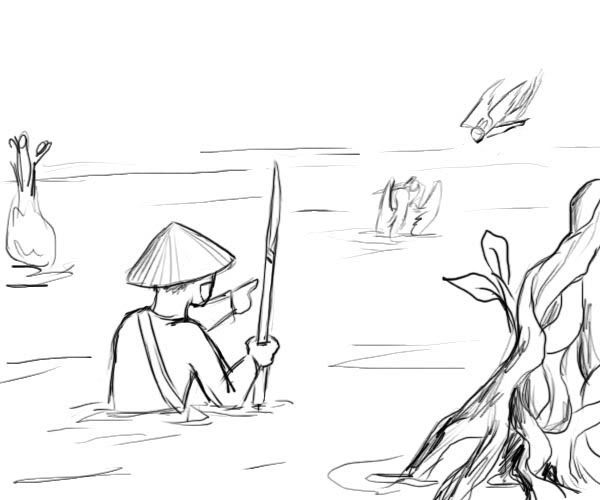 HA H-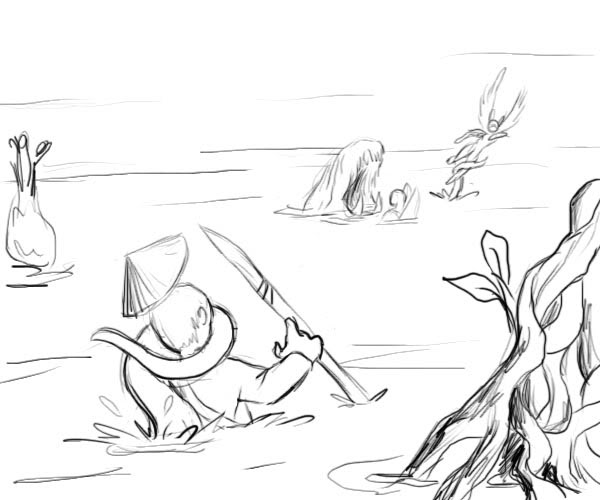 OH SH-
>
---
rayofash wrote:

>Stab it! ANYWHERE!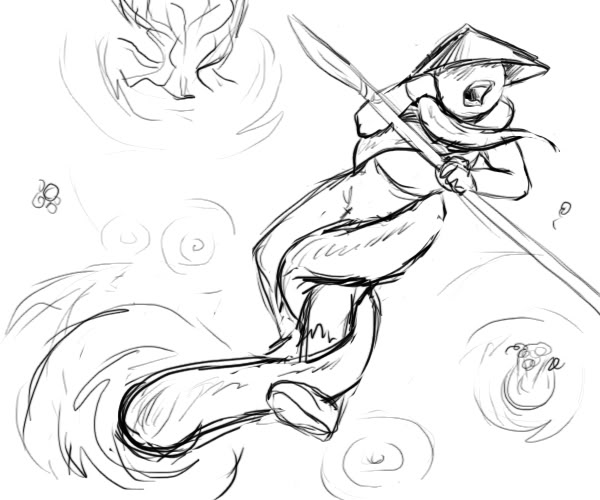 A THICK TENDRIL LIKE THE HAIRLESS TAIL OF A RAT WRAPS AROUND YOUR BODY, HOISTING YOU DOWN AND THEN UP. YOU STRUGGLE AND YELL, BUT IT IS MUTED BY CHELLING'S HARPY SCREAM THAT PIERCES YOUR EARS. YOU CAN NOT SEE WHAT IS HAPPENING TO HER OR DYMALKID.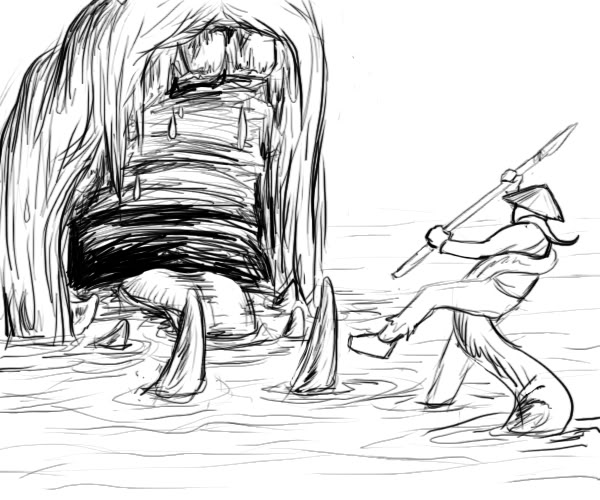 A CREATURE RISES FROM THE BLACK WATER, SO COVERED IN ALGAE THAT IT APPEARS TO BE A PART OF THE MIRE ITSELF. IT OPENS ITS GIGANTIC MAW LIKE A CAVE, THE TEETH SLATE AND STALAGMITES. YOU CAN HARDLY BREATHE WITH THE TENDRIL AROUND YOUR NECK BUT TO YOUR PANICKED RELIEF YOUR ARMS ARE FREE.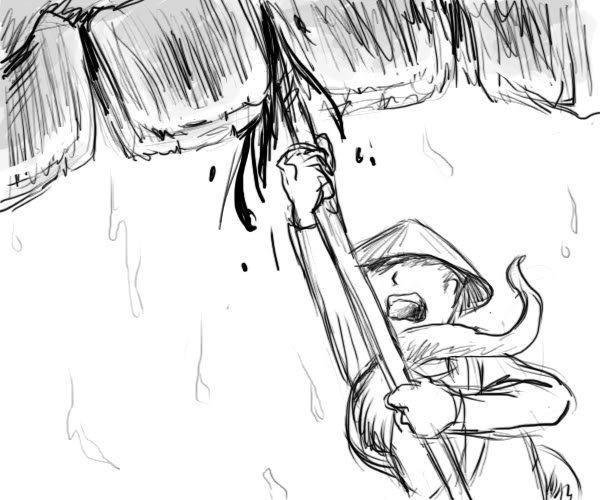 YOU WAIT FOR THE CREATURE TO BRING YOU TOWARDS ITS MOUTH. WHEN YOU ARE CLOSE ENOUGH, YOU JAB YOUR NAGANATA UPWARDS INTO THE FLESH BETWEEN THE TEETH, PRAYING THAT IT IS A SENSITIVE PART OF THE MONSTER'S BODY.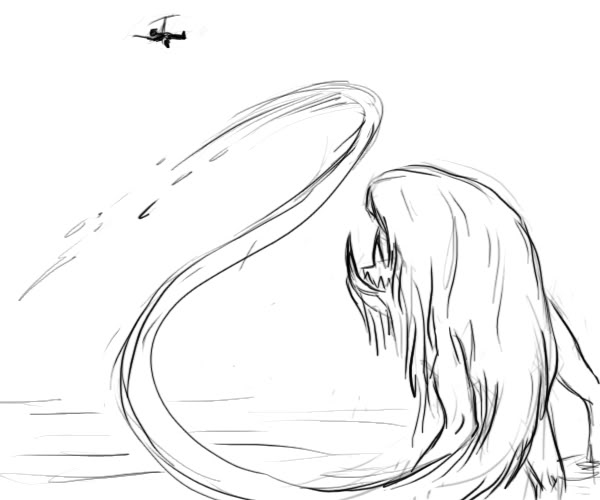 WITH A GROAN THAT SENDS VIBRATIONS DOWN YOUR ARMS THROUGH YOUR WEAPON, THE CREATURE YANKS YOU OUT AND FLINGS YOU AWAY.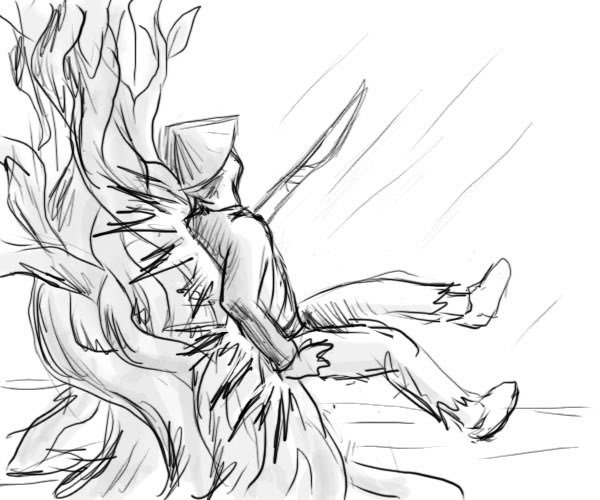 YOU STRIKE A MANGROVE TREE WITH SUCH FORCE THAT YOUR ENTIRE BODY LOSES ITS FEELING, ALTHOUGH YOU ARE CERTAIN THAT YOU WILL REGAIN IT IN TIME. WHEN YOU DO, EVERY CELL IS IN AN EQUAL AMOUNT OF PAIN. AND BECAUSE OF THAT YOU BELIEVE NOTHING IS BROKEN.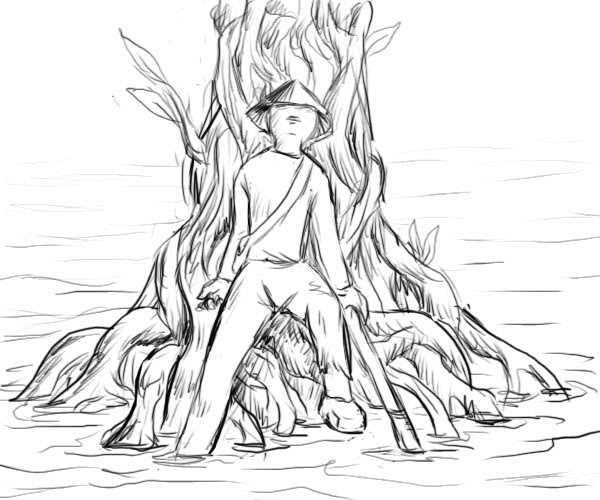 ALTHOUGH YOU STRAIN TO HEAR ANY SOUND OF DYMALKID AND CHELLING'S STRUGGLE, WHAT YOU HEAR IS FAINT AND YOU CAN NOT PLACE ITS DIRECTION. EVENTUALLY THE SOUNDS FADE. YOU ARE DISORIENTED AND DO NOT HAVE THE SLIGHTEST IDEA WHERE YOU ARE IN THE TAR MANGROVES. WHICH WAY WILL LEAD TO THE OPEN PLAINS? WHICH WAY WILL TAKE YOU DEEPER INTO THE SWAMP? YOU NEED A MOMENT TO REST. YOU ARE GRATEFUL FOR EVERY RASPING BREATH YOU ARE ABLE TO TAKE.
>
---
Furu wrote:

>Rest, then go look for the girls ASAP. Logic dictates that if it threw us into the front of a tree, we should find where we were by just going straight.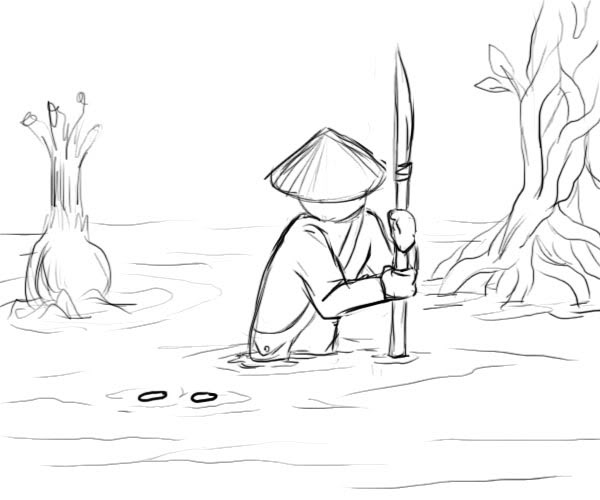 STRUGGLING ONTO YOUR FEET AS SOON AS YOUR LEGS CAN HOLD YOUR WEIGHT, YOU ATTEMPT TO FIND YOUR COMRADES IN ORDER TO HELP THEM, OR AT LEAST ACERTAIN THEIR FATE. YOU FIND WHAT YOU THINK IS THE LOCATION OF THEIR BATTLE JUDGING BY THE BROKEN PLANTS AND WATERS STILL YELLOWISH FROM CHURNED MUD.
YOU FIND SOME CURIOUS ITEMS: TWO CIRCLES LIKE CROSS-SECTIONS OF STRETCHY TUBING. YOU PUT THEM IN YOUR BAG. OTHER THAN THAT, THERE ARE NO SIGNS OF YOUR FRIENDS.
>
---
rayofash wrote:

>Use our naginata to search around for the bodies.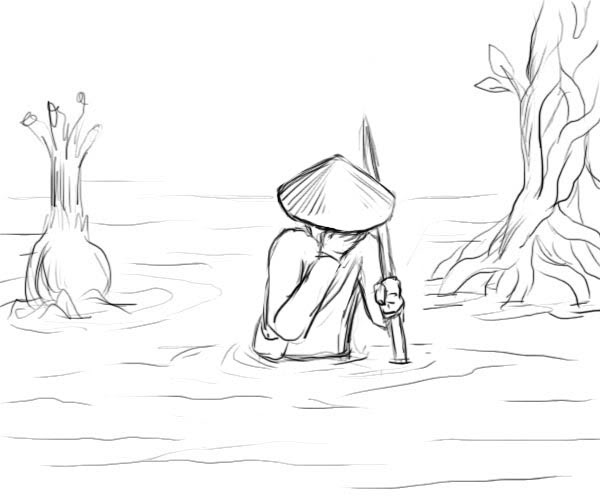 YOU WANT TO SEARCH FOR THEIR BODIES, BUT REALIZE IT IS A LOST CAUSE. IF THEY ARE DEAD, THEY WOULD HAVE BEEN EATEN.
>
---
Lavaknight wrote:

>Continue across the swamp in the direction of the Genetics laboratory while searching for either of the surviving companions. Maybe the answers you seek will be found at the lab, and they might have genetic material of Dymalkid with which a clone may be fashioned.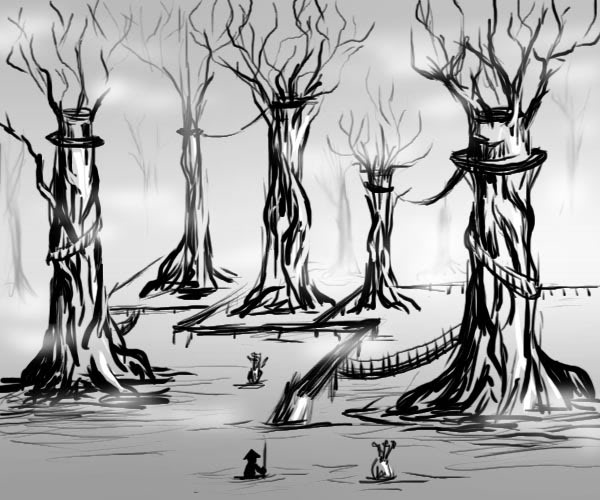 YOU DECIDE TO CONTINUE IN THE DIRECTION OF THE GENETICS WAREHOUSE HOPING THAT ANY OF YOUR SURVIVING COMPANIONS WILL BE HEADED THE SAME WAY. YOU DO NOT GET FAR BEFORE A FOG RISES AND ENSHROUDS THE SWAMP, LEECHING AROUND THE MANGROVES. WHAT YOU COME AROSS NEXT SEEMS TO APPEAR JUST AS MAGICALLY: AN OLD BOARDWALK. YOU SQUINT INTO THE MIST AND MAKE OUT THE HAZY FORMS OF ROPE BRIDGES AND DILAPIDATED DWELLINGS CARVED INTO THE TRUNKS OF ANCIENT MANGROVES.
>
Go back to Storytime of Epicness