J Detan wrote:

>Find a baby cocatrice and kick it in the head.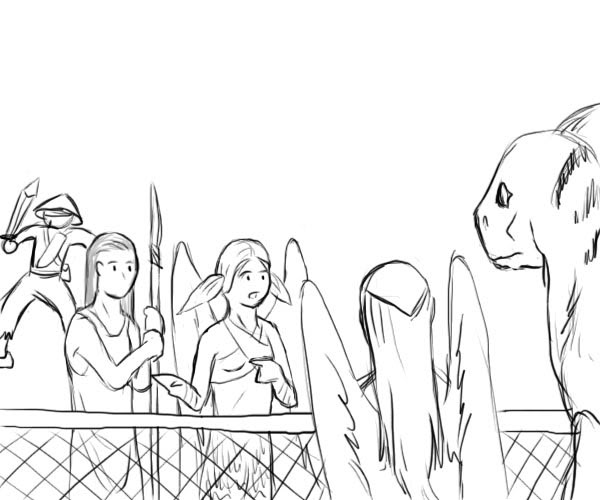 AS THEY ARE YOUR MORTAL ENEMIES, YOU LOOK AROUND FRANTICALLY FOR ANY BABY COCKATRICE YOU CAN KILL. MEANWHILE, CHELLING AND DYMALKID GO TO SPEAK TO THE PEOPLE IN THE LOW MESH PEN.
"'ELLO" CHELLING SAYS. "MY FRIEND HERE HAS BEEN INJURED AND SHE HAS A HARD TIME WALKING. COULD YOU CARRY HER TO THE INFIRMERY?"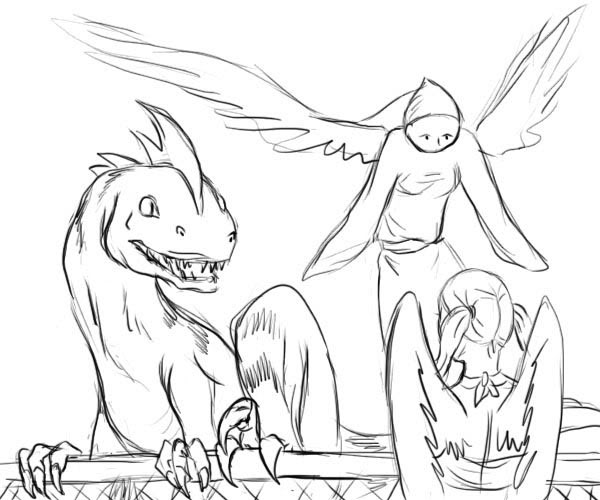 "YES." THE VELOCINDER SAYS AND CLIMBS OVER THE WIRE FENCE. THE WHITE ANGEL FLIES OVER AND THE FOUR OF THEM HEAD OFF TOWARDS THE MAIN FACILITY.
>
---
Trame wrote:

>Walk along with Dymalkid and Chelling and ask if the Genetics Warehouse has some sort of mass holding pen for baby cockatrices. You know, out of curiosity. Or goodwill. You're interested in making sure the species doesn't go extinct. Yeah.
>Keep referring to the Velocinder as "Yoshi" and pretend to not hear anyone who tries to correct you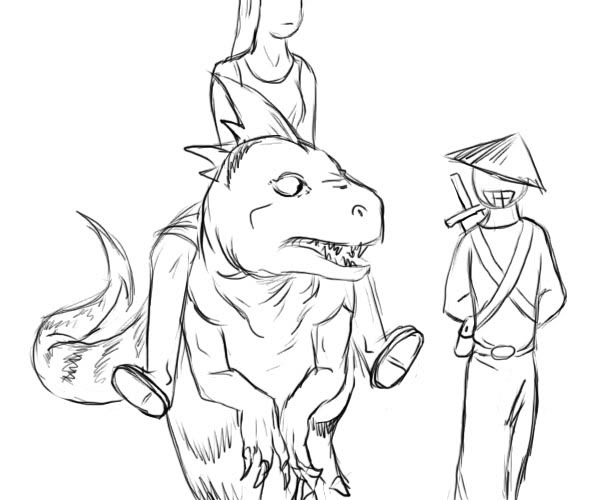 "SO YOSHI," YOU SAY TO THE VELOCINDER AS YOU WALK ALONGSIDE HIM. "WHAT SORT OF 'GENETICS' DOES THIS WAREHOUSE STORE?"
"HEERRMM. IT'S MOSTLY A TRAINING GROUND FOR BEASTS THAT NEED TO BE TAMED." HE SAYS. "THERE ARE ALSO FACILITIES FOR LIFE-SEWING AND IN VITRO GESTATION. ARTISIANS LIKE TO COME HERE AND TRY THEIR HAND AT CREATING NEW SPECIES. SOMETIMES LORD PETRANOIA HAS SOME OF HER OWN DESIGNS OUTSOURCED HERE."
"THERE WOULDN'T BE ANY COCKATRICE AROUND HERE, WOULD THERE?" YOU ASK SLYLY.
"HEERRMM. MAYBE ONE OR TWO. I THINK BEASTMASTER OWES HAS ONE FROM WHEN HE WAS FIGHTING IN THE LAST APOCALYPSE."
>
---
Ichnob wrote:

>Ask Yoshi how he feels about cockatrices before you try anything. Don't want to piss off something that could eat you.
>Also, ask if Yoshi is a carnivore, specifically if he eats humans.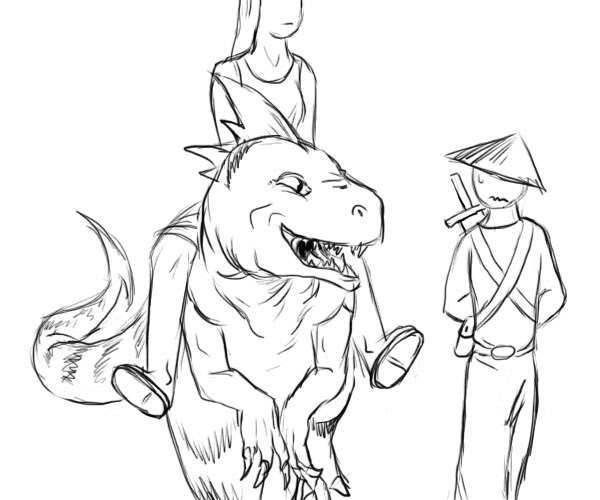 YOU ASK YOSHI HOW HE FEELS ABOUT COCKATRICES.
"I'VE NEVER SEEN THEM UP CLOSE," HE SAYS. "BUT YOU KNOW WHAT I HEARD? I HEARD THEY WERE CREATED THROUGH THE INCESTUOUS UNION OF LORD ROCLIONESS AND CERLIONESS. THE MATING OF EARTH AND SKY."
YOU ASK THE VELOCINDER IF HE'S A CARNIVORE AND IF HE EATS HUMANS.
"LOOK AT THESE TEETH." YOSHI SAYS, GIVING YOU A SMILE. "DO I LOOK LIKE ANYTHING BUT A CARNIVORE? BUT I HAVEN'T EATEN A HUMAN BEFORE. THERE AREN'T MANY OF THOSE AROUND THESE DAYS."
>
---
Kyou wrote:

>Check hair as you walk. If long, toss around like a girl.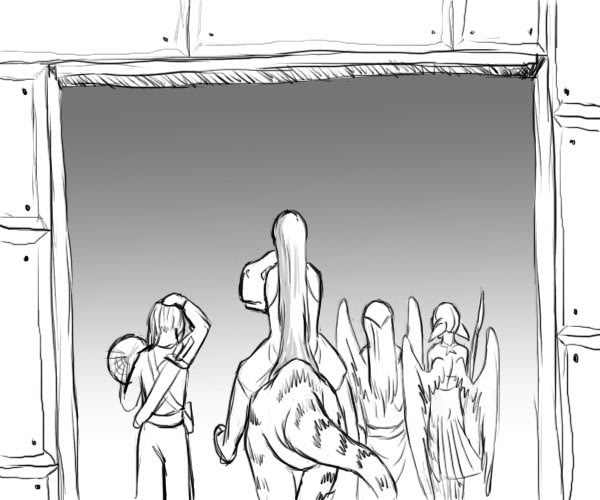 BEFORE YOU ENTER THE MAIN BUILDING, YOU TAKE A MOMENT TO RUN YOUR HANDS THROUGH YOUR NOW-LONGISH HAIR BEFORE STUFFING IT BACK INTO YOUR HAT.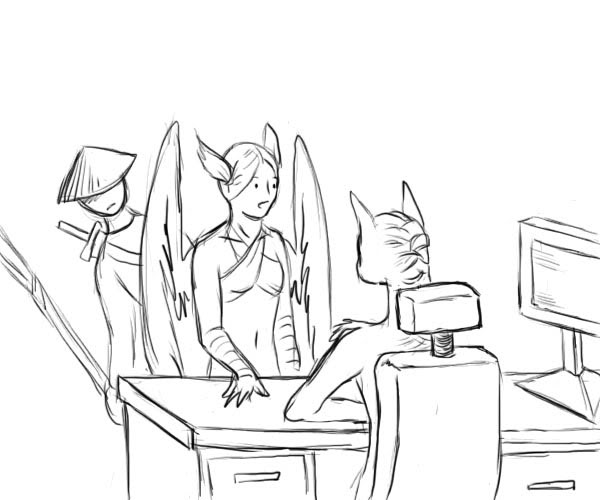 THE VELOCINDER AND THE ANGELS TROT TO THE INFIRMERY. YOU FOLLOW CHELLING TO THE RECEPTIONIST'S DESK.
"HI." CHELLING SAYS. "I AM CHELLING, CORAYS HARPY UNDER HOIC LADY LITTIE AND HOIC SIR VANCE UNDER VICHEY MASTER SHEER. BEASTMASTER OWES SUMMONED ME HERE FOR MY EGG. I THINK THERE ARE TWO DAYS UNTIL OVULATION."
"WE WERE EXPECTING YOU." THE RECEPTIONIST SAYS. "WE HAVE A ROOM FOR YOU ON THE CLIFFSIDE. HERE IS YOUR KEY." SHE GIVES CHELLING A KEYCARD.
"HEY TENO." CHELLING TURNS TO YOU. "I HAVE A FREE ROOM SINCE I WAS INVITED HERE, BUT YOU HAVE TO PAY FOR YOUR OWN. IT'S LATE, YOU MIGHT WANT TO REST OR SOMETHING. OH, HERE'S YOUR WEAPON. I'M GOING TO SLEEP NOW." SHE HANDS YOU YOUR NAGANATA AND FLIES OFF.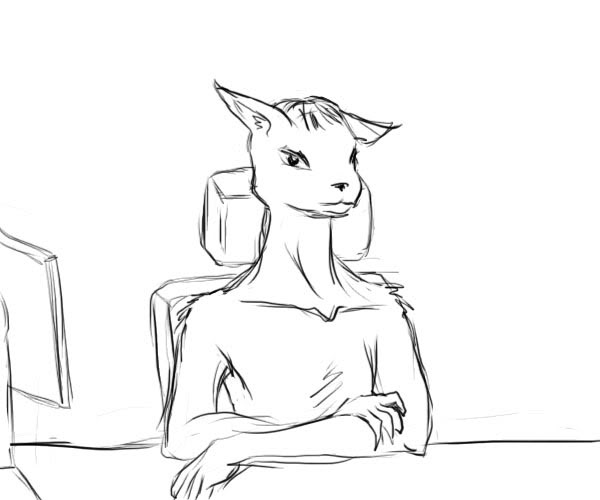 YOU ARE NOW FACING THE MAEROAN RECEPTIONIST.
>
---
Lanz wrote:

>"How much are rooms?"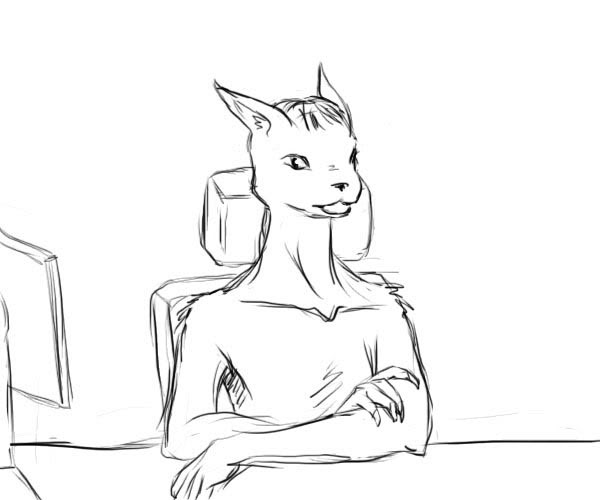 YOU ASK HOW MUCH A ROOM COSTS.
"THEY START AT 50 UNITS A NIGHT." THE RECEPTIONIST REPLIES IN A LIGHT PURR. "BUT SINCE IT'S THE MIDDLE OF THE NIGHT, I SUPPOSE I CAN GIVE YOU ONE HALF-PRICE FOR NOW, IF YOU WANT."
>
---
Kyou wrote:

>Say "I'LL TAKE THE ROOM" in an overly dramatic fashion, pause, then set 25 credits on the table politely.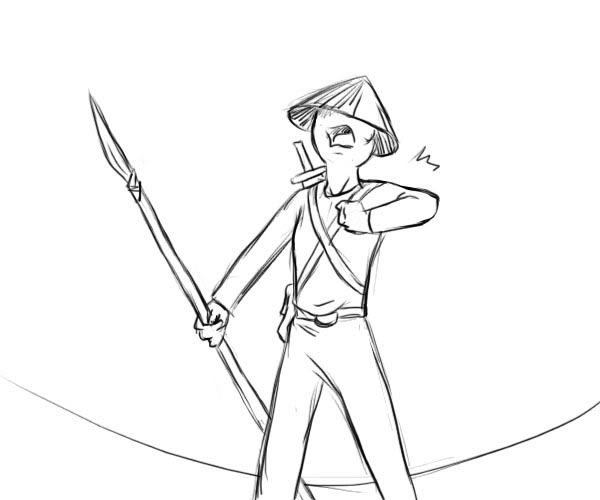 YOU STRIKE A DRAMATIC POSE AND SAY "I'LL TAKE THE ROOM!"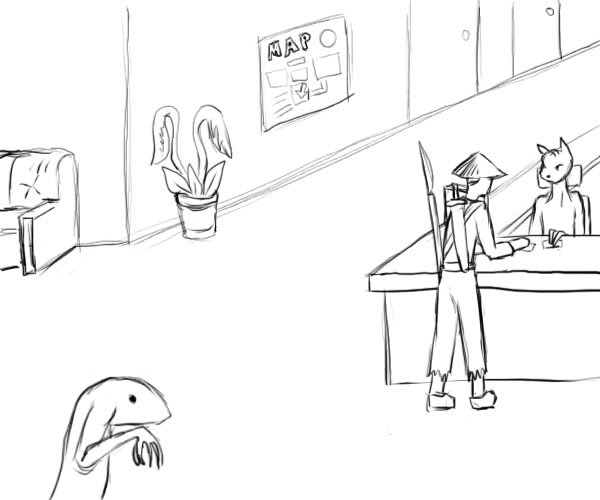 THE RECEPTIONIST LOOKS AT YOU MILDLY. YOU MEEKLY PLACE 25 CREDITS ON THE TABLE AND SHE GIVES YOU A KEYCARD IN EXCHANGE.
>
---
rayofash wrote:

>Check out the room.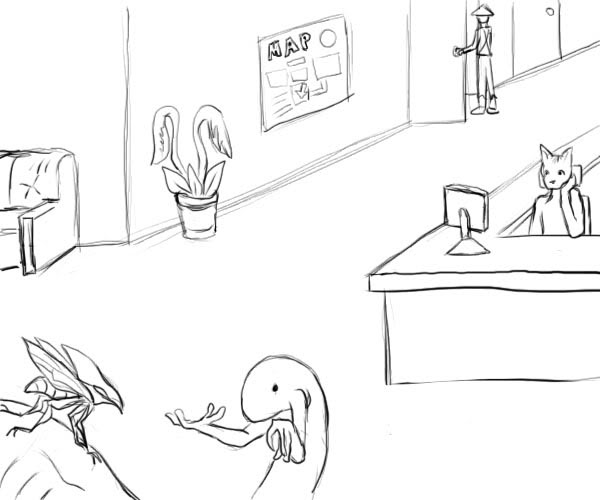 YOU WALK A FEW STEPS DOWN THE HALL TO YOUR ROOM.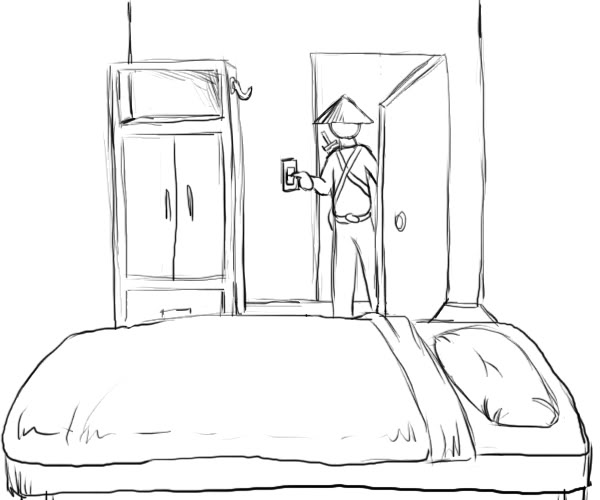 IT IS A VERY SMALL ROOM WITH NO BATHROOM, ONLY AN EMPTY CLOSET AND A BED. BUT IT IS CLEAN AND THE BED IS SOFT. YOU STIFLE A YAWN AND THINK THAT YOU CAN GET A BETTER LOOK AROUND THE AREA ONCE YOU GET SOME REST.
SLEEP NOW? [Y/N]
>
---
rayofash wrote:

>Y, also, dream about the future. Or better yet, the past.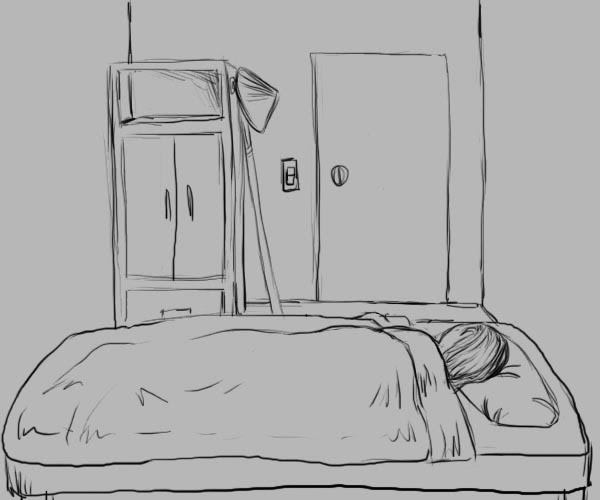 YOU DECIDE TO GO TO SLEEP. PLEASANT DREAMS.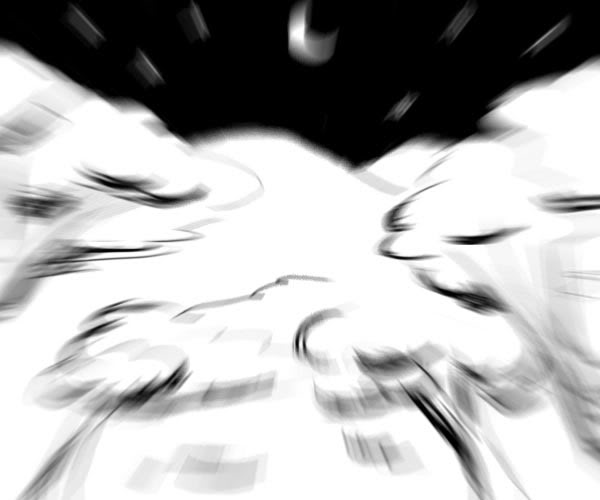 YOU DREAM ABOUT TREES.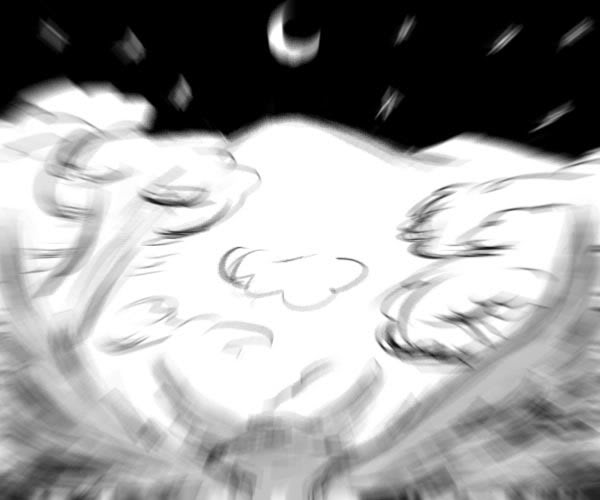 YOU DREAM ABOUT WINGS.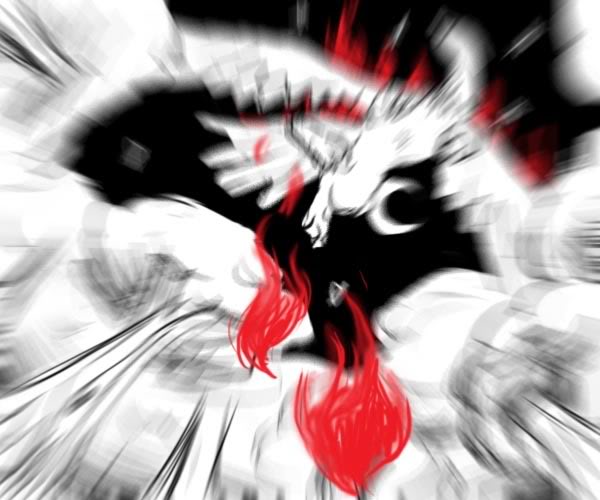 YOU DREAM ABOUT FIRE.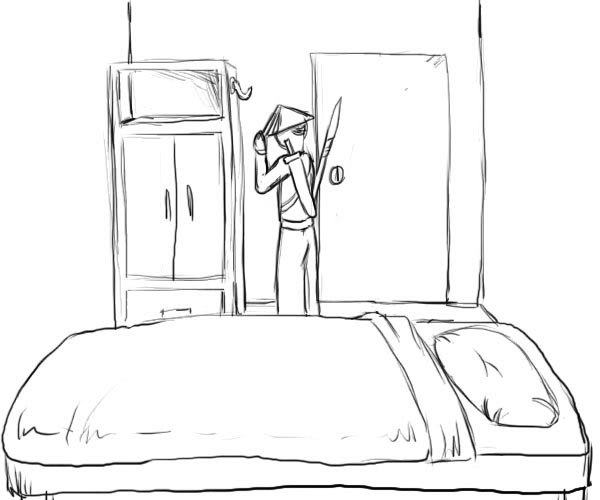 YOU WAKE UP IN THE MORNING REFRESHED FROM THE COMFORTABLE BED, WHICH IS A WELCOME CHANGE FROM THE DAYS OF SLEEPING IN THE WILDERNESS.
>
Go back to Storytime of Epicness