Hanku wrote:

>obligatory hot-springs scene time!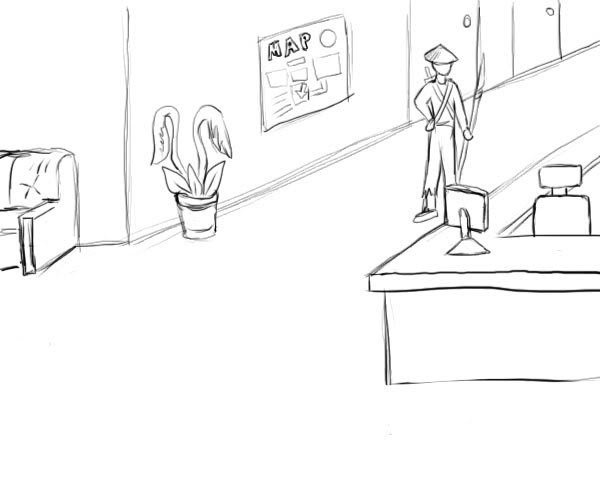 YOU LEAVE YOUR ROOM TO A MOSTLY-EMPTY LOBBY. YOU ARE NOT SURE WHERE TO GO. THE THOUGHT OF A BATH IS TANTILIZING, BUT IS THERE EVEN A HOT-SPRINGS HERE?
>
---
Sosuke wrote:

>Look at the map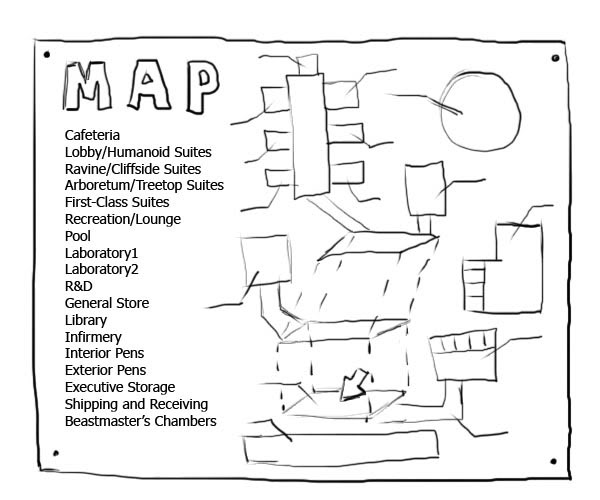 YOU TAKE A LOOK AT THE MAP TO FAMILIARIZE YOURSELF WITH THE SURROUNDING AREA.
>
---
Hanku wrote:

>cafeteria then store. we need new pants.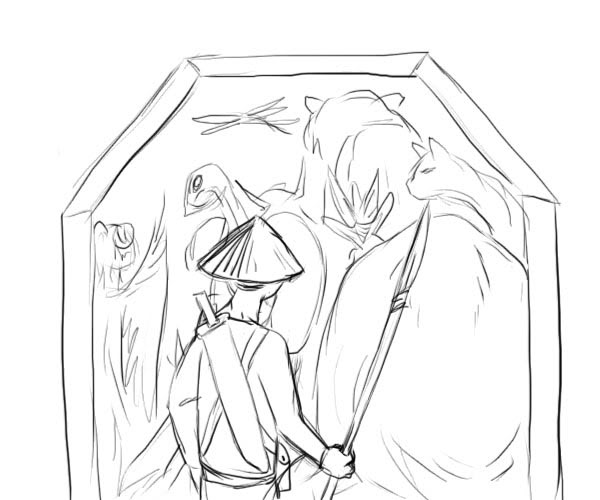 YOU ARE FEELING A BIT HUNGRY, SO YOU DECIDE TO GO TO THE CAFETERIA FIRST. APPARENTLY THIS IS WHERE EVERYONE HAS DISAPPEARED TO. THE PLACE IS PACKED. YOU MIGHT WANT TO COME BACK LATER AS YOU ARE NOT YET STARVING TO DEATH, OR YOU CAN CHOOSE TO BRAVE THE CROWDS.
>
---
Behemoth wrote:

>check out the store.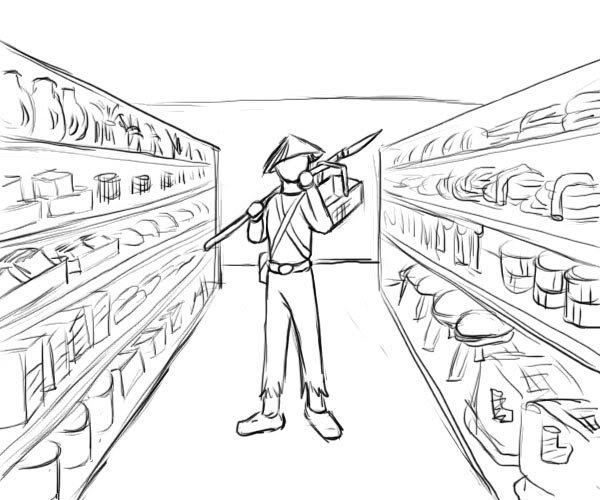 YOU DECIDE THAT IT'S TOO MUCH OF A HASSLE TO FIGHT THROUGH THE STARVING CROWDS AT THE MOMENT SO YOU GO CHECK OUT THE GENERAL STORE. THE STORE IS UNEXPECTEDLY LARGE AND WELL-SUPPLIED WITH A VARIETY OF HOUSEHOLD ITEMS. IT IS THE ONLY STORE IN THE AREA AND IT HAS TO SUPPLY THE SMALL COMMUNITY OF THE GENETICS WAREHOUSE. THE SHEER AMOUNT OF ITEMS IS A BIT DAUNTING FOR YOU TO LOOK THROUGH.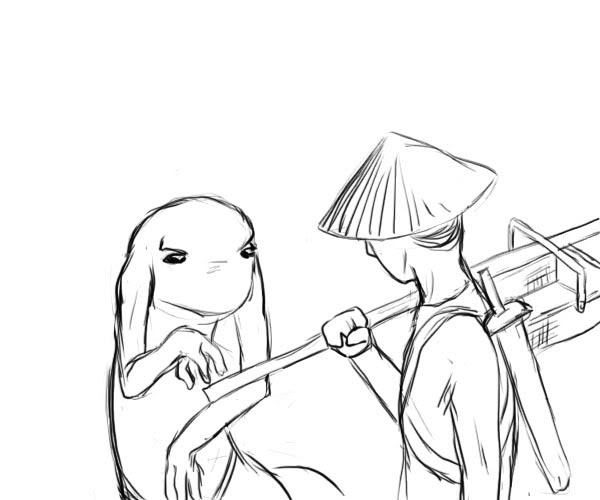 "YOU WELL." SOMEONE GREETS YOU. LUCKILY, IT IS A STORE EMPLOYEE. "IS NOT IS I CAN HELP YOU?" THE VLEES INDIVIDUAL SAYS. "IS NOT IS SPECIFIC THING YOU ARE FIND?"
BECAUSE YOU HAVE A LIMITED AMOUNT OF MONEY AND SPACE TO CARRY THINGS, YOU CHOOSE WHAT YOU WANT TO BUY CAREFULLY.
>
---
J Detan wrote:

>'I IS LOOKING FOR NOT QUICK ROT FOOD FOR LAST LONG EATING GOOD LONG TIME HAPPY FOOD STUFF FOR EATING.

ALSO PANTS."

(I'm looking non-perishble foods and pants, horrid godless worm-creature.)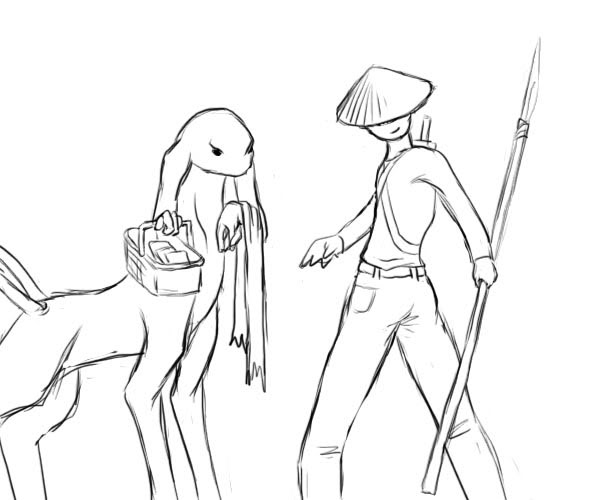 YOU ASK FOR PRESERVED FOOD ITEMS AND NEW PANTS IN WHAT YOU HOPE IS A VLEES-LIKE DIALECT. IF THE VLEES NOTICES YOU ARE MAKING FUN OF HER, SHE DOESN'T ACT LIKE IT. SHE BRINGS YOU A PAIR OF DENIMS WITH POCKETS WHICH FIT YOU PERFECTLY AND THREE DAYS WORTH OF PROTIEN-CHITIN FREEZE DRIED DIET, WHICH IS ALL YOUR BAG CAN FIT. THE EMPLOYEE EVEN OFFERS TO THROW AWAY YOUR OLD PANTS.
YOU ARE NOW DOWN TO 74 UNITS.
>
---
J Detan wrote:

>New pants, lots of food... one thing to do.

STRUT.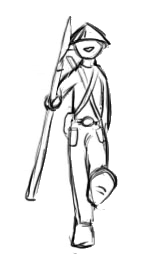 Drumble wrote:

>Check to see if the cafeteria is still crowded while keeping an eye out for the girls.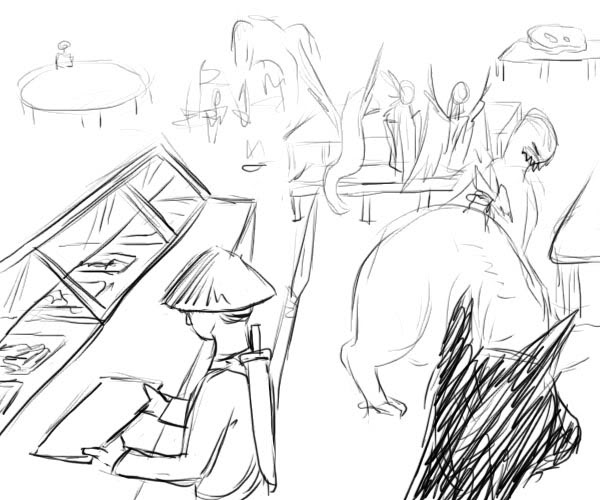 YOU STRUT ON DOWN TO THE CAFETERIA TO SEE IF THE CROWDS HAVE THINNED A BIT. MOST OF THE PEOPLE THERE HAVE FOUND THEIR SEATS, LEAVING THE BUFFET AREA OPEN. ALL MEALS COST 14 UNITS. YOU PAY AND SELECT A GENEROUS SERVING OF LOBSTER SLATHERED WITH BUTTERY CREAM SAUCE. THE TABLES ARE ALMOST COMPLETELY OCCUPIED EXCEPT FOR A ROUND TABLE WHERE A SINGLE MAN IS SITTING AND ANOTHER TABLE OCCUPIED BY A BIG SLAB OF MEAT.
>
---
jarbornza wrote:

>Go say hi to the slab of meat, and sit down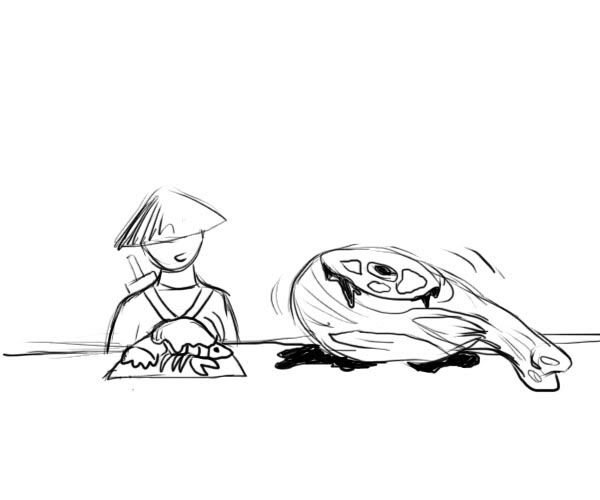 YOU SIT BESIDE THE BIG SLAB OF QUIVERING MEAT.
"HELLO," YOU SAY.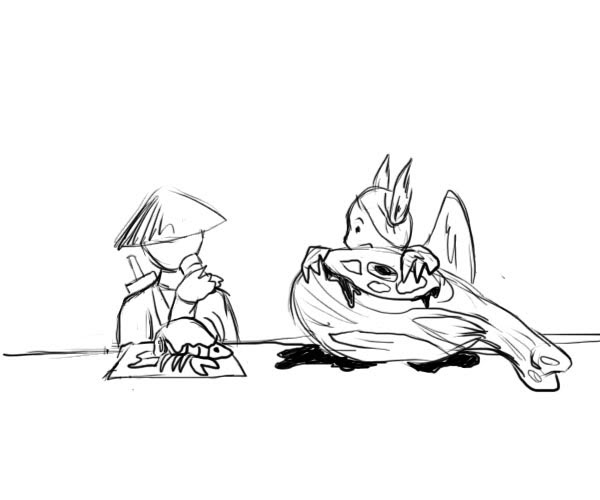 "TENO!" CHELLING SAYS FROM BEHIND THE MEAT. SHE LOOKS CONDESCENDINGLY AT YOUR LOBSTER. "OH, YOU ALREADY PAID? YOU SHOULD HAVE COME TO FIND ME EARLIER. WE COULD HAVE SHARED. I GET ALL MY FOOD FREE. ISN'T IT GREAT? AND I GET MY OWN TABLE. NO ONE WANTS TO GET TOO CLOSE TO A GRAVID HARPY."
>
---
Lanz wrote:

>"why doesn't anyone want to be near a harpy who's distended with eggs"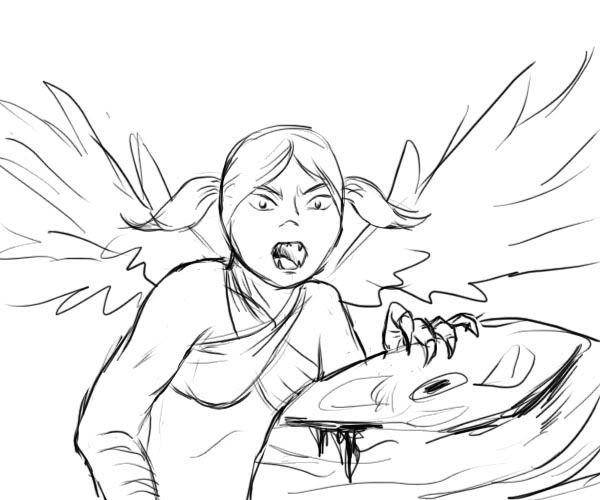 YOU ASK CHELLING WHY DOESN'T ANYONE WANT TO BE NEAR A HARPY WHO'S DISTENDED WITH EGGS.
"OH," CHELLING TWIRLS A PONYTAIL. "THE STEREOTYPE IS THAT HARPIES TEND TO GET A LITTLE CRAZY BEFORE LAYING. WAIT." CHELLING FLARES HER WINGS AT YOU, HER PUPILS DILATING. "DID YOU JUST CALL ME FAT??"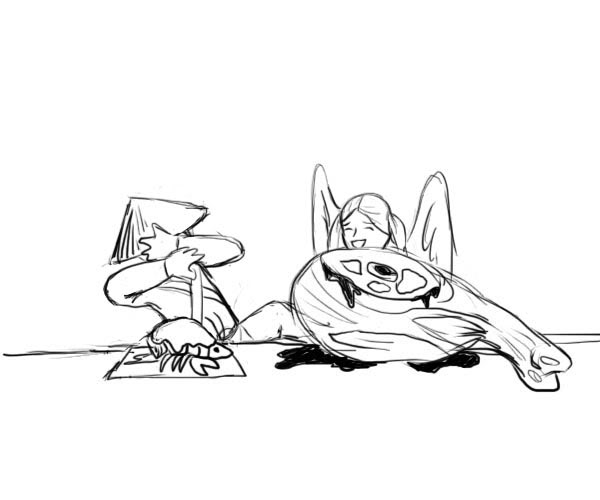 SHE FOLDS HER WINGS WITH CONSIDERABLE EFFORT. "NO, N-NO..." SHE SAYS. "CRAZY, HA HA. I WAS JUST JOKING."
LATER, WHEN YOU ARE BOTH FINISHED YOUR MEALS, CHELLING ASKS IF YOU WANT TO GO VISIT DYMALKID.
>
---
FZeroRacer wrote:

>Fat? I never said that you were fat.
fatty.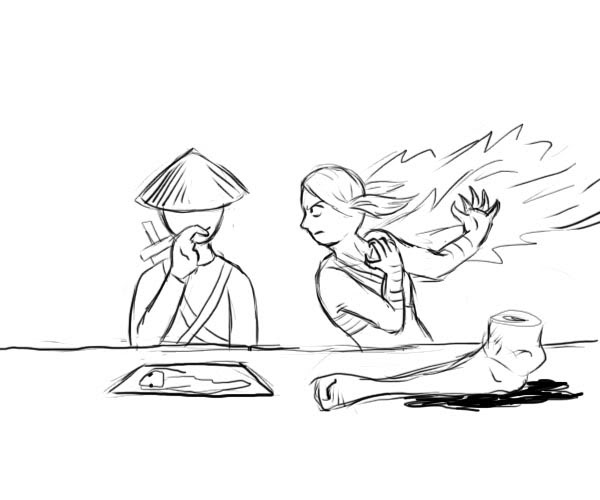 YOU REASSURE CHELLING THAT YOU NEVER CALLED HER FAT, BUT YOU CAN'T RESIST ADDING A SMALL COMMENT UNDER YOUR BREATH.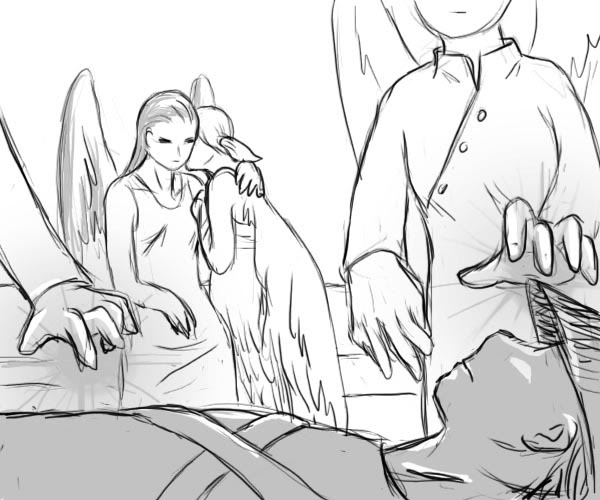 YOU WAKE UP LYING ON A BED. YOU THINK YOU ARE IN THE INFIRMERY JUDGING BY THE WHITE ANGEL HEALERS STANDING OVER YOU, BUT YOU HAVE NO RECOLLECTION AS TO HOW YOU GOT THERE. FROM THE CORNER OF YOUR EYE, YOU SEE DYMALKID AND CHELLING SITTING ON A NEARBY BED.
"YOU HAVE LIVED IN THE PINNACLE SPIRES BEFORE." DYMALKID SAYS TO YOU TERSELY. "YOU SHOULD KNOW BETTER THAN TO TEASE A HARPY WHEN SHE'S THIS DEEP IN ESTROUS."
"YOU'RE MEAN!" CHELLING CRIES.
"CHELLING. APOLOGIZE." DYMALKID DEMANDS.
"I'MM SRORMMPH." CHELLING MUMBLES INTO DYMALKID'S HAIR.
>
---
PenguinSeph wrote:

>Doc, how bad is it?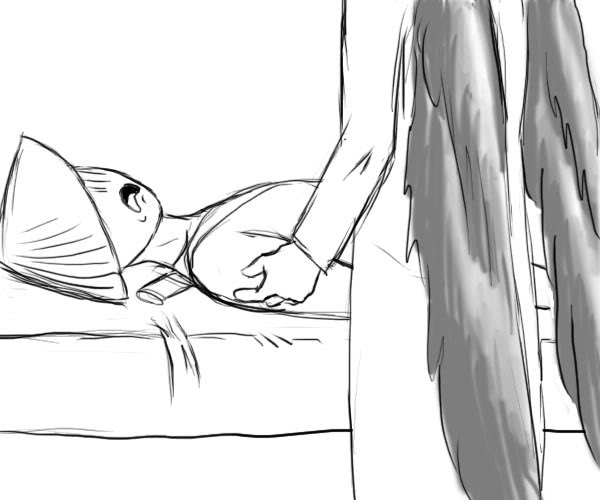 YOU ASK THE HEALERS WHAT WAS THE EXTENT OF YOUR INJURIES. THE WHITE ANGELS WILL NOT TALK TO YOU, BUT A DARK ANGEL ASSISTANT COMES AND TELLS YOU WHAT DAMAGES YOU HAVE SUSTAINED.
"YOU HAD FOUR BROKEN RIBS, A PUNCTURED LUNG, ARTERIAL BLEEDING FROM YOUR LEGS AND NECK, TWO BROKEN FINGERS AND YOU WERE MISSING A KIDNEY AND AN EYE." HE LETS THAT ALL SINK IN FOR A MOMENT BEFORE HE SIGHS IN SATISFACTION. HE SMILES AT YOU. "BUT YOU ARE COMPLETELY HEALED NOW. AND YOUR FRIENDS HAVE REPLACED YOUR TORN AND BLOODIED CLOTHES FOR YOU."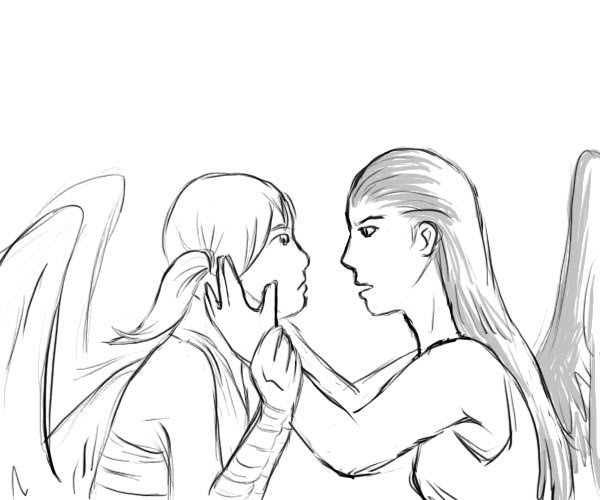 YOU LOOK AT CHELLING AND DYMALKID. THEY ARE HAVING A SERIOUS CONVERSATION WITH EACH OTHER.
"I HAVE SCHEDULED AN AUDIENCE WITH THE BEASTMASTER LATER TONIGHT." DYMALKID SAYS. "I'M BEGGING YOU CHELLING, TRY TO KEEP YOURSELF UNDER CONTROL. THE MASTER'S PATIENCE FOR YOU IS ALREADY DANGEROUSLY THIN."
"NHMMM." CHELLING WHINES, STRUGGLING WEAKLY AGAINST DYMALKID'S GRIP.
>
---
rayofash wrote:

>Perhaps it's best we leave Chelling alone for a while. Let's check out more of the place.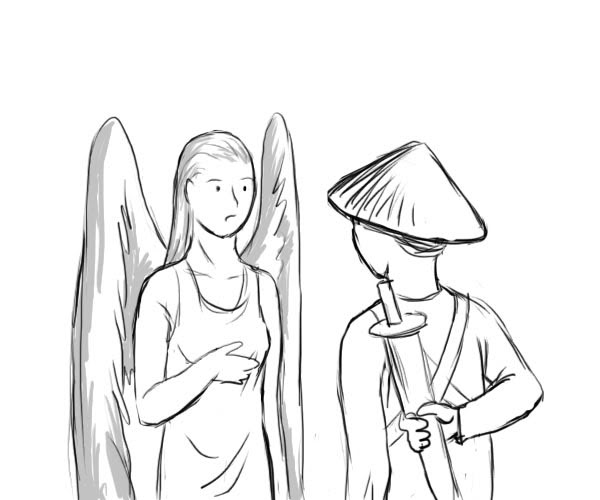 YOU SLOWLY RISE TO YOUR FEET AND CHECK TO MAKE SURE EVERYTHING IS IN WORKING ORDER.
"ARE YOU GOING, TENO?" DYMALKID ASKS. "HOW DO YOU FEEL?"
YOU ARE FEELING SURPRISINGLY WELL, CONSIDERING WHAT YOU WENT THROUGH IN THE PAST COUPLE OF HOURS. YOU HAVE EVEN BEEN CLEANED UP AND HAVE NEW CLOTHES.
DYMALKID SEEMS COMFORTED TO KNOW YOU ARE WELL. "I AM GOING TO THE LIBRARY FOR SOME TIME." SHE GLANCES AT CHELLING. "AND I TOLD CHELLING TO STAY IN HER ROOM UNTIL WE HAVE TO MEET THE BEASTMASTER. YOU SHOULD COME WITH US AND INTRODUCE YOURSELF TO HIM LATER. HE LIKES TO KNOW WHO IS COMING AND GOING IN HIS WAREHOUSE."
YOU GIVE DYMALKID BACK HER SWORD AND WONDER WHERE YOU SHOULD GO TO PASS THE TIME.
>
---
ShineSpark wrote:

>Walk with Dymalkid to the library.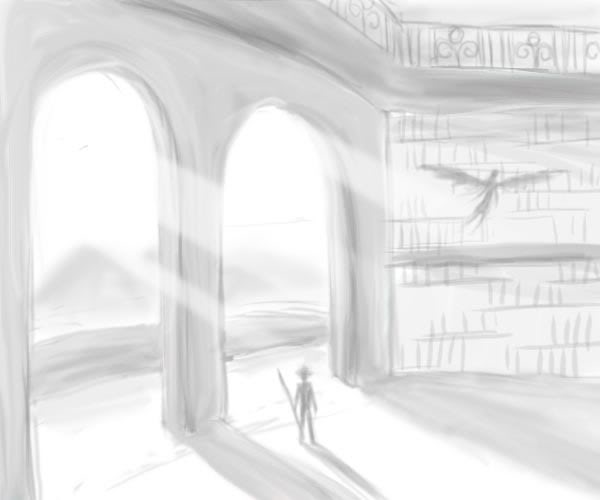 FOR A LACK OF ANYTHING BETTER TO DO, YOU FOLLOW DYMALKID TO THE LIBRARY. IT IS A SPACIOUS, BEAUTIFUL ROOM IN PRIME TERRITORY TO LET IN THE RAYS OF THE SETTING SUN THROUGH MAJESTIC OPEN ARCHES. THERE ARE MORE BOOKS HERE THAN YOU HAVE EVER SEEN IN YOUR LIFE.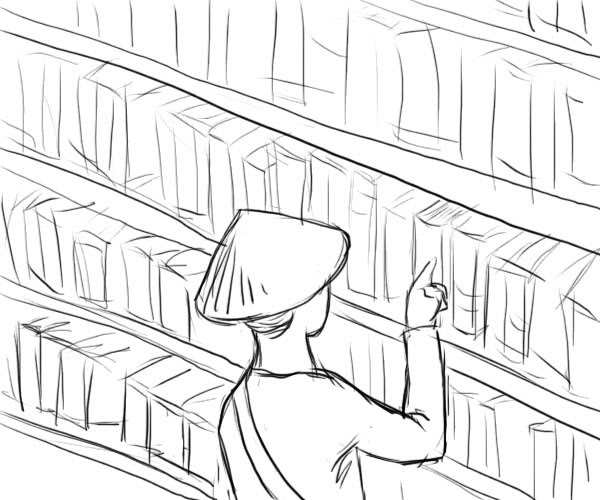 YOU LEAVE DYMALKID TO HER OWN DEVICES AND EXAMINE SOME OF THE BOOKS. THERE SEEMS TO BE SEVERAL SHELVES DEDICATED TO A MULTI-VOLUME TOMB TITLED "WIKIPEDIA: A NOVELIZATION". YOU FLIP TO THE APPENDIX AND SOME OF THE ARTICLES CATCH YOUR EYE.

MATTER, ENERGY, AND YILIXA
LORD PETRANOIA
LORD CERLIONESS AND LORD ROCLIONESS
LORD PENTIPLE
LORD L'EROLO
IALA HEIRARCHY UNDER THE LORDS
THE HUMAN APOCALYPSE
ANGELS AND THEIR DERIVATIVES


YOU THINK YOU HAVE TIME TO READ TWO ARTICLES BEFORE YOU HAVE TO LEAVE.

>
---
J Detan wrote:

>MATTER, ENERGY, AND YILIXA
THE HUMAN APOCALYPSE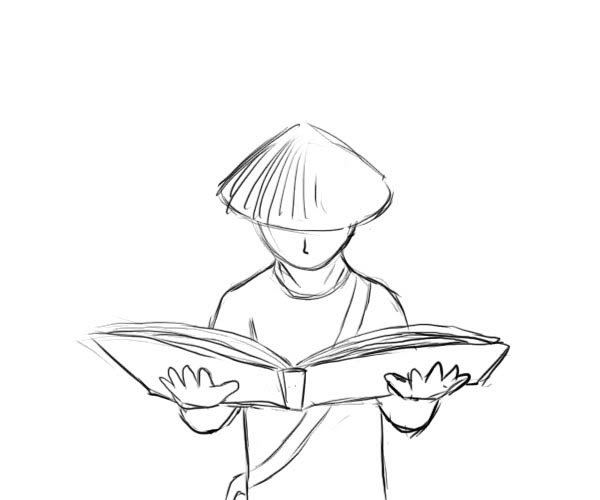 YOU FLIP TO THE ARTICLE TITLED 'MATTER, ENERGY, AND YILIXA' AND START READING.
"THE UNIVERSE CONSISTS OF THREE MAIN MATERIALS: MATTER, ENERGY, AND YILIXA. THESE THREE ARE INEXORABLY LINKED IN THAT NO MATTER THE QUANTITY OR NATURE OF ONE SUBSTANCE, THE OTHER TWO MATERIALS ARE ALWAYS PRESENT. FOR EXAMPLE, EVEN IN AN INERT GRAIN OF SAND, THERE EXISTS ENERGY AND A TRACE AMOUNT OF YILIXA. IN A BEAM OF LIGHT, THERE IS MATTER AND YILIXA, AND IN THE SPARK OF COMPREHENSION THERE IS AN ACCOMPANYING SHIFT IN ENERGY AND MATTER. AS THE THREE MATERIALS CAN NOT BE SEPERATED, THEY CAN HOWEVER BE TRANSFORMED INTO ONE ANOTHER. THEY CAN ALSO BE USED TO INFLUENCE AND MANIPULATE EACH OTHER. THE LAW OF CONSERVATION EXISTS FOR THE THREE MATERIALS IN THAT IT IS IMPOSSIBLE FOR THEM TO BE CREATED OR DESTROYED FROM NOTHING. THERE ARE CERTAIN OBJECTS WHICH EXCEL AT SEQUESTERING THESE MATERIALS, SUCH AS STARS, WHICH ARE RICH SOURCES OF LIGHT AND MATTER, AND NERVE CELLS, WHICH TRANSPORT HIGH LEVELS OF WILL.
SUBDIVISIONS OF MATTER INCLUDE PROTONS, ATOMS, AND OXYGEN.
SUBDIVISIONS OF ENERGY INCLUDE CHEMICAL, ELECTRICAL, AND GRAVITATIONAL ENERGY.
SUBDIVISIONS OF YILIXA INCLUDE LOVE, KNOWLEDGE, AND LIFE.
WHILE THE TECHNOLOGY OF THE IMPERFECTS, SPECIFICALLY HUMANS, DEALT PRIMARILY WITH MATTER AND ENERGY, WITH THE APPEARANCE OF THE IALA, OR UNNATURALS, RESEARCH AND USE OF YILIXA AS A MEANS TO MANIPULATE THE ENVIORNMENT BECAME WIDELY PRACTICED. HOWEVER, IMPERFECTS STILL HAVE CONSIDERABLE DIFFICULTY USING YILIXA WITHOUT MECHANICAL ASSISTANCE."
HOW INFORMATIVE. YOU TURN TO ANOTHER ARTICLE, THIS ONE TITLED 'THE HUMAN APOCALYPSE'.
"IN THE YEAR 4.4B 3900 2R09 OF THE UNIVERSE, THE GRAND GODDESS ISSUED A MANDATE TO THE LORDS THAT THEY PURGE THE EARTH OF THE ALARMING PESTILIENCE PRESENT IN THE MINDS AND ACTIONS OF CERTAIN IMPERFECTS, MOSTLY HUMANS. THE GRAND GODDESS PREDICTED THAT, IF LEFT UNCHECKED, THESE IMPERFECTS WOULD LEAD TO THE STERILITY OF THE PLANET. SHE AUTHORIZED THE REVIVAL OF THE IALA FROM THE LAST AGE OF THE GODS, NEARLY ALL OF WHICH HAD BEEN UNMADE AND REDUCED TO INFORMATION FOR EASY STORAGE. THE GRAND GODDESS THEN UNMADE HERSELF, TO AWAIT A TIME WHEN SHE SEES IT FIT TO EXAMINE THE LABORS OF THE LORDS. THIS MARKED THE BEGINNING OF THE HUMAN APOCALYPSE.
INITIALLY, THE LORDS AND THEIR SERVANTS WERE CONSERVATIVE IN THEIR ACTIONS, ACTING IN STEALTH AND DISGUISE TO HIDE THE FACT THAT THEY WERE AMONG THE IMPERFECTS. HOWEVER, AS THEY FEARED THE REAWAKENING OF THE GRAND GODDESS BEFORE THEIR TASK WAS COMPLETED, THE LORDS BEGAN TO ACT WITHOUT CONSIDERATION TO THE IMPERFECTS, OR EVEN TO EACH OTHER. THIS WAS BECAUSE EACH LORD HAD A DIFFERENT STRATEGY FOR FULFILLING THE GRAND GODDESSES'S WISHES.
LORD PETRANOIA PREFERRED TO REEDUCATE AND ASSIMILATE IMPERFECTS TO A MORE FAVORABLE SET OF BEHAVIORAL NORMS, WHICH WOULD REQUIRE CONSIDERABLE INITIAL INVESTMENT BUT WOULD RESULT IN LESS MAINTENANCE AND WOULD LAST LONGER. BUT THIS WAS AN UNACCEPTABLY SLOW PROCESS.
LORD CERLIONESS AND LORD ROCLIONESS PREFERRED TO ELIMINATE OFFENDING IMPERFECTS ON AN INDIVIDUAL BASIS, WHICH WAS ONE OF THE QUICKEST AND CLEANEST METHODS BUT LEFT SURVIVORS PRONE TO UNDESIRABLE SIDE EFFECTS SUCH AS LOATHING AND DESPAIR.
LORD L'EROLO PREFERED TO ALLOCATE DESIRED IMPERFECTS INTO SEGREGATED AREAS WHILE ELIMINATING UNDESIRABLES THROUGH THE USE OF TIDAL WAVES OR DESIGNER DISEASES.
LORD PENTIPLE CREATED SEVERAL PREDATORY SPECIES TO PERMANENTLY SUBDUE AND REDUCE THE NUMBER OF IMPERFECTS, A METHOD WHICH WAS SELF-SUSTAINING AND WOULD REQUIRE LITTLE MONITERING. A NUMBER OF THESE "HUMAN PREDATORS" WERE GRANTED SENTIENCE ON PAR WITH THE IALA AFTER THE APOCALYPSE.
ALTHOUGH EACH LORD HAD THEIR OWN TERRITORY TO MANAGE, THEIR AGENDAS WERE CONTRADICTORY AND THIS OFTEN RESULTED IN CONFLICTS. CLEARLY, THEY NEEDED TO JOIN FORCES IN A UNIFIED PLAN FOR THE FASTEST RESULTS. EVENTUALLY, LORD PETRANOIA ALLIED WITH LORD PENTIPLE AND LORD CERLIONESS AND LORD ROCLIONESS ALLIED WITH LORD L'EROLO FOR A FINAL BATTLE THAT WOULD DECIDE WHICH OF THE LORD'S PLANS WOULD FOLLOW THROUGH. LORD PETRANOIA WAS CONSIDERED THE VICTOR WHEN SHE DISSIMILATED MOST OF LORD L'EROLO'S ENERGY AND SEVERLY DAMAGED THE PALACE OF FLOW.
HENCEFORTH, THE OTHER LORDS PLEDGED THEIR SUPPORT FOR LORD PETRANOIA'S GLOBAL LONG-TERM STRATEGY, WHICH HAS RESEMBLENCES TO THE PREVIOUS AGE OF THE GODS. THE LORDS WERE INSTALLED AS DICTATORS OVER ALL POLITICAL, ENVIORNMENTAL, AND JUDICIAL AFFAIRS, AND TERRITORIES WERE GIVEN TO THEIR VICHEYS TO GOVERN.
HOWEVER, DESPITE THE HASTINESS AND DESPERATION WITH WHICH THIS NEW AGE WAS BROUGHT UPON THE EARTH, THE GRAND GODDESS HAS YET TO REAPPEAR AND EVALUATE THE WORK OF THE LORDS."
YOU SHUT THE BOOK AND PLACE IT BACK ON THE SHELF. IT IS TIME TO GO MEET THE BEASTMASTER.
>
---
rayofash wrote:

>Go meet the beastmaster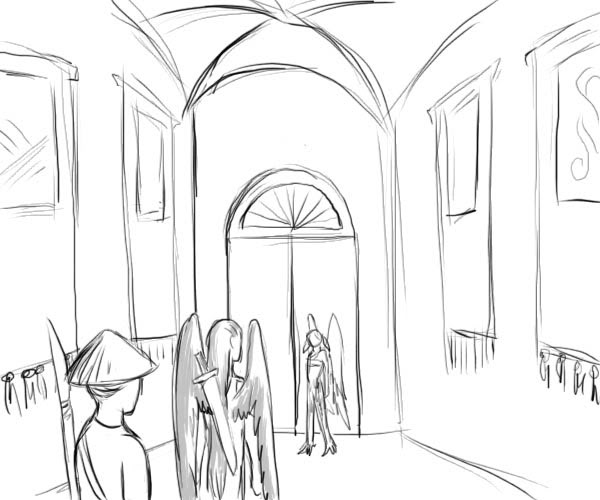 YOU WALK WITH DYMALKID TO THE ENTRANCE TO THE BEASTMASTER'S CHAMBERS. CHELLING IS ALREADY THERE, OPENING THE ORNATE DOOR A CRACK.
"WAIT FOR US." DYMALKID HISSES AT HER. THE HARPY SMILES SHYLY AT THE TWO OF YOU.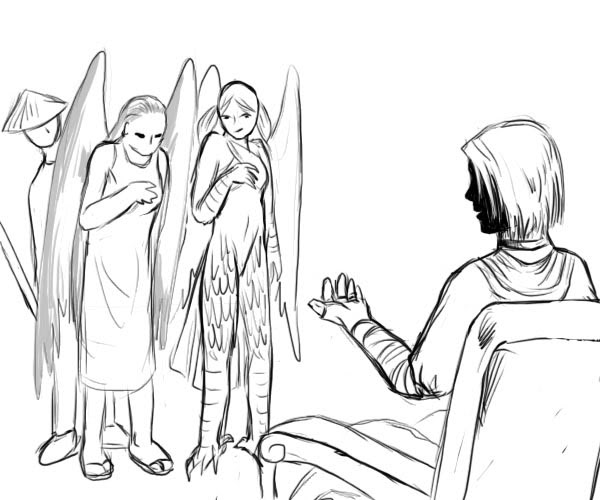 THE MAIN ROOM IS LIKE AN AUDIENCE CHAMBER, WITH HIGH CEILINGS THAT LENDS AN ECHO TO VOICES AND WALLS ADORNED WITH TROPHIES, ARTWORK AND TAPESTRIES. THERE IS A SMALL COLLECTION OF CHAIRS FRAMED BY AN OPEN ARCHED WINDOW. THERE IS A MAN SITTING IN ONE OF THE CHAIRS.
"HELLO, LADIES." THE MAN SAYS AS HE SWIVELS HIS CHAIR AROUND TO FACE THE THREE OF YOU.
"GREETINGS, BEASTMASTER OWES." DYMALKID REPLIES WITH A POLITE BOW.
YOU ARE NOT SURE WHAT YOU EXPECTED THE BEASTMASTER TO BE, BUT YOU DIDN'T EXPECT THIS MEDIUM-BUILT MAN OVERLY ADORNED WITH ALL MANNERS OF JEWELERY AND ARMOR. HE HAS TOUSLED HAIR AND A LAZY EXPRESSION AS HE APPRAISES YOUR COMPANIONS UP AND DOWN.
"HELLO, MY BEASTMASTER." CHELLING CHIRPS, CLEARLY ENJOYING HIS ATTENTION.
"MY HARPY." THE BEASTMASTER MUTTERES.
"YOUR FAVORITE HARPY." CHELLING PRESSES.
"MY ONLY HARPY. HMM?" HE RAISES HIS EYEBROWS, SEEMING TO NOTICE YOU FOR THE FIRST TIME.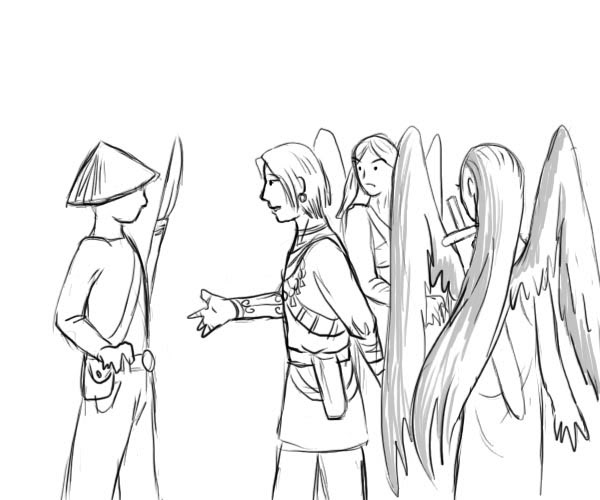 THE MAN STEPS OUT OF HIS CHAIR AND WALKS PAST DYMALKID AND CHELLING. "I DO NOT BELIEVE WE HAVE MET BEFORE. I AM BEASTMASTER OWES, MASTER OF THIS SMALL RANGE OF RANCHES AND WAREHOUSES. WHO MIGHT YOU BE?" HE EXTENDS A HAND TOWARDS YOU.
>
---
Lanz wrote:

>Shake hand, introduce self, ask what position a beast master serves as you are unfamiliar with them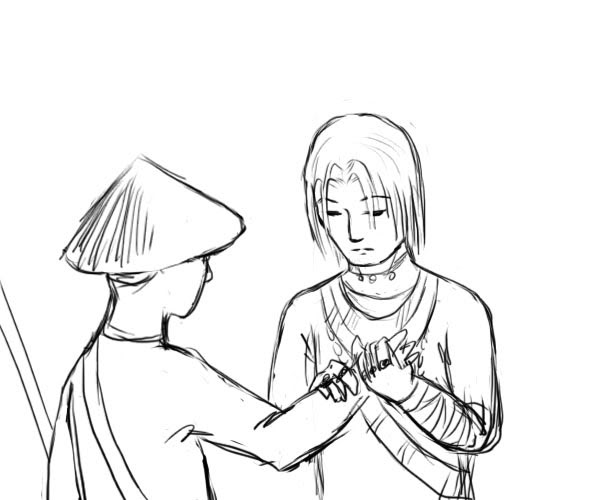 YOU SIMPLY SAY, "MY NAME IS TENO" AND OFFER YOUR HAND TO THE BEASTMASTER. INSTEAD OF A POLITE SHAKE, HE GRASPS YOUR HAND FIRMLY AND RUNS A FINGERNAIL ALONG THE BACK, TESTING THE ROUGH SKIN.
"FASCINATING." HE SAYS. "I DON'T HAVE ANYTHING LIKE THIS IN MY COLLECTIVE."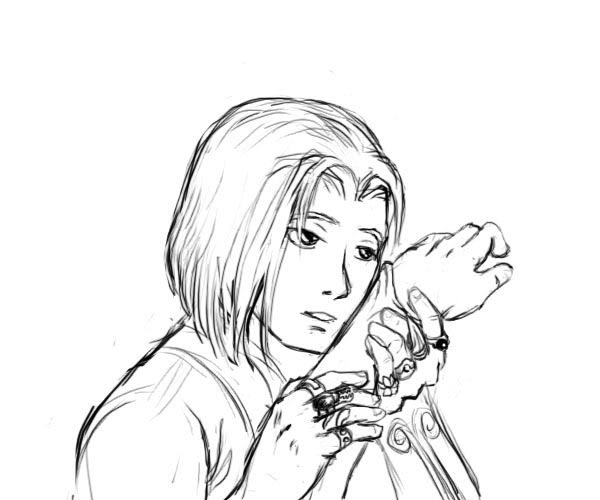 "WHAT DO YOU SAY?" HE ASKS, NOW BRINGING YOUR HAND UP TO HIS FACE. "HOW ABOUT YOU VOLUNTEER SOME BLOOD FOR ME? I WILL COMPENSATE YOU WELL, OF COURSE."
YOU ARE NOT SURE HOW TO RESPOND.
>
---
BlazeHedgehog wrote:

>"Uh, how much blood are we talkin', here?"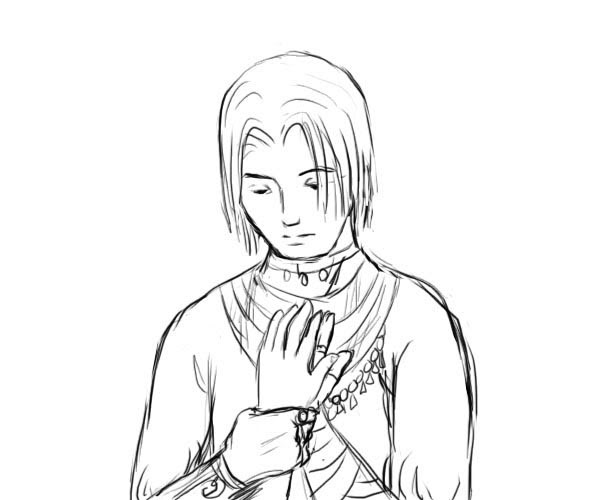 YOU ASK HOW MUCH BLOOD HE INTENDS TO TAKE AND HOW HE'S GOING TO DO IT.
"IT WON'T BE ENOUGH TO KILL YOU, REST ASSURED." THE BEASTMASTER SAYS. "AND I WILL WANT MORE THAN BLOOD. I WANT SOME BONE MARROW, SKIN CELLS, GAMETES, CEREBRAL SPINAL FLUID AND A FEW CAPILARIES. MOST OF THEM GROW BACK AFTER A WHILE. THE PROCEDURE WILL BE PAINLESS."
IN A LOW VOICE, YOU ASK HIM WHAT HE MEANS WHEN HE SAYS HE DOESN'T HAVE ANYTHING LIKE YOU. "I'M NOTHING SPECIAL." YOU INSIST.
"NOW... YOU CAN NOT FOOL THESE EYES." HE GIVES THE BACK OF YOUR HAND A LONGING STROKE. "YOU HAVE A DESIGNER BODY. SEE THESE FINE CRACKS IN YOUR SEEMINGLY-MAMMILIAN SKIN? THEY ARE THE SUTURES BETWEEN WHAT ARE ACTUALLY SCLER-"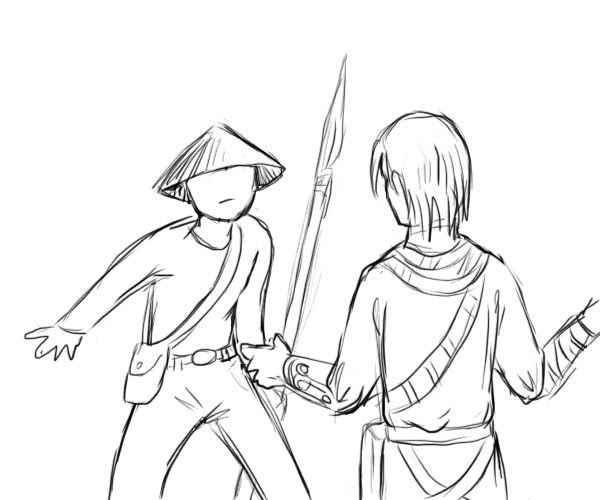 YOU YANK YOUR HAND AWAY AND TAKE A COUPLE STEPS BACK. POISED, YOU STARE AT THE BEASTMASTER.
"WHAT... COMPENSATION?" YOU FINALLY ASK.
"OH, WHATEVER YOU WANT, WITHIN REASON. MONEY, VALUABLES, WEAPONS, BLESSINGS, CHARMS. WE CAN DISCUSS THE DETAILS LATER." HE SMILES MILDLY. "SO IS THAT A YES OR A NO?"
>
---
Lanz wrote:

>"Only on these conditions: 30,000 units, that the raptor I met earlier comes with me, a blessing of safety and injury resistance, and could you magically empower my Naginata so I can be more than worthless in a fight, armor that's firm yet flexible so I have protection and won't find my mobility hampered, and most importantly, everything you know about me and something else. The information regarding my body to be given to me first before the process, the rest afterwards and the last thing I mentioned before I leave here. Also, how long will this process take and how long will I be laid up here? And another night to decide."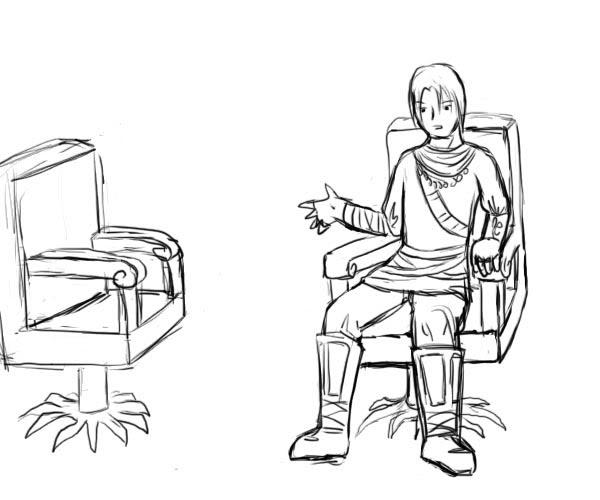 YOU LIST OFF A SLEW OF UNREASONABLE DEMANDS IN HOPES OF GETTING A BETTER BARGAIN. BEASTMASTER OWES LISTENS TO YOU PASSIVELY, MAKING NO COMMITMENT, BUT READILY AGREES TO GIVE YOU ANOTHER NIGHT TO THINK ABOUT IT.
"AFTER ALL, I HAVE OTHER BUSINESS TO CONDUCT RIGHT NOW. HARPY." HE SITS DOWN AND ADDRESSES CHELLING. "SIT."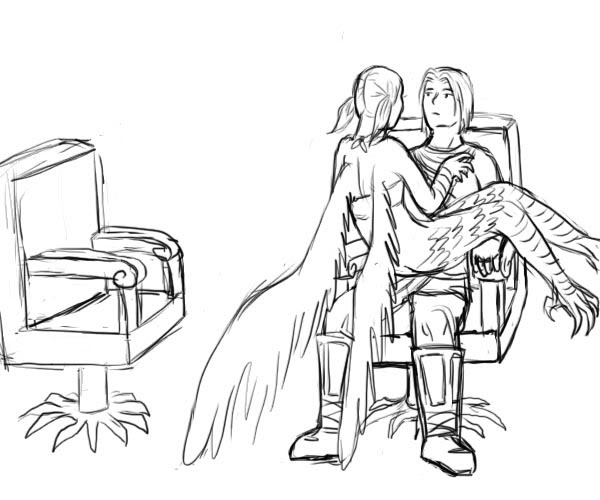 Drumble wrote:

>Look quizzically at Dymalkid.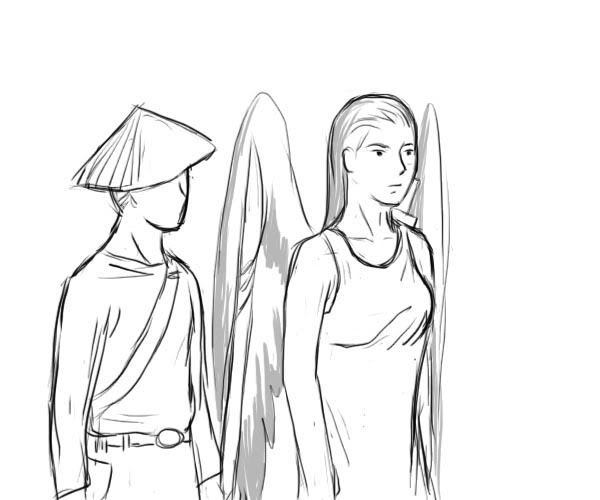 YOU LOOK AT DYMALKID TO SEE WHAT HER REACTION IS. SHE IS WEARING HER ANGEL NEUTRAL EXPRESSION, EXPERTLY HIDING WHAT SHE IS FEELING, ALTHOUGH BY THE CLENCH OF A FIST YOU CAN TELL HOW AGITATED SHE IS.
>
---
PenguinSeph wrote:

>Take a step back and be ready to draw your weapon, keeping an eye out for anyone what could attack you or Chelling.
YOU STEP BACK WARILY AND GRIP YOUR WEAPON TIGHTER, UNNERVED BY THE BEHAVIOR OF CHELLING AND THE BEASTMASTER. BUT CHELLING APPEARS AS HAPPY AS CAN BE, SQUIRMING AND SIGHING ON THE BEASTMASTER'S LAP. HE DOESN'T SEEM VERY PLEASED TO HAVE HER SITTING THERE. BUT HE PROCEEDS TO EXAMINE HER BODY AND ASK HER QUESTIONS.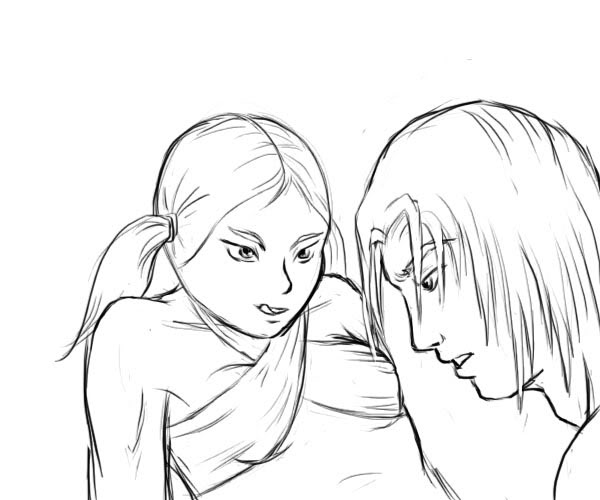 "HAVE YOU BEEN EATING WELL?" MASTER OWES ASKS EVENLY.
"MM HM. NOTHING BUT PRIME CUTS, NO MISSED MEALS."
"ARE YOU SLEEPING WELL?"
"IT COULD BE BETTER."
"KEEP YOUR HANDS TO YOURSELF. I ASSUME YOU HAVE BEEN HEALTHY. NO DISEASES. NO PARASITES."
"OF COURSE, BEASTMASTER."
"ARE YOU FLYING REGULARLY? EXERCISING WELL?"
"YOU CAN HELP ME EXERCISE, IF YOU WANT."
"I WILL NOT WARN YOU AGAIN. WHEN DO YOU THINK OVULATION WILL BE?"
"SOMETIME TOMORROW."
"HAS THE EGG BEEN FERTILIZED?"
"NOT YET..."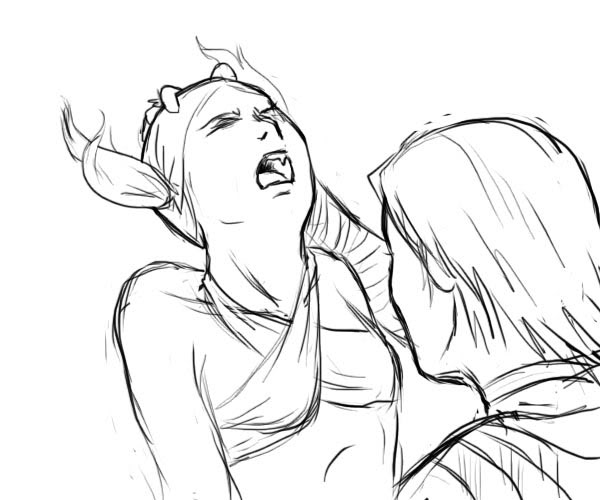 ABRUPTLY, THE BEASTMASTER GRABS THE BACK OF CHELLING'S HEAD AND YANKS HARD ON HER HAIR. SHE SCREAMS IN SURPRISE, THEN IT CUTS SHORT AS SHE THROWN ONTO THE FLOOR, DAZING HER.
"TRULY, YOU TRY MY PATIENCE." THE MASTER SIGHS IN IRRITATION. "THE LESS TIME YOU SPEND IN MY PRESENCE THE EASIER IT IS FOR ME."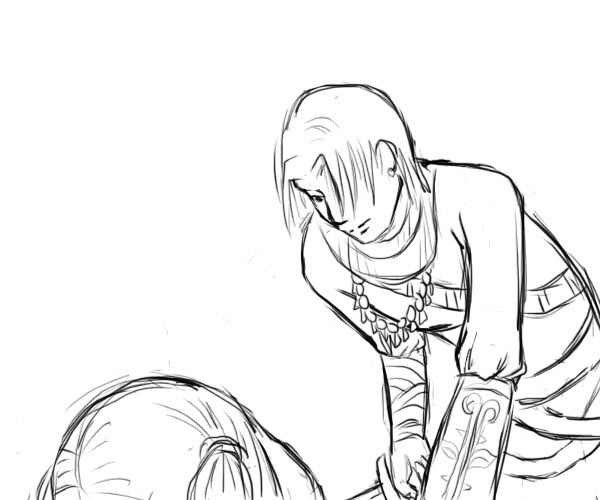 THE BEASTMASTER LOOMS OVER CHELLING AND YOU SEE THE GLINT OF A BLADE IN HIS HAND.
>
---
mayor cigar face wrote:

>Watch Dymalkid and follow her lead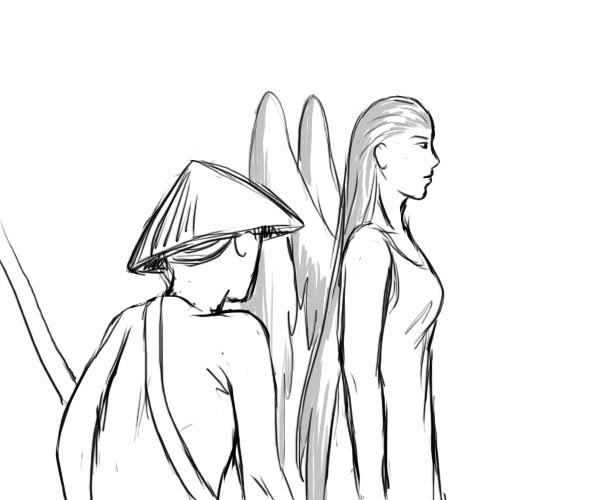 YOU LOOK TO DYMALKID TO SEE HOW SHE RESPONDS TO THIS, BUT SHE IS THE SAME AS BEFORE. STILL, SILENT, AND UNREADABLE.
"DYMALKID." YOU WHISPER ANXIOUSLY. "SHOULDN'T WE DO SOMETHING?"
"THERE IS NOTHING WE CAN DO AGAINST THE BEASTMASTER." THE DARK ANGEL SAYS WITHOUT LOOKING AT YOU, HER ATTENTION RIVETED TO THE SCENE. "OH CHELLING..."
>
---
Kyou wrote:

>Hit the beast master over the back of the head with the non sharp end of your spear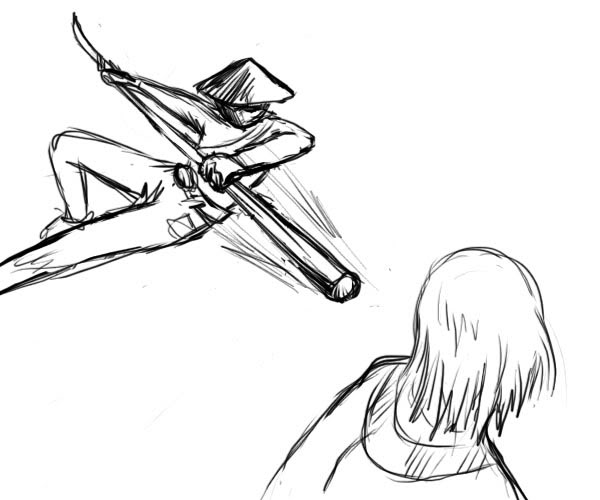 IMPETUOUSLY, YOU JUMP AT THE BEASTMASTER IN AN ATTEMPT TO KNOCK HIM DOWN WITH THE BUTT OF YOUR NAGANATA. EVEN AS YOU ARE IN THE AIR YOU REALIZE THIS IS A BAD IDEA. HE IS A MASTER, OR VICHEY, WHICH MEANS HE IS ONLY A RANK LOWER THAN THE LORDS THEMSELVES. PLUS, HE HAS FOUGHT AND SURVIVED THE APOCALYPSE AGAINST PEOPLE EQUAL AND GREATER THAN HIM IN POWER.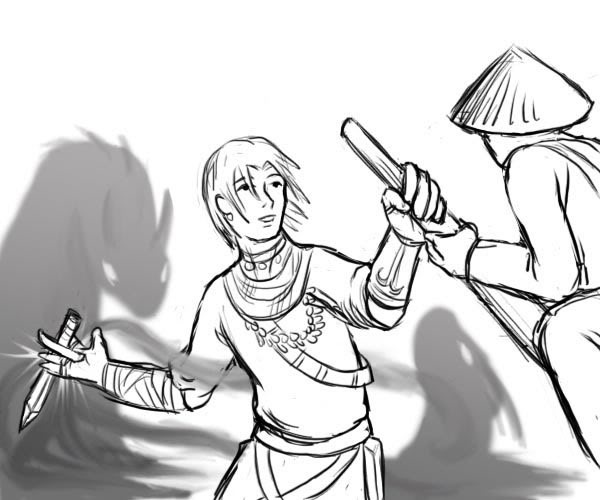 THE BEASTMASTER EFFORTLESSLY GRABS YOUR WEAPON WITH YOU STILL HANGING ON TO IT.
"NOW NOW." HE CHIDES, MORE AMUSED THAN ANNOYED. "YOU CAN'T BE ATTACKING A MASTER OF YOUR LORD."
"I AM NOT A SERVANT OF YOUR LORD." YOU REPLY.
"NO?" HIS FACE ROTATES THROUGH THREE OR FOUR EXPRESSIONS BEFORE SETTLING BACK TO AMUSEMENT. "BUT YOU ARE WEARING A BELT WITH LORD PETRANOIA'S EMBLEM ON IT. OH WELL." HE SHRUGS. "IN ANY CASE, I WOULD LIKE A BIT OF PRIVATE TIME WITH YOUR FRIEND THE HARPY, IF YOU DON'T MIND."
AS HE SPEAKS, HE BEGINS SUMMONING A PAIR OF DAEROANS. MISTS AND SHADOWS GATHER ON THE FLOOR AND COALESCE INTO PHYSICAL BEINGS.
>
---
BlazeHedgehog wrote:

>"Hurt Chelling and you don't get access to my chewy candy center, if you know what I mean."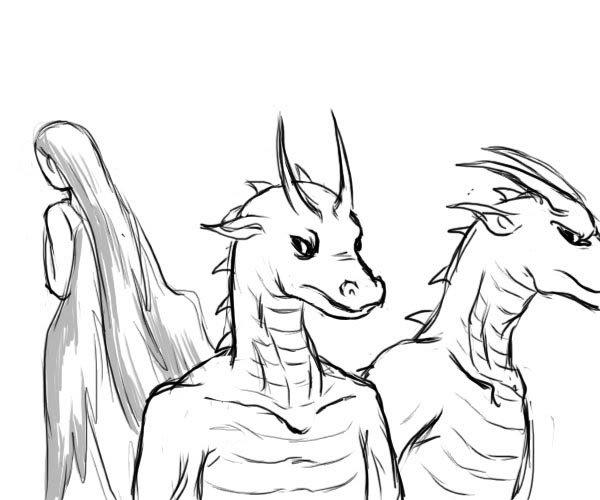 THE DAEROANS ARE FULLY FORMED NOW, POWERFUL, DRAGON-LIKE CREATURES. THE BEASTMASTER JUTS HIS CHIN IN CHELLING'S DIRECTION. "YOU TWO," HE SAYS. "HOLD THE HARPY. AND YOU." HE LOOKS AT DYMALKID. "YOU MIGHT WANT TO LEAVE."
"YES, BEASTMASTER." THE DARK ANGEL SAYS MEEKLY AND RUSHES FOR THE DOOR.
"AND AS FOR YOU-" THE BEASTMASTER BEGINS.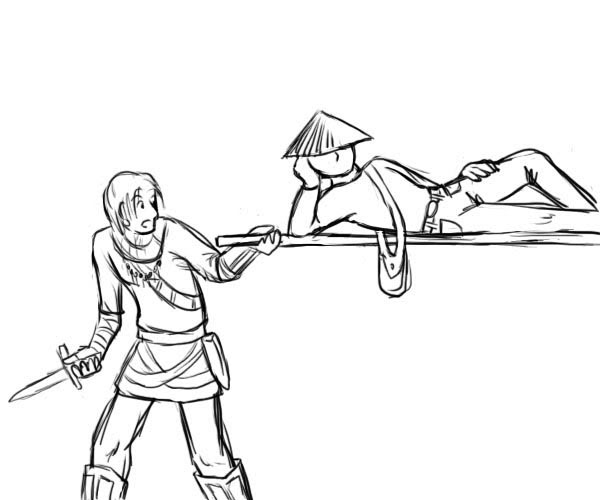 "HEY." YOU SAY. "IF YOU HURT CHELLING, YOU DON'T GET ACCESS TO MY CHEWY CANDY CENTER, IF YOU KNOW WHAT I MEAN."
THE ENTIRE ROOM IS DEAD SILENT FOR A MINUTE, WITH THE BEASTMASTER SEEMINGLY FROZEN IN PLACE. FINALLY HE SAYS, "W-WHAT? WHAT?! WHAT THE HELLS ARE YOU TALKING ABOUT?!"
>
---
Athenor wrote:

>"You heard me. It's Chelling or Me. Make your choice."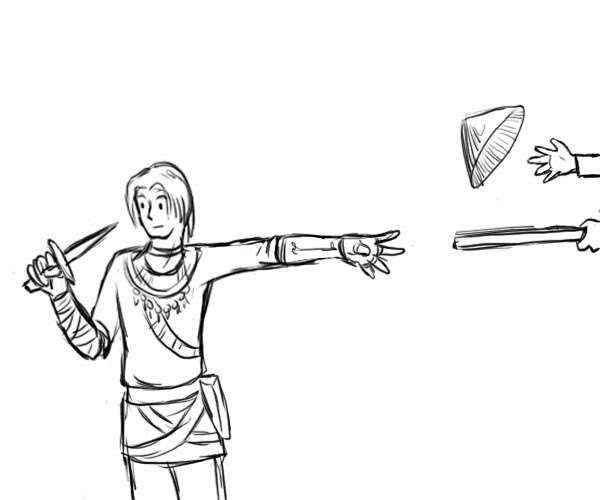 "YOU HEARD ME," YOU SAY GRUFFLY. "IT'S CHELLING OR ME. MAKE YOUR CHOICE."
THE BEASTMASTER HURLS YOUR NAGANATA WITH YOU STILL HANGING ONTO IT AND IT EMBEDS ITSELF INTO A WALL.
"WHO IS YOUR LORD, ANYWAYS?" HE SAYS. "WHO IS YOUR MASTER? I FIND IT HARD TO BELIEVE ANY HIGH-RANKING IALA WOULD LET YOU ACT SO BRAZENLY. TRYING TO BLACKMAIL A VICHEY. HUH. WHEN I HAVE BEEN NOTHING BUT POLITE AND PATIENT TO YOU, EVEN THOUGH YOU DO NOT BELONG TO ME OR MY LORD."
"BUT THIS HARPY, SHE NEEDS TO BE DISCIPLINED. DON'T WORRY, I WON'T KILL HER."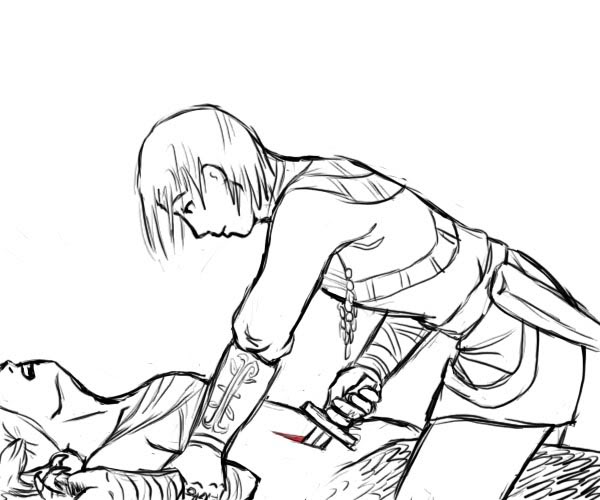 WITH CHELLING SEMI-CONSCIOUS AND TWO DAEROANS HOLDING ONTO HER, THE BEASTMASTER STRADDLES HER WAIST AND HOVERS HIS KNIFE ABOVE HER MIDSECTION. HE BEGINS TO CUT INDISCRIMINATELY. CHELLING SCREAMS AND BUCKS HER HIPS UPWARDS, CARRYING THE BEASTMASTER UP, BUT HE CONTINUES TO SLICE HER ABDOMEN UNTIL THE WOUND IS BIG ENOUGH FOR HIM TO FIT A HAND INTO. HE REACHES INSIDE, PUSHING AND SEARCHING, UNTIL HE EXTRACTS AN OFF-WHITE EGG WRAPPED IN SWIRLS OF FINE CAPILLARIES.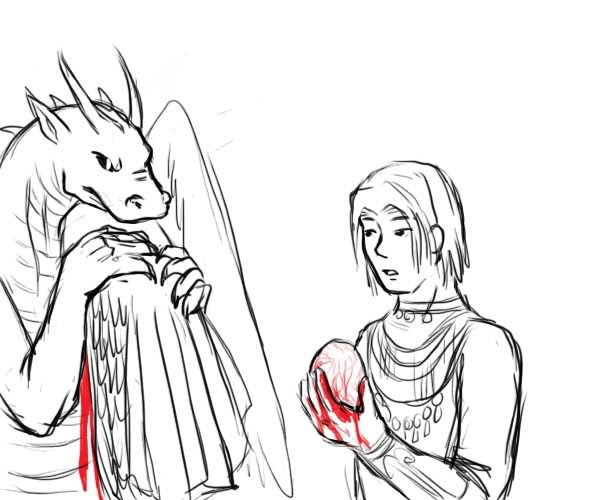 "TAKE THIS EGG TO INCUBATION IN LABORATORY TWO." THE BEASTMASTER SAYS TO ONE OF THE DAEROAN. "AND TAKE THE HARPY TO THE INFIRMERY." HE SAYS TO THE OTHER.
>
---
rayofash wrote:

>"I didn't need to see that"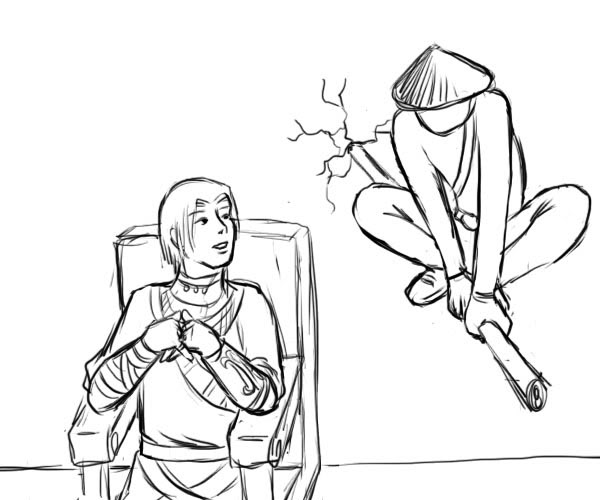 "I DIDN'T NEED TO SEE THAT." YOU HISS AT THE BEASTMASTER FROM YOUR PERCH ON THE SPEAR EMBEDDED IN THE WALL.
"I'M SORRY. I SHOULD HAVE ASKED YOU TO LEAVE WITH THE ANGEL." THE BEASTMASTER TAKES A SEAT BESIDE YOU AND LACES HIS FINGERS TOGETHER. "I KNOW IT'S HARD TO SEE A FRIEND GET HURT, EVEN IF SHE IS DESERVING OF IT." HE SHRUGS AND TURNS TO FACE YOU. "AS FOR YOU, WE STILL NEED TO DISCUSS THE DETAILS OF OUR TRANSACTION. HOW ABOUT OVER DINNER, TONIGHT?"
>
---
Behemoth wrote:

>"Uh... sure. Seeya." Then calmly yank your spear out of the wall, walk outside, and find Dymalkid.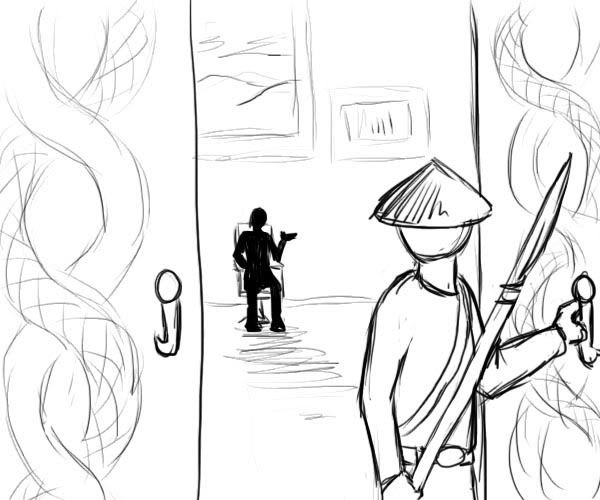 AMAZED BY THE BEASTMASTER'S TOLERENCE FOR YOU, YOU PASSIVELY AGREE TO MEET HIM FOR DINNER.
"EXCELLENT." HE SAYS WITH A SLOW SMILE. "ANYTHING SPECIFIC YOU WOULD LIKE TO EAT?"
"UH, I LIKE FRESH PILLTAILS." YOU REPLY.
"I WILL TELL MY CHEFS." THE BEASTMASTER SAYS. "I WILL SEE YOU HERE IN AN HOUR."
YOU YANK YOUR NAGANATA OUT OF THE WALL AND LEAVE THE BEASTMASTER'S CHAMBERS. YOU NOW HAVE AN HOUR TO KILL.
>
---
Drumble wrote:

>Check on Chelling and ask Dymalkid everything she knows about the BeastMaster.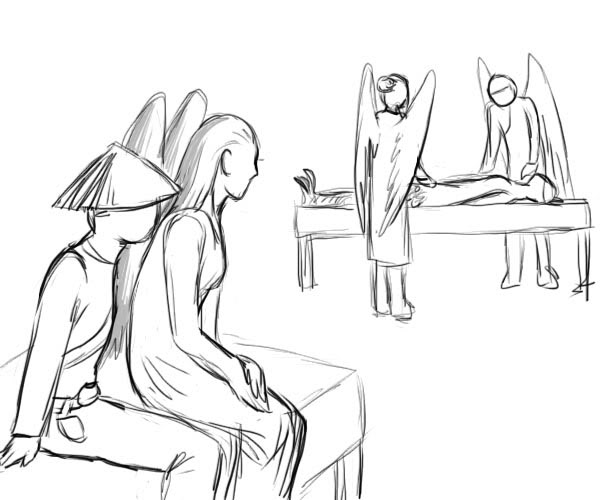 "FUNNY, IS IT NOT." DYMALKID SAYS ONCE YOU FIND HER IN THE INFIRMERY. "ALL THREE OF US HAVE NEEDED TO COME HERE IN THE LAST DAY."
THE DARK ANGEL LOOKS TO THE SIDE AND YOU FOLLOW HER GAZE TO CHELLING, WHO IS UNCONSCIOUS AND ATTENDED BY SEVERAL HEALERS.
"SO WHAT HAPPENED TO HER? DID THE BEASTMASTER JUST...?"
YOU SIT DOWN BESIDE DYMALKID AND TELL HER ABOUT THE BEASTMASTER CUTTING INTO CHELLING'S STOMACH WHILE SHE WAS STILL CONSCIOUS, REMOVING HER EGG. DYMALKID CLOSES HER EYES AND TAKES A SLOW BREATH.
"I TOLD HER..." SHE SAYS. "BUT I DID NOT EXPECT HER TO LISTEN. SHE NEVER DOES, NO MATTER WHAT THE BEASTMASTER DOES TO HER."
YOU TELL DYMALKID THAT MASTER OWES HAS INVITED YOU FOR DINNER. YOU ASK HER WHAT KIND OF PERSON HE IS AND WHAT YOU MIGHT EXPECT.
"DINNER?" SHE SAYS. "WELL I AM JEALOUS. THE BEASTMASTER IS USUALLY STRICTLY BUSINESS WITH PEOPLE THAT ARE LOWER THAN HIM IN RANK. I HAVE NEVER SEEN HIM SO GENEROUS LIKE THIS. I SUPPOSE HE HAS TAKEN A LIKING TO YOU. IS IT BECAUSE OF YOUR 'DESIGNER BODY'?" SHE TAKES YOUR HAND AND LOOKS AT IT CLOSELY, THE WAY THE BEASTMASTER DID. SHE PUTS IT DOWN. "I DO NOT UNDERSTAND WHAT HE SEES. BUT I AM NOT A LIFE SCULPTOR."
SHE BEGINS TO TELL YOU WHAT SHE KNOWS ABOUT THE MASTER HIMSELF. "LIKE MANY HIGHER RANKING IALA, MASTER OWES TOOK A HUMAN-LIKE SHAPE DURING THE APOCALYPSE AND HE HAS REMAINED THAT WAY EVER SINCE. ALTHOUGH HE IS SOMEWHAT ON THE LOW-END OF THE VICHEY CATEGORY. HE TRAINED A LOT OF THE BEASTS THE LORDS USE AND COLLECTS A LOT OF RARE SPECIES, BUT HE DOES NOT HAVE MUCH TALENT WHEN IT COMES TO LIFE-SEWING. THAT IS LORD PETRANOIA'S INTEREST. THEY MADE A GOOD TEAM BACK WHEN, AND THIS WAS A LONG TIME AGO, BACK WHEN SHE WAS HIS APPRENTICE. THEY MADE A LOT OF BODIES, INCLUDING LORD PENTIPLE'S AND LORD CERLIONESS'S CURRENT FORMS, OR SO I HEARD."
"BUT WHAT ABOUT DINNER?" YOU ASK NERVOUSLY. "HOW LIKELY IS HE TO DRUG ME UNCONSCIOUS AND TAKE MY BLOOD AND MARROW AND WHATEVER WHILE I'M KNOCKED OUT?"
"I DO NOT THINK HE WILL DO THAT UNLESS YOU REALLY IRRITATE HIM." DYMALKID SAYS. "HE ACTUALLY HAS A LOT OF PATIENCE, ALTHOUGH NOT FOR CHELLING. YOU SEE, THE FIRST TIME SHE MET HIM, HE PLAYED ALONG WITH HER. UNTIL SHE... BIT HIM. TORE A STRIP OFF HIS LEG." DYMALKID LOOKS AT THE TIMEPIECE ON THE WALL. "THAT SAID, YOU SHOULD HURRY. YOU DO NOT WANT TO IRRITATE THE BEASTMASTER BY BEING LATE."
>
Go back to Storytime of Epicness