J Detan wrote:

>Go have a pleasant lunch with the Beastmaster. Discuss Chelling and how insane she can be. Have fun! Laugh! Eat!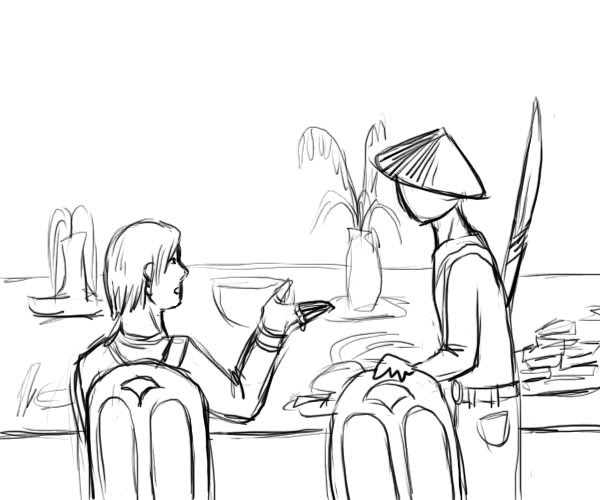 ARRIVING AT THE BEASTMASTER'S CHAMBERS, YOU ARE DIRECTED TO ONE OF THE BACK ROOMS WHERE A TABLE IS LAID OUT AND PROVISIONED WITH AN ASSORTMENT OF DELICACIES. THERE ARE MORE THAN A DOZEN SEATS, BUT ONLY ONE OF THEM IS OCCUPIED. THE BEASTMASTER GESTURES FOR YOU TO SIT DOWN NEXT TO HIM.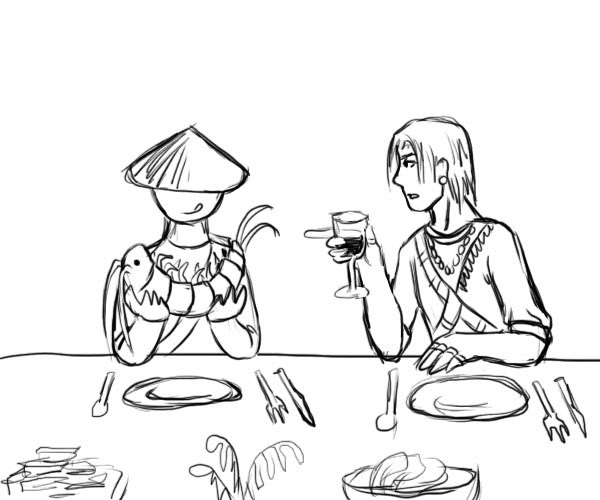 "I ASSUME YOU WENT TO SEE YOUR HARPY FRIEND." THE BEASTMASTER SAYS AS YOU SIT DOWN IN FRONT OF A QUIVERING FRESH PILLTAIL. YOU HAVEN'T HAD ONE OF THESE IN AGES AND IT'S MAKING YOUR MOUTH WATER. "IS IT TRUE THAT OVULATING HARPIES ARE QUARANTINED IN THE PINNACLE SPIRES?"
"YES." YOU SAY. "WE CAN'T HAVE THEM RUNNING AROUND TERRORIZING PEOPLE."
"SPEAKING OF WHICH, I HAVE SOME BAD NEWS, ALTHOUGH THIS IS WORSE NEWS FOR ME." MASTER OWES SAYS. "I ASKED AROUND AND IT SEEMS LIKE YOU WERE RECENTLY INJURED BY THAT HARPY AND HAD BEEN HEALED BY MY ANGELS. THAT IS TRUE? YES? WELL, BECAUSE OF THAT, YOUR BODY IS NOT SUITABLE FOR THE HARVESTING OF ANY SORT OF BLOOD OR TISSUE UNTIL AT LEAST A WEEK FROM NOW. I'M SORRY ABOUT THAT."
"UM," YOU SAY, QUICKLY PICKING UP THE PILLTAIL. "SO IF THERE IS NOTHING TO DISCUSS, SHOULD I BE HERE?"
THE BEASTMASTER SMILES. "NO NEED TO WORRY. I AM A GRACIOUS HOST. FEEL FREE TO ENJOY YOURSELF." RELIEVED, YOU BITE INTO YOUR DINNER.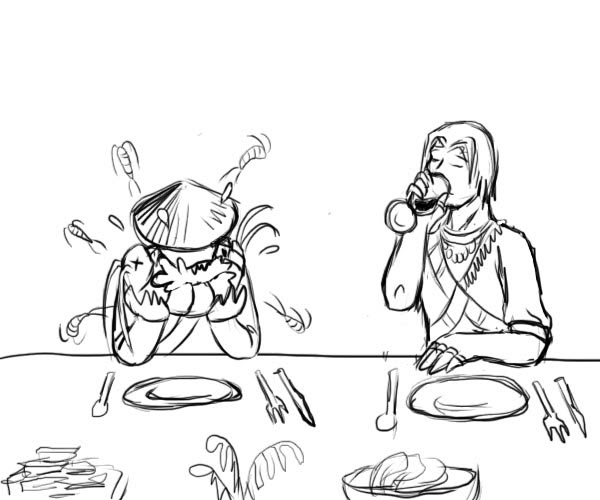 "SO WHY DON'T YOU TELL ME ABOUT YOURSELF?" THE BEASTMASTER SAYS SILKILY, TAKING A SIP OF HIS BEVERAGE. "WHO YOU ARE, WHERE YOU COME FROM, HOW YOU ENDED UP IN MY RESIDENCE WITH A DARK ANGEL AND A HARPY?"

>TELL HIM THE TRUTH
>TELL HIM WHAT YOU FEEL IS SAFE TO TELL HIM
>TELL HIM NOTHING
>LIE

>
---
Lanz wrote:

>What feels safe to tell him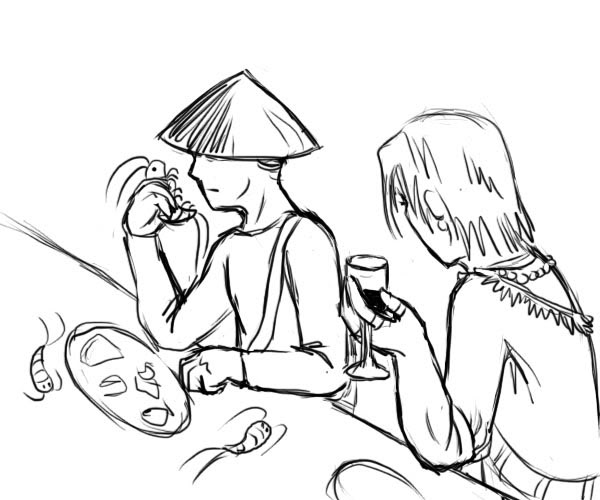 "WHERE DO I EVEN BEGIN?" YOU START WITH A SIGH. "I AM A MEMBER OF LORD CERLIONESS'S CLERGY, OR AT LEAST I USED TO BE, UNTIL MY FAMILY WAS KILLED AND MY PROPERTY BURNED TO THE GROUND. THAT WAS WHY I CAME TO LORD PETRANOIA'S LANDS TO SEEK RETRIBUTION." WITH THAT CAUTIOUSLY SPARCE INTRODUCTION, YOU HOPE TO ENTHRALL THE BEASTMASTER WITH THE REST OF YOUR STORY. YOU THINK BACK TO THE BEGINNING OF YOUR ADVENTURE, STARTED ONLY SIX DAYS AGO.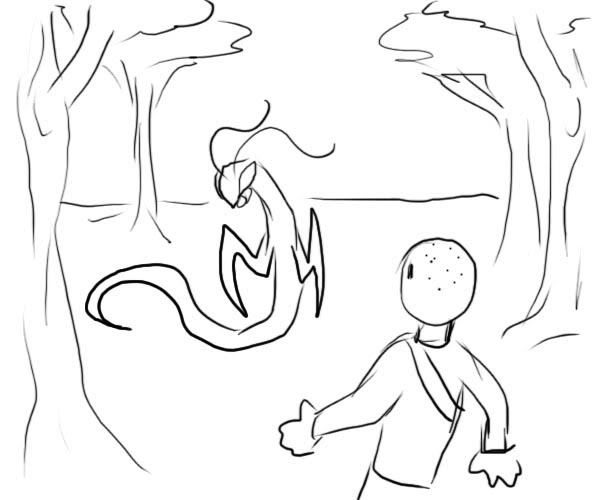 WITH THE FEW PROVISIONS YOU HAD LEFT TO YOU AFTER THE FIRE, YOU VENTURED THROUGH THE COTTONSTONE FOREST IN THE DEAD OF NIGHT, FIGHTING HUNGER AND BLOODTHIRSTY INSECTS AND MONSTEROUS COCKATRICE. YOU WERE BRIEFLY DISTRACTED BY A DREAD DICTYOMATA, BUT IN THE END, YOU PREVAILED AND SAFELY REACHED THE BOUNDARY MOUNTIANS DIVIDING LORD CERLIONESS'S/ROCLIONESS'S AND LORD PETRANOIA'S LANDS. YOU BRAVELY FOUGHT AN ANGEL WHO STOLE YOUR PRECIOUS PINK AMBER COMB, ALTHOUGH HE ESCAPED. THEN, YOU BEFRIENDED THE LOCAL FARMERS AND RECEIVED FROM THEM YOUR FASHIONABLE HAT AND NAGANATA.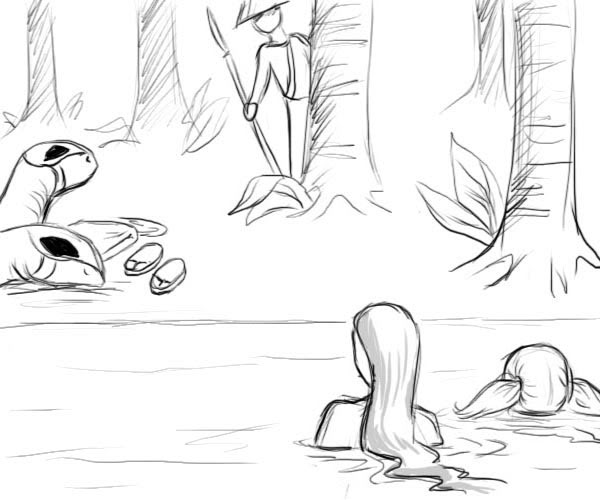 THINKING THAT YOU SHOULD EARN SOME MONEY IN ORDER TO SURVIVE, YOU ANSWER A CALL FOR HELP, PROMISING MONEY AND DANGERS. YOU RECOUNT THE JOURNEY TO THE AREA 20 KM WEST OF RIVER GROVE GROVE. THE THIEVING SPIDER BUSHES AND THE STRANGE MEETING WITH A DARK ANGEL, A HARPY, AND SOME MOLEWORMS. THE JOB YOU TOOK REQUIRED MUCH THOUGHT AND EFFORT, BUT YOU COMPLETED IT SUCCESSFULLY AND WERE REWARDED WITH A PITTANCE, ALTHOUGH YOU WERE GRATEFUL FOR ANYTHING YOU GOT.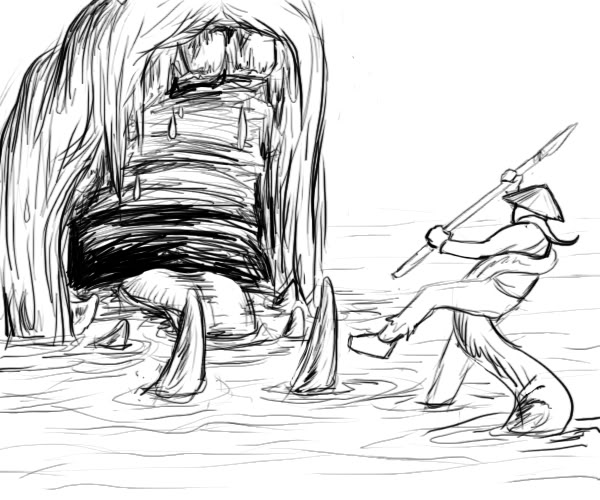 CHELLING AND DYMALKID BECAME YOUR FAST FRIENDS, AND TOGETHER YOU TRAVELED THROUGH THE TAR MANGROVES. YOU HAD HOPED IT WOULD BE AN UNEVENTFUL JOURNEY, BUT YOU WERE ATTACKED BY OLUKS. AFTER A FIERCE HEART-POUNDING BATTLE, YOU SHOWED THE OLUK WHO'S BOSS, BUT YOU WERE SEPERATED FROM YOUR COMPANIONS.
"OLUKS" THE BEASTMASTER COMMENTS. "THOSE ARE A VERY RECENT ADDITION TO THE MANGROVES, SO OF COURSE YOU DIDN'T EXPECT THEM."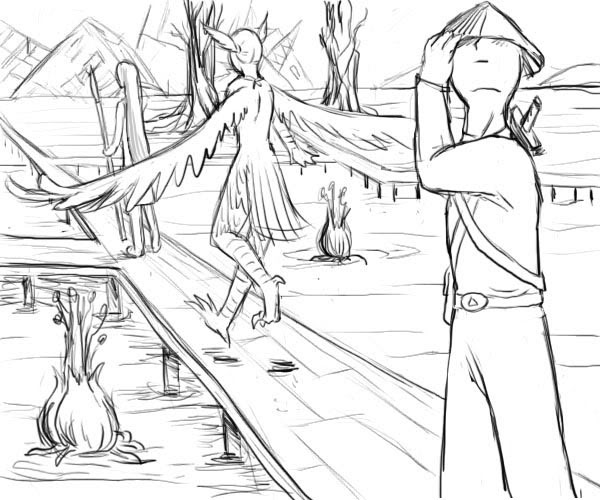 AS YOU WERE SAYING, YOU WERE SEPERATED FROM CHELLING AND DYMALKID. TORN WITH ANXIETY OVER THEIR FATE, YOU HAD NO CHOICE BUT TO CONTINUE, UNTIL YOU CAME ACROSS AN ABANDONED TREETOP VILLAGE. DECIDING TO REST THERE FOR THE NIGHT, YOU GOT VERY LITTLE SLEEP AS YOU WERE SOON WOKEN UP BY A HARPY SCREAM. CHELLING WAS CALLING FOR HELP, WHICH YOU VALIANTLY PROVIDE, SINGLE-HANDEDLY CARRYING THE INJURED DYMALKID BACK TO THE HOUSE YOU WERE STAYING AT UNTIL SHE FELT WELL ENOUGH TO TRAVEL THE NEXT MORNING. (YOU SKIP OVER THE PART WHERE THE GIRLS SUBDUE YOU BECAUSE THAT'S A BIT EMBARASSING.)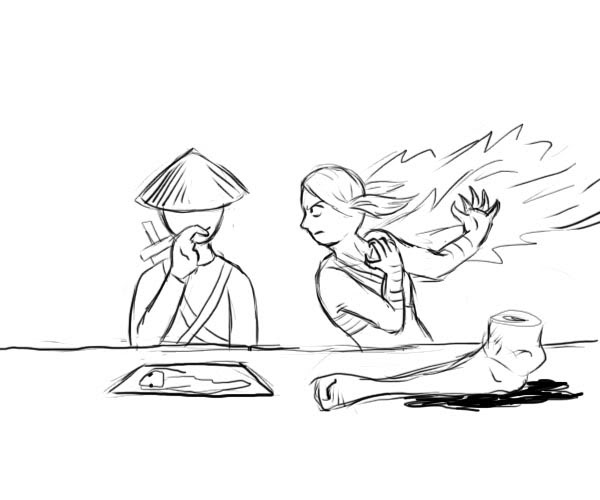 YOUR NEXT DESTINATION WAS THE SLANTS, BUT THAT PROVED TO BE BLISSFULLY UNEVENTFUL. YESTERDAY NIGHT YOU ARRIVED AT THE GENETICS WAREHOUSE AND AFTER A FEW MISADVENTURES, YOU ENDED UP HERE.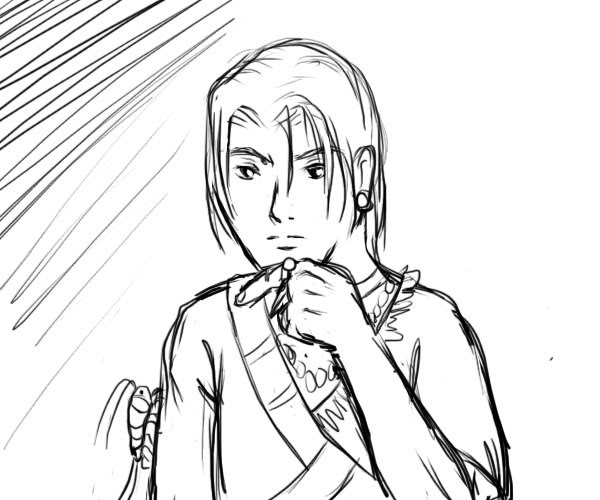 "WAIT A MINUTE." MASTER OWES SAYS. "THAT DOESN'T MAKE SENSE. YOU'RE ONE OF LORD CERLIONESS'S CLERGY, WHY WOULD YOU SEEK AID FROM LORD PETRANOIA? WHAT MAKES YOU THINK MY LORD WOULD HELP YOU?"
"THAT REMINDS ME," YOU SAY QUICKLY. "I NEED TO SOMEHOW CONTACT THE LORD PETRANOIA. YOU ARE ONE OF HER VICHEY, WOULD YOU BE ABLE TO ARRANGE AN AUDIENCE WITH HER FOR ME?"
THE BEASTMASTER SITS BACK AND SEEMS LOST IN THOUGHT FOR A MOMENT. "I MAY BE A VICHEY," HE SAYS FINALLY. "BUT I AM NOT AT LIBERTY TO CALL UPON THE LORD PETRANOIA WHENEVER I PLEASE. YOU WILL NEED TO ASK ONE OF THE MORE PROMINENT MASTERS. OR ONE OF THE LORD'S CHANNELERS."
"OH, THAT'S TOO BAD." YOU SAY. "OR MAYBE IT'S A GOOD THING. I HAVE IMPOSED UPON YOUR GENEROSITY FOR LONG ENOUGH, BEASTMASTER OWES, AND PERHAPS I SHOULD TAKE MY LEAVE OF YOU FOR TONIGHT."
"WAIT." HE SAYS. HE WITHDRAWS A KEYCARD AND HANDS IT TO YOU. "YOU WILL NEED SOMEWHERE TO STAY FOR THE NEXT WEEK UNTIL YOUR BODY GROWS STRONGER. YOU CAN HAVE THIS ROOM."
YOU DON'T RECALL AGREEING TO STAY FOR SO LONG, BUT YOU CAN SEE THAT THE CARD IS FOR A ROOM IN THE EXECUTIVE SUITES WITH ALL THE MEALS INCLUDED.
>
---
Trame wrote:

>Ask if we'd be free to leave for a bit and come back in a reasonable amount of time, provided we take care of ourselves to make sure we're ripe for 'harvesting' as soon as we get back, or if he'd prefer we stay here for the duration of our recovery.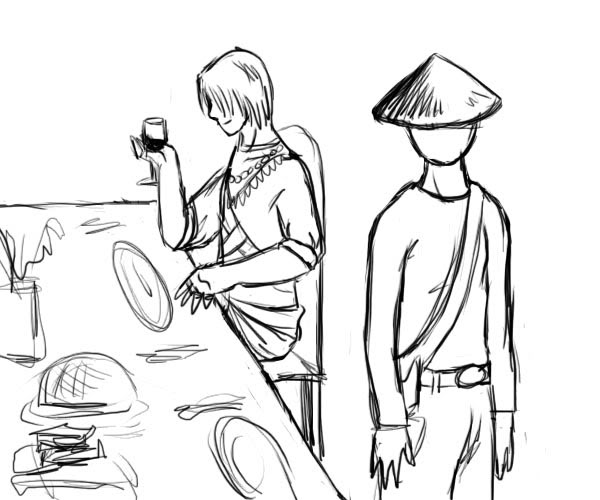 WITHOUT INSINUATING THAT YOU SUSPECT THAT YOU ARE BEING KEPT PRISONER, YOU ASK IF YOU CAN COME AND GO FROM THE GENETICS WAREHOUSE AT YOUR LEISURE WHILE STILL BEING ON HAND IF THE BEASTMASTER EVER NEEDS YOU.
YOUR HOST SEEMS RELUCTANT TO GRANT YOU THIS FREEDOM BUT FINALLY SAYS, "I SUPPOSE SO. I CAN ASSIGN YOU AN ESCORT IF YOU NEED TO GO SOMEWHERE DISTANT. BUT IT WOULD PLEASE ME IF YOU WOULD STAY ON THE WAREHOUSE GROUNDS FOR TOMORROW AND THE DAY AFTER."
"WHY?" YOU ASK.
"SOMEONE IS COMING HERE IN TWO DAYS TIME, AND IT IS SOMEONE I WOULD VERY MUCH LIKE YOU TO MEET."
"REALLY? WHO IS IT?"
THE BEASTMASTER SMILES INTO HIS GLASS OF WINE. "IT'S A SURPRISE."
YOU LEAVE THE DINING ROOM MULLING OVER THIS NEW DEVELOPMENT. AS IT IS LATE IN THE EVENING, YOU CAN RETIRE TO YOUR ROOM ALTHOUGH THERE IS TIME TO DO SOMETHING ELSE BEFORE YOU GET TOO SLEEPY.
>
---
BlazeHedgehog wrote:

>Flip a coin. Heads, check on Chelling. Tails, run the fuck away from this place.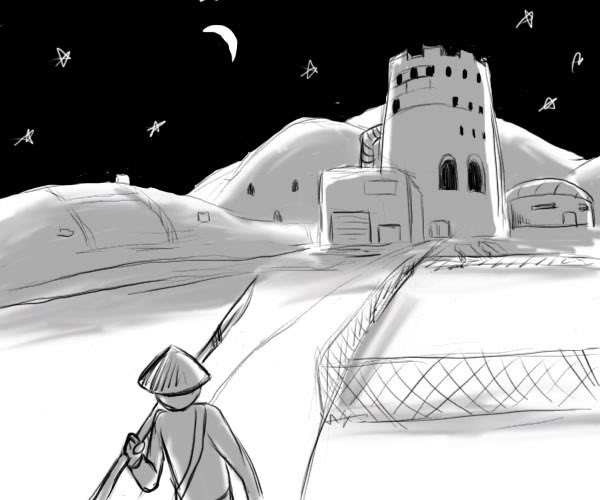 YOU DECIDE TO LEAVE THE GENETICS WAREHOUSE AS SOON AS POSSIBLE. YOU SUSPECT THAT IF YOU STAY ANY LONGER, THE BEASTMASTER WILL BEGIN TO GUESS THE TRUTH. ALSO, HIS BEHAVIOR RUBS YOU THE WRONG WAY, WITH HIS INSISTANCE THAT YOU STAY UNDER HIS SURVEILLENCE AND HIS DESIRE FOR YOUR BLOOD. YOU REGRET HAVING TO LEAVE CHELLING AND DYMALKID LIKE THIS WITHOUT WARNING, BUT THEIR ALLEGIANCE WITH THE BEASTMASTER MIGHT MAKE IT INCONVENIENT FOR YOU TO TELL THEM THAT YOU'RE LEAVING.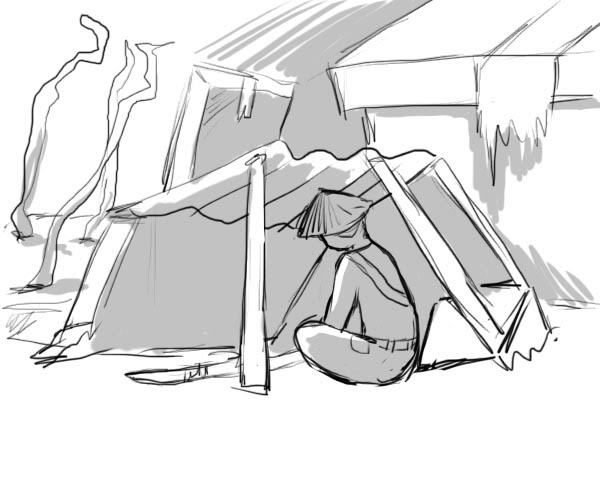 YOU SPEND THE NIGHT SHELTERED IN THE EDGE OF THE SLANTS, JUST OFF THE SIDE OF THE MAIN ROAD. IT IS NOW MORNING.
>
Go back to Storytime of Epicness