Ramirez wrote:

>Tear some strips out of your clothes and cover yourself in mud, head back to the warehouse. When asked why you left, say that you heard the distinct cry of the ultra rare, fire breathing, 15 ft Red Speckled Cockatrice and, fearing for the inhabitants of the warehouse, set out alone and battled it all night until you drove it off. If anybody asks why you didn't call for help say that the Red Speckled Cockatrice has an excellent memory and holds a terrible grudge, and you couldn't ask anybody to let themselves in for something that bad.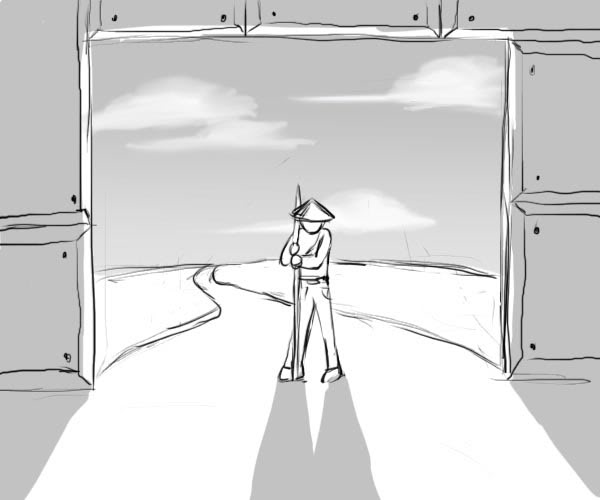 WOW YOU ARE INDECISIVE. AFTER SLEEPING ON IT, YOU WEIGH THE CONSEQUENCES OF VENTURING OFF WITHOUT NOTICE, AND DECIDE THAT IT MIGHT BE MORE TO YOUR ADVANTAGE TO STAY AT THE GENETICS WAREHOUSE FOR A LITTLE WHILE LONGER. YOU TEAR UP YOUR CLOTHES A BIT AND CONCOCT AN EXCUSE AS TO WHY YOU WERE AWAY FOR THE NIGHT. THEN YOU HEAD BACK.
NO ONE IS IN THE LOBBY AS IT IS BREAKFAST TIME AND EVERYONE IS PROBABLY IN THE CAFETERIA. YOU GO TO YOUR ROOM IN THE FIRST-CLASS SUITES.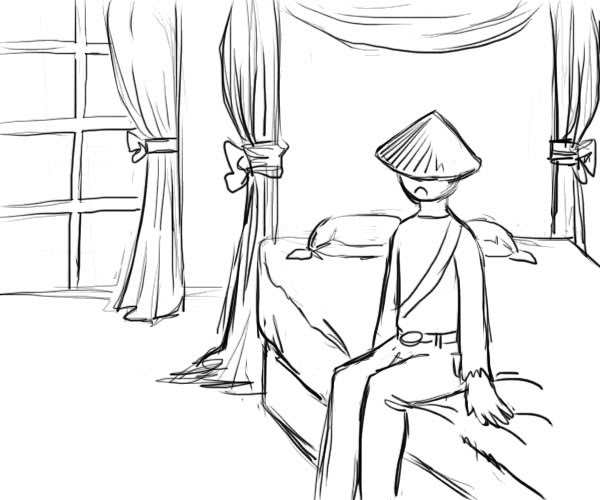 YOUR ROOM IS VERY WELCOMING. THERE ARE HEAVY DRAPERIES LENDING A WARMTH AND DARKNESS TO THE ROOM WITHOUT BEING STIFLING. THERE IS AN EMPTY FRIDGE, A BATHROOM, AND A LARGE WINDOW OVERLOOKING THE SURROUNDING MOUNTAINS. YOU SIT ON THE FOUR-POSTER BED AND WAIT FOR SOMEONE TO COME LOOKING FOR YOU. NO ONE DOES. IT SEEMS LIKE NO ONE EVEN NOTICED THAT YOU WERE GONE. YOU TORE UP YOUR NICE SHIRT FOR NOTHING.
>
---
J Detan wrote:

>Take off your hat, shake like a dog, go to the bathroom, and then go down and get some food. Yum food.
YOU GO TO THE BATHROOM TO TAKE YOUR HAT OFF AND SHAKE.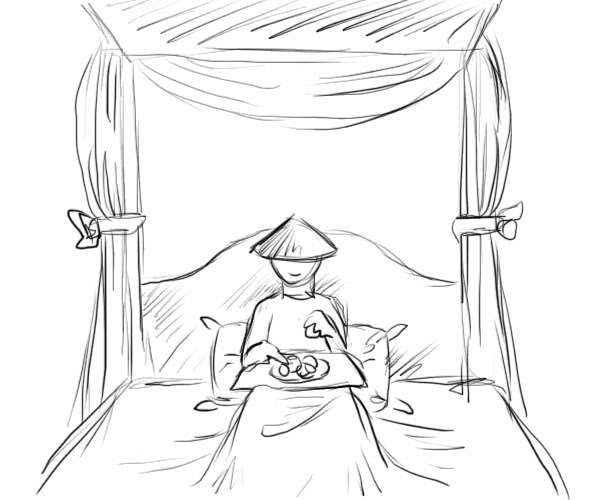 YOU GO DOWN TO THE CAFETERIA TO GET SOME FOOD. SINCE YOU'RE IN THE EXECUTIVE SUITE, YOU GET A PLATE OF MEATBALLS FOR FREE AND TAKE IT BACK TO YOUR ROOM, WHERE YOU CAN EAT IT IN LUXURIOUS PRIVACY INSTEAD OF MINGLING WITH THE UNWASHED MASSES.
>
---
Trame wrote:

>After you're done eating, go check up on Dymalkid and Chelling again.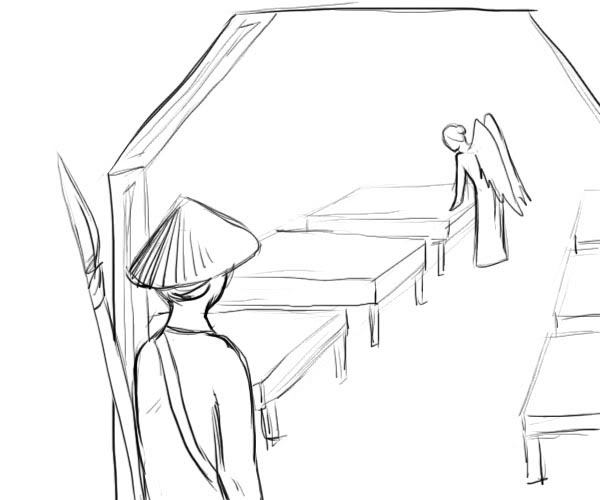 AFTER EATING, YOU GO TO THE INFIRMERY TO CHECK UP ON DYMALKID AND CHELLING. BUT THEY ARE NOT THERE.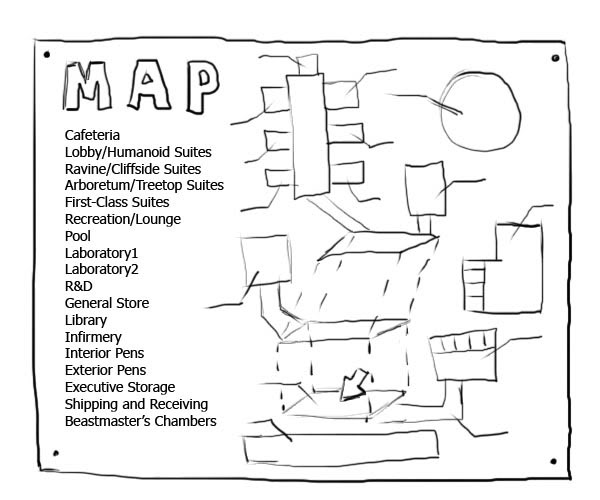 WHERE COULD THEY BE?
>
---
Trame wrote:

>Laboratory 2, where the egg is incubating.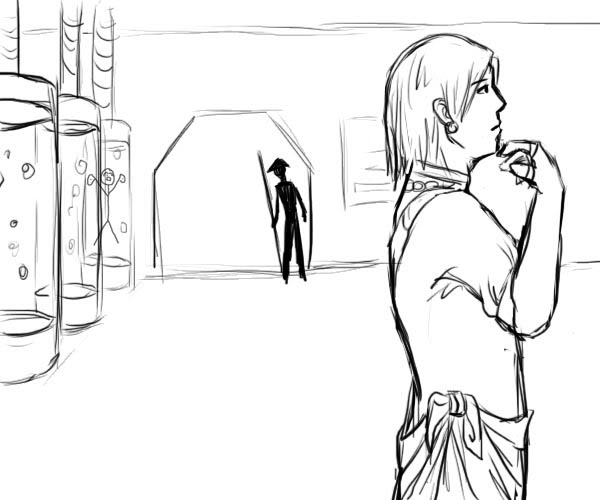 YOU WANDER OVER TO LABORATORY2 ON THE OFF-CHANCE THAT CHELLING AND DYMALKID WILL BE THERE. PEERING THROUGH THE DOOR, YOU SEE THAT THEY ARE NOT, BUT THE BEASTMASTER IS. HE SEEMS DISTRACTED AND HAS NOT YET NOTICED YOU.
>
---
Ramirez wrote:

>talk to LightReaper, in vat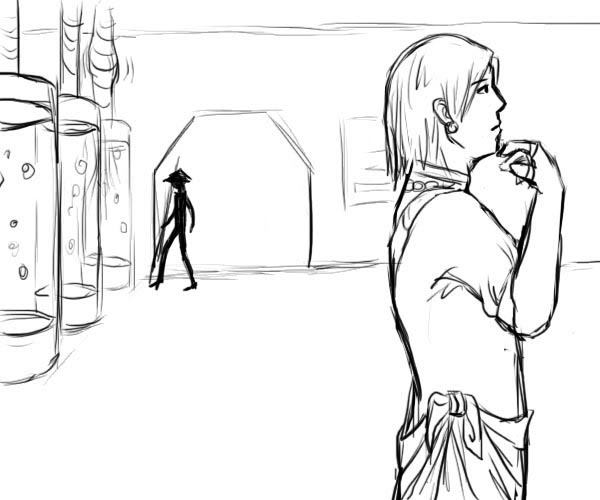 YOU ATTEMPT TO TALK TO THE GROTESQUE, ATROPHIED CREATURE CONTAINED IN ONE OF THE TUBES OF LIQUID. IT OPENS ITS MAW IN WHAT YOU ASSUME IS AN AGONIZED, BONE-CHILLING SCREAM, BUT IT IS CUT OFF AS THE MISERABLE BEING IS SUCKED UP FORCEFULLY THROUGH A SERIES OF TUBES, ENDING ITS WORTHLESS EXISTENCE.
strideredge wrote:

>ask where Dymalkid and Chelling are. The Beastmaster should know better then anyone.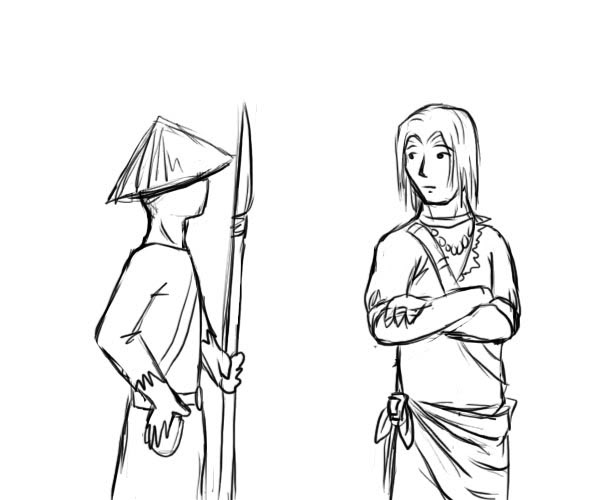 YOU ASK THE BEASTMASTER IF HE KNOWS WHERE DYMALKID AND CHELLING ARE.
"GOOD MORNING, TENO." HE SAYS PLEASANTLY. "YOU MEAN THE DARK ANGEL AND THE HARPY? I WOULD THINK THAT THEY ALREADY LEFT THE WAREHOUSE GROUNDS. I DO NOT NEED THEM ANYMORE SO IT WILL COST THEM TO STAY HERE ANY LONGER THAN NECESSARY."
>
---
Trame wrote:

>Check with the receptionist to see if they're still checked in as of last night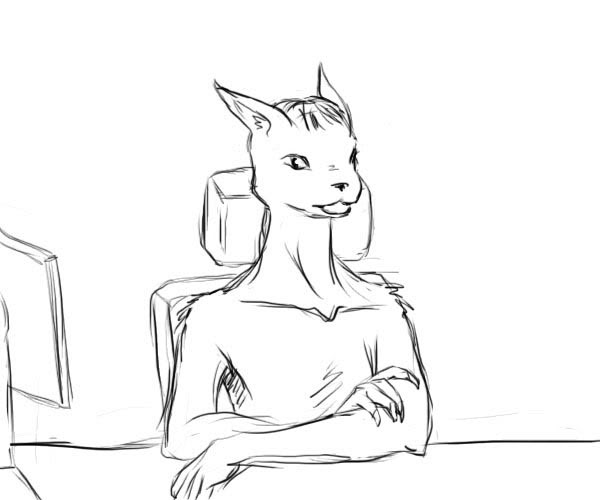 YOU RETURN TO THE LOBBY AND ASK THE RECEPTIONIST IF A DARK ANGEL AND HARPY BY THE NAMES OF DYMALKID AND CHELLING ARE STILL CHECKED IN. THE MAEROAN CLICKS THROUGH THE FILES ON HER COMPUTER AND NODS SLIGHTLY.
"THEY SHOULD STILL BE ON THE WAREHOUSE GROUNDS." SHE SAYS. "THEY HAVE A ROOM IN THE CLIFFSIDE SUITES WHICH THEY BOUGHT FOR TONIGHT."
>
---
Kyou wrote:

>Ask for the room number in an overly dramatic fashion, weirding out the receptionist again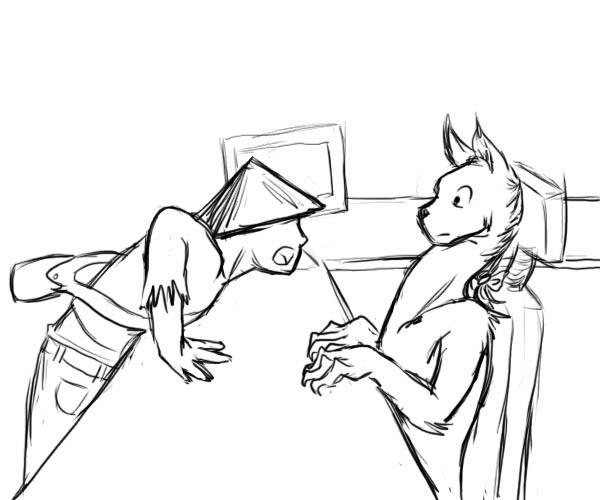 YOU SLAM YOUR HANDS ONTO THE RECEPTION DESK AND JUT YOUR HEAD FORWARD MENACINGLY, DEMANDING TO KNOW THEIR ROOM NUMBER.
"IT'S ROOM NUMBER C23 ALONG THE SOUTHERN RIDGE." THE STARTLED RECEPTIONIST REPLIES.
>
---
J Detan wrote:

>Say "Thank you very much." Politely and calmly to the cat-person thing. And then point dramatically in the general direction of their room and yell "THEN I AM OFF!"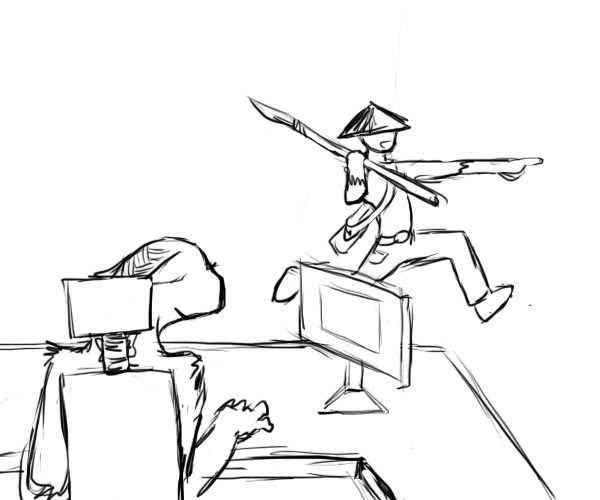 "THANK YOU VERY MUCH." YOU SAY CORDIALLY TO THE MAEROAN. YOU TAKE A STEP, STAB A FINGER FORWARD AND YELL, "THEN I AM OFF!" AND RUN OFF IN THE DIRECTION OF THE GIRLS'S ROOM.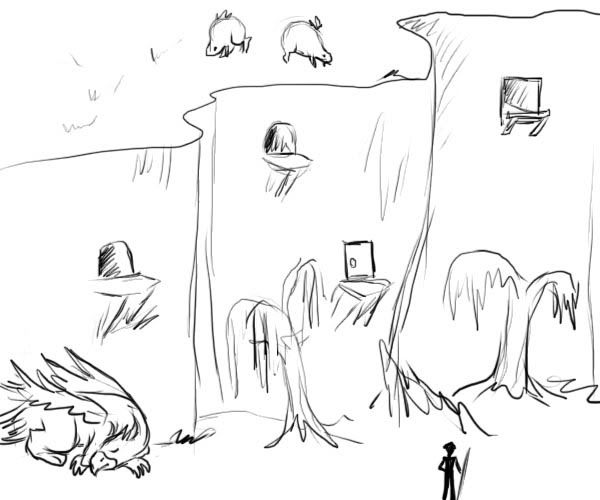 BUT WHEN YOU ARRIVE AT THE SOUTHERN FACE OF THE RAVINE, YOU SEE THAT YOU MAY HAVE SOME DIFFICULTY REACHING YOUR DESTINATION. ALL THE ROOMS ARE DUG STRAIGHT INTO THE VERTICAL CLIFF, PERFECT FOR INDIVIDUALS THAT CAN FLY. THERE ARE NO STAIRS LEADING TO THEM. AT THE TOP OF THE RAVINE, YOU CAN HEAR THE SOUNDS OF IH YA GRAZING. SEVERAL WILLOW TREES GROW AT THE BASE OF THE RAVINE AND GRIFFIN IS SLEEPING NEAR WHERE YOU ARE STANDING.
>
---
Lanz wrote:

>Run straight up the cliffside to the girls room, a la the Prince of Persia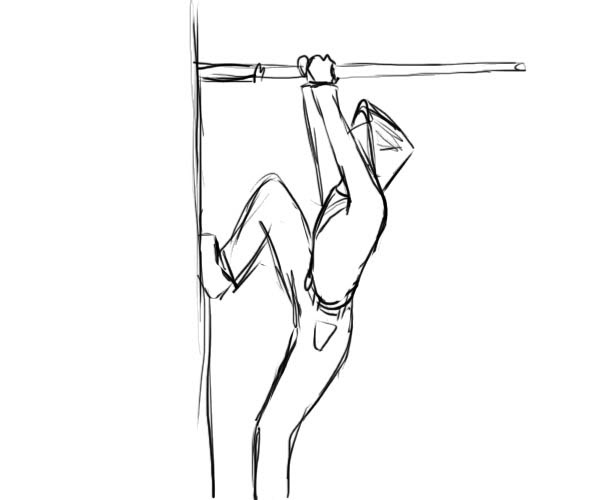 ...NOPE, YOU DO NOT HAVE MIRACULOUS WALL-CLIMBING POWERS. TRY AS YOU MIGHT, YOU CAN NOT SCALE THE CLIFF BY YOURSELF.
>
---
Lanz wrote:

>politely ask the Griffin for help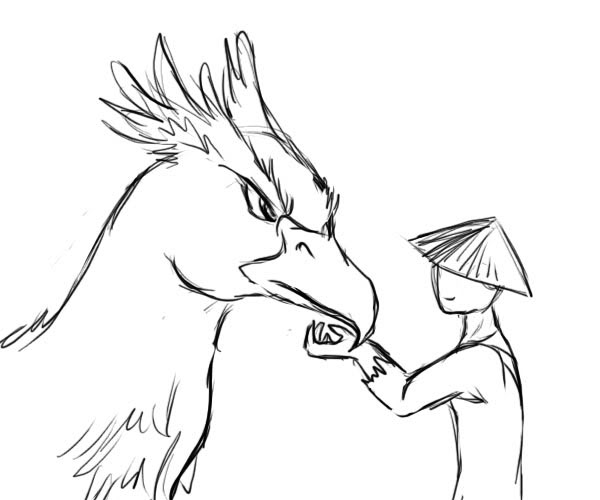 YOU ARE FAMILIAR WITH GRIFFINS. YOU ONCE HAD ONE BILLETED AT YOUR HOUSE FOR TRANSPORTATION. AND THE ONE YOU ARE FACED WITH NOW SEEMS TO BE STATIONED HERE FOR THE PURPOSE OF CARRYING EARTHBOUND INDIVIDUALS TO THE CAVES. YOU STROKE HER BEAK GENTLY TO WAKE HER UP AND ASK HER TO TAKE YOU TO ROOM C23.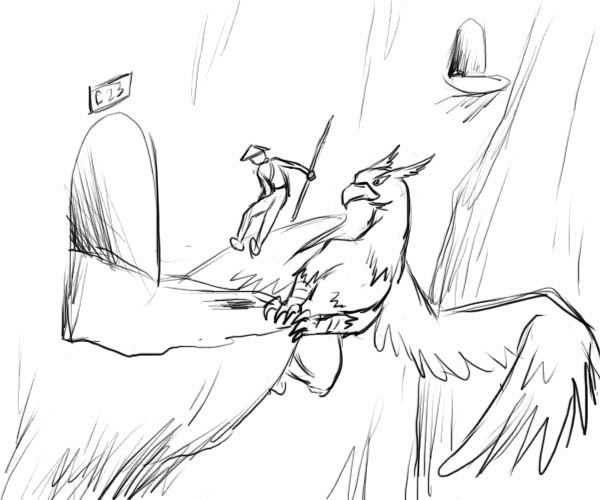 YOU CLIMB ONTO THE GRIFFIN'S BACK AND SHE FLAPS UP TO THE ROOM. AS SHE SCRABBLES TO FIND PURCHASE ON THE NARROW LEDGE AVAILABLE FOR HER LANDING, YOU JUMP OFF AND TELL HER THAT SHE CAN GO NOW.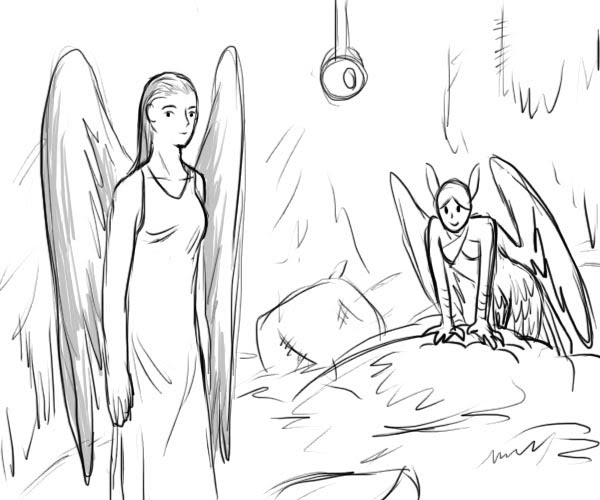 THE ROOM CHELLING AND DYMALKID ARE IN IS ALMOST SPHERICAL IN DESIGN, DEVOID OF FEATURES EXCEPT FOR A LIGHT ELEMENT HANGING FROM THE CEILING. AND ALSO THE LARGE AMOUNT OF FUZZY AND SOFT THINGS COVERING EVERY SURFACE. THERE ARE FURS, CLOTH, AND MOSSES LINING THE WALLS AND CUSHIONS AND RUGS ON THE FLOOR. CHELLING AND DYMALKID ARE SIMPLY RESTING.
"OH, YOU FOUND US." DYMALKID SAYS. "WE WERE TRYING TO FIND YOU LAST NIGHT. WHERE DID YOU GO?"
>
---
FZeroRacer wrote:

>"I ended up going outside for the night to get some fresh air. Plus, Beastmaster gives me a bit of a bad vibe.."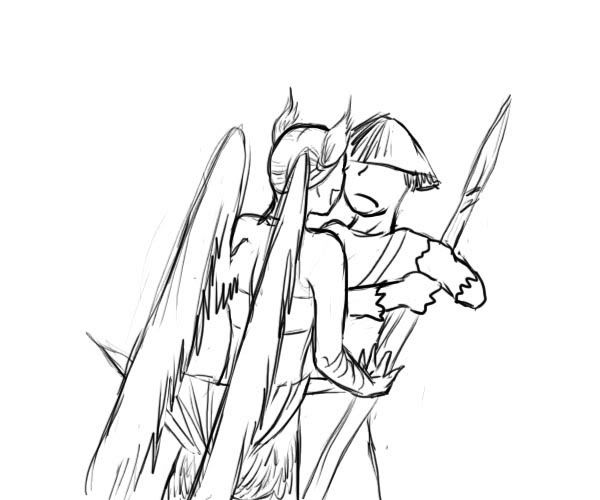 YOU TELL THE LADIES THAT YOU WENT OUT FOR THE NIGHT FOR SOME FRESH AIR. IN A LOWER VOICE YOU SAY THAT THE BEASTMASTER MAKES YOU UNCOMFORTABLE.
"REALLY?" CHELLING SAYS EAGERLY. "YOU HAD DINNER WITH HIM, RIGHT? WHAT DID HE DO TO YOU? OR WHAT DID YOU DO TO HIM? DID IT HURT?"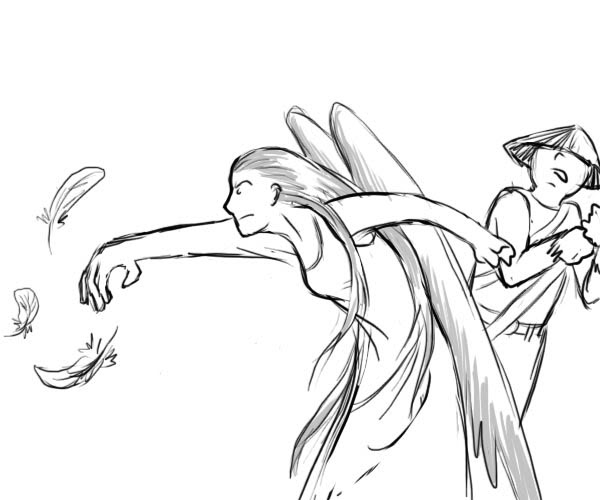 DYMALKID GRABS CHELLING BY A WING AND HURLS HER AGAINST A WALL, WHICH SHE BOUNCES OFF OF.
"FOR THE LOVE OF OUR LORD WILL YOU SHUT UP FOR ONCE!" DYMALKID YELLS. TO YOU SHE SAYS, "PLEASE EXCUSE HER. THERE ARE TIMES WHEN SHE IS IRREDEEMABLY STUPID."
YOU TELL DYMALKID THAT IT TOOK YOU SOME TIME TO FIND THEM BECAUSE THE BEASTMASTER LIED ABOUT THEIR WHEREABOUTS.
"WELL IN HIS DEFENSE." SHE SAYS. "WE WERE SUPPOSED TO BE LEAVE AS SOON AS CHELLING RECOVERED FROM HAVING HER EGG REMOVED. WE DID NOT INITIALLY PLAN TO STAY ANOTHER NIGHT."
>
---
strideredge wrote:

>ask why they stayed an extra night.
"SO," YOU SAY. "WHY ARE YOU TWO STAYING AN EXTRA NIGHT? :winky:"
"WHAT ARE YOU IMPLYING?" DYMALKID ASKS WITH A SMALL GRIN.
CHELLING LEANS ONTO THE ANGEL. "YOU HAVE AN ACTIVE IMAGINATION, YOU LITTLE IMAGO. WE WANT TO STAY AN EXTRA NIGHT BECAUSE A VICHEY FROM LORD ROCLIONESS IS COMING TO VISIT HERE TOMORROW. WE WANT TO SEE HIM. OR HER. DYMALKID, HAVE YOU EVER SEEN ONE OF LORD ROCLIONESS'S VICHEY?"
"NOT UP CLOSE." THE DARK ANGEL SAYS. "I DID NOT SEE MUCH OF THE MASTERS DURING THE APOCALYPSE. I WAS A HEALER AND I ONLY SAW THEIR VICTIMS."
CHELLING HUMS THOUGHTFULLY. "I HOPE IT'S NOT MASTER TYZENKYR. THAT WOULD BE DISAPPOINTING."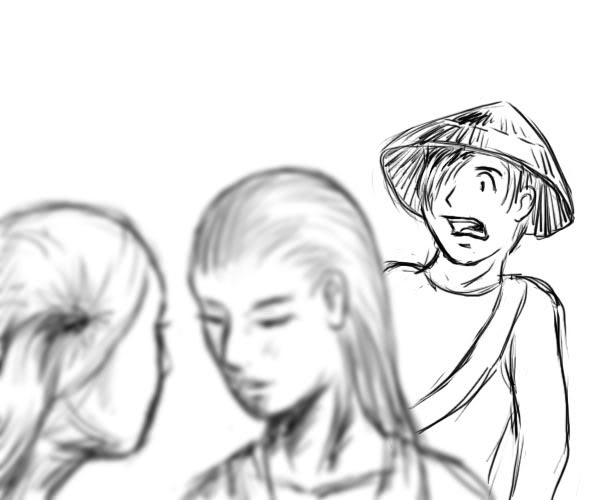 THE GIRLS HAVE THEIR BACKS TURNED AND DO NOT SEE YOU IN A MOMENT OF HORROR. VICHEY MASTERS DO NOT VENTURE OUT OF THEIR LORD'S LANDS EXCEPT FOR SPECIAL PURPOSES. YOU SUSPECT THAT YOU KNOW WHAT BUSINESS THIS ONE HAS IN LORD PETRANOIA'S DOMAIN. AFTER ALL, IT WAS ONE OF LORD ROCLIONESS'S VICHEY THAT BURNED DOWN YOUR HOUSE AND GAVE CHASE AS YOU FLED YOUR HOMELAND, EVENTUALLY STRIKING YOU DOWN ABOVE THE COTTONSTONE FOREST.
YOU CAN NOT BE DISCOVERED BY ONE OF LORD CERLIONESS OR ROCLIONESS'S VICHEY. IF THEY CATCH YOU, THEY WILL UNDOUBTEDLY KILL YOU.
>
---
J Detan wrote:

>Are either of these two associated with Cerlioness or Roclioness? If so, get the hell away.

If not, talk to them about fleeing. Don't give away that you have made enemies of gods, yet.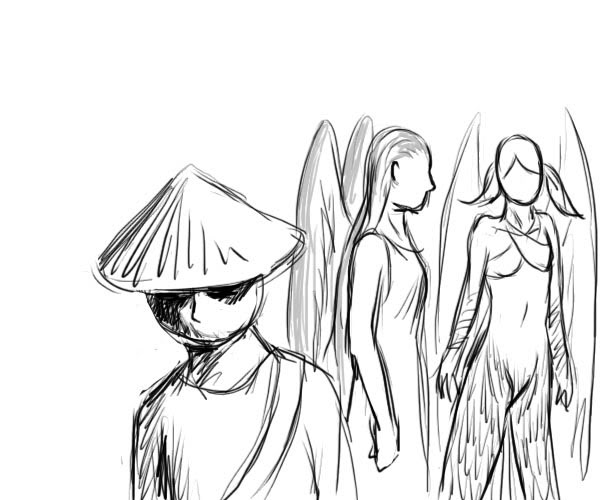 YOU DECIDE THAT YOU HAVE NO OPTION EXCEPT TO LEAVE THIS PLACE BEFORE THE VICHEY ARRIVES. THE QUESTION IS WHETHER OR NOT YOU WANT TO CONVINCE YOUR COMPANIONS TO ACCOMPANY YOU. HOW WILL YOU CONVINCE THEM? AND HOW MUCH OF THE TRUTH DO YOU TRUST THEM WITH?
>
---
Trame wrote:

>"Let's say, theoretically, I had made someone very powerful and in a very important position very angry. Let's say, hypothetically, angry enough to want to kill me. Now let's assume this person was coming here, oh I don't know, sometime tomorrow, to kill me. Now, just for the sake of things, let's pretend that I felt I felt I might need the aid of people with very special characteristics - say, a dark angel and harpy. Possibly. If that were the case, would you two maybe consider helping me out a bit, after all we've been through together and what with the two of you nearly killing me twice. And in this imaginary situation, no one would ever even have to know that you helped me, because anyone who might care - isn't that silly, that someone might care? - because anyone who might care, theoretically, would happen to think you were already long gone by the time I had started seeking out help.

Keep in mind that this is all hypothetical."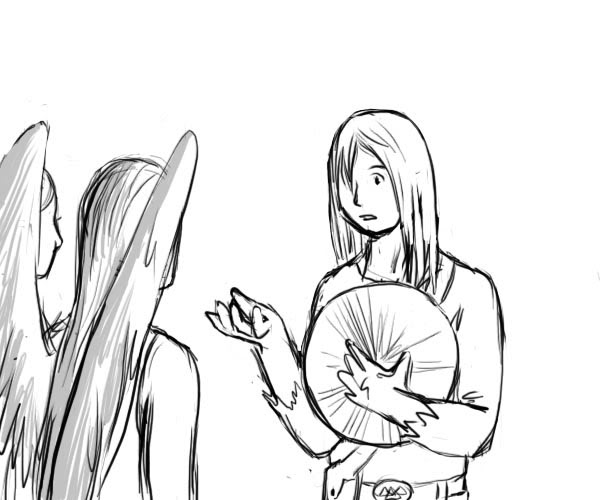 YOU CLEAR YOUR THROAT AND SAY, "HEY, COULD I ASK YOU GIRLS TO HELP ME WITH A FANCIFUL, HYPOTHETICAL SITUATION THAT MIGHT POTENTIALLY BE REAL?" THEN YOU START OFF ON AN ALLEGORICAL STORY THAT YOU HOPE IS SPECIFIC ENOUGH FOR THEM TO ESCAPE WITH YOU BUT IS VAGUE ENOUGH THAT THEY WON'T BECOME SUSPICOUS OF YOUR MOTIVES.
UNFORTUNATELY, CHELLING AND DYMALKID ARE NOT IDIOTS. THEY LOOK AT EACH OTHER, AND THEN YOU, AND ASK, "IS THIS HYPOTHETICAL SITUATION SUPPOSED TO BE A REALITY?"
"UH... POTENTIALLY." YOU ANSWER NERVOUSLY.
CHELLING RUFFLES UP HER FEATHERS IN DISTRESS. "THAT VICHEY COMING TOMORROW. IS OUT TO KILL YOU?"
"UNEQUIVOCALLY... MAYBE."
"WHO ARE YOU." DYMALKID DEMANDS. "WHAT KIND OF PERSON ARE YOU THAT THE LORDS WOULD SEND MASTERS AFTER YOU?"
"I AM TENODERA, OF LORD CERLIONESS-"
"WE KNOW THAT."
"LET ME FINISH." YOU REMOVE YOUR HAT AND TAKE A DEEP BREATH FOR DRAMATIC EFFECT. "I WAS THE HIGH PRIESTESS OF THE CLERGY OF LORD CERLIONESS AND HER PRIMARY CHANNELER."
THE SMALL CAVE IS SILENT AND MOTIONLESS FOR A FEW SUFFOCATING MOMENTS. "IF YOU ARE THE HIGH PRIESTESS..." DYMALKID SAYS BREATHLESSLY. "THEN YOU ARE RANKED WAFRADA OR HIGHER."
"I AM RANKED HOIC." YOU SAY.
"GODS..." DYMALKID PUTS A HAND TO HER HEAD. "I WOULD NEVER HAVE GUESSED. BUT WHAT DID YOU DO TO EARN YOUR LORD'S IRE?"
CHELLING PULLS ON DYMALKID'S ARM. "WE CAN TALK ABOUT THAT ON THE ROAD. WE HAVE TO GET OUT OF HERE. NOW."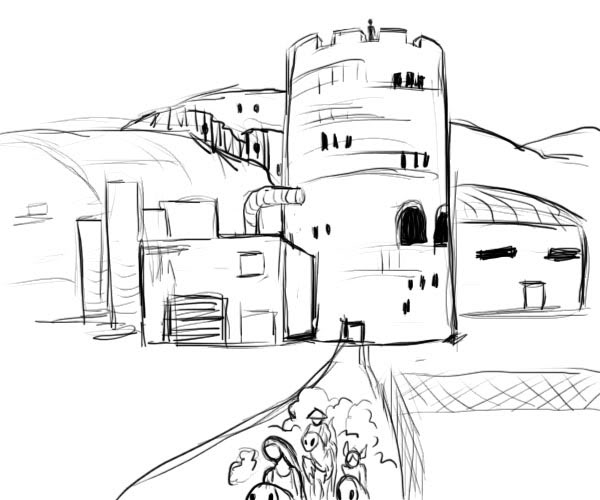 YOU REMAIN IN THE ROOM WHILE CHELLING GOES TO CALL UP SOME MOLEWORMS WILLING TO TRAVEL TO MOEMOEA, THE CITY BY THE BAY. IN BROAD DAYLIGHT, THE WHEELS OF THE MOLEWORMS KICK UP A CLOUD OF DUST AS THEY RACE AWAY FROM THE GENETICS WAREHOUSE.
>
---
Ladiesman217 wrote:

>Apologize to the girls for involving them in this whole thing.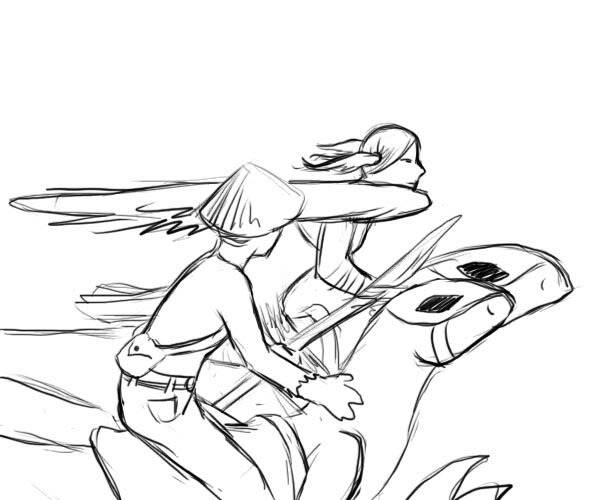 YOU BEGIN TO APOLOGIZE TO THE GIRLS FOR INVOLVING THEM IN YOUR SITUATION, BUT CHELLING CUTS YOU OFF.
"NOT NOW." SHE SAYS. OF COURSE. YOU CAN'T SAY TOO MUCH IN CASE THE MOLEWORMS HEAR SOMETHING THEY SHOULDN'T.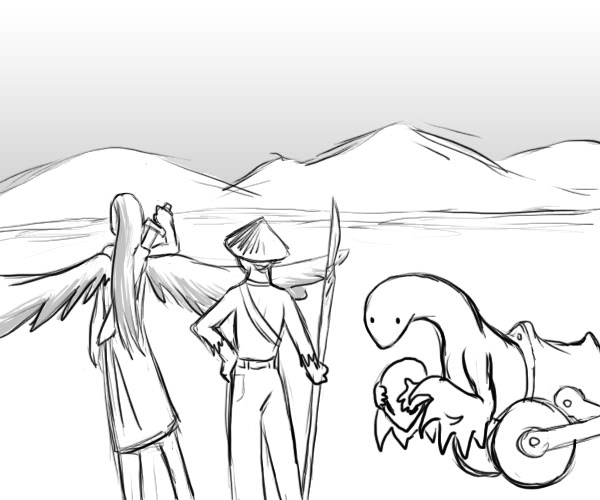 THE THREE OF YOU RIDE FOR THE BETTER PART OF THE DAY. AS DUSK BEGINS TO FALL, THE MOLEWORMS GO OFF THE ROAD AND CIRCLE THE AREA FOR A GOOD PLACE TO SPEND THE NIGHT. TWO OF THEM TUNNEL INTO THE GROUND TO LOOK FOR FUEL FOR THEIR HIP-GEARS, WHILE ONE REMAINS ABOVE GROUND TO MAINTAIN THE MACHINES. CHELLING FLIES OFF TO HUNT FOR FOOD.
"SO," DYMALKID SAYS, UNSHEATHING HER SWORD. "WANT TO SPAR? WITH OR WITHOUT WEAPONS?"
>
Go back to Storytime of Epicness