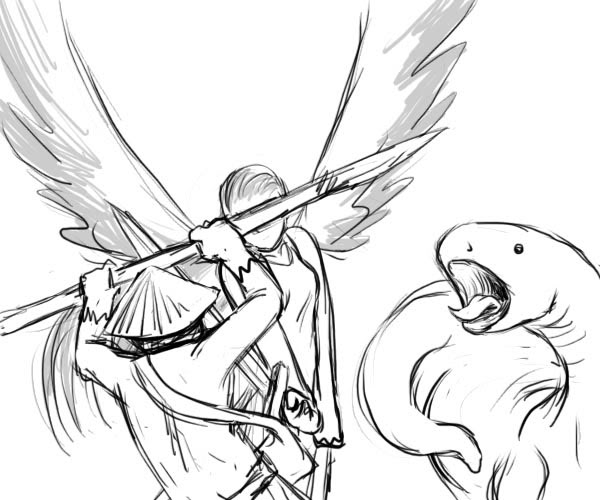 "WITH WEAPONS." YOU SAY. "AND, UM, DON'T USE YOUR YILIXA ABILITIES."
"OF COURSE NOT." DYMAKID ANSWERS, OPENING WITH A SLASH. YOU BLOCK AND PARRY THE SWORD ASIDE WITH YOUR NAGANATA. "I DON'T GET IT. AT YOUR RANK, A CORAYS ANGEL LIKE ME SHOULD NOT BE ABLE TO LAY A FINGER ON YOU." SHE TAKES TO THE AIR AND CHARGES, FORCING YOU TO ROLL ASIDE. " DON'T YOU HAVE ANY GODDESS GIVEN POWERS? SUPERIOR STRENGTH, SUPERIOR SENSES, REDUCED SUSCEPTIBILITY TO YILIXA?"
YOU GIVE HER A TASTE OF YOUR NATURAL REFLEXES, WHICH CAN BE DEADLY AT CLOSE RANGE. YOU FEINT TO THE SIDE AND KNOCK DYMALKID DOWN WITH THE BUTT OF YOUR WEAPON. SHE RECOVERS QUICKLY, NOT BEING HEAVY ENOUGH TO BE DAMAGED BY A FALL. THE NAGANATA IS TOO LONG TO BE EFFECTIVE AT THE SPEEDS YOU PREFER TO FIGHT AT.
"YOU ARE NOT FAMILIAR WITH THAT WEAPON, ARE YOU." THE DARK ANGEL SAYS, FINDING A WEAKNESS IN YOUR STANCE AND KNOCKING THE SPEAR OUT OF YOUR HANDS.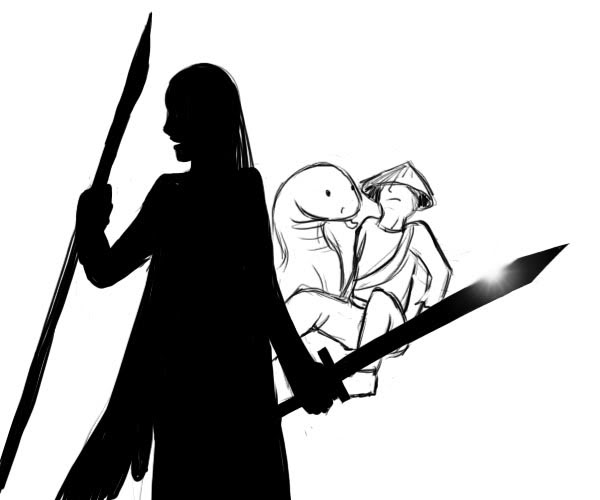 DYAMLKID HOLDS THE NAGANATA UP, EXAMINING IT IN THE LAST RAYS OF LIGHT. "WHERE DID YOU GET THIS?"
YOU TELL HER THAT YES, YOU REALLY SUCK AT USING A NAGANATA. YOU RECEIVED IT FROM SOME FARMERS NEAR THE BOUNDARY MOUNTAINS.
"OF COURSE. THIS IS A MAEROAN WEAPON. IT IS MADE TO FALL OUT OF THE HAND AND BE EASILY PICKED UP BY A TAIL OR FOOT." SHE TOSSES THE NAGANATA AT YOUR FEET. "WHAT IS WRONG WITH YOU? YOU COME INTO OFFERTIEL A HUNTED PERSON AS DEFENSELESS AS A BABY COCKATRICE. YOU ARE NOT EXCEPTIONAL IN PHYSICAL OR ENERGY FIGHTING AND YOU ARE PRONE TO THE INFLUENCES OF YILIXA. WHY DIDN'T YOU CARRY A WEAPON?"
SHE TAKES YOUR HAND AND HELPS YOU UP. SHE TAKES A LONG LOOK AT YOUR TORN SLEEVE. "AND WHAT HAPPENED TO YOUR SHIRT? I THOUGHT WE JUST BOUGHT YOU A NEW ONE."
>
---
J Detan wrote:

>"I ran into a cocka- ah screw it. I tore it for giggles."
Ramirez wrote:

>Perhaps I could borrow your sword for a while, I need to find the right weapon for me.
"MY SHIRT?" YOU SAY. "I TORE IT FOR FUN. IT'S MORE CONVENIENT THIS WAY."
"UH HUH." DYMALKID SAYS, UNCONVINCED.
"SAY, CAN I BORROW YOUR SWORD FOR A WHILE?" YOU ASK. "IT'S SOMETHING I CAN USE MORE EASILY THAN MY NAGANATA."
"NO. I AM NOT GOOD WITH SPEAR WEAPONS EITHER. BUT YOU SEEM LIKE A COMPETENT FIGHTER; DO YOU PREFER A SPECIFIC WEAPON?"
"I LIKE SHORT BLADES." YOU SAY, HOLDING YOUR NAGANATA AT THE NECK AND GIVING IT AN EXPERIMENTAL SWING. "LIKE DUAL DAGGERS OR SICKLES. BUT I'M EVEN BETTER IF IT'S SOMETHING THAT CAN BE MOUNTED ON MY WRIST, KNUCKLES OR ELBOWS."
"MAYBE YOU CAN BUY SOMETHING LIKE THAT ONCE WE GET TO MOEMOEA."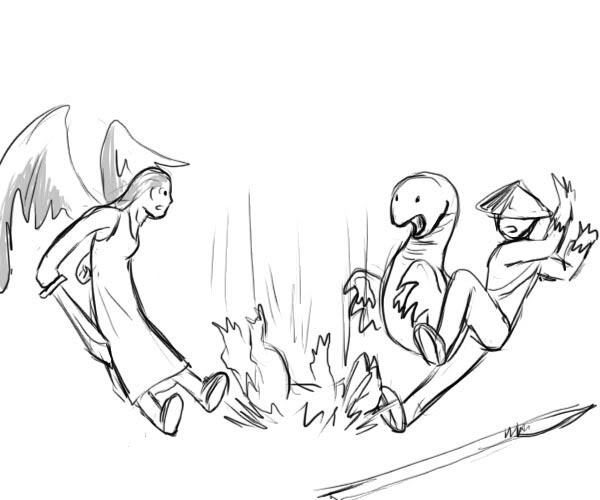 JUST THEN, SOMETHING FALLS OUT OF THE SKY WITH A WET THUD, STARTLING EVERYONE.
"DINNER!" CHELLING SINGS FROM THE SKY.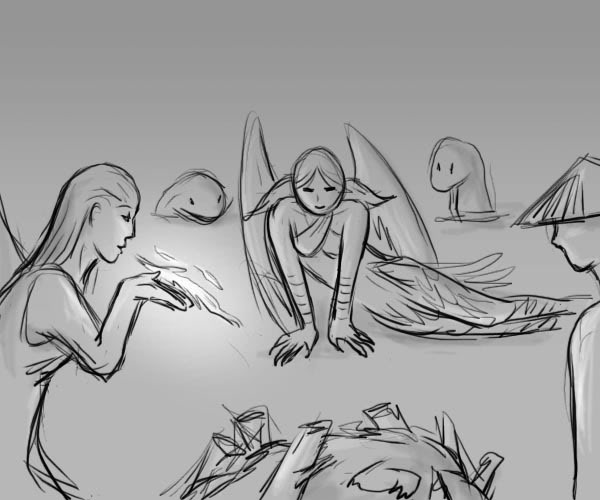 YOU AND CHELLING PILE SOME WOOD OVER THE BADGER THAT SHE CAUGHT AND DYMALKID STARTS A FIRE. THE SMELL OF CHARRED FUR IS ACRID TO YOUR SENSES BUT SOMEHOW IT MAKES YOUR MOUTH WATER. IS THERE ANYTHING YOU WOULD LIKE TO DO AS YOU EAT, AND BEFORE YOU GO TO SLEEP?
>
---
J Detan wrote:

>Snuggle up with the cute widdle moleworms.
Kriz wrote:

>explain more of our past over dinner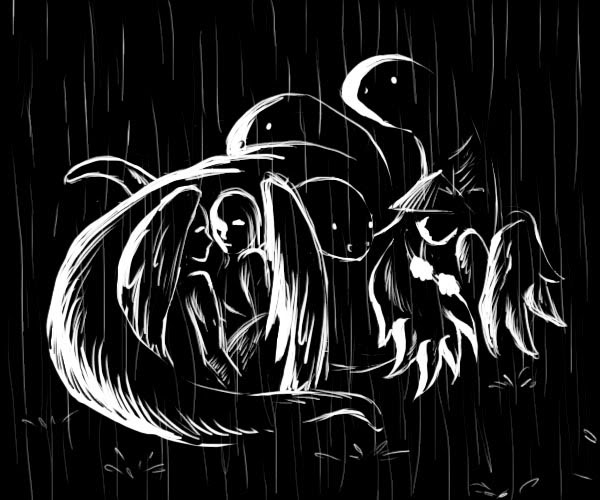 AFTER EATING, YOU GIVE THE NEAREST MOLEWORM A HUG. HE HUGS YOU BACK.
"AREN'T THEY SUCH SWEETIE PIES?" CHELLING SAYS, FINDING HER OWN MOLEWORM AND GIVING HIM A HUG. JUST THEN A CRACK OF LIGHTENING SPLITS THE SKY AND RAIN BEGINS TO FALL. THE MOLEWORMS HUDDLE CLOSE TO THE THREE OF YOU. "YOU SEE?" CHELLING CONTINUES. "THEY ACT BIG AND TOUGH, BUT THEY'RE SCARED LIKE BABIES. THEY WANT TO GO UNDERGROUND BUT THEY'D RATHER STAY WITH US."
THE MOLEWORMS WARBLE IN PROTEST. "OKAY OKAY." CHELLING NUZZLES THE NEAREST ONE. "THEY SAY THEY'RE NOT SCARED, BUT THEY WANT TO MAKE SURE THAT WE'RE NOT."
"THERE IS REASON TO BE AFRAID TONIGHT." DYMALKID SAYS, PULLING CHELLING CLOSER TO HER. "THERE IS A NEW MOON. NOT THAT WE CAN SEE IT THROUGH THESE CLOUDS. SOME PREDATORS PREFER TO HUNT WHEN THERE IS COMPLETE DARKNESS."
CHELLING LEANS AGAINST DYMALKID, HIDING UNDER HER HAIR. YOUR MOLEWORM SQUEEZES YOU TIGHTER AND YOU HAVE TO STRUGGLE FOR SOME ROOM TO BREATHE.
"YOU TWO ARE LUCKY TO HAVE EACH OTHER." YOU SAY WITH A BIT OF JEALOUSY.
"WE ARE." DYMALKID ANSWERS QUIETLY. "DID YOU EVER HAVE A SOUL MATE, TENO?"
"ONCE." YOU SAY. "HE DIED SIX YEARS AGO."
"I SEE." SHE FALLS SILENT AND YOU SUFFER THROUGH THE RAIN UNTIL YOU FALL ASLEEP.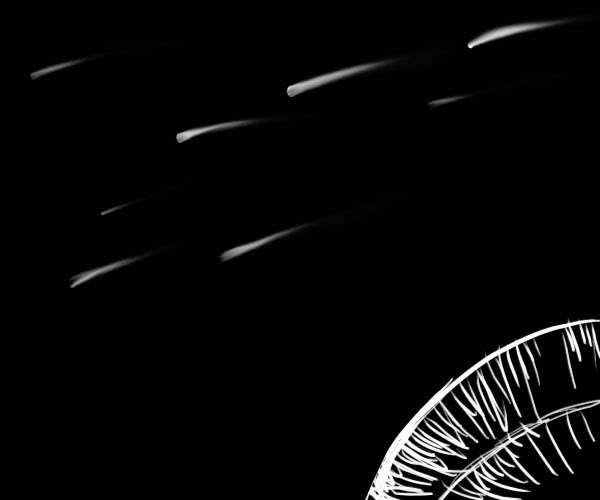 YOU WAKE UP IN THE MIDDLE OF THE NIGHT. THE RAIN HAS STOPPED BUT THE CLOUDS STILL OBSCURE MOST OF THE STARS, EXCEPT FOR A FEW LUMINOUS STREAKS DISAPPEARING TO THE SOUTH-WEST. ONE OF THEM VEERS AWAY AND HOVERS IN FRONT OF YOU.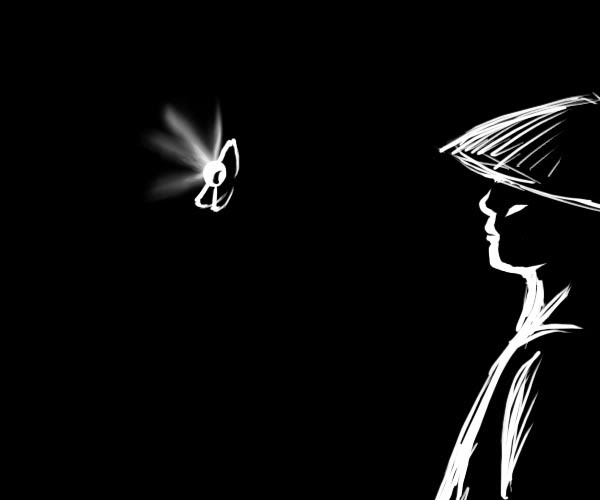 THESE AREN'T SHOOTING STARS AS YOU INITIALLY THOUGHT. IT LOOKS LIKE A SMALL SPHERE WITH A GLOWING LENS, ROBOTIC INSECT-LIKE LEGS, AND WINGS BEATING FASTER THAN YOUR EYE CAN FOLLOW.
>
---
Trame wrote:

>MANHACKS!

> Crowbar! Boot!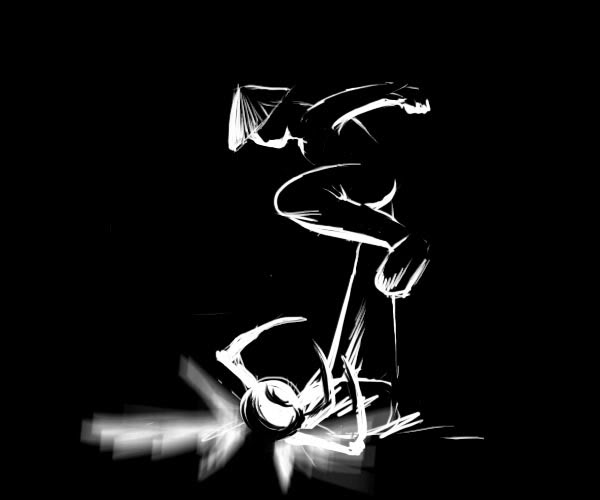 YOU KICK THE THING TO THE GROUND. IT SEEMS TO BE STUNNED, BUT ITS WINGS ARE STILL FURIOUSLY BEATING.
>
---
Jesuits wrote:

>Hold it down, interrogate (relatively nicely), kill if it tries to do us in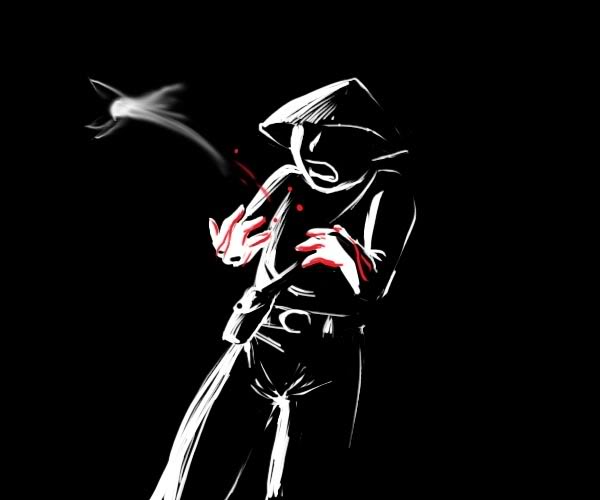 YOU ATTEMPT TO HOLD THE THING, BUT IT'S WINGS ARE LIKE BLADES! JUST BY COMING IN CONTACT WITH THEM, YOUR HANDS ARE LACERATED TO THE BONE. THE THING RECOVERS AND ZIPS OFF INTO THE NIGHT.
>
---
J Detan wrote:

>Scream. LOUDLY.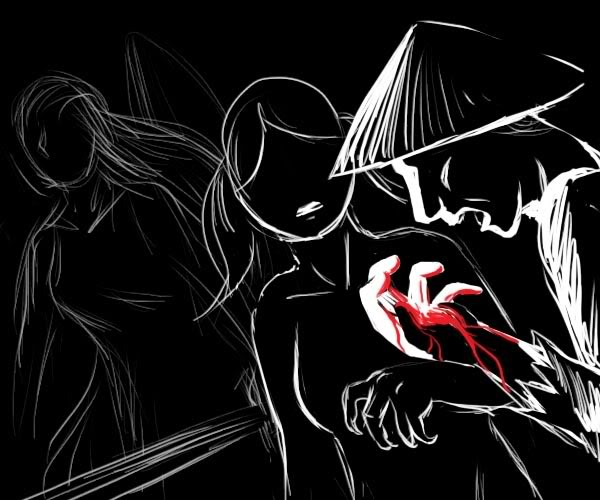 YOU SCREAM INTO THE NIGHT. YOU CAN'T STOP STARING AT YOUR TREMBLING HANDS, SO MUTILATED THAT THEY RESMEBLE MEAT MORE THAN AN APPENDAGE.
YOUR COMPANIONS ARE BY YOUR SIDE WITHIN MOMENTS, CHELLING BECOMING CONCERNED ABOUT YOUR INJURY AND DYMALKID LEAPING INTO THE AIR WITH HER SWORD DRAWN. "WHAT HAPPENED?" SHE DEMANDS WHEN SHE SEES NO IMMEDIATE THREAT.
"DYMALKID, DO SOMETHING..." CHELLING SAYS, INDICATING YOUR RUINED HANDS.
"WHAT HAPPENED?" THE DARK ANGEL REPEATS BUT COMES TO LOOK AT YOUR HANDS. SHE HOLDS THEM IN HER OWN AND A GLOW FORMS BETWEEN THEM.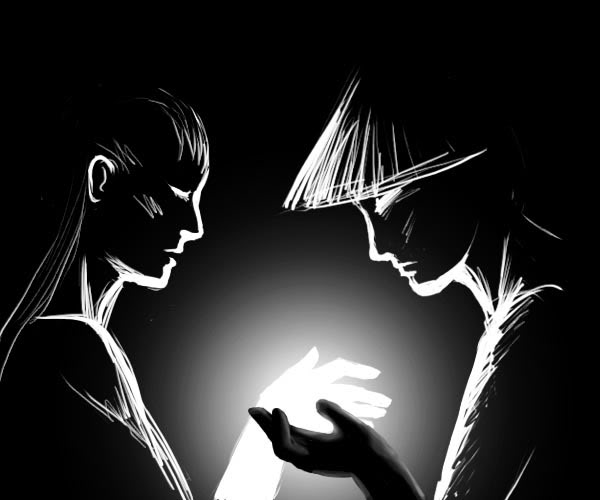 "THOSE LIGHT THINGS IN THE SKY." YOU SAY. "I KNOCKED ONE DOWN WHEN IT FLEW NEAR ME AND TRIED TO GRAB IT, BUT IT CUT UP MY HANDS AND GOT AWAY."
THE GIRLS LOOK UP AT THE NUMEROUS LINES OF LIGHT DRAWN AGAINST BLACKNESS. "THOSE ARE MISN'GO." CHELLING SAYS. "A GOD-BEAST OF LORD PETRANOIA. LOOKS LIKE A SMALL SWARM TONIGHT."
"A GOD-BEAST?" YOU SAY IN A QUIET VOICE, MINDFUL OF THE MOLEWORMS. "BUT IF THEY ARE HEADED IN THE DIRECTION OF THE GENETICS WAREHOUSE, DO YOU THINK...?"
"WELL, IT'S TOO LATE TO DO ANYTHING ABOUT THAT NOW." CHELLING SAYS SO CARELESSLY THAT YOU ARE REASSURED. YOU TURN YOUR ATTENTION TO YOUR MANGLED HANDS, WHICH ARE HEALING BEFORE YOUR EYES. TORN SINEW AND ARTERIES BIND TOGETHER AND WRAP AROUND BONE, THEN ARE SHEATHED IN FLESH.
"I USED TO BE A WHITE ANGEL HEALER DURING THE APOCALYPSE." DYMALKID SAYS. "ALTHOUGH I'M NOT AS SKILLED AS I USED TO BE."
"WHY NOT?" YOU ASK.
"BECAUSE I AM NOW A DARK ANGEL." SHE SAYS.
YOU WAIT FOR AN EXPLANATION. "OH, YOU DON'T KNOW?" DYMALKID SAYS. "WHEN ANGELS TURN DARK FROM WHITE, SOME OF THEIR ABILITIES GROW WEAKER AND SOME ARE ENHANCED. OUR WINGS AND HAIR STAIN AND WE LOSE MUCH OF OUR INHERENT HEALING AND MUSICAL ABILITY. BUT WE CAN CONSUME MORE TYPES OF YILIXA AND WE CAN FEEL MORE EMOTIONS."
"HOW DID YOU BECOME A DARK ANGEL?" YOU ASK.
DYMALKID GIVES YOUR HAND A SQUEEZE. "YOU'RE DONE." SHE SAYS. "NOW GO BACK TO SLEEP." YOU CLOSE YOUR HAND IN A FIST AND FEEL HOW STIFF IT IS, BUT YOU THINK IT WILL RETURN TO NORMAL SOON.
>
---
Ramirez wrote:

>try to fly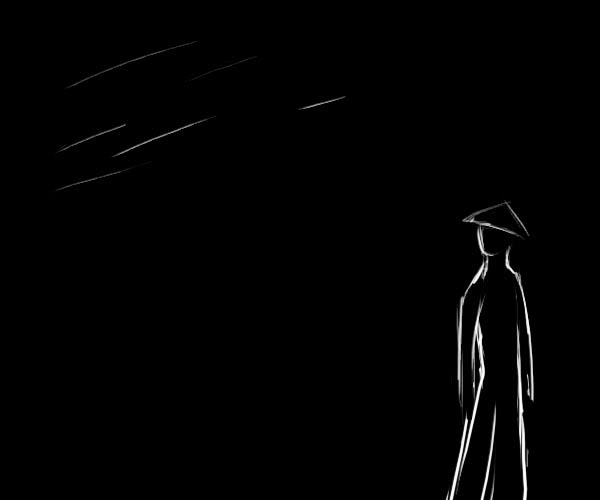 THE LAST OF THE GLOWING THINGS ARE DISAPPEARING IN THE DIRECTION IN WHICH YOU CAME. YOU WERE NEVER VERY FAST, AND YOU COULDN'T GO VERY FAR, BUT IT'S TIMES LIKE THESE THAT MAKE YOU MISS YOUR ABILITY TO FLY.
>
---
BigDes wrote:

>Stab Chelling
YOU STAB CHELLING THROUGH THE CHEST, REVELING IN THE FEELING OF HER BONES SPLINTERING AGAINST YOUR NAGANATA AND HER SHRILL BUT SHORT SCREAM VIBRATING YOUR EARS.
Trame wrote:

>Go back to sleep and dream about the past some more (if that's actually going to work a second time)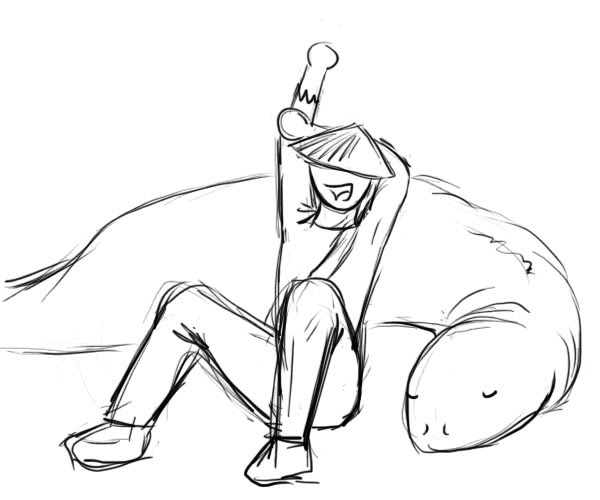 OH WAIT, THAT WAS JUST A DREAM. YOU FELL ASLEEP SHORTLY AFTER THE INCIDENT LAST NIGHT AND NOW YOU ARE AWAKE AND REFRESHED.
>
Go back to Storytime of Epicness