Kyou wrote:

>Look down pants. Describe genetalia.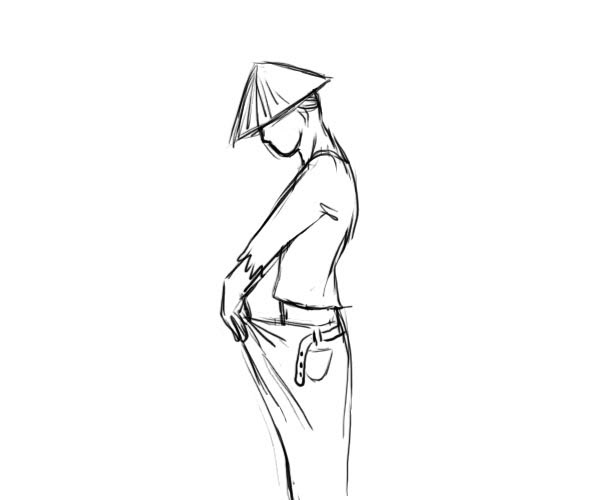 YOU LOOK DOWN YOUR PANTS TO DETERMINE WHAT SEX YOU ARE. LET'S SEE... YOU HAVE AN OPENING WHICH EMITS FEMALE PHEREMONES, YOU DO NOT HAVE ANYTHING RESEMBLING A PENIS OR SCROTUM, AND YOU DISTINCTLY REMEMBER GIVING BIRTH.
YEP, YOU'RE A FEMALE.
>
---
Hanku wrote:

>look around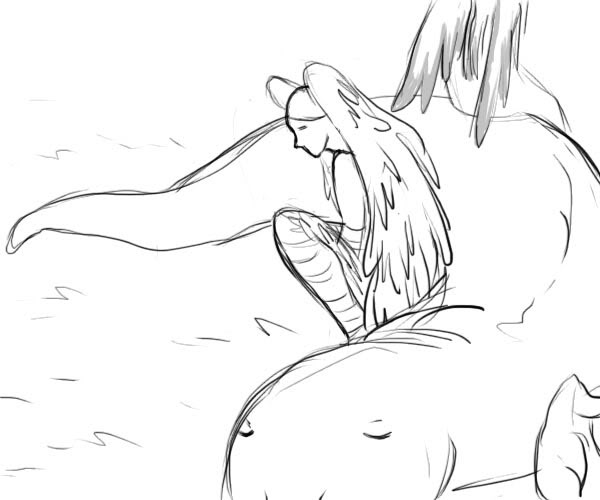 YOU LOOK AROUND. YOU ARE ABOUT A TWO HOURS RIDE FROM MOEMOEA AND A GOOD DISTANCE AWAY FROM THE GENETICS LABORATORY. IT IS EARLY MORNING AND YOUR COMPANIONS ARE STILL SLEEPING. AS USUAL FOR THIS TIME OF DAY, YOU ARE STARVING.
>
---
PenguinSeph wrote:

>Check bag for food.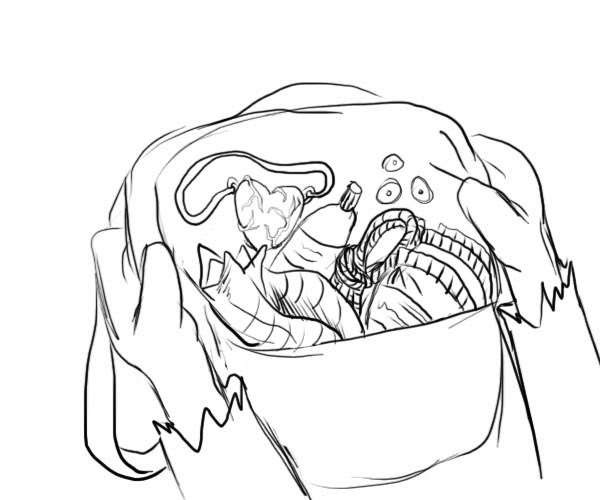 YOU CHECK YOUR BAG FOR FOOD. YOU HAVE THREE PORTIONS OF FREEZE DRIED PROTIEN-CHITIN THAT YOU BOUGHT AT THE GENETICS WAREHOUSE'S GENERAL STORE. OTHER THINGS YOU HAVE INCLUDE THE TUBE OF ANTI-INFLAMMITORIES THAT YOU BROUGHT IN CASE OF FIRE, FOUR METERS OF ROPE MADE OUT OF MARSH VINES, A CONCH CHELLING FOUND IN A MANGROVE TREEHOUSE, YOUR LOCKET, AND YOUR REMAINING 60 UNITS.
>
---
Kriz wrote:

>take out the conch, and sound it!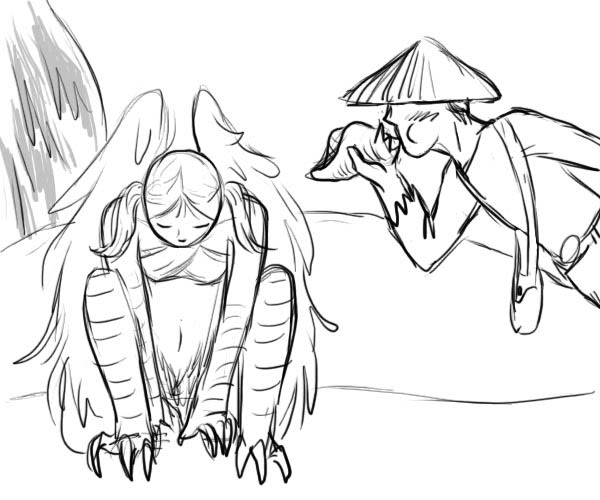 YOU'VE HEARD THAT CONCHES CAN BE BLOWN LIKE HORNS, BUT YOU'RE NOT SURE YOURS CAN BE PLAYED LIKE THAT. IT IS A WHOLE SHELL. IT NEEDS TO BE ALTERED SUCH THAT IT CAN BE PLAYED, AND YOU DON'T HAVE THE EXPERTISE TO DO THAT.
>
---
Kyou wrote:

>throw conch at chelling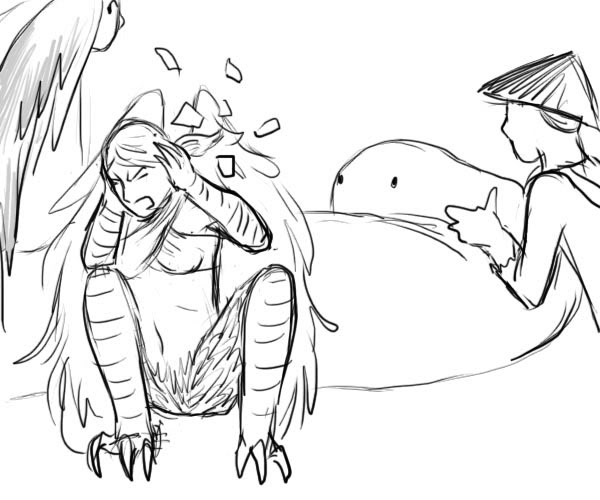 YOU THROW THE CONCH AT CHELLING. IT HITS HER HEAD AND SHATTERS.
"AAAGH!" SHE SCREAMS, INSTANTLY WAKING UP DYMALKID AND THE MOLEWORMS.
>
---
rayofash wrote:

>Check to see if she's okay and apologize profusely. Explain that you were looking through your bag when it fell out, and when you went to catch it you accidentaly knocked it over at her.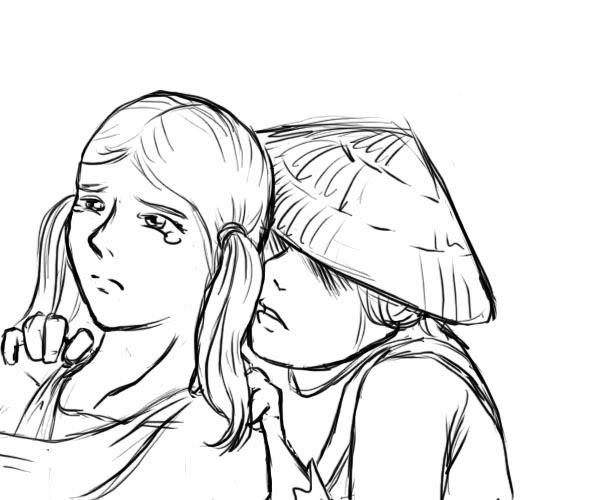 CHELLING IS CLAWING THE PIECES OF SHELL OUT OF HER HAIR AND WHINING WORDLESSLY. YOU HELP HER PICK OUT THE SHARDS AND TIE BACK HER HAIR, CHECKING FOR INJURIES AND APOLOGIZING PROFUSELY THE WHOLE TIME. YOU SAY THAT YOU STILL HAVE DIFFICULTY WITH YOUR NEWLY MENDED HANDS. YOU SAY THAT YOU WERE LOOKING THROUGH YOUR BAG FOR SOMETHING TO EAT WHEN THE CONCH FELL OUT AND YOU ACCIDENTALLY KNOCKED IT TOWARDS HER.
CHELLING SEEMS TO ACCEPT THIS. SHE SNIFFLES AND HER FEATHERS SMOOTH BACK INTO PLACE.
>
---
Ramirez wrote:

>Ask Chelling if she will accompany you on a morning hunt as you want to (re)learn your skills. When hunting, run rampart through the undergrowth with your Naganta, then Chelling can swoop down from overheard to seize the animals that run out of cover in fear. Any time you manage to catch something, strike a cheesy 'thumbs up' pose with Chelling.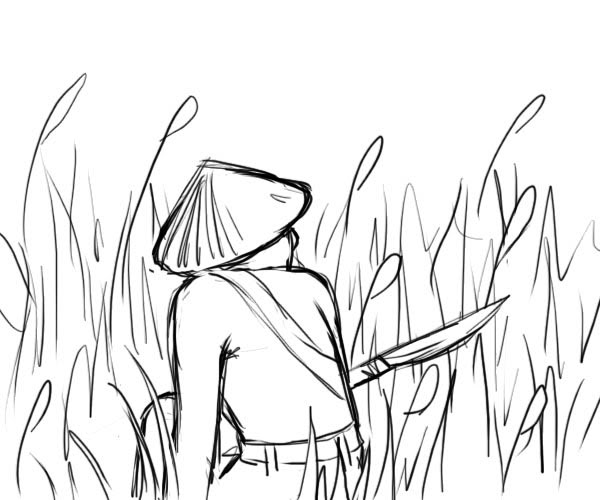 "HOW ABOUT WE HUNT FOR BREAKFAST TOGETHER?" YOU SAY TO CHELLING.
SHE SEEMS DELIGHTED BY THE PROSPECT, BUT UPON DISCUSSION YOU LEARN THAT YOUR HUNTING TECHNIQUES ARE INCOMPATIBLE. SHE LIKES TO DELIVER AN UNEXPECTED KILLING STRIKE FROM THE SKY. YOU ARE AN AMBUSH HUNTER. YOU ARE ADEPT AT ANTICIPATING PREY MOVEMENTS, HIDING WHERE THEY CAN NOT SENSE YOU, WAITING MOTIONLESS FOR HOURS IF NEED BE, AND SEIZING THEM WITH YOUR EXCELLENT CLOSE-RANGE SPEED.
YOU FIND A CLUSTER OF TALL GRASS IN WHICH YOU CAN HIDE AND YOU TASTE THE SCENT OF AN ANIMAL ON THE INCOMING BREEZE. YOU WAIT.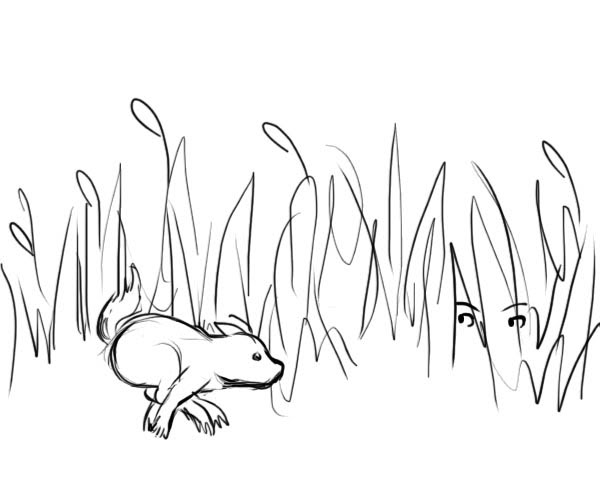 IT IS NOT LONG BEFORE A SMALL MAMMAL RUNS WITHIN YOUR REACH. WILL YOU CATCH IT, AND IF SO, HOW?
>
---
Ramirez wrote:

>Wait for it to come close then use super reflexes to grab it and wrestle it to the ground. Strike cheesy pose. Ask Chelling what it is and if it could be trained as a pet for hunting/sniffing things. If not, kill it for breakfast. On second thoughts, strike cheesy pose after the animal has been secured, use the rope from your bag to tie it up.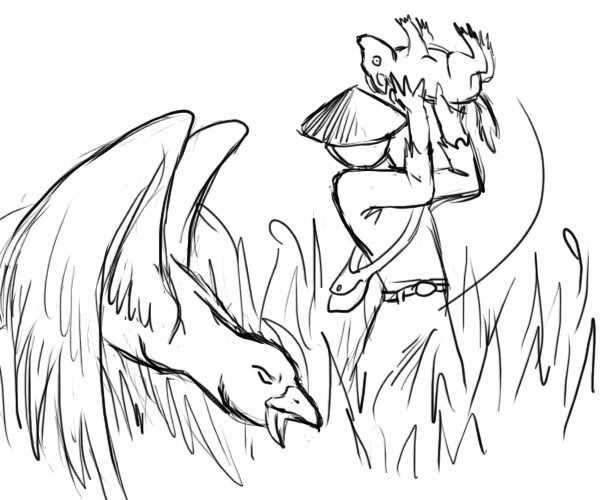 YOU SNATCH UP THE MAMMAL, MAKING THE AYBAW THAT WAS CHASING IT MISS.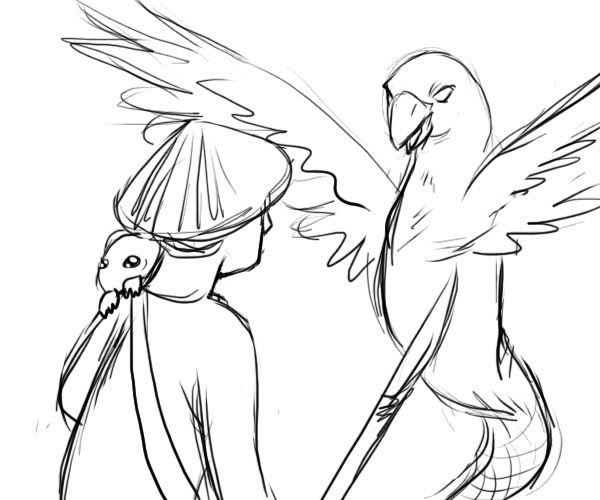 YOU ARE NOW FACED WITH AN AYBAW.
>
---
Number_Nein wrote:
>ATTACK
 DEFEND
 SUMMON
 ITEM
 FLEE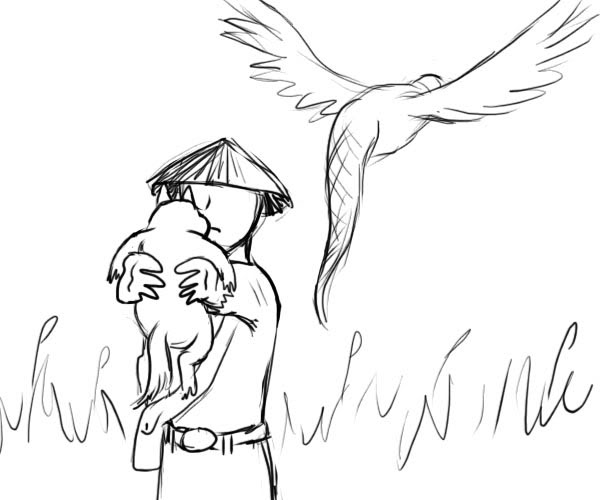 YOU SIZE UP YOUR OPPONENT. ITS BEAK LOOKS SHARP AND ITS WINGS AND TAIL SEEM POWERFUL ENOUGH TO KNOCK YOU TO THE GROUND. BUT YOU DON'T THINK IT WOULD BE ABLE TO KILL YOU, EVEN WITH A TERRIFIED MAMMAL IN ONE ARM. YOU TIGHTEN YOUR GRIP ON YOUR NAGANATA AND SWIPE AT THE AYBAW.
THE AYBAW DODGES WITH SURPRISNG MIDAIR AGILITY, SNAPPING ITS BEAK AT THE FURRY RODENT YOU ARE HOLDING. BUT WHEN IT FAILS THE FIRST TIME, IT DECIDES THAT RISKING ITS LIFE FOR SUCH A SMALL MORSEL IS NOT WORTH THE EFFORT. IT FLIES AWAY, LEAVING YOU WITH YOUR SPOILS.
>
---
Ichnob wrote:

>Tell the girls that we are keeping the creature.

As a last resort food supply. Possibly a pet.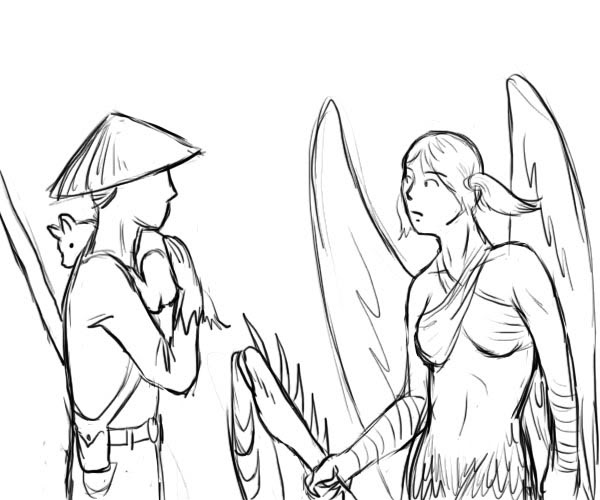 YOU GO BACK TO WHERE DYMALKID AND THE MOLEWORMS ARE WAITING TO SEE IF CHELLING HAS RETURNED WITH ANYTHING.
"I ALMOST CAUGHT A WETA." SHE SAYS. "BUT IT GOT AWAY AND ALL I'M LEFT WITH IS ITS LEG." SHE HOLDS IT UP AS EVIDENCE. "AND HOW ABOUT YOU?"
"I HAVE THIS." YOU REPLY, SHOWING HER THE FURRY BUNDLE ON YOUR SHOULDER.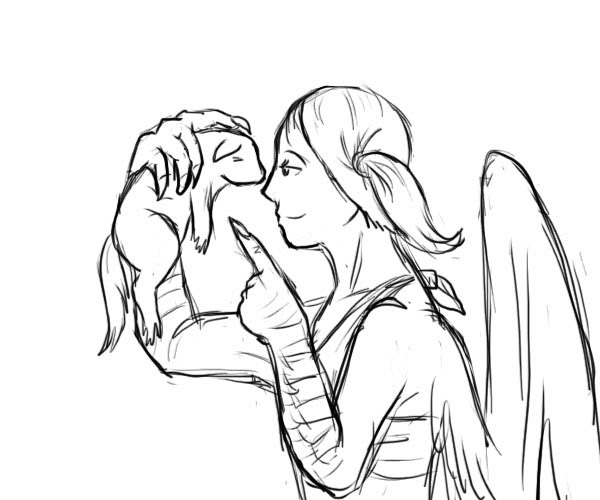 "OH, THIS IS A WILD SKIBLY." SHE SAYS, HOLDING THE CREATURE BY THE SCRUFF OF HIS NECK. "YOU CAN BUY FATTER AND LESS HAIRY ONES IN TOWN, BUT I THINK THE WILD ONES ARE BETTER FOR SOUPS."
YOU HOLD YOUR HANDS OUT. "WAIT, WAIT. WE HAVE A WETA LEG ALREADY. WE CAN EAT THAT. I WANT TO KEEP THE SKIBLY AS A PET."
"A PET." DYMALKID SAYS INCREDUOUSLY. "NO ONE KEEPS SKIBLYS AS PETS. AND I DO NOT THINK YOU HAVE THE ABILITY TO TAKE CARE OF A PET RIGHT NOW."
"WE'RE ALWAYS SCROUNGING FOR FOOD." YOU SAY. "WE CAN KEEP HIM WITH US AS A FRESH MEAT SOURCE."
"OH WHATEVER." CHELLING SAYS, HANDING YOU BACK YOUR SKIBLY. "JUST MAKE SURE TO FATTEN HIM UP."
>
---
Taya wrote:

>Name it Menchi.
Trame wrote:

>Use the marsh vine rope to fashion a makeshift leash so the skibly doesn't dart as soon as we put it down.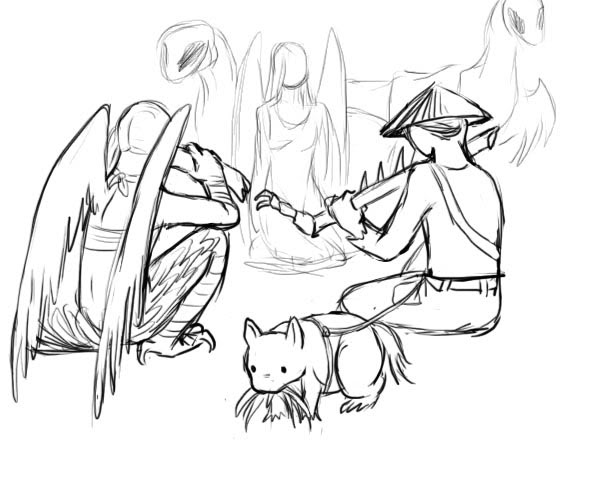 "I WILL CALL HIM MENCHI AND HE SHALL BE MINE, AND HE SHALL BE MY MENCHI." YOU DECLARE ALOUD. YOU THEN PROCEED TO TIE HIM UP WITH YOUR ROPE SO HE DOESN'T RUN AWAY. IT DOESN'T EAT MEAT, YOU LEARN AS YOU TRY TO OFFER IT SOME FOOD, BUT SEEMS CONTENT TO GRAZE THE GRASS AROUND THE AREA. YOU AND CHELLING EAT THE WETA LEG WHILE THE MOLEWORMS SUIT UP IN PREPERATION FOR THE RIDE TO MOEMOEA.
>
---
Lanz wrote:

>1) Mention you believe we're being followed, or in the least, that we're sure our exodus was observed, and plot an appropriate course of action for either of those situations; sidenote: DO THIS OUT OF EARSHOT OF MOLEWORMS

2) Ask about the weird thing that minced our hands to ground beef, what it is, if it's tracking us, etc.

3) Ask about the customs of the place we're going (in case Moemoe turns out to be a bad idea if we're being followed), so that we'll blend in to avoid those who'd want us dead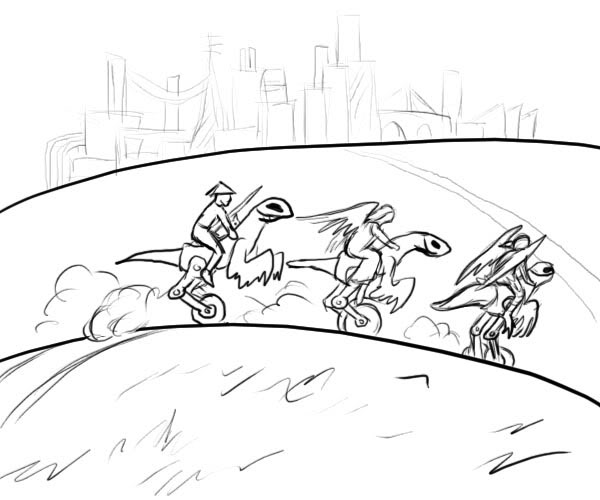 WITH THE MOLEWORMS OCCUPIED, YOU GATHER CHELLING AND DYMALKID AND TALK TO THEM IN A WHISPER. YOU TELL THEM THAT YOU ARE SURE SOMEONE SAW YOU LEAVE THE GENETICS WAREHOUSE AND YOU SUSPECT YOU ARE BEING FOLLOWED.
CHELLING SMILES SLIGHTLY AND SAYS, "WHY WOULD ANYONE DO THAT? WHAT DID YOU-"
"THE BEST REMEDY FOR THAT IS TO GET TO MOEMOEA AS FAST AS POSSIBLE." DYMALKID CUTS IN. WITH THE SUDDEN NOTE OF URGENCY, YOU ALL SADDLE YOUR MOLEWORMS AND CONTINUE RIDING NORTHWEST.
"SO WHAT'S MOEMOEA LIKE?" YOU ASK, RAISING YOUR VOICE OVER THE HIP-GEAR MOTORS. "ANY SPECIAL CUSTOMS I SHOULD OBSERVE?"
"MOEMOEA IS ALSO KNOWN AS 'THE CITY OF DREAMS'." DYMALKID SAYS WITH EVIDENT ADORATION. "IT IS GOVERNED BY THE CULT OF SHEER, WHICH CHELLING AND I BELONG TO. WE HAVE AN APARTMENT IN THE CITADEL OF STAIRS. THE POPULATION IS NOT AS DIVERSE AS THE GENETICS WAREHOUSE AS IT MOSTLY CONSISTS OF ANGELS, BUT I DO NOT THINK YOU WILL BE TOO OUT OF PLACE THERE. ALTHOUGH YOU MIGHT WANT TO THINK ABOUT BUYING A NEW SHIRT."
"THERE IS A PORT. WE EXPORT WHAT IS GROWN IN THE AGRICULTURAL LANDS TO THE SMALLER ISLAND NATIONS IN THE NORTH. WE IMPORT ELEMENTS FROM THE OCEAN MINES. WHEN THE CRYSTAL PALACE IS NEARBY, MOEMOEA ACTS AS THE GO-BETWEEN BETWEEN ANY OF THE NEARBY DISTRICTS AND THE PALACE. IT ALSO ATTRACTS DEMONS, SIRENS AND OTHERS WHO ASSOCIATE CLOSELY WITH ANGELS."
HOLDING THE NECK OF YOUR MOLEWORM, YOU FEEL THE STIFFNESS OF YOUR FINGERS AND ARE REMINDED OF THE MACHINE THAT INJURED YOU LAST NIGHT. "I'VE BEEN MEANING TO ASK ABOUT THAT THING, THAT MISN'GO. IS I A SPY? IS IT WATCHING US NOW?"
DYMALKID SIGHS. "THEY ARE THE ULTIMATE SPIES." SHE SAYS. "THEY HAVE VIDEO AND AUDIO CAPABILITES CONNECTED TO THE COLLECTIVE DATABASE OF THE GRAND GODDESS. EVERYTHING THEY SEE OR HEAR IS RECORDED. THEY ALSO HAVE THE ABILITY TO BECOME INVISIBLE. IT WAS SAID THAT DURING THE APOCALYPSE, LORD PETRANOIA ASSIGNED AT LEAST ONE INVISIBLE MISN'GO TO EVERY INDIVIDUAL IN HER ARMY, WITH HIGH-RANKING PEOPLE HAVING AS MANY AS 20 AT A TIME."
YOU LOOK BEHIND BOTH YOUR SHOULDERS AS IF EXPECTING TO CATCH A GLIMPSE OF ONE OF THE ROBOTIC SPIES. "SHOULD... I BE CONCERNED?"
"NAH." CHELLING ASSURES YOU. "THE MISN'GO IS LORD PETRANOIA'S GOD-BEAST, BUT ITS MEMORY IS TIED IN WITH THE GRAND GODDESS. YOU HAVE TO GO THROUGH SPECIAL PROCEDURES BEFORE YOU'RE DEEMED WORTHY OF RECEIVING ANY PART OF IT. EVEN OUR LORD ONLY USES IT IF SHE WANTS TO OBSERVE A SPECIFIC PERSON OR EVENT."
YOU RIDE INTO THE AFTERNOON. THE THREE OF YOU CREST A HILL AND AT ITS APEX YOU CAN SEE THE DISTANT SILHOUETTE OF MOEMOEA, THIS SO-CALLED CITY OF DREAMS.
>
---
Mbnmac wrote:

>After buying clothes, look for a suitable weapon, we will clearly suck at fighting until we can use our weapon properly. then see if there's a way to get even further away from the genetics warehouse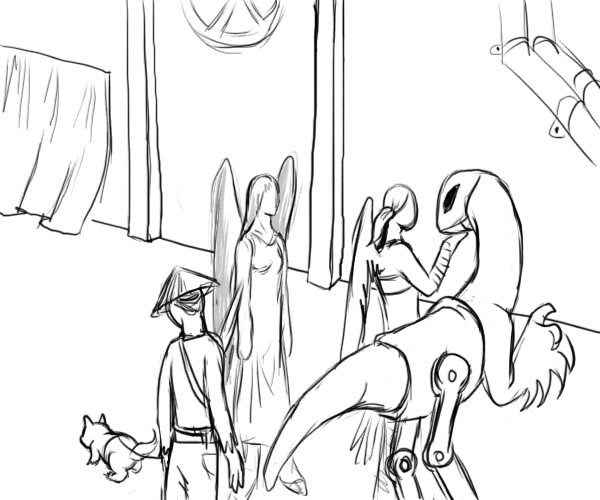 THE MOLEWORMS PART WAYS WITH YOU AT THE EDGE OF MOEMOEA. CHELLING BIDS THEM FAREWELL, THEN COMPLAINS ABOUT HOW LONG IT WILL TAKE THEM TO REACH THE CITADEL OF STAIRS ON FOOT, FOR IT IS AT THE CENTER OF THE MASSIVE CITY.
TOWERS AND SKYSCRAPERS LOOM OVER YOU, MAKING YOU FEEL FIRMLY PLANTED TO THE EARTH WHILE ANGLES GLIDE LIKE WRAITHS ABOVE. BUT AS A RESULT, FOOT TRAFFIC IS LOW FOR A CITY OF THIS SIZE. YOU ARE USED TO CROWDED MASSES, TUNNELS, AND SPONTANEOUS FIGHTS. THIS IS A PLACE OF AIR, GLASS, AND INDIFFERENCE.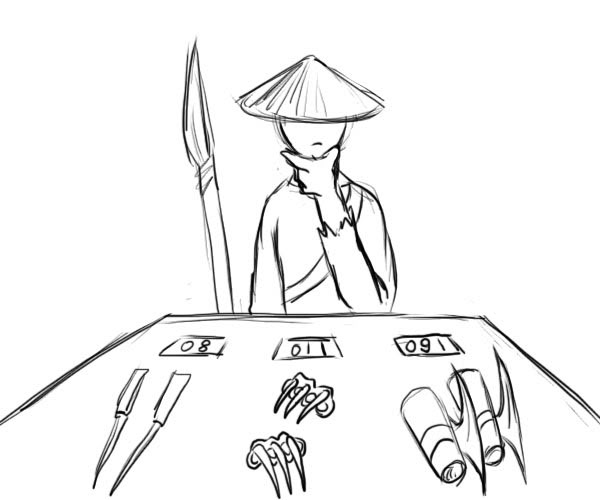 YOU FEEL THE NEED TO CHANGE YOUR ARMAMENTS AND ATTIRE FOR THE SAKE OF DISGUISING YOURSELF AND ACQUIRING A WEAPON YOU CAN ACTUALLY USE. JUST AS THIS THOUGHT CROSSES YOUR MIND, YOU COME UPON AN OUTDOORS WEAPONS VENDOR. YOU TELL THE LADIES THAT YOU'RE GOING TO STOP AND CHECK IT OUT.
"GO AHEAD." CHELLING ANSWERS. "IT'S ABOUT TIME WE TOOK A REST ANYWAYS."
"TAKE YOUR TIME. WE WILL BE IN HERE." DYMALKID SAYS, POINTING TO A BUSY CAFE ON THE SIDE OF THE STREET.
YOUR EYES ROAM OVER THE VENDOR'S SELECTION, TRYING OUT A FEW OF THE WEAPONS THAT YOU THINK WILL SUIT YOU. THERE ARE NEEDLE DAGGERS, POPULAR WITH ANGELS AND EASY TO CONCEAL. ANOTHER POSSIBILITY IS THE TOOTHED KNUCKLES, MADE OF STEEL AND REINFORCED BALEEN. BUT YOUR FAVORITE IS THE BLADED GAUNTLETS, PERFECT FOR ADDING A STAB TO YOUR PUNCHES WHILE STILL GUARDING YOUR SIDES, ALL WITHOUT IMPEDING YOUR MOVEMENT. HOWEVER, ALL OF THESE WEAPONS ARE OUT OF YOUR PRICE RANGE. YOU HAVE 60 UNITS LEFT. IF YOU WANT TO GET SOMETHING NOW, THEN YOU WILL HAVE TO TRADE SOMETHING IN. AND THE MORE YOU TRADE IN, THE BETTER WEAPON YOU WILL RECEIVE.
>
---
Trame wrote:

>Ask how much these items are worth, and how much the non-rotting protein food things are worth.

>Go ahead and trade in naginata, belt, and one of our little food packets.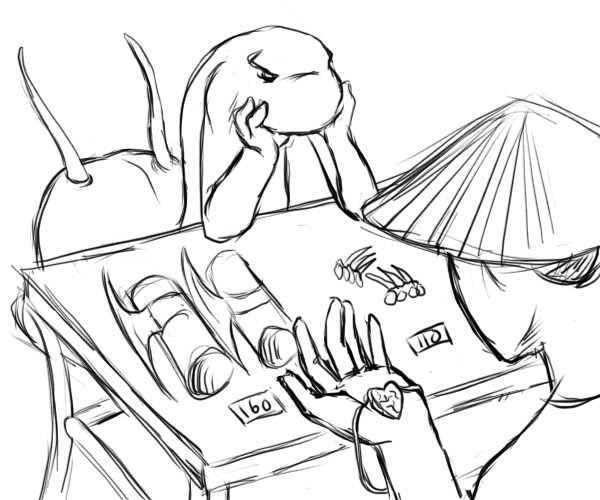 TO START TRADE-IN NEGOTIATIONS, YOU HAGGLE OVER THE PRICE OF SOME NON-ESSENTIAL ITEMS. YOU THINK YOUR LOCKET MIGHT BE WORTH SOMETHING, BUT THE GREEN SHARDS INSIDE HAVE CONGEALED AND ARE STARTING TO SEND OUT ROOT-LIKE APPENDAGES. IT IS HARD TO OPEN THE LOCKET, ESPECIALLY SINCE YOU ARE TAKING CARE NOT TO TOUCH THE GROWTHS FOR TOO LONG. YOU PUT THE LOCKET BACK IN YOUR BAG.
HOWEVER, WITH YOUR AVAILABLE UNITS, NAGANATA, BELT AND A PARCEL OF PROTIEN-CHITIN, YOU HAVE JUST ENOUGH TO PURCHASE A WEAPON. ONLY TWO UNITS ARE LEFT.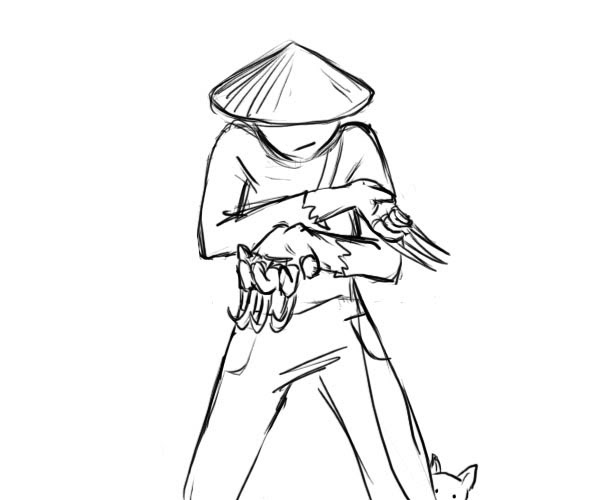 YOU NOW HAVE A PAIR OF TOOTHED KNUCKLES. YOU STRIKE A POSE.
>
---
Ichnob wrote:

>After meeting with girls and figuring out a plan, find a means of income.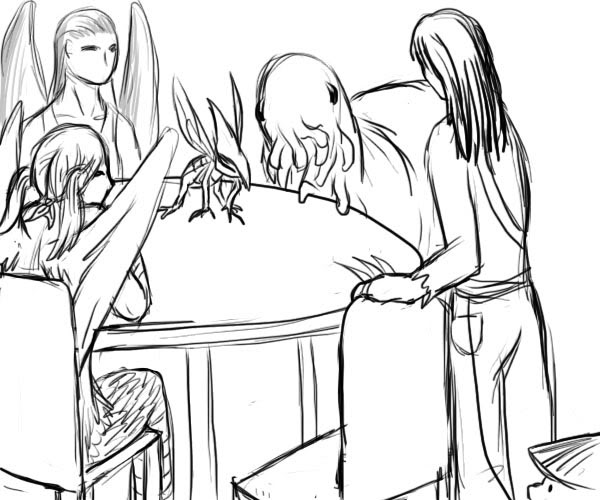 YOU PUT YOUR HAT AWAY SINCE YOU FEAR IT IS DISTINCT ENOUGH FOR YOUR PURSUERS TO RECOGNIZE IT. OR AT LEAST THE PURSUERS THAT HAVE SEEN YOU SINCE YOU ACQUIRED THE HAT.
YOU GO INTO THE CAFE TO TALK WITH CHELLING AND DYMALKID. THE PLACE IS PACKED AND BUZZING WITH VOICES, ALTHOUGH FEW TABLES SHOW ANY EVIDENCE OF BEING SERVED. YOUR COMPANIONS ARE SEATED WITH AN IH YA PAIR, ENGROSSED IN THE LATEST GOSSIP.
"AND WHAT ARE YOU SUPPOSED TO BE?" THE YA SAYS TO YOU AS YOU TAKE A SEAT.
CHELLING SAYS, "THIS IS OUR TRAVELLING COMPANION WHO-"
"I DIDN'T ASK YOU, BIRD." THE YA CUTS HER OFF. "YOU." HE SAYS, TURNING TO YOU.
"I AM TENO." YOU REPLY SIMPLY.
"I AM HEALTH. AND THIS-" HE FLICKS A WING AT HIS PARTNER. "IS HORTICULTURE, MY IH." THE IH MOANS IN GREETING.
>
---
Jesuits and wuukiee wrote:

Make small talk, recall what we know about Ih Ya pairs - if nothing, find out politely. If asked, answer with any information that feels safe to tell.

also: Look at Menchi so we can see how adorable it is with the hat on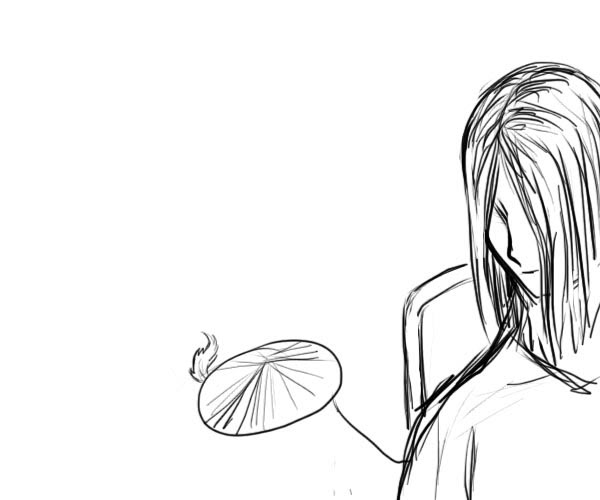 YOU LOOK AT YOUR SKIBLY. YOU ASSUME HE'S UNDER YOUR HAT SINCE YOU CAN SEE HIS TAIL.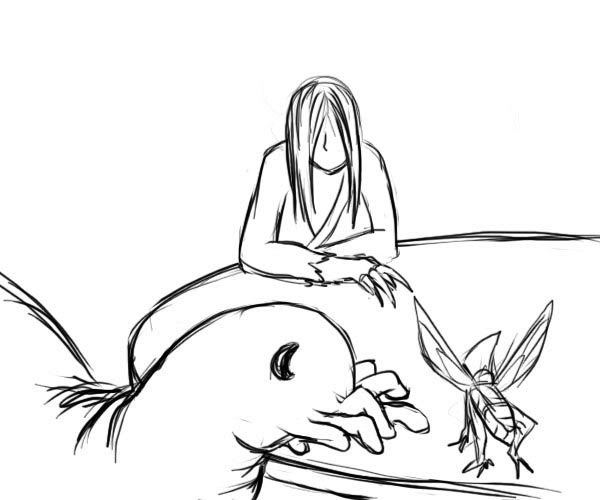 IH YA ARE NOT TERRIBLY NUMEROUS BUT THEY LIVE IN ALL DOMAINS. EVEN YOU HAVE MET SOME BEFORE AND YOU KNOW SOMETHING ABOUT THEIR LIFE HISTORY. THE YA ARE ENDOPARASITES OF THE IH. THEY SPEND THEIR CHILDHOOD EMBEDDED IN THE FLESH OF THEIR HOST, CAUSING DISCOMFORT AND, UPON EMERGENCE, A PERMANENT WOUND. YOU ARE NOT CLEAR ON THE DETAILS, BUT THERE IS AN ANCIENT AGREEMENT BETWEEN THE TWO SPECIES WHICH FORCES THE IH TO PUT UP WITH THIS PAIN. BUT DESPITE THIS, IH AND THEIR YA USUALLY BECOME LIFELONG PARTNERS. IH CAN NOT TALK; THEY NATURALLY COMMUNICATE THROUGH INFRASOUND AND A COMPLEX SIGN LANGUAGE USING THEIR MOUTH PALPS. THEY RELY HEAVILY ON THEIR YA TO ACT AS INTERPRETERS TO OTHER SPECIES.
ANYWAYS, YOU LET THE PAIR CONTINUE THEIR CONVERSATION WITH THE GIRLS. YOU LISTEN IN. THEY, AND APPARENTLY MOST OF THE OTHER PEOPLE IN THE CAFE, ARE GOSSIPING ABOUT SOME BIG NEWS. THERE SEEMS TO BE A VICHEY FROM LORD CERLIONESS'S DOMAIN IN THE AREA. CHELLING AND DYMALKID LOOK SIDEWISE AT YOU. YOU GIVE NO OUTWARD REACTION.
"REALLY?" CHELLING SAYS. "THAT'S WEIRD. THERE'S SUPPOSED TO BE ONE AT THE GENETICS WAREHOUSE RIGHT NOW TOO."
"WHAT FRASS YOU SPEAK." HEALTH SNAPS. "TWO FOREIGN MASTERS HERE AT ONCE? IMPOSSIBLE."
"IT IS TRUE." DYMALKID SAYS. "WE JUST CAME FROM THAT DIRECTION."
HORTICULTURE GROANS, VIBRATING THE TABLE, AND TAPS ON THE WOOD WITH HIS PALPS. HEALTH PAUSES TO LISTEN. THEN HE SAYS, "RIDICULOUS. THOSE LORDS ARE INSANE, LETTING THEIR VICHEY TRAVEL WHEN THEY HAVE A CIVIL WAR ON THEIR HANDS."
"CIVIL-?" DYMALKID BEGINS.
"I'M NOT DONE, GREY. ARE YOU DEFECTIVE? IT'S ONLY A SMALL CIVIL WAR. SOMETHING HAPPENED WITH A FACTION UNDER MASTER SNAKE AND THEY ARE NO LONGER TAKING ORDERS FROM THEIR LORD. A SQUADRON WAS SENT TO PACIFY THEM AND THEY EITHER FOUGHT BACK OR ESCAPED. 'BOUT A HUNDRED OF THEM DEAD NOW. THE REST HAVE GONE UNDERGROUND. LITERALLY OR FIGURATIVELY."
"TELL ME MORE." YOU DEMAND.
"DON'T YOU 'TELL ME MORE' ME. NOTHING MORE TO TELL." THE YA SNAPS HIS WINGS AND HOP ONTO THE HEAD OF HIS IH.
"THANK YOU FOR SHARING YOUR INFORMATION WITH US." DYMALKID SAYS SWEETLY. "I JUST HAVE ONE MORE THING TO ASK. DO YOU HAVE ANY IDEA WHY THE MASTERS HAVE COME HERE?"
HORTICULTURE GRUNTS SOMETHING UP AT HEALTH. "NO IDEA." THE YA SAYS. "BUT IT GOTTA BE BIG. THE ONE HERE IS THE SO-CALLED 'LEFT HAND' OF LORD ROCLIONESS. YOU KNOW THE ONE? MASTER INFER."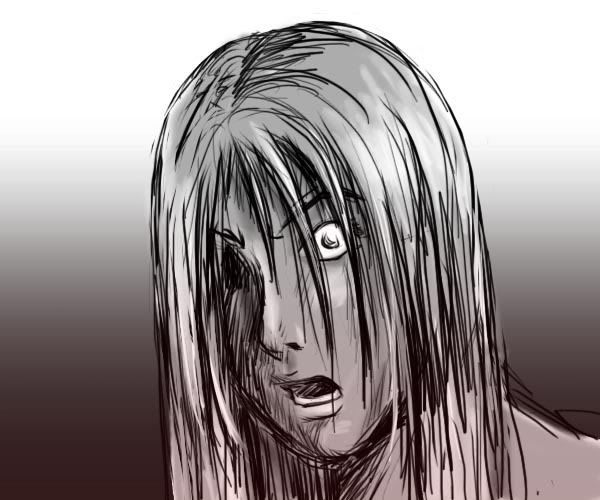 YOU DO NOT HEAR WHAT THE YA SAYS AFTERWARDS.
MASTER INFER IS THE ONE WHO STRUCK YOU DOWN ABOVE THE FOREST AND BURNED DOWN YOUR HOUSE!
>
---
mcc wrote:

>SUBTLY ask where this master is staying.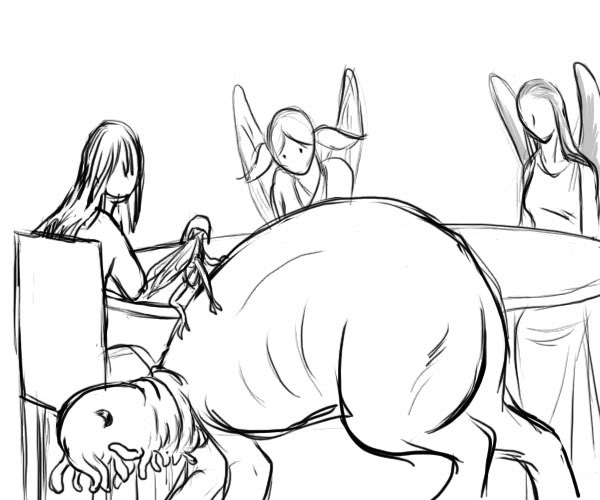 "I DON'T BELIEVE YOU." YOU SAY TO HEALTH. THE LITTLE YA HISSES AND SPITS AT YOU AS IF HE'S READY TO FIGHT BUT HIS IH BEGINS TO WALK AWAY. "WHAT YOU ARE SAYING SOUNDS LIKE BASELESS STREET GOSSIP. HAVE YOU EVEN SEEN MASTER INFER FOR YOURSELF?"
"OF COURSE, YOU UNFLAVORED IMAGO." THE YA SNARLS. "THE MASTER INFER APPEARS EVERYWHERE, OUT OF NOWHERE. I SAW HER ON A WALKWAY AND POOF, GONE IN A CLOUD OF SMOKE."
HORTICULTURE GROWLS SOMETHING. "SHE BE A CALLOUS ONE, THAT VICHEY." HEALTH ADDS. "SHOULDN'T BE IN MOEMOEA. DIDN'T INTRODUCE HERSELF TO MASTER SHEER WHEN SHE ARRIVED IN THE CITY LIKE SHE'S SUPPOSED TO. MASTER SHEER BE LIVID WHEN HE COMES BACK." THE IH YA LEAVES THE CAFE.
>
---
Trame wrote:

>Ask Chelling and Dymalkid if they think it's safe to talk here, and if not, find somewhere safe to talk.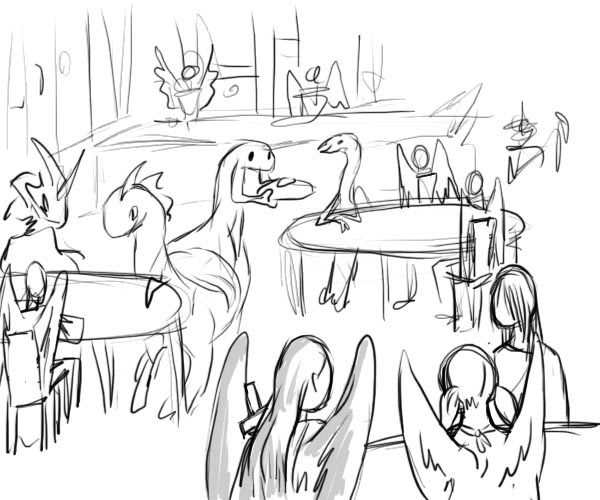 "DYMALKID, CHELLING," YOU SAY IN AN URGENT WHISPER. "IT IS NOT SAFE TO TALK HERE. CAN WE GO SOMEWHERE ELSE?"
"LET'S GO." CHELLING AGREES. "THE SERVICE HERE IS TERRIBLE. LET'S GO HOME AND EAT YOUR SKIBLY."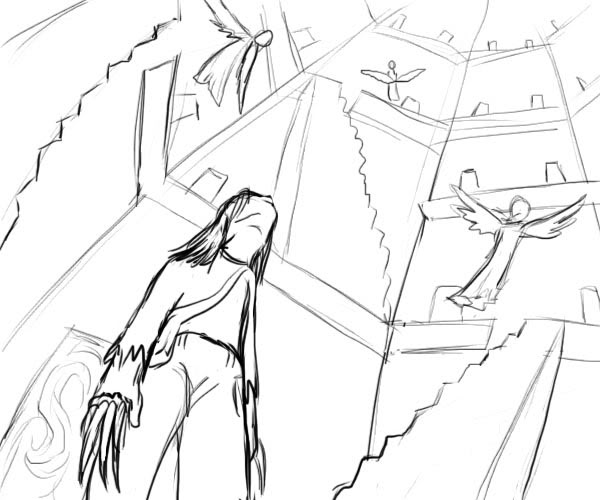 THE GIRLS HAVE AN APARTMENT IN THE MAIN BUILDING OF THE CITADEL OF STAIRS, AN INTIMIDATING TOWER MADE OF LIMESTONE GLAZED WITH HARDENED LIQUID CRYSTAL. ROOMS WITH ORNATE DOORS LINE THE OUTER WALLS OF THE TOWER AND ANGELS FLOAT AIMLESSLY IN THE OPEN SPACE THEY SURROUND. STAIRS WITH HIGH STEPS LET LANDBOUND CREATURES CLIMB UP TO THE NEXT LEVEL. FORTUNATELY FOR YOU, CHELLING AND DYMALKID ARE LOW-RANKING INDIVIDUALS AND DO NOT LIVE VERY HIGH UP.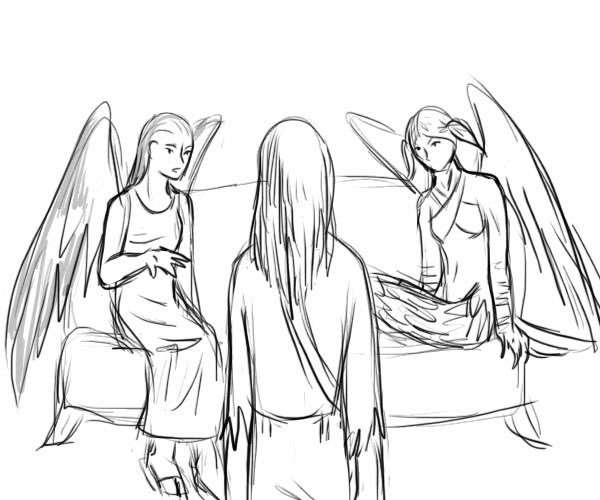 THE APARTMENT IS SMALL, BUT WELL LIT WITH A WINDOW AND GLASS REFLECTING LIGHT EVERYWHERE. YOU DO NOT SEE MANY PERSONAL ITEMS, BUT YOU SUSPECT THAT THERE ARE ADDITIONAL ROOMS OR CLOSETS BEHIND SOME OF THE WALLS WHICH MIGHT BE DOORS. THE LADIES LOCK THE DOOR AND SIT DOWN ON THE SOFA.

"TENO. OR, TENODERA." DYMALKID SAYS. "IT IS SAFE NOW. TELL US EVERYTHING. TELL US WHAT YOU HAVE TO FEAR FROM YOUR OWN MASTERS. TELL US WHAT BROUGHT YOU TO OFFERTIEL."

>

Go back to Storytime of Epicness