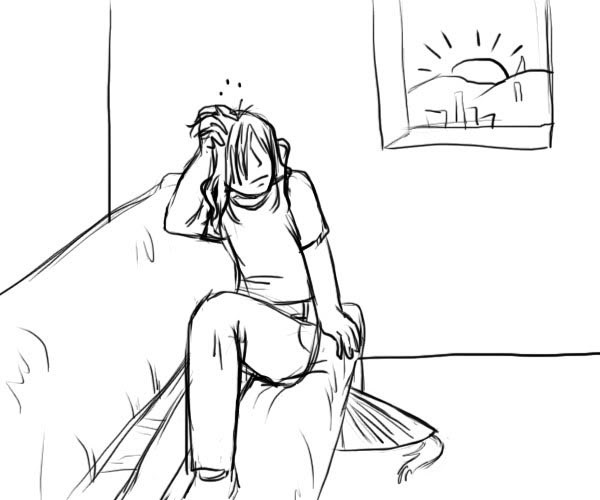 YOU WAKE UP A BIT DAZED, BUT THE WARMTH OF THE RISING SUN MAKES YOU FEEL ENERGIZED, READY TO FACE WHATEVER THE NEW THRE- I MEAN, NEW DAY HAS TO OFFER.
>
---
mcc wrote:

>Is anyone else in the apartment?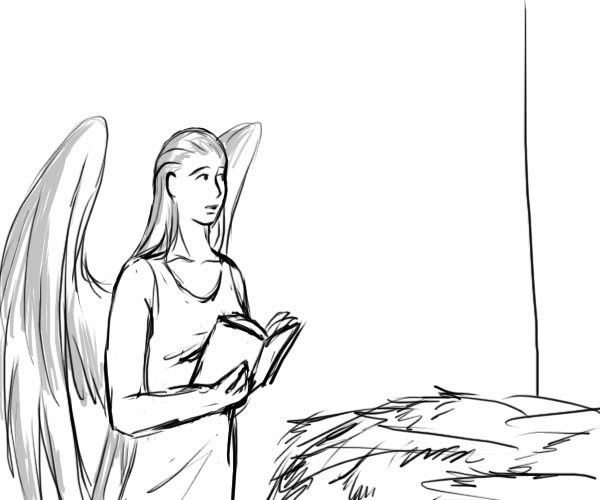 IT SEEMS A BIT RUDE TO GO INTO DYMALKID'S ROOM WITHOUT BEING INVITED TO, BUT YOU DECIDE TO JUST TAKE A PEEK. THE ANGEL IS SLEEPING STANDING UP, THE BOOK STILL HELD STIFFLY IN HER HAND. SHE WAKES UP AT THAT VERY MOMENT.
"MORNIN'" YOU SAY QUIETLY.
"GOOD MORNING." SHE SAYS IN A DROWSY VOICE. SHE LOOKS AT YOU AND THEN AT THE PILE OF FURS WHICH YOU GUESS IS WHERE CHELLING USUALLY SLEEPS. "WHERE IS CHELLING?" SHE ASKS.
YOU SHRUG. "I DUNNO."
"SHE NEVER CAME BACK?"
YOU CATCH THE NOTE OF ALARM IN HER VOICE. DYMALKID DROPS HER BOOK AT HER FEET AND REACHES FOR HER SWORD AND SCABBARD. "I'LL BE BACK." SHE SAYS AS SHE SHOVES PAST YOU. SURPRISED, YOU HURRY AFTER HER BUT ONLY MANAGE TO CATCH A GLIMPSE OF SILVERY WING AS IT DISAPPEARS OUT THE WINDOW.
>
---
Ichnob wrote:

>Find out if skiblies reproduce asexually.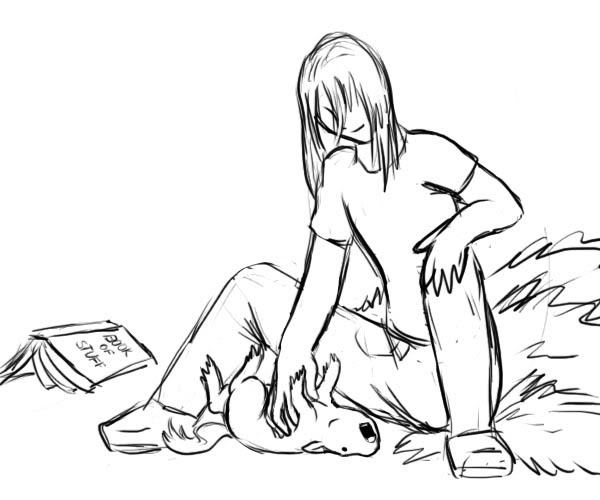 MENCHI IS A BOY.
>
---
ThatOneYoYoGuy wrote:

>Read yon Book of Stuff!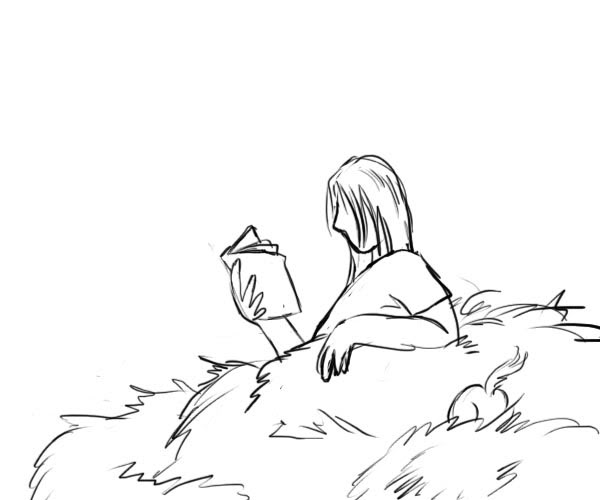 SITTING IN CHELLING'S PILE OF FURS, YOU PICK UP THE BOOK DYMALKID DROPS AND FLIP THROUGH IT.
IT IS A BOOK ABOUT CHANNELERS, INDIVIDUALS WHO PROJECT THE LORDS THROUGH THEIR BODIES AND CONVEY THEIR DIVINE WILL.
THE LORDS, BEING SO FAR REMOVED FROM MORTAL BEINGS AND CONCERNS, USUALLY CHOOSE NOT TO MINGLE WITH THOSE THEY RULE. THEIR VICHEY ARE TASKED WITH THE UPKEEP OF THEIR DOMAINS IN ACCORDANCE WITH EACH LORD'S DESIRES. HOWEVER, MOST VICHEY ARE NOT ABLE TO VISIT THEIR GODLY SUPERIORS WHENEVER A SITUATION MIGHT DICTATE.
THEREFORE, CHANNELERS ARE USUALLY CALLED UPON IN THE PLACE OF THE PHYSICAL PRESENCE OF A LORD. THEY MEDIATE DISPUTES, ACT AS FIGUREHEADS, AND EVEN USE THEIR LORD'S POWERS TO SOLVE SOME PROBLEMS. THESE INDIVIDUALS ARE ABLE TO INVITE A SMALL PORTION OF THEIR LORD'S CONSCIOUSNESS INTO THEMSELVES WHILE THEIR OWN MINDS EFFECTIVELY 'TURN OFF'.
THOSE GIFTED WITH THE ABILITY TO CHANNEL ARE THOSE WHO SHARE A STRONG GENETIC OR SPIRITUAL SIMILARITY WITH THEIR LORD'S CURRENT BODIES. FOR EXAMPLE, LORD ROCLIONESS HAS SEVERAL HARPY CHANNELERS AND THE CHANNELERS OF LORD PETRANOIA ARE ALL HUMAN.
YOU KNOW MOST OF THIS ALREADY. YOU CLOSE THE BOOK. NOW WHY WAS DYMALKID READING ABOUT CHANNELERS?
>
---
Trame wrote:

>Remember if we are currently cut off from channeling Cerlioness, and if there have to be special conditions for it to work.

YOU CAN CHANNEL LORD CERLIONESS AT ANY TIME. IN YOUR CURRENT SITUATION, YOU CAN IMAGINE WHAT WOULD HAPPEN IF YOU WERE TO DO SO RIGHT NOW. YOU WOULD ENTER A TRANCE-LIKE STATE AS YOUR BODY TRADES ONE CONSCIOUSNESS FOR ANOTHER.
AND THEN YOU WOULD NEVER WAKE UP.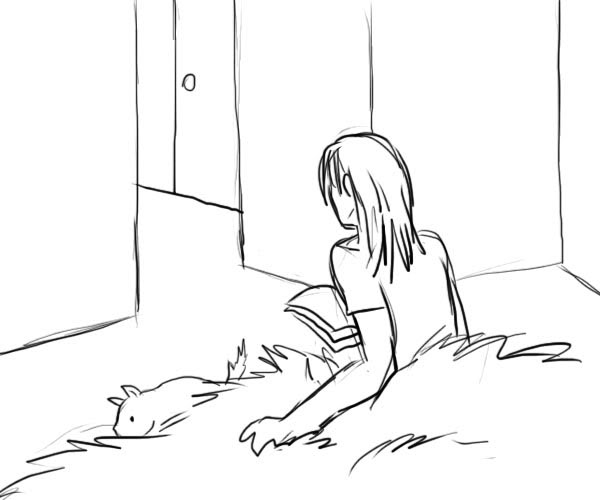 THERE IS A KNOCK ON THE DOOR.
>
---
megamario77 wrote:

>try best imitation of one of the girls to see who it is.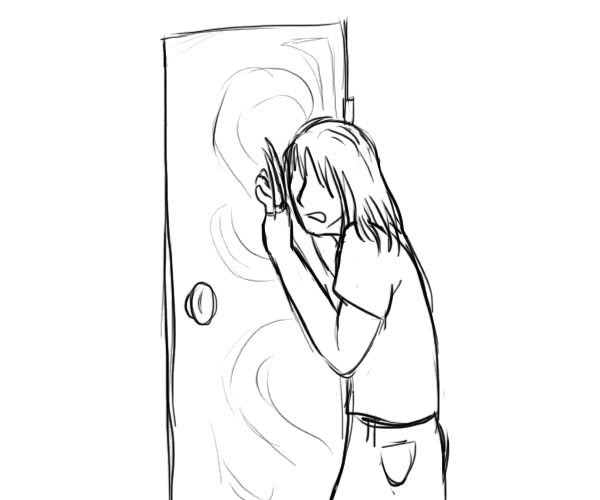 HASTILY DONNING YOUR CLAWS AND BAG, YOU PRESS YOUR FACE AGAINST THE DOOR.
"WHO'S THERE?" YOU ASK, HOPING YOUR VOICE IS SIMILAR ENOUGH TO PASS AS DYMALKID OR CHELLING'S.
"A MESSENGER." COMES THE REPLY.
"A MESSENGER WHO?"
"A MESSENGER OF LADY LITTIE AND SIR VANCE. THE HOICS REQUEST THAT CORAYS DYMALKID, CORAYS CHELLING AND THEIR GUEST TENO GO REPORT TO THEM IMMEDIATELY."
>
---
Seta FD wrote:

Dismiss the messenger, then head to the Sir and Lady's pad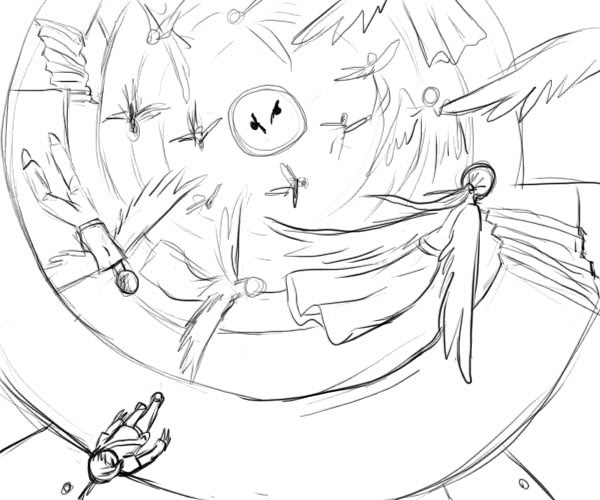 YOU OPEN THE DOOR AND PREPARE TO MEET WITH THE TWO HOICS. AS SOON AS YOU STEP OUTSIDE, YOU ARE GREETED WITH A SPECTACULAR SIGHT. LIKE A LIVING VORTEX DOZENS OF ANGELS ARE FLYING IN CIRCLES WITHIN THE CORE OF THE CITADEL. MAKING NO SOUND AND NO WIND, THEY GLIDE RAPIDLY ON THE SLIGHT MOVEMENTS OF THEIR WINGS, AS TIRELESS AS MACHINES.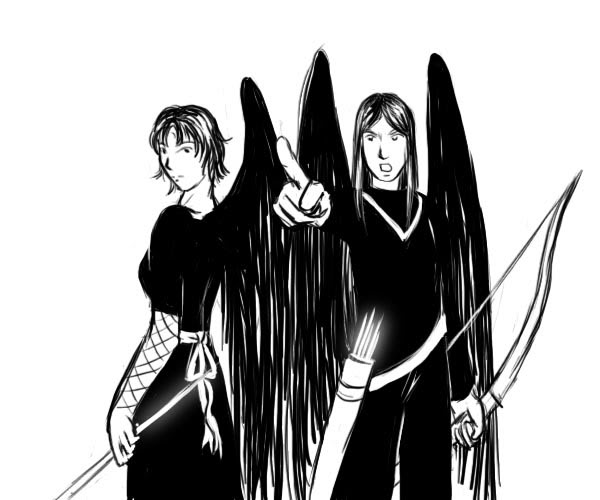 A CIRCULAR PLATFORM FLOATS AT THE CENTER OF IT ALL. THE TWO HOICS ARE STANDING ON IT, RECEIVING INFORMATION AND BARKING OUT ORDERS. SIR VANCE TAKES NOTICE OF YOU AND MAKES THE PLATFORM HOVER AT YOUR LEVEL.
"YOU." HE SAYS, POINTING AT YOU. "COME HERE."
>
---
Ladiesman217 wrote:

>Go over there.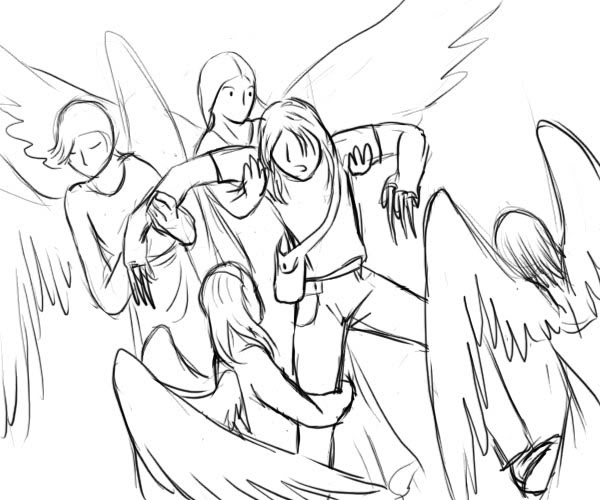 "YES SIR." YOU CALL OUT LOUDLY, WALKING TO THE EDGE OF YOUR FLOOR. YOU EXPECTED THE PLATFORM TO COME MEET YOU, BUT INSTEAD A FEW ANGELS BREAK AWAY FROM THEIR FORMATION AND LIFT YOU UP BY YOUR ARMS AND LEGS, GENTLY DEPOSITING YOU IN FRONT OF VANCE AND LITTIE.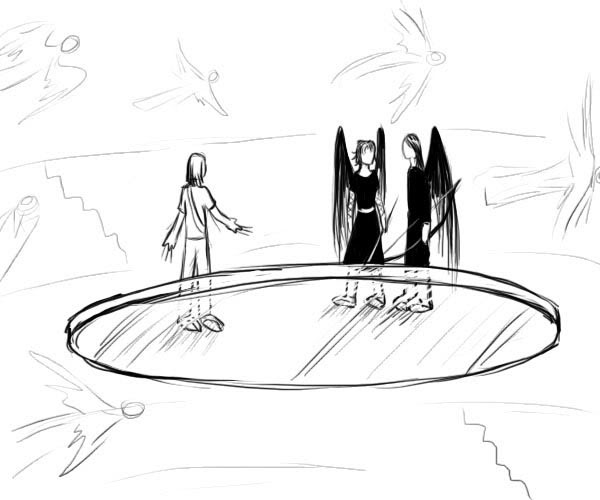 "TENO, CORRECT?" THE LADY SAYS. "COMPANION OF CHELLING AND DYMALKID? WE NEED TO ASK YOU A FEW QUESTIONS."
"OF COURSE." YOU ANSWER UNCERTAINLY.
"HOW LONG HAVE YOU BEEN TRAVELING WITH THE TWO?"
"SEVERAL DAYS."
"WERE YOU WITH THEM WHEN THEY VISITED THE GENETICS WAREHOUSE?"
"YES."
"WAS THERE ANYTHING UNUSUAL HAPPENING AT THE TIME?"
"UH..." YOU THINK THIS THROUGH CAREFULLY, WARY OF SAYING TOO MUCH. "I WAS NOT THERE FOR VERY LONG, SO I DON'T KNOW WHAT WOULD BE CONSIDERED UNUSUAL..."
"DID YOU MEET CERLIONESS'S VICHEY THAT WAS SUPPOSEDLY VISITING THE AREA?"
OH, SO THEY KNOW ABOUT THAT. "NO, WE LEFT BEFORE HIS OR HER ARRIVAL."
THE SIR AND LADY TRADE WORRIED LOOKS AT EACH OTHER.
"IF I MIGHT INQUIRE..." YOU SAY HESITANTLY. "WHY AM I BEING ASKED ABOUT THIS?"
"SHOULD WE TELL HER, BROTHER?" LITTIE SAYS TO VANCE.
"SHE MIGHT ANSWER OUR QUESTIONS BETTER IF SHE KNOWS." VANCE REPLIES. HE IS TRANSPARENTLY DISTRESSED, MORE THAN A HOIC SHOULD BE. "BEASTMASTER OWES IS MISSING." HE FINALLY SAYS TO YOU.
"WE TRIED TO CONTACT HIM AFTER OUR HEAD OF GUARDS, GALVAELA, INFORMED US THAT A MASTER FROM LORD CERLIONESS'S DOMAIN IS VISITING HIM. THE VISIT IS ALMOST DOUBTLESSLY CONNECTED TO MASTER INFER'S APPEARANCE HERE. YOU KNOW ABOUT THAT, CORRECT? WE MANAGED TO TALK TO MASTER OWES' SECRETARY, BUT SHE SAYS THE BEASTMASTER HAS NOT BEEN SEEN FOR MORE THAN A DAY."
"IN CASE THIS IS AS SERIOUS AN ISSUE AS WE FEAR, WE ARE TAKING EVERY PRECAUTION IN MASTER SHEER'S ABSENCE." LITTIE GESTURES TO THE GYRE OF ANGELS. "ANYWAYS, WE HAVE TAKEN ENOUGH OF YOUR TIME. NOW WHERE IS CHELLING AND DYMALKID? I WILL TALK WITH THEM."
"DYMALKID HAS GONE OUT LOOKING FOR CHELLING." YOU SAY. "BECAUSE CHELLING NEVER CAME BACK LAST NIGHT."
"GALVAELA!" LITTIE SCREECHES BARELY AFTER YOU FINISH THE SENTENCE.
"YES, MY LADY." THE HEAD OF GUARDS LANDS DAINTILY ON THE PLATFORM.
"WHERE IS CORAYS CHELLING?"
"I DO NOT KNOW, MY LADY. SHE WAS ON SURVEILLANCE LATE LAST NIGHT, BUT WE DISMISSED THE PARTY SEVEN HOURS AGO. I ASSUMED SHE HAD RETURNED TO THE CITADEL. AND JUDGING BY DYMALKID'S ACTIONS, NO ONE EXPECTED HER TO DO OTHERWISE."
THE HOIC SIBLINGS TRADE GLANCES AGAIN AND NOD IN UNISON. "I WANT SURVEILLANCE ABOVE EVERY SQUARE MILE OF THE CITY." VANCE PROCLAIMS LOUDLY ENOUGH FOR THE ENTIRE CITADEL TO HEAR. "SUMMON THE DESIGNER ANGELS AND BRING ANYONE WHO HAS RECENTLY VISITED THE GENETICS WAREHOUSE TO US IMMEDIATELY!"
"THANK YOU." LADY LITTIE SAYS AS YOU ARE CARRIED BACK TO THE FRONT OF THE APARTMENT. "DO LET US KNOW IF CHELLING OR DYMALKID RETURN."
>
---
mcc wrote:

>As quickly as possible, attempt to sell hair, buy provisions for a long trip (like food), and be ready to walk around with everything we need for travelling (food, Menchi etc) on our person at all time.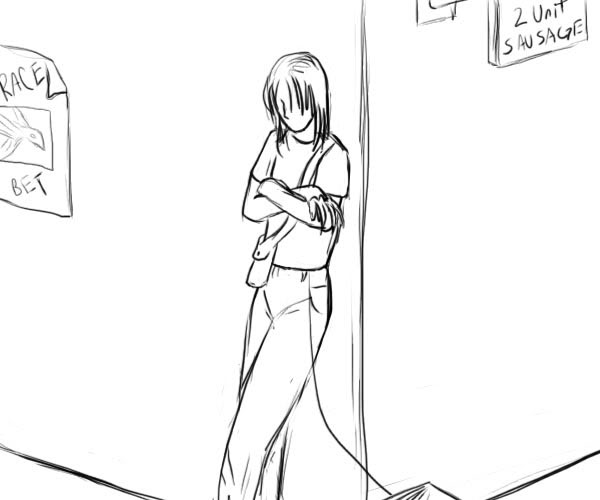 YOU GATHER UP YOUR THINGS AND VENTURE INTO THE CITY, HOPING TO FIND YOUR FRIENDS OR TO BETTER PROVISION YOURSELF. BUT, AS YOU ONLY HAVE TWO UNITS AND NO ONE IS WILLING TO PURCHASE YOUR HAIR, THERE IS NOT MUCH YOU CAN BUY. IF YOU WANT, YOU CAN CHOOSE TO SELL YOUR SKIBLY, YOUR HAT, YOUR REMAINING TWO BAGS OF PRESERVED FOOD, AND THE TUBE OF ANTI-INFLAMMITORIES. YOU LEAN AGAINST A CORNER AND THINK ABOUT YOUR NEXT COURSE OF ACTION.
YOU ARE A BIT HUNGRY. YOU ARE ALSO THINKING ABOUT MASTER INFER, WHO IS PRESUMABLY LOOKING FOR YOU SOMEWHERE IN THE CITY. YOU LOOK UP AND YOU ARE COMFORTED BY THE SIGHT OF THE SURVEILLANCE TEAM. BUT YOU WONDER, DO THEY KNOW WHAT MASTER INFER LOOKS LIKE? SHE HASN'T BEEN SEEN IN LORD PETRANOIA'S LANDS FOR SEVERAL CENTURIES. MOST PEOPLE ONLY RECOGNIZE HER FOR HER INCREDIBLE MASTERY OF FIRE. BUT WHEN SHE IS TRYING TO BE INCONSPICUOUS, YOU DOUBT THAT ANYONE WOULD BE ABLE TO FIND HER.
>
---
Ladiesman217 wrote:

>Check the race. Maybe we can make some money on bets.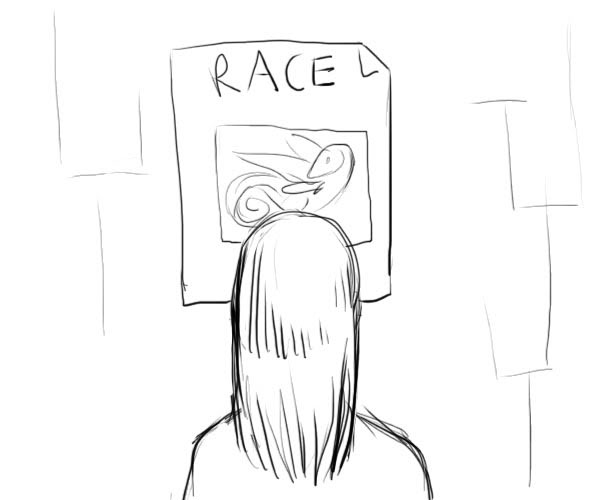 WELL WHAT'S THIS? IT'S A POSTER ADVERTISING THE GLOBAL ABERAL RACES, WHICH IS TO BE HELD IN TODAY IN MOEMOEA. THERE WILL BE ENTERTAINMENT PROVIDED BY LOCAL AND TRAVELING PERFORMERS, EXOTIC VENDORS, AND VARIOUS FUN CONTESTS TO PARTICIPATE IN. AND THERE WILL BE BETTING ON THE RACE, IN WHICH YOU CAN WIN UP TO FIVE TIMES YOUR BET.
YOU ONLY HAVE TWO UNITS BUT IF YOU WIN, YOU CAN BUY YOURSELF AN ICE CREAM CONE OR SOMETHING.
>
---
Kyou wrote:

>Go to the race and inquire if you can use items as collateral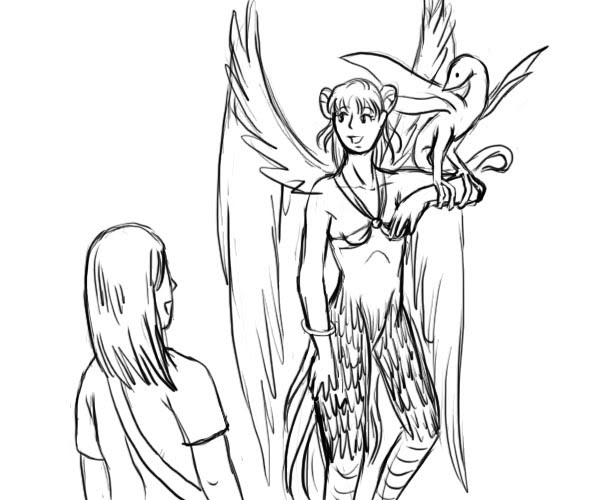 ABERAL RACES ARE THE BEST! MANY PEOPLE ENJOY THEM FOR THE HIGH-SPEED, OBSTACLE-RIDDEN COURSES THE ABERALS HAVE TO MANEUVER THROUGH. BUT NOT EVERYONE ENJOYS THE SPORT, SINCE NOT EVERYONE IS ABLE TO FOLLOW THE FAST, DARTING FLIGHT OF THE RACERS.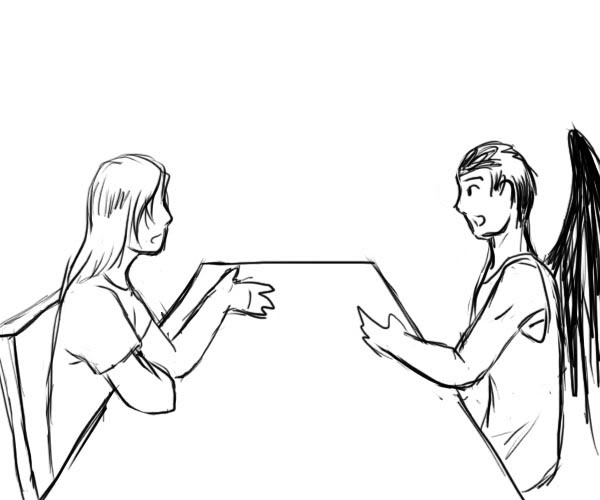 YOU DON'T HAVE MUCH MONEY TO GAMBLE, BUT THE OFFICIAL BETTING STANDS ONLY ACCEPT UNITS. SO YOU GO LOOKING FOR UNOFFICIAL BETS, WHICH ARE PRETTY COMMON IN THE STANDS. ONE MAN IS WILLING TO TAKE WHATEVER YOU HAVE TO GIVE.
"WE TAKE BIGGER RISKS HERE. ODDS GO AS HIGH AS 10:1. SO WHAT DO YOU WANT TO WAGER?"
>
---
Lanz and Seta FD wrote:

>Wager the Hat, one of the dehydrated food thigns.

>Bet Menchi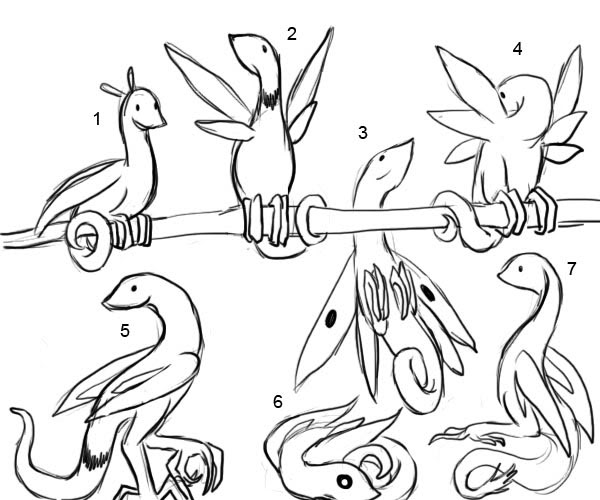 YOU BET YOUR SKIBLY, YOUR HAT, A PACKAGE OF PROTIEN-CHITIN AND TWO UNITS.
YOU'VE BEEN TO MANY AN ABERAL RACE IN YOUR LIFE, SO MANY THAT YOU RECOGNIZE A FEW OF THE ANIMALS COMPETING TODAY. EVERY ONE IS A LITTLE DIFFERENT IF YOU LOOK CAREFULLY ENOUGH. THERE ARE SEVEN OF THEM IN THE RACE. JUST BY LOOKING AT THEM, YOU CAN ALMOST PICTURE WHICH ONE IS GOING TO WIN.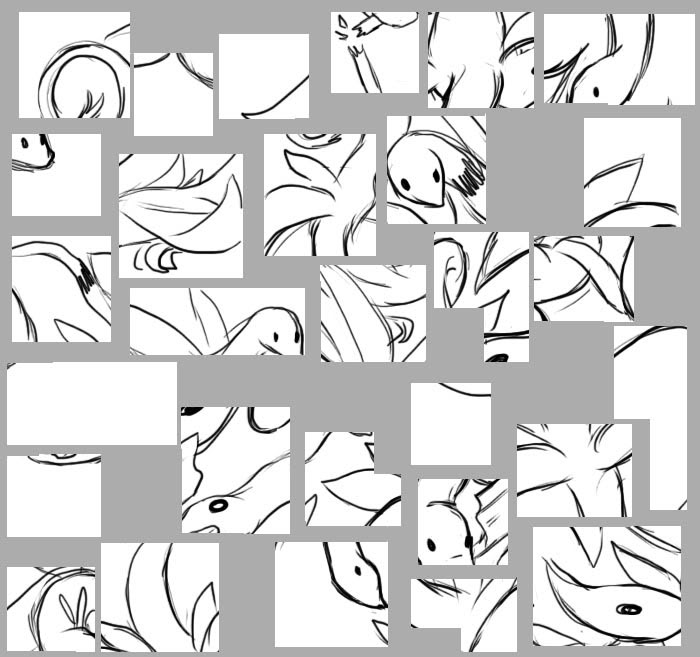 YOU'VE ALREADY MADE YOUR BET, BUT YOU CAN CHANGE IT WHENEVER YOU LIKE BEFORE THE RACE STARTS. IT IS STARTING IN 2 HOURS. YOU LOOK AT THE ABERALS AGAIN. MAYBE YOU WANT TO CHANGE WHICH ANIMAL YOU BET ON...
>
---
Kyou wrote:
>Bet on #3.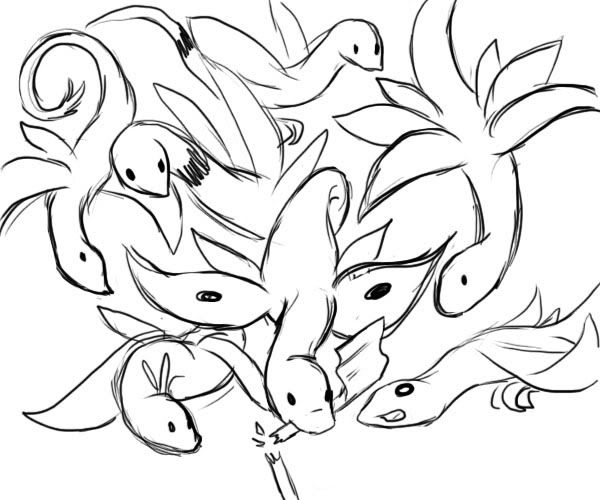 YOU BET ON ABERAL NUMBER 3, WHICH YOU RECOGNIZE AS A RETURNING CHAMPION. SURE ENOUGH, IT WINS THE FLAG AFTER A DIZZYING OBSTACLE RACE AND EARNS YOU A SUBSTANTIAL PRIZE.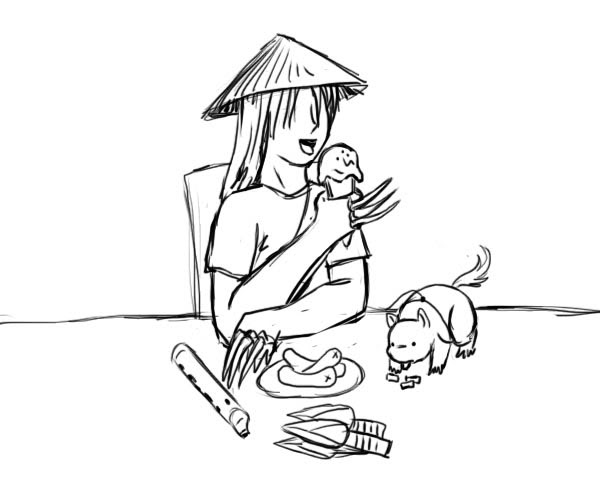 YOU GET BACK YOUR HAT, YOUR SKIBLY, THE PACKET OF MUNITIONS AND YOUR TWO UNITS. YOU WIN A POUCH OF GRASSY FOODSTUFFS FOR MENCHI, WHICH WILL PROBABLY LAST A FEW DAYS. YOU GET 48 ADDITIONAL UNITS, BRINGING THE TOTAL UP TO 50. ALSO AMONG THE PRIZES ARE THREE THROWING KNIVES, AN IVORY FLUTE, A PLATE OF 2 UNIT SAUSAGES AND A HEMOLYMPH-FLAVORED ICE CREAM CONE.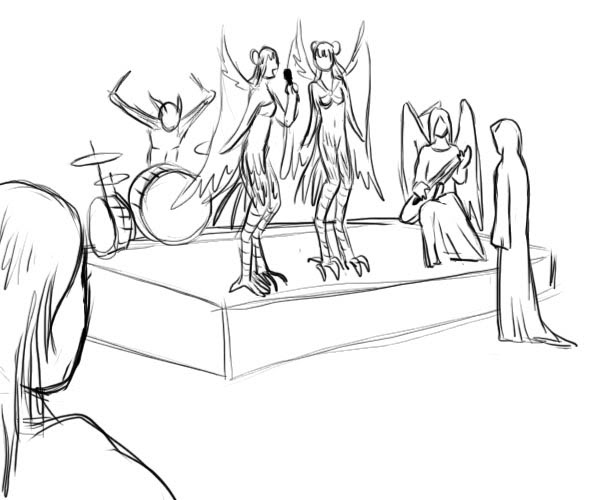 NOW FILLED WITH SAUSAGES AND ICE CREAM, YOU FEEL PRETTY GOOD. YOU WANDER THE RACEGROUNDS, ENJOYING THE SIGHTS AND ENTERTAINMENT. BUT THEN YOU SPOT A FIGURE STANDING NEAR THE MAIN BAND AND YOUR BLOOD RUNS COLD. ALTHOUGH ROBED AND TURNED AWAY FROM YOU, JUST BY HER POSTURE YOU CAN TELL WHO IT IS.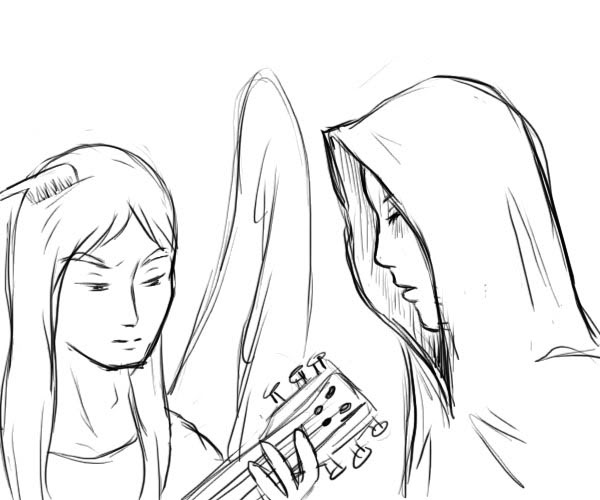 IT IS MASTER INFER! SHE KNOWS THAT YOU ENJOY ABERAL RACES AND HAS COME HERE SEARCHING FOR YOU!
>
---
Behemoth wrote:

>Try to find a search patrol like the one Chelling was in and notify them. Keep yourself hidden, but stick around and keep an eye on Infer, she's apparently hard to find and we don't want to lose her if she can be successfully thrown from our trail if her presence is made known to the authorities here.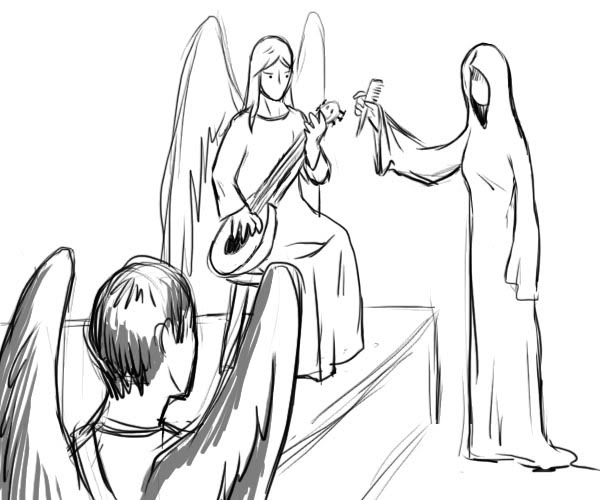 YOU QUICKLY TURN AROUND AND WALK AWAY, HOPEFULLY WITHOUT ATTRACTING THE VICHEY'S ATTENTION. YOU SEEK OUT A DARK ANGEL FROM THE SURVEILLANCE TEAM AND INFORM HIM THAT YOU HAVE FOUND MASTER INFER. HE NODS AND GOES TOWARDS THE VICHEY, STOPPING AT A CAREFUL DISTANCE. YOU WATCH, KEEPING YOURSELF HIDDEN.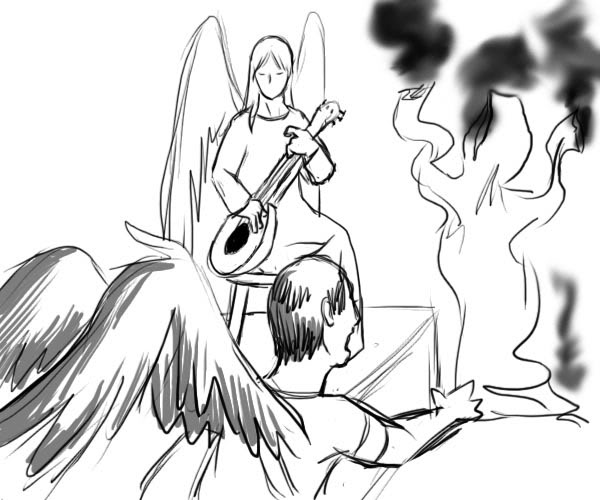 "MASTER INFER, LEFT HAND OF LORD ROCLIONESS," HE BEGINS POLITELY. OF COURSE HE WILL NOT ENGAGE THE MASTER; HE'LL JUST GET HIMSELF KILLED. YOU SEE THAT HE IS TRYING TO INVITE HER TO TALK WITH THE REGENT HOICS, BUT SHE JUST GLARES AT HIM SHARPLY AND DISAPPEARS IN A CLOUD OF BLACK SMOKE.
>
---
Drumble and Behemoth wrote:

>Once people lose interest, search Infer's robe.

>Go ask the angel who until recently had our comb if Master Infer did or said anything after seeing it.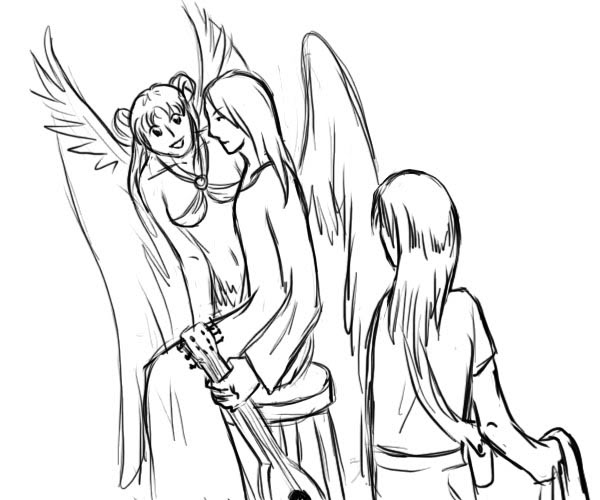 THE DARK ANGEL GUARD FLIES OFF TO REPORT HIS ENCOUNTER WITH INFER. YOU WAIT A FEW MOMENTS TO ENSURE THAT THE MASTER IS NOT NEARBY, THEN GO TO CHECK ON THE ROBE SHE LEFT BEHIND. IT IS BLACKENED WITH SOOT AND CHARRED IN MANY PLACES, MAKING IT USELESS FOR ANYTHING EXCEPT RAGS.
"HEY." YOU SAY TO THE ANGEL WHOM THE VICHEY SEEMED TO BE TALKING TO. "DID YOU REALIZE THAT WAS MASTER INFER?"
NO RESPONSE. THE BAND IS FINISHING UP ITS LAST SONG AND THE ANGEL BEGINS TO PACK UP HIS MANDOLIN. YOU GLARE AT HIM. "THAT WAS MY COMB YOU LET HER HAVE. I ENTRUSTED IT TO YOU AND YOU FAILED ME."
"WHAT'S GOING ON HERE?" ONE OF THE SIREN BANDMEMBERS ASKS. TO YOU SHE SAYS, "HELLO."
>
---
mcc wrote:

>"MY ONLY FRIENDS DISAPPEARED SOMEWHERE AFTER HARPY PATROL DUTY AND THE ENTIRE CITY GOVERNMENT CAN'T FIND THEM AND THEY MIGHT BE DEAD AND MY SPECIAL COMB GOT STOLEN BY A BIG EVIL VICHEY THING THAT'S TRYING TO KILL ME AND NOBODY LIKES MY HAIR AND MY DOG GOT RUN OVER BY A TRUCK BOO HOO HOO"

>"Oh, wait, no, my dog's right here"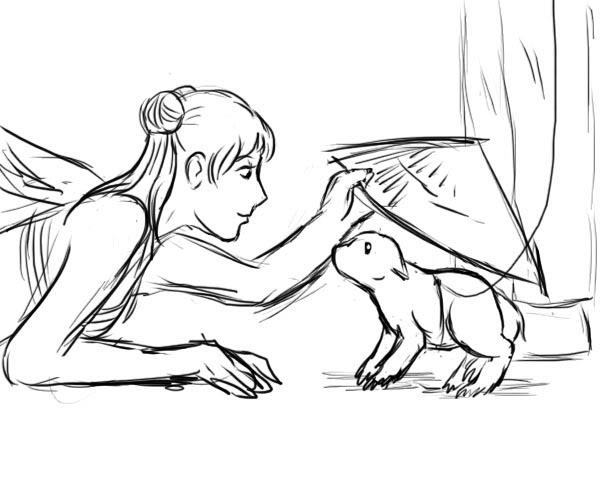 "THAT'S NOT A DOG. YOU NEED TO GET A REFUND FROM THE PET SHOP."
>
---
Jesuits wrote:

>So, erm, anyway, I'm having trouble talking to this gentleman. Would you please help me out?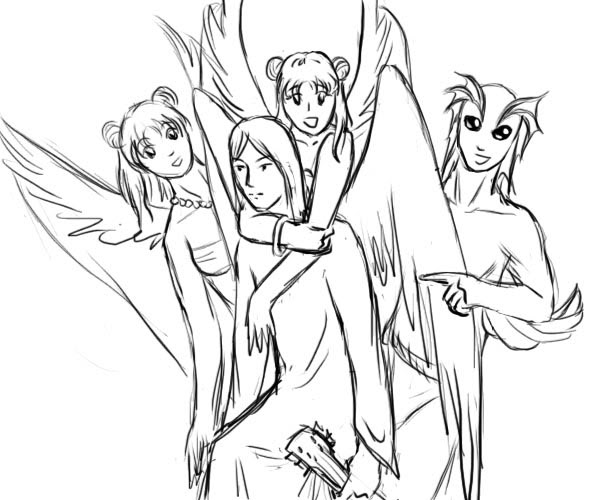 "I CAN'T TALK TO THIS GUY." YOU SAY TO THE SIREN. "CAN YOU UNDERSTAND HIM?"
"SORTA." SHE REPLIES. "AFTER ALL, I AM HIS GIRLFRIEND."
"NO YOU'RE NOT." A SECOND SIREN CUTS IN. "HE NEVER SAID YOU ARE."
"HE NEVER SAID I'M NOT."
"HE'S NEVER SAID ANYTHING." A FOURTH BANDMEMBER, AN AZOL, YOU THINK, CHIMES IN.
"SO, UH." YOU SAY. "SO WHAT'S HIS NAME?"
"HIS NAME IS SONARIUM. AND I'M PLIA, THANKS FOR ASKING."
"I'M TEURE."
"THE NAME'S MID."
"I'M TENO."
"..."
"..."
"..."
"WELL WHAT DO YOU WANT? WE'RE DONE PLAYING FOR THE DAY."
>
---
mcc wrote:

>Pick up the soot-covered robe and show it to them.

>"Well, the angel was just... talking, it looked like anyway, with this lady in this funny cloak. And then someone walked toward her and she suddenly exploded into smoke. I was just wondering what she was telling him. Any idea how to find out?"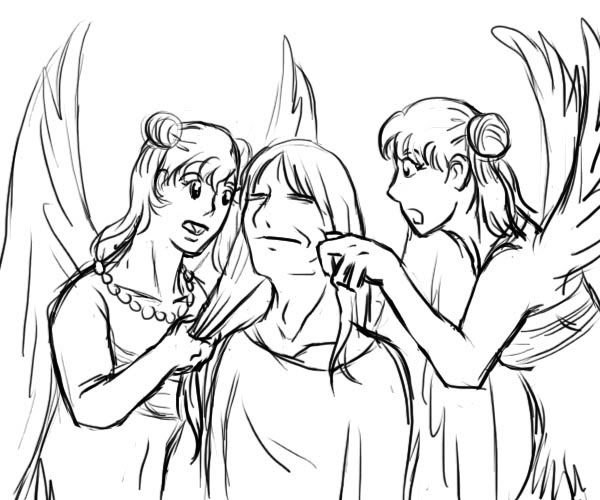 YOU PICK UP THE DISCARDED ROBE AND SAY, "THERE WAS A PERSON TALKING TO SONARIUM A MOMENT AGO, THIS LADY IN THIS CLOAK. DIDN'T YOU SEE HER? SHE DISAPPEARED IN A CLOUD OF SMOKE. I'M WONDERING WHAT SHE MIGHT HAVE SAID TO HIM."
"YEAH, I SAW HER." PLIA SAYS TO YOU. TO THE ANGEL SHE SAYS, "WELL? WHAT DID SHE SAY?"
THERE IS A MOMENT OF TENSE SILENCE IN WHICH EVERYONE STARES AT SONARIUM.
"HE'S SAYING SOMETHING ABOUT A COMB." TEURE SAYS.
"WHAT COMB?" MID ASKS.
"A HONEYCOMB." PLIA SAYS SARCASTICALLY. "THE PINK ONE THAT HE GAVE TO ME THAT I TOLD HIM TO HANG ON TO. AND YOU JUST GAVE IT TO SOME OTHER GIRL?!" SHE DEMANDS, PINCHING HIS CHEEK.
"ACTUALLY..." YOU INTERJECT. "IT WAS MY COMB. I MISPLACED IT. AND THAT GIRL IS MASTER INFER."
"MASTER INFER?!" TEURE TUGS AT HIS HAIR. "SONARIUM, WHY DIDN'T YOU SAY ANYTHING?! WE COULD BE IN BIG TROUBLE!"
"UH, CAN YOU STOP TORMENTING HIM SO I CAN ASK SOME MORE QUESTIONS?"
MID GIVES YOU A WRY SMILE. "ONCE THOSE TWO GET STARTED- WELL, I HEARD WHAT THAT LADY HAD TO SAY. SHE WANTED TO KNOW WHERE HE GOT THAT COMB FROM. HE DIDN'T SAY ANYTHING SO SHE JUST TOOK IT. YOU SAY IT'S YOURS?"
"YEAH."
"HUH. I WONDER WHY IT INTERESTED HER." MID WONDERS.
"I WANTED TO FIND ITS OWNER." SOMEONE ANSWERS BEHIND YOU.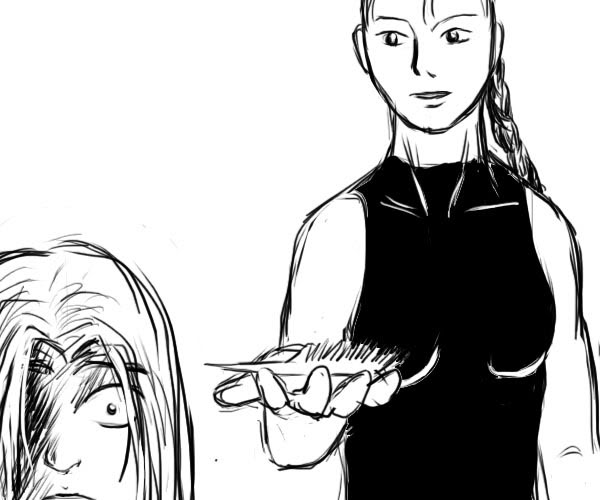 YOU RECOGNIZE THAT VOICE.
"HELLO, LADY TENODERA." MASTER INFER SAYS. "I HAVE BEEN LOOKING FOR YOU."
>
---
Lanz wrote:

>Wait and see what she wants. if she tries to kill us, take back our powers.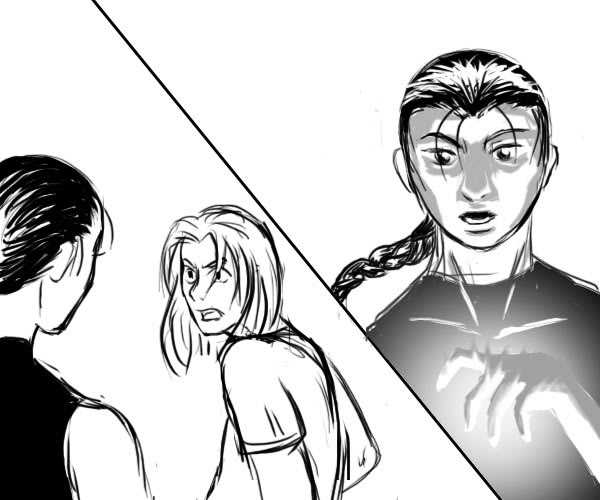 YOU TURN. BEHIND YOU IS MASTER INFER, HER ANCIENT EYES GLARING AT YOU WITH INCOMPREHENSIBLE EMOTION. NEITHER OF YOU MOVE FOR SEVERAL MOMENTS. FINALLY YOU SAY, "WHAT DO YOU WANT?"
THE VICHEY LEANS CLOSE ENOUGH FOR YOU TO FEEL THE HEAT OF HER BREATH. "ISN'T IT OBVIOUS, TENODERA?" A BALL OF LIGHT FORMS IN HER HANDS.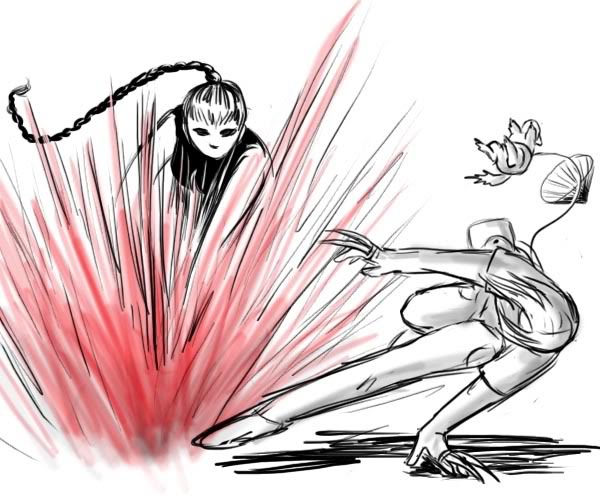 >
---
megamario77 wrote:

>RUUUUUN!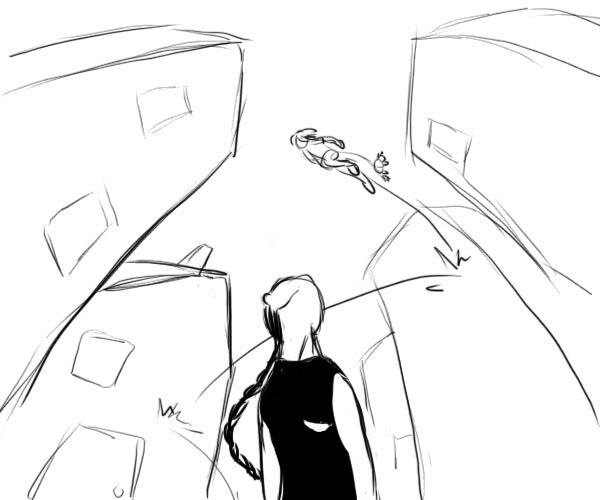 YOU RUN IN TERROR. ANYWHERE. YOU TRY LOSING MASTER INFER IN THE CROWDS IN HOPES THAT SHE WOULD STAY HER HAND IN HARMING CIVILIANS. SHE MAKES A SLIGHT EFFORT TO AVOID THEM, BUT WITHOUT TURNING AROUND YOU CAN TELL THAT SOME OF THE RANDOM SCREAMING IS NOT JUST FROM MERE PANIC, BUT ALSO FROM PAIN. THE CITY'S MILITIA, ALTHOUGH ABLE TO HELP YOU BY OCCASIONALLY LIFTING YOU UP TO A HIGH LEDGE, CAN NOT FACE THE VICHEY DIRECTLY AND HASTILY DART OUT OF HER WAY WHEN SHE DRAWS NEAR.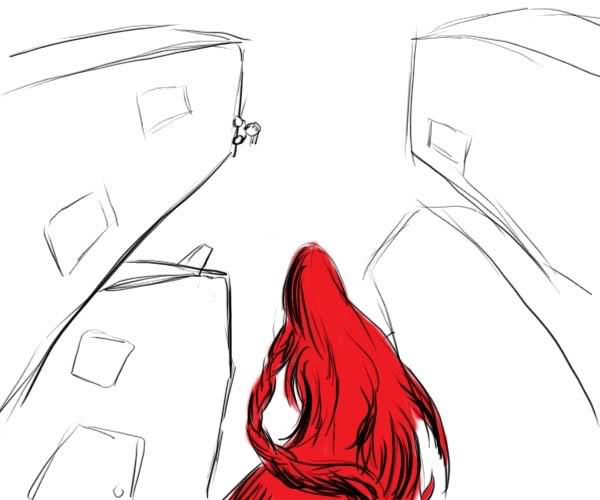 YOU CAN TELL THAT SHE IS TOYING WITH YOU. MAKING YOU RUN AND SUFFER. IF SHE WANTED TO DO THIS QUICKLY, SHE WOULD HAVE KILLED YOU BY NOW. YOU CAN'T UNDERSTAND WHY SHE WOULD DO THIS. BUT YOU USE THE OPPORTUNITY TO REACH INTO YOUR BAG.
Trame wrote:

>Remember how the anti-inflammatories work, in case we end up needing to use them, and remember (if Teno knows) how to take Teno's powers back (it'll help us evade Infer's attacks, at the very least), and how long the process would take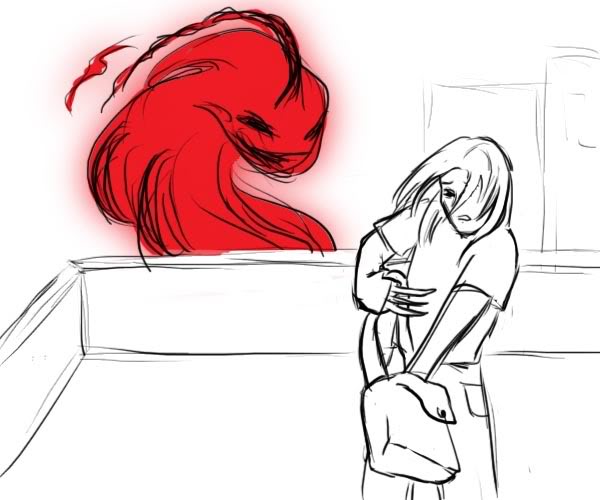 WHAT DO YOU TAKE OUT? THERE ARE THE ANTI-INFLAMMITORIES YOU BROUGHT WITH YOU ON YOUR JOURNEY SPECIFICALLY FOR DEFENDING YOURSELF AGAINST MASTER INFER'S FIRE. IT CAN BE USED BY RUBBING A PORTION ONTO A PART OF THE BODY TO BE EXPOSED TO HEAT, OR IT CAN BE CONSUMED TO PROTECT ALL ORGANIC PARTS OF THE BODY. IT PREVENTS PERMANENT DAMAGE, BUT PAIN FROM BURNING CAN STILL BE FELT AFTER USING IT. AND IT WILL WEAR OFF AFTER A CERTAIN PERIOD OF TIME OR AT A CERTAIN TEMPERATURE.
YOU HANDS TINGLE AS THEY BRUSH AGAINST THE LOCKET CONTAINING YOUR CRYSTALLIZED YILIXA. FOR A MOMENT, YOU YEARN FOR ITS POWERS, ALL YOUR POWERS OF A HOIC. BUT EVEN SO, A SINGLE HOIC HAS LITTLE CHANCE OF SURVIVING AGAINST A VICHEY INTENT ON KILLING HER. BUT AT LEAST YOU WON'T GO DOWN HELPLESS.
>
---
Jesuits wrote:

>Consume anti-inflammatories
YOU HASTILY STUFF THE TUBE OF ANTI-INFLAMMITORIES INTO YOUR MOUTH AND SQUEEZE, NEARLY CHOKING ON THE CONCRETE-TASTING PASTE THAT IS EXUDED. IT ISN'T COLD LIKE YOU WOULD EXPECT, BUT VERY THICK AND STICKY. BUT IT SEEMS TO WORK. MASTER INFER, SEEING THAT YOU ARE BETTER PROTECTED, IS NOW FREE TO STRIKE AT YOU WITHOUT KILLING YOU OUTRIGHT. A BLAST OF CONDENSED HEAT SLASHES YOUR BACK LIKE A ROW OF BLADES. YOU SCREAM.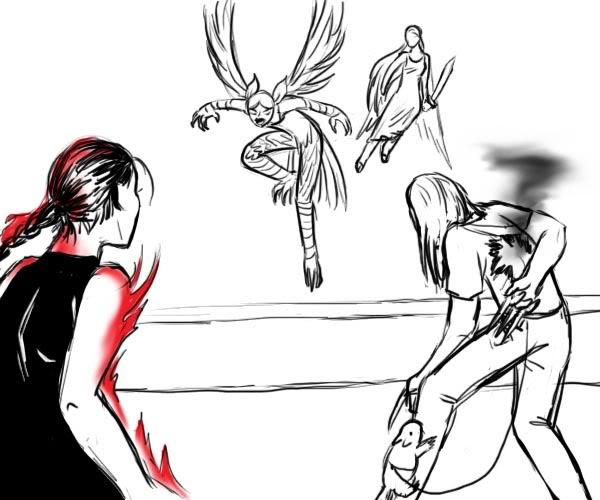 A FAMILIAR SCREAM ECHOES YOUR OWN. YOU TURN TOWARDS THE DIRECTION IT CAME FROM. WITHIN MOMENTS, YOU SEE CHELLING FLYING RAPIDLY TOWARDS YOU WITH DYMALKID FOLLOWING AT A DISTANCE.
>
---
Mbnmac wrote:

>look at the locket and consider if this might just be the time to unleash our power and have a chance to win this fight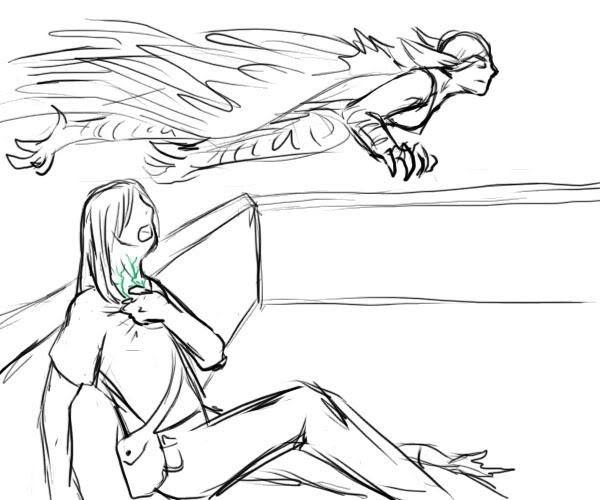 YOU DECIDE THAT NOW IS FINALLY THE TIME TO ASSUME YOUR ORIGINAL FORM. YOU GRAB THE LOCKET FROM YOUR BAG AND PINCH IT HARD, BREAKING ITS FLIMSY LOCK. AS YOU HOLD THE TWISTED MASS OF CRYSTAL TO YOUR NECK, YOU WHISPER, "I'M SORRY, TYTHRONE." AND LET THE TENDRILS OF YILIXA GROW OVER YOUR BODY.
BUT YOU DIDN'T EXPECT THE TRANSFORMATION TO LEAVE YOU BREATHLESS, UNABLE TO STAND. YOU COLLAPSE AGAINST A LEDGE. "I NEED TIME!" YOU YELL INTO THE AIR. "STALL HER!"
CHELLING IMMEDIATELY COMPLIES, RECKLESSLY DIVING AT THE VICHEY, SCREAMING HER RAGE WHICH DROWNS OUT DYMALKID'S SCREAM FOR HER TO STAY BACK.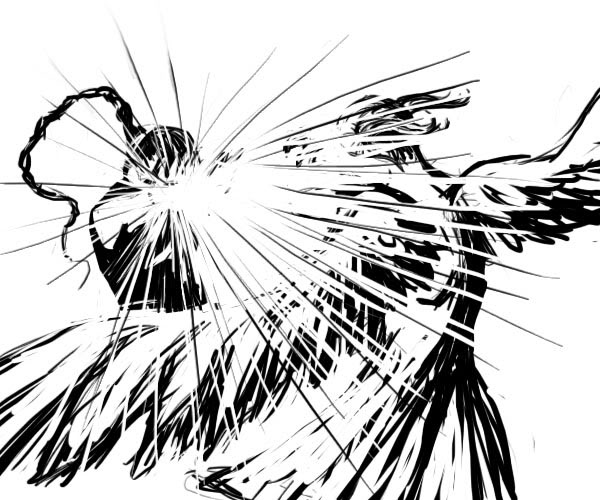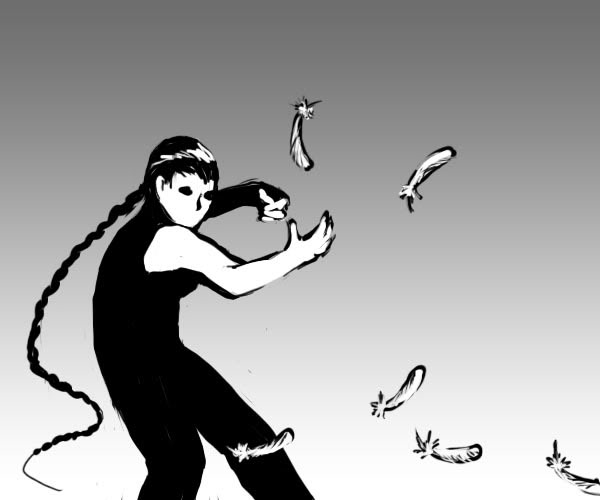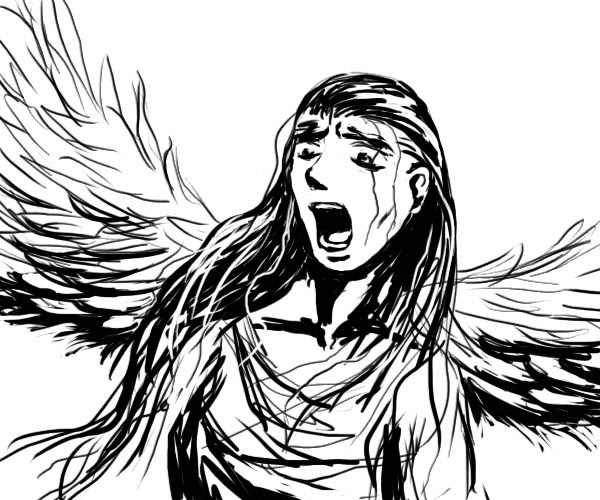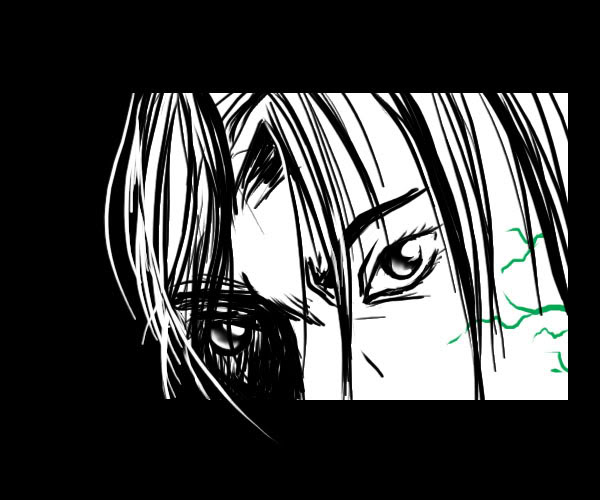 >
---
FZeroRacer wrote:

>Talk to Infer, ask about her motives.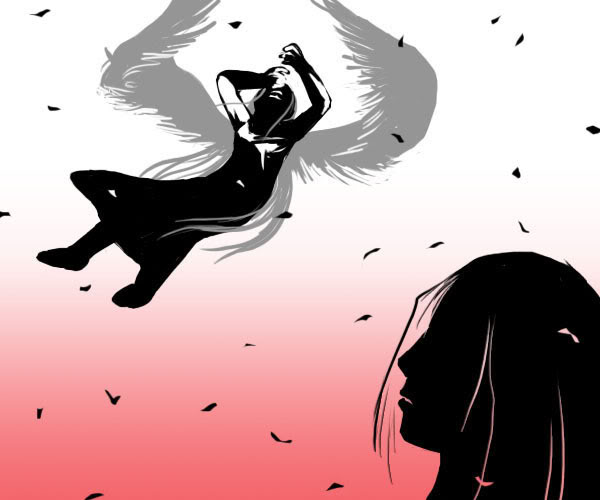 CHELLING IS DEAD. HER FEATHERS AND ASHES FOR A MOMENT SUSPEND IN MIDAIR BEFORE BEING BLOWN AWAY BY THE FORCE OF DYMALKID'S WINGS. THE DARK ANGEL IS FLAILING. SHE IS CRYING AND SCREAMING UNINTELLIGIBLY, THE LOSS OF HER SOUL MATE BEING TOO MUCH FOR HER TO ENDURE. SHE FALTERS AND FALLS DOWN TO THE STREETS BELOW.
SOMETHING ABOUT THIS FEELS SO FAMILIAR.
CLOUDS OF ANGELS FLOAT HELPLESSLY OVERHEAD, WATCHING LIKE BIRDS OF DEATH. EVERYTHING IS RED AND GLOWING. YOU REALIZE YOU ARE SURROUNDED BY FIRE. YOU FEEL FAINT FROM THE TRANSFORMATION OF YOUR BODY AND THE SHOCK OF CHELLING'S DEATH. THE HEAT WARPS YOUR VISION.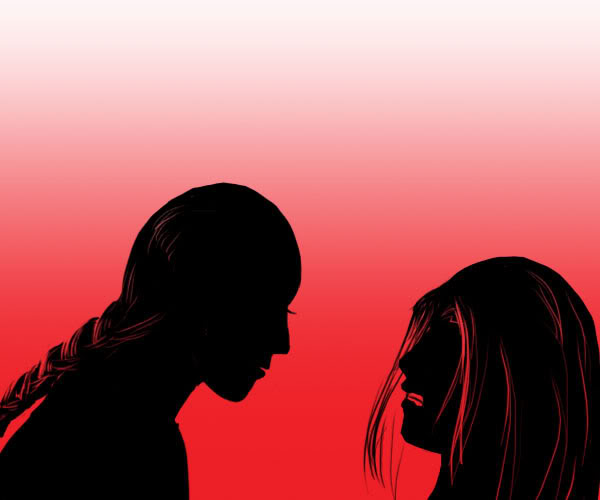 MASTER INFER KNEELS DOWN IN FRONT OF YOU. "I WANTED TO SEE YOU IN THIS BODY YOU WERE TOO MUCH OF A COWARD TO RECLAIM." SHE PROFESSES. "AT LEAST ONE LAST TIME. FOR OLD TIMES SAKE. I'M SORRY WE HAVE TO PART LIKE THIS." WITH YOUR AWAKENING YILIXA SENSES, YOU FEEL THAT SHE IS GATHERING THE ENERGY TO KILL YOU.
"WHY?" YOU GASP. "WHAT DID I EVER DO TO DESERVE THIS? HOW HAVE I OFFENDED YOU OR OUR LORD CERLIONESS?"
"YOU RAN AWAY." MASTER INFER SNARLS. "YOU COMING HERE WAS AN ACT OF DEFIANCE AGAINST OUR LORD. DO YOU KNOW HOW MUCH TROUBLE THAT CAUSED FOR SNAKE'S MUNICIPALITY? IN YOUR ABSENCE, NEARLY ALL OF YOUR CLAN WAS THROWN INTO A TURMOIL. MOST OF THEM HAD TO BE DESTROYED. AND YOU CAN IMAGINE HOW ENRAGED LORD CERLIONESS BECAME. CANDIDATES FOR HER CHANNELERS ARE HARD ENOUGH TO FIND. BUT YOU," SHE RUNS A THUMB LIGHTLY ALONG YOUR JAW. "YOU ARE NO LONGER SUITABLE AS MY LORD'S PRIMARY CHANNELER. YOU WILL RELINQUISH YOUR POSITION. WITH YOUR DEATH, A NEW ONE CAN BE CHOSEN."
"BUT..." YOUR EYES WIDEN IN CONFUSION. "IT WAS MY LORD... NO, IT WAS YOU! IT WAS YOU! YOU FORCED ME TO RUN AWAY! YOU KILLED THEM!" YOU ARE YELLING NOW. "YOU KILLED MY CHILDREN!"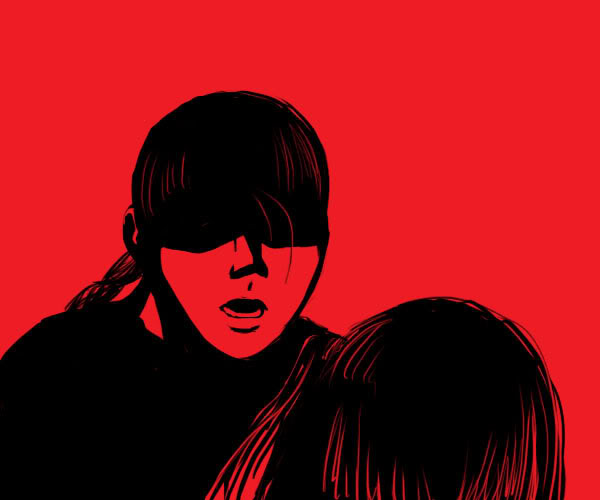 MASTER INFER COCKS HER HEAD. "WHAT ARE YOU TALKING ABOUT? OH, I SEE. YOU DON'T KNOW."
SHE LEANS IN CLOSE. "IT'S TRUE THAT I SET FIRE TO YOUR ESTATE. AND I BURNED THE BODIES OF THOSE IN YOUR HOUSEHOLD. BUT THAT WAS FOR YOUR OWN GOOD. AT LEAST IN THEORY. YOU SEE, WHEN I ARRIVED THERE THAT NIGHT, THEY WERE ALREADY DEAD."
YOU CAN'T EVEN SPEAK.
"I KNOW WHAT YOU ARE THINKING." THE VICHEY SAYS SOFTLY. "AND I WILL TELL YOU. IT WAS THE SAME PERSON THAT KILLED YOUR SOUL MATE."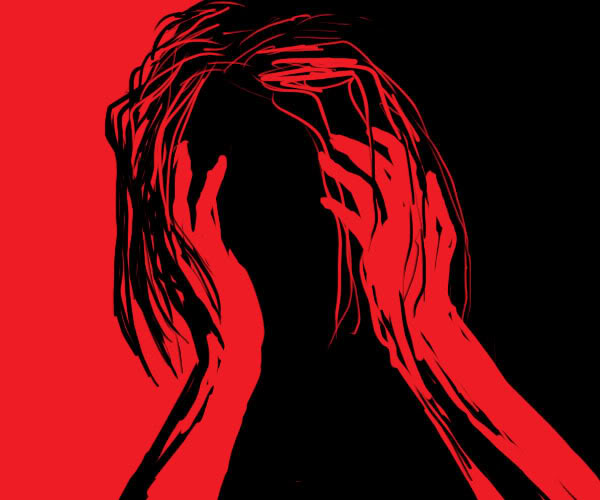 "GOODBYE."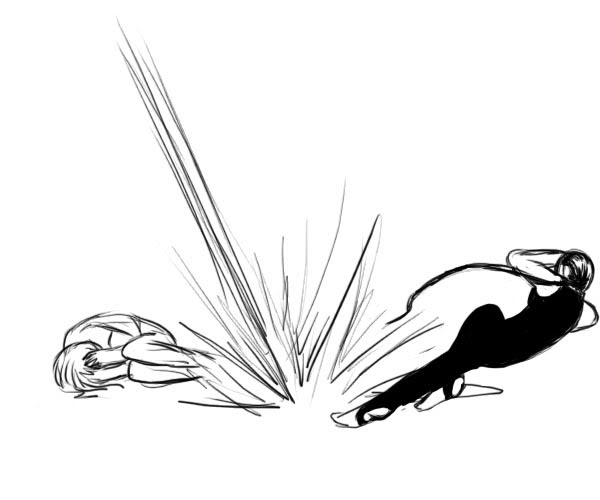 A BLAST OF PIERCING LIGHT STRIKES THE GROUND BETWEEN YOU AND MASTER INFER, FORCING THE VICHEY TO LEAP BACK, HISSING AT THE AIR.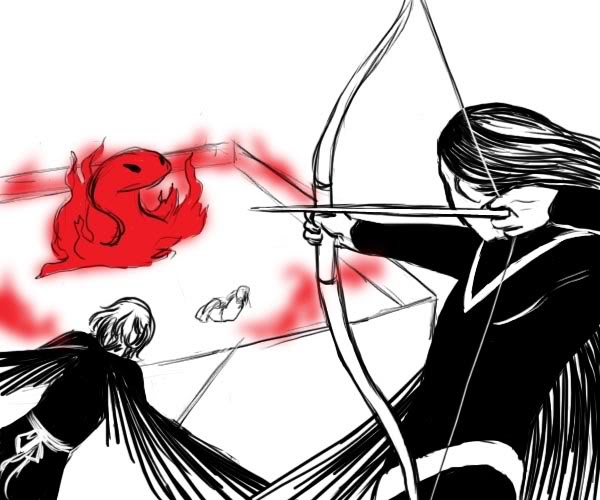 THE LAST THING YOU SEE BEFORE YOUR VISION FAILS YOU IS TWO DARK ANGELIC FIGURES HOVERING IN THE AIR, WIELDING NEEDLES OF LIGHT.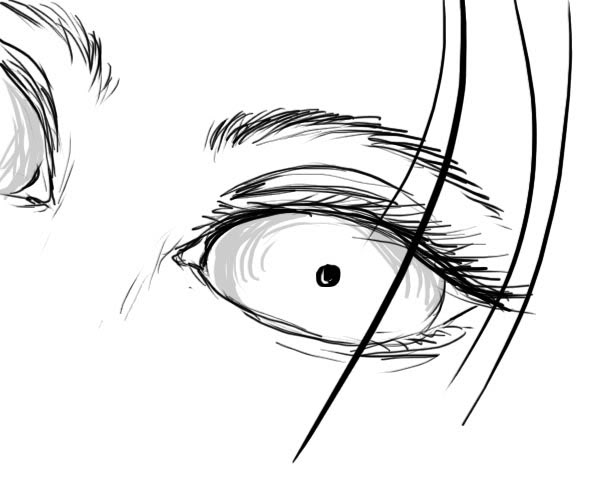 YOU WAKE UP.
>
Top of Page
Go back to Storytime of Epicness