Updates
Oct. 21, 2015
It's been almost 7 years since I've made a new page of Broken, my dark Mother 3 comic. But after going to Camp Fangamer, an amazing Earthbound convention, I've become newly inspired to add some content! I'm almost done page 32, so expect at least that much before I put this on the backburner again for another 7 years.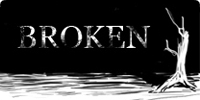 ---
Dec. 28, 2014
In the last few months, I've bought an apartment and set-supervised a movie. That left precious little time to work on this elaborate Ridley plushie! But it is now finished and finally there is time to breathe. I'm gonna to update the progress blog roughly once a day until I'm done, which should complete it by the beginning of Awesome Games Done Quick. Remember, AGDQ is starting on January 4th! You may be able to win this Ridley plushie for yourself!
This button will take you to the gallery of finished Ridley pictures. Enjoy!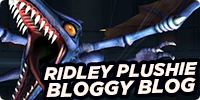 ---
Sept. 23, 2014
Maybe you woke up today thinking, "I wonder what kind of shenanigans Eyes5 is up to?".
I'm working on a Ridley plushie for AGDQ! Maybe this doesn't sound like that big a whoop, but I'm blogging about my progress step by step. Maybe you are interested in seeing what my design process is like. Enjoy!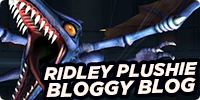 ---
July 24, 2014
Two years since my last update? Sounds about right. I spent two years in Costuming school, after all. And now I'm occupied living my very busy real life which involves making designer pillows and costuming for the occasional movie. Yeah, it's the big screen for me, baby! Hiding behind the big screen, that is. Which leaves me with precious little time to work on plushies and website junk. I might be closing commissions soon, since I've been criminally slow working on them. But I've made progress on the website in the last few weeks. I've finally got an etsy site! Now it's easier than ever to buy ready-made stuff from me. In case you are incapable of directing your cursor to the button on the left of your screen, I've provided a link to new etsy site right here:
Older Updates