Updates
July 20, 2012
You may have noticed some site updates as of late, such as the reshuffled front page with fancy buttons at the side, a rotating site banner, and a gallery that doesn't redirect everything to Deviantart. Now I can be a little less embarassed about showing my site to people! Old sections that have been removed from the front page can be found in the Archives.
There is a new tutorial up! It's a video tutorial on how to make Negative Man from Mother 3~ And it's technically not supposed to be released yet since it was made for Starmen.net's summer art bootcamp thing, but I just can't wait to show it off. So some of the links and such are wrong, but I'll fix those eventually. Anyways, even if you aren't interested in Negative Man per se, you can see a lot of my techinques in video form. Check it out here: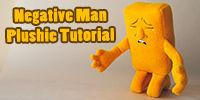 ---
January 21, 2012
I have been so busy lately now that I'm in a costuming for stage and screen program. Late hours, unpredictable days, huge workload, experimental techniques. Showbiz, baby. But who cares about that, I've prepared a new tutorial for you guys! The wrist pincushion tutorial is perfect for someone who has experience sewing (perhaps learning from my other tutorials!) and wants to add a new toy to their arsenal. Enjoy~
---
September 1, 2011
After a consistent biweekly series of harassments since January from people asking for the Scalemate plushie tutorial, it is finally HERE!! So let me know what you think and send me pictures of the scalemates you make! Though if you're too lazy to make them yourself, you can always commission me...
Have you noticed the subtle changes to my site? Just a few organizational things and experiments with html. Some new graphics and things were made by Kyou.
---
July 13, 2011
Breaking a long hiatus and possibly precluding another one, is page 48 of Birdy and Chimera! Enjoy, enjoy~
In other news, you may have noticed that the gallery and tutorial sections of this website have undergone a bit of revamping. That's cuz I'm preparing for the Scalemate tutorial, which is due to launch late August or September. So keep an eye out for it!
---
March 22, 2011
A lot of stuff has happened since the last frontpage update! Of course, I've been more or less keeping up with updating my commission queue. But today I've also got a bunch of new plushie photos for you to gawk at, and consider commissioning yourself! Check'em out here.
---
Nov. 27, 2010
In addition to occasionally updating my commission queue, I've also put up page 47 of Birdy and Chimera! After like a year of not working on it. What do you mean you don't remember what it is? Now would be a good time to read the whole thing over again to remind yourself!
---
August 26, 2010
HEY BIG THING! I actually have a new tutorial up! A freaking Lavos plushie! It was originally made as a bonus for Starmen.net/Fangamer's Chrono Trigger fanfest, but somehow that kinda fell through. But here it is, just follow this handy link. It's not an easy tutorial though; it's for experienced plushie-makers looking for a challenge.
Also, I've been invovled with the art production for Homestuck over at MSPA and we just released a new music album that has a bonus animation in it. So check it out to see the stupid things I've been working on.
And as per usual, I'm kinda sorta keeping my commissions list up to date, as well as my ever expanding plushie gallery. It's not enough to make an update about on the front page, so it looks like I've been comatose for the last few months. :p
---
May 29, 2010
Hi~ Remember me? There are a few new items on the buyables section, including a sweet Deku Link and a John Egbert plushie. I finished a few paid commissions recently so I rewarded myself by making a few things that I've wanted to make for a while, but now I'll sell them anyways. Also! Fangamer recently released half of the shipment of Nu plushies that they commissioned from me. But... they sold out in like 6 hours. If you are hankering for one, the other half of the shipment will be released in a month or two, so look forward to it!
Older Updates