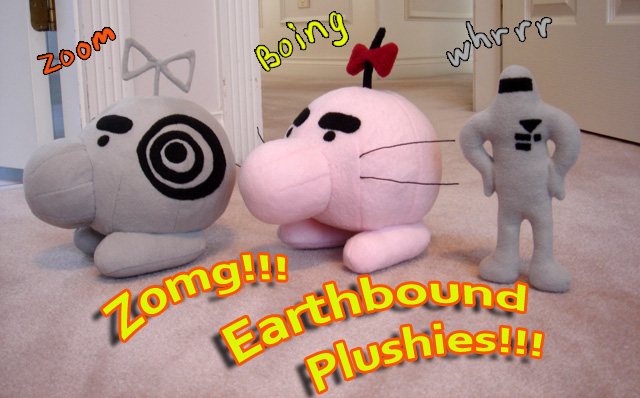 Starmen and Mr. Saturns! Create your own army of Mother huggables with these picture heavy tutorials and have them wage battle to the death! The Starman pattern is easy enough for beginners, while the Mr. Saturn pattern is for those who are more experienced and patient. Choose your destiny and may the Apple of Enlightenment be with you!
Thanks goes to Snakerope DX for encouraging me to finish this project and to Meeellla and Poe for reference pictures of other Mr. Saturn plushies.
Please read through the Sewing techniques and materials guide for beginners if you've never sewn before or if your skills are rusty. And another thing: I don't mind if you use my patterns to make plushies to sell, but please link back to this site if you do so and give me proper credit.
There! You're all done. Or are you having some trouble? Either way, you can comment, ask for help, or show off a picture of your squishy new friend in this thread on Starmen.net. And if you post a picture, I might add it to the photo gallery! Or you can contact me via email at METROIDHAT (AT) HOTMAIL (DOT) COM.